Fitness mirrors are high-tech mirrors with a large screen that can stream and display your workouts in the comfort of your living room. In this article, I will clarify if the peloton makes a mirror and see what are the company's future plans.
As a whole, the peloton doesn't make a mirror. The only home fitness equipment peloton released up to date are bike, bike+, tread, and guide. Currently, there are 9 companies that offer smart fitness mirrors including The Mirror, Oxefit, Tonal, Tempo Studio, NordicTrack, Echelon, Macvon, Forme, and Pro-Form.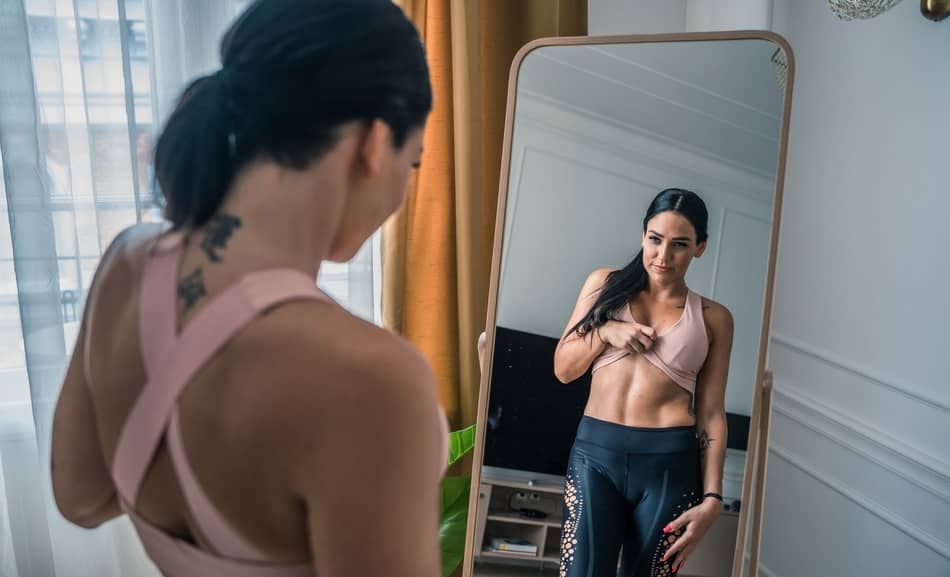 NOTE: I won't cover here the difference between peloton and mirror fitness. I've already covered that in my article "peloton vs mirror", which I recommend you read.
Does Peloton Make a Mirror?
Overall, the Peloton is a leader in the home fitness industry by delivering great products like bikes, treadmills, and guides (which is a camera-based strength training system), however, it does not make or own mirror.
The company is an expert in at-home fitness equipment and skyrocket during the pandemic. However, there is zero indication that they will expand their brand for the fitness mirror devices, especially after the recent sales drop.
Today, there are more people interested in gym or in-person training so the company is looking to expand to its international markets and broaden its distribution to third-party retailers. They are not looking for delivering new equipment such as mirrors.
What Are Mirror Workouts?
Overall, Mirror workouts are the exercise programs and classes streamed live and on-demand from a digital studio that looks like a mirror. Mirror workouts allow you to exercise in multiple fitness genres like boxing, pilates, HIIT, and bootcamp (more on that later).
They also offer personalization and convenience because you can customize your wokrouts based on your fitness level, directly from your bedroom.
The length of mirror fitness varies between 50 to 70 inches, depending on the brand (it's like a giant tablet hanging on the wall).
The first-ever company that made fitness mirrors was The Mirror (currently owned by Lululemon). The first time I've seen a mirror was on an HGTV commercial on a couple of years ago.
Today, you have over 9 different brands that produce a fitness mirrors:
Tonal

Echelon Reflect

Macvon Touch Fitness
Macvon Strength (coming soon)
NordicTrack CST
NordicTrack Vault
ProForm Vue
Tempo Studio
The Mirror

Forme Life Studio

Oxefit XS1
Oxefit XP1
Keep in mind that not all fitness mirrors are the same. My favorite is Tonal gym and Oxefit because they both have high-tech AI technology that not only helps you with training but also it designs your next workouts based on your current effort.
You can learn more about the differences between Tonal and Mirror Fitness in my article "tonal vs mirror" here.
Is peloton going to come out with the Mirror? Overall, the competition in the mirror fitness equipment space is solid so it's hard to know if the peloton is going to come out with the Mirror. Most of the fitness mirrors focus on AI technology and digital resistance, whereas the peloton is mainly in the cardio fitness niche.
Will a Peloton Make a Mirror?
As a whole, the peloton didn't announce any information about releasing the fitness mirror. So far, the only fitness equipment available is a bike, bike+, treadmill, and guide. However, the company already announced a new indoor rower as their next product.
Of course, this doesn't mean that in the future they won't work on the peloton mirror.
In fact, I think that home fitness is gonna become more popular as people transition from the gym to home workouts because of time and convenience.
I'm not gonna cover here the pros and cons of doing "peloton vs gym". You can read about it in my article here.
So it's just a matter of time until the peloton will release a mirror that will be focused more on the strength side. The price for a Peloton mirror would probably range from $2,000 to $4,000, depending on the technology and features that offers.
Is mirror owned by peloton? In general, the peloton doesn't own a mirror. In 2020, the mirror was acquired by Lululemon, an apparel company that peloton collaborated with in the past. On the peloton website, you can buy some lululemon clothes, but they do not own the brand.
What Workouts Are On The Mirror?
In general, the workouts on fitness mirrors are mainly focused on strength training and cardio using weights, cable resistance, or bodyweight. However, there are also thousands of other workouts available like yoga, dance, pilates, or boxing.
What I love about the fitness mirror is not only the convenience but also a large selection of classes that I haven't tried before like tai chi, Latin dance, or hip hop dance. This helps to try many different forms of fitness, without going to the intimidating in-person classes.
I know that many people (including me) feel uneasy trying a new form of fitness. You know what I mean. When you walk into a room full of people and everyone knows what they doing, apart from you.
So having access to professional tutorials in the comfort of your home feels like a no-brainer to try.
Are Mirror Workouts Effective?
As a whole, the mirror workouts are effective because they have a large variety of classes that help to build strength and conditioning, as well as flexibility and mobility. The main focus is on resistance training using bands, weights, dumbbells, or cable machines.
Strength training is much more effective than cardio when it comes to weight loss because it helps to build lean muscle mass and keep the metabolic rate high.
And the whole idea behind the fitness mirror is to allow you to do your strength training in the comfort of your home, with minimal equipment.
You can learn more about digital strength training in my article "tonal-vs-peloton" here.
Conclusion
In general, Peloton has proven not only to be the leader in the home fitness industry but also in creating a raving fan community. However, the peloton doesn't sell or offer fitness mirrors. Currently, there are 9 brands (with over 12 products) that sell mirrors.
So far, the peloton has delivered exceptional home-fitness products like a bike, bike+, treadmill, and guide, and it also has indoor rowing in plans.
I believe that the future of home fitness and AI technology is bright, and there will be more smart fitness products coming up.