Peloton has proven to be the leader in the home fitness industry not only by delivering great products like bikes or treads but also by building a raving community. However, does the peloton offer a mirror?
As a whole, the peloton doesn't make a mirror. Currently, there are 7 companies that offer smart fitness mirrors like Tonal, Tempo Studio, or NordicTrack. The only home fitness equipment peloton released up to date are bike and tread.
However, the future of home fitness is clearly going towards AI technology, personalization, and convenience. In this article, I will clarify the difference between the mirror and the peloton, take a look at my crystal ball, and see what's in plans for the future.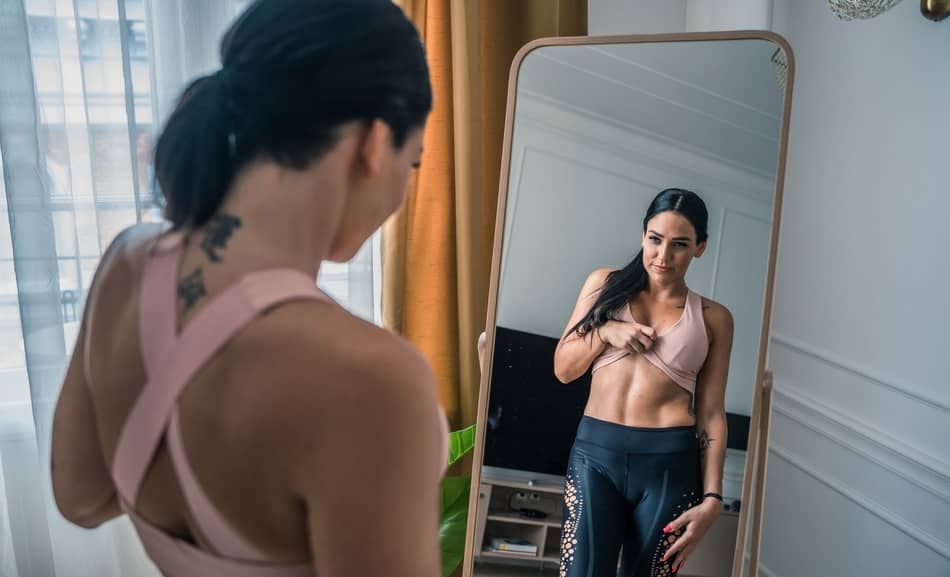 What Are Mirror Workouts?
The first time I've seen a mirror was on the commercial on HGTV a couple of years ago. Today, you have over 7 different brands that produce a similar product.
What is mirror fitness? As a whole, mirror fitness is an interactive fitness device that allows you to stream live and on-demand classes from a digital studio that looks like a mirror. The length of mirror fitness varies between 50 to 70 inches, depending on the brand.
I know it gets confusing because there is only one mirror (company) but you have several fitness mirrors products. Here are 7 of the most popular:
Tempo Studio
Echelon Reflect
NordicTrack Vault
ProForm Vue
Tonal
The Studio by Forme Life
Mirror
What Workouts Are On The Mirror?
In general, the workouts on fitness mirrors are mainly focused on strength training and cardio using weights, cable resistance, or bodyweight. However, there are also thousand other workouts available like yoga, dance, pilates, or boxing.
What I love about the fitness mirror is not only the convenience but also a large selection of classes that I haven't tried before like tai chi, Latin dance, or hip hop dance. This helps to try many different forms of fitness, without going to the intimidating in-person classes.
I know that many people (including me) feel uneasy trying a new form of fitness. You know what I mean. When you walk into the room full of people and everyone knows what they doing, apart from you.
So having access to professional tutorials at the comfort of your home feels like a no-brainer to try.
Learn more: Click here to learn more about "peloton vs gym".
Will a Peloton Make a Mirror?
As a whole, the peloton didn't announce any information about releasing the fitness mirror. So far, the only fitness equipment available is bike and tread. However, the company has announced that indoor towering is gonna be their next focus.
But this doesn't mean that in the future they won't work on the peloton mirror. In fact, I think that home fitness is gonna become more popular as people transition from the gym to home workouts because of time and convenience.
So it's just a matter of time until the peloton will release a mirror that will be focused more on the strength side. The price for Peloton mirror would probably range between $2,000 to $4,000, depending on the technology and features that offers.
Is mirror owned by peloton? In general, the peloton doesn't own a mirror. In 2020, the mirror was acquired by Lululemon, an apparel company that peloton was collaborated with in the past. On the peloton website, you can buy some lululemon clothes, but they do not own the brand.
Are Mirror Workouts Effective?
As a whole, the mirror workouts are effective because they have a large variety of classes that help to build strength and conditioning, as well as flexibility and mobility. The main focus is on resistance training using bands, weights, dumbbells, or cable machines.
Strength training is much more effective than cardio when it comes to weight loss because it helps to build lean muscle mass and keep the metabolic rate high. And the whole idea behind the fitness mirror is to allow you to do your strength training at the comfort of your home, with minimal equipment.
Peloton vs Mirror
The difference between peloton and mirror is that peloton offers cycling classes that not only work on your aerobic fitness but also can be used as a fitness assessment tool because of the built-in power meter. Plus, it has 13 different class categories.
On the other hand, the mirror only streams a large variety of live and on-demand classes.
Below you can see a comparison between peloton and mirror.
Peloton
Mirror
Classes
Strength
Cardio
Yoga
Meditation
Cycling
Walking
Stretching
Running
Outdoor running
Bike Bootcamp
Tread Bootcamp
Strength + Cardio
Boxing
Barre
Bootcamp
Kick-boxing
Pilates
Stretching
Dance cardio
Sculpt
Weight Training
Ballet
Meditation
Hip Hop
Arms and Abs
Latin Dance
Tai Chi
Kettlebell
HIIT
Yoga
Peloton vs mirror
As you can see, the mirror has much more variety of classes available, comparing to the peloton.
What is better the mirror or the Peloton? Overall, the peloton is better than the mirror because the mirror only has bodyweight classes. All the sessions that are on the mirror you can get from the peloton app. Plus, the peloton has thousands of cycling classes that mirror cannot offer.
You see, the mirror is like a giant tablet that can only stream the classes. On the peloton, you have classes plus bike rides.
If you are into strength training, and you are looking for a fitness mirror, I would recommend getting the one that has some more value than just streaming the classes.
Keep in mind that not all fitness mirrors are the same. My personal favorite is Tonal gym because it has high-tech AI technology that not only helps you with training but also it designs your next workouts based on your current effort.
Is tonal made by peloton? As a whole, the Tonal isn't made by the Peloton as those are two separate companies. The peloton is a publicly traded company based in New York. The Tonal is a private company based in San Franciso that is raising capital from private investors and celebrity athletes.
I won't be going into detail about the differences between the peloton and tonal. I've already covered that in my article "tonal-vs-peloton", which I recommend you read.
Conclusion
As you can see, the peloton doesn't offer mirror workouts yet. However, the future of home fitness and AI technology is bright, and there will be more smart fitness products coming up.
So far, the peloton has delivered exceptional home-fitness products like bike or tread, and it also has indoor rowing in plans.