I've been using Peloton digital app for over a year. Made the switch when I wanted the tread and bought the bike+ too.
Today I will share my thoughts on what is good (and what is not so good) with peloton digital membership.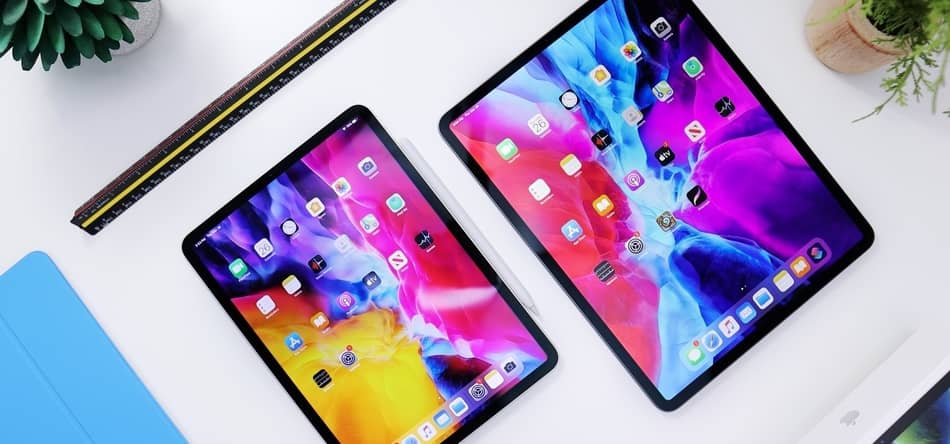 As a whole, the peloton digital membership is worth it because it gives access to over 25,200 on-demand classes and live classes across 11 different fitness genres. It also includes over 17 specialized workout programs are designed to improve strength, help with sleep and prepare for marathon training.
Also, please stay put till the end because I will compare peloton digital with other apps and technologies that are currently available.
What Is Peloton Digital Membership?
Overall, the peloton digital membership is a subscription-based streaming platform that provides access to thousands of classes and workout programs.
The video content can be accessed directly from the phone, tablet, or web browser.
You can think of it as a browsable compendium of exercises organized by body parts (e.g full body, lower body, or upper body), which is helpful to vary workouts and avoid monotony (more on that later).
How does peloton digital work?
In short, the peloton digital membership works by allowing users without peloton bikes (or any other equipment) to stream on-demand and live classes. It also allows all-access users to join the classes at work, during commuting, or traveling.
The peloton digital is a cheaper version of their all-access membership that is only available for bike and tread users.
Btw, right now, you can get a Peloton Original for a nice discounted price on Amazon. Details here.
(if you buy through links on this page, I may earn a small commission).
Why is peloton digital cheaper? The peloton digital membership is cheaper than all-access membership because it doesn't get access to performance data and metrics, which is useful to track your progress. Plus, it only allows you to create one user profile and doesn't give access to the leaderboard.
Before I got my peloton bike I was using only a peloton digital membership with my sunny bike, and I loved it.
One thing I didn't like was that I had to attach separate cadence sensors and power meters to be able to track my power output and speed.
Without power output, I wasn't able to measure my FTP score and unlock the power bar, which I think is the most valuable piece of training if you have performance-oriented goals. Having metrics in front of me was a game-changer.
Apart from that, everything about the peloton digital was great.
You can learn more about how to use "peloton power zones" and power bar in my article here.
What I also love about the peloton digital is you can stream exactly the same workouts as with the peloton all-access membership, but for a third of the cost. The price for peloton digital is $12.99/month and can be reduced if you're eligible for a discount.
For example, students only have to pay $6.99/month, whereas health care workers, health responders, and educators receive a $3/month discount.
Why Is The Peloton Digital Subscription So Popular?
As a whole, the peloton digital membership is popular because people use it together with their non-Peloton spin bike bikes at home, without the need of spending over $1,500 for the bike, or over $2,500 for the treadmill. Also, using the digital app is a viable way to supplement regular gym training.
Can you use peloton digital membership with other bikes? Overall, you can use peloton digital with other spin bikes. However, the digital members will have limited access to some of the main features like FTP score, scenic rides, or the just ride mode.
One thing I preach over and over again is that the fastest way to develop workout habits and improve your fitness is by making your workouts more convenient, enjoyable, and memorable. One way to do it is by adding variety to your workouts.
Now watch this.
Also, according to Christina Gough, the research expert from Statista.com "increasing numbers of gym-goers are supplementing their workout routine with online fitness services that allow them to workout in the comfort of their own home".
"During a 2019 survey in the United States, 35 percent of Millennials stated that they paid for online fitness services" (source).
Below you can see the graph of fitness club members who pay for online fitness content in the United States in 2019, by age.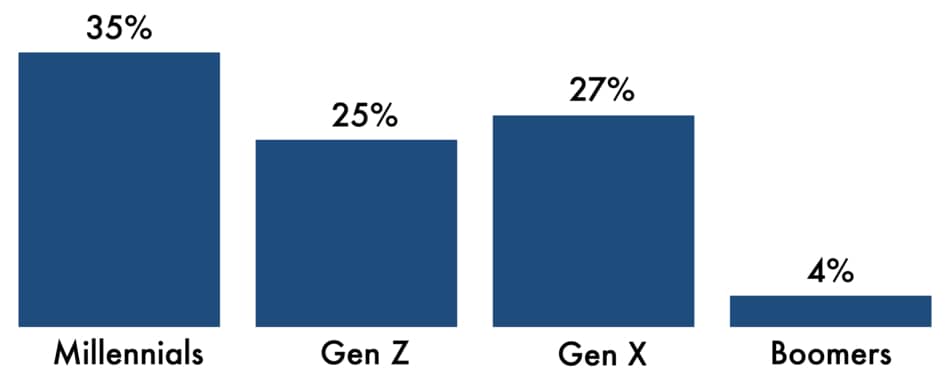 As you can see, one-third of millennials actively use online fitness content, despite using their local gym membership. Also, every fourth person who is in their 40s, 50s, and 60s regularly use both apps and the gym.
Here are more reasons why people choose peloton digital over the all-access membership.
Living in remote areas – I know several people who use the Peloton digital app because they live in places like Northern Canada (Nova Scotia, New Brunswick) or Europe (Spain, France) where it's difficult to get a Peloton bike or tread delivered.
Travel for work – Peloton digital membership is great for people who are constantly on the go and need to travel for work. I personally train a few clients who can only train Monday to Friday in their hotel room, and the peloton app works perfectly fine.
Don't track metrics – Some people prefer to use the less expensive Peloton digital app without fancy metrics, performance data, and a leaderboard. This is great if you're just looking for quick workouts, and don't worry about future goals.
Gives time to research – Instead of going cold turkey and buying a bike off the gate, you can get a peloton digital on a free two-month trial and decide if that is something that you want to continue. If you still want a Peloton after that, get one.
Save money – Instead of spending $1,495 on the bike and then $44 per month for a subscription, many people prefer getting a $500 spin bike with an attached iPhone or iPad holder and stream the same classes for only $12.99/month.
In other words, you can stick to the app and invest the rest of the extra money towards something else.
Also, I know many people who don't like cycling at all and use their peloton digital membership for other content like outdoor runs, strength classes, yoga, HIIT, and cardio workouts.
What Do You Get With The Peloton Digital Membership?
In general, with the peloton digital membership, you get access to a large variety of classes that includes cycling, strength, shadowboxing, cardio dance, yoga, and even meditation. You also get access to regular challenges that helps to keep you accountable.
Here are all the features that you get from the Peloton digital app.
On-demand classes
Live classes
Encore classes
Programs
Collections
Apart from the video content you also have many features that help to make the workouts more convenient and interactive like being able to stack and schedule classes one after another, giving hi-fives, or earning milestones.
Of course, no one is giving out medals (or becoming fitter) with hi-fives. However, this feature is been proven over and over again to fuel the intrinsic motivation of many peloton users.
However, my favorite feature for the peloton digital app is the compatibility with a heart rate monitor and heart rate band that allows you to track your heart rate and strive score when you're on and off the bike. Strive score is a non-competitive metric that measures your intensity level across all workouts.
You can learn more about "peloton strive score" and how to use it in my article here.
Does Peloton digital app have GPS? Overall, the Peloton digital app does have a GPS that can be used to track detailed metrics, visualize your workouts on a map, and track workout segments. It includes information like distance, pace (current, average, best), and elevation.
However, please keep in mind that this feature is only available for iOS users.
Peloton Digital Membership On-Demand Classes
The peloton digital membership provides access to over 25,000 on-demand classes spread across 11 categories. All of the classes are nicely divided accordingly to their difficulty level, which means the app is suitable for beginners, as well as for trained individuals.
What are peloton on-demand classes? As a whole, the peloton on-demand classes are workouts that are available to stream from the peloton library. These workouts were either pre-recorded or previously done live.
With peloton digital, you get access to the same number of classes (both on-demand and live workouts) as you get with all-access membership. The only difference is that with the all-access subscription you can stream classes directly from your bike, whereas with digital you can only stream classes via a mobile app.
Here is the updated list of all on-demand classes available with the peloton digital membership in 2022.
| Peloton Digital Classes | Description |
| --- | --- |
| Yoga | Combination of over 3,300 yoga classes with different styles that range from 5 to 75 minutes, suitable for all levels. |
| Strength | Includes over 3,600 classes divided into 12 subcategories like core, full-body, pilates, barre, and more. |
| Cardio | A mix of over 350 workouts, mainly HIIT, shadowboxing, and dance cardio. |
| Meditation | Contains over 1,700 meditation sessions that range from mindfulness and breathwork to basic how-to tutorials |
| Running | It has over 2,600 tread sessions like intervals, speed, endurance, heart rate zone, and music-themed. |
| Outdoor | This is audio-only content with over 250 tracks that are designed for running and walking outdoor. |
| Cycling | Largest class selection of over 10,800 cycling classes that range across 12 subcategories. |
| Stretching | Includes over 740 stretching sessions divided by the body parts (e.g. full body, upper body, or lower body). |
| Tread Bootcamp | A combination of running and strength training with over 900 workouts that are done with and without dumbbells. |
| Bike Bootcamp | A combination of cycling and strength training with over 160 classes that are done with and without dumbbells. |
| Walking | A mix of walking and walk + run classes that can be done on the treadmill or outside, with over 840 different sessions. |
Peloton digital membership classes
What I love the most about the peloton digital membership is that most of the workouts are done off the bike and without any equipment, which makes it more accessible, especially when exercising in the gym or outdoors is not possible.
Peloton Digital Membership Live Classes
Peloton digital membership also gives you access to all of the live and encore classes that are streamed from the Peloton studio in London and NYC. Every day you have anywhere from 5 to 20 classes, depending on the day of the week.
Of course, the most popular live classes are cycling (over 83 new cycling classes every week). However, strength (35 new classes each week) and yoga (34 new classes each week) are also popular.
The least popular live classes are stretch, cardio, and meditation.
Peloton Digital Membership Programs
Peloton digital subscription gives you access to over 33 programs that range from 1 to 18 weeks and are designed to strengthen your core, improve your flexibility, or prepare you for your first 5K run.
Here is the list of all peloton programs that are available with peloton digital membership.
Peloton Boxing
You Can Ride
Crush Your Core (1 & 2)
Total Strength (1 & 2)
Beginner Strength
Beginner Yoga
The Power Of Sleep
You Can Run
Go The Distance: 5K
You Can Run Outdoors
Road To Your 26.2 (1, 2 & 3)
Road To Your 5K
Train Like Allyson Felix
Train Like Usain Bolt
Mastering the Basics Cycling
Strong Core Strong Body
Build Your Power Zones
Discover Your Power Zones
Arms with Tunde
Callie's Intermediate 3-Day Split
Robin's Advanced 3-Day Split
Adrian's Advanced 5-Day Split
Matt's Intermediate 5-Day Split
Floor Bootcamp
Path To Inversion
Power Restorative Yoga
Please remember that some of the programs do require a power output display, which is only available for the peloton bike with power sensors and the FTP score.
Peloton Digital Membership vs All Access
Here you can see a great explanation of the differences between peloton all-access and digital membership from Matt.
What Peloton Digital Membership Doesn't Include
Here is a brief list of things that you won't find in the peloton digital membership, but you can find in other apps.
No download feature – The peloton digital app does not allow you to download any classes or programs, and access them offline. The only option is to preload the classes, which will reduce the buffering time and save cellular data.
I personally think that this type of feature is not complicated, yet could be very helpful for many people.
No outdoor cycling metrics – The peloton digital app doesn't include features that can be used on the road bike like measuring your speed, RPM, cadence, or any motion sensors. I think this is a basic feature and is already implemented by several other sports apps like RunKeeper, Nike + Run Club, Strava, or Arion.
No workout suggestions – The peloton digital app does offer thousands of workouts, but it does not provide any dynamic and progressively more challenging workout suggestions. Other popular apps (e.g. Fitbod) uses advanced algorithms to design users' workout based on their goals, historical workout selection, and heart rate.
Another great example of this technology is Tonal gym, where each workout is used as feedback and provides an indication to the algorithm to reduce or increase the difficulty level.
No air quality data – Peloton digital membership does offer outdoor workouts and a GPS tracking system. However, it does not have any advanced features like real-time data on air quality or alternative planning routes based on the latest updates from air quality monitoring stations.
This is great for people who are sensitive to heavy pollution or with asthma as a way to plan their daily routes. Btw, you can see this type of technology in several apps like Air from Plume Labs (link), Breezometer app (link), or British company Klarify (link).
Also, in 2019 the Apple Watch introduced a noise pollution software update where you can now monitor sound decibel levels and choose less noisy travel routes.
No pedometer – Peloton digital app membership doesn't have an option to count your daily steps and keep all the information in organized metrics. The step counting feature is already over a decade old, so it should not be difficult to integrate with the app.
No heart rate variability – You can connect the heart rate monitor with the peloton digital app and track your workout heart rate during the classes. However, you cannot track your heart rate for multiple hours or even days.
Other companies including Apple, Garmin, and Fitbit already implement these features in all of their products.
No peloton century shirt – Peloton rewards its members by giving away a peloton century shirt for their first 100 rides or classes. However, this is only available for all-access members.
How To Share Peloton Digital Subscription
As a whole, the peloton doesn't have the option to share digital membership and since 2020 they started to enforce a rule where one digital membership covers only one user.
The only way to share your peloton digital membership is by sharing your personal login and password, however, this is not recommended and is against peloton's terms and conditions.
In other words, the only way to make two people use one peloton digital membership is when they both live in the same household.
Can I gift a peloton digital membership? Overall, you can gift a peloton digital membership to your friends and family by either adding them to your existing all-access membership as an additional profile (max 20 profiles) or you can give them a free 60-day trial via peloton guess pass.
Peloton guess pass works by invitation only and is available for both subscription models.
Conclusion
As you can see, peloton digital membership offers a great value compared to other apps like iFit, Aaptive, or Apple Fitness. gives access to all of the peloton libraries where you can browse between thousands of classes. The classes differ in type, duration, and difficulty level and can be streamed from any mobile device.
However, there are still many features that peloton digital doesn't offer like downloading content, workout suggestions, or advanced outdoor metrics.
Overall, I can recommend this app as a way to increase your variety of workouts, and can't even imagine training without it today.