Before I got my Peloton bike+, I was using Peloton digital app for all of my workouts for over a year. In this article, I'm gonna share my experience and give you my honest review on what is good (and what is not so good) with peloton digital membership.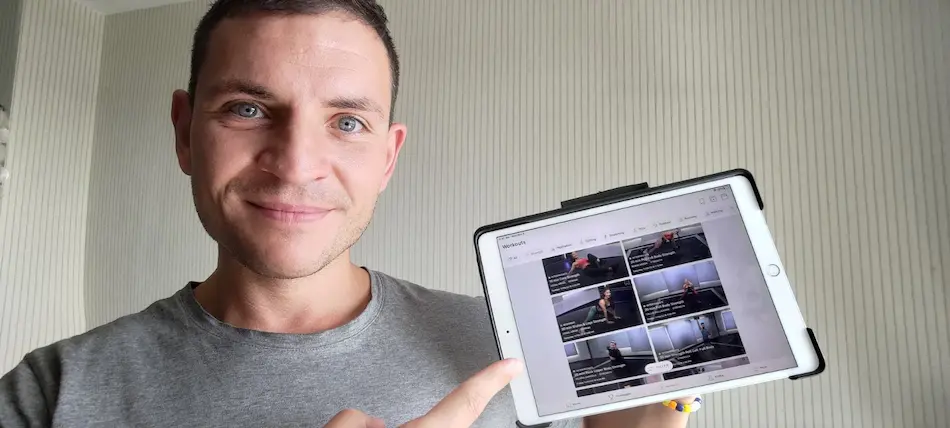 Overview
Pros
Works without purchasing a Peloton bike
11 fitness categories
38 exercise programs
25,000 on-demand classes
Compatible with heart rate monitor
The price is $12.99 per month
Cons
A limited number of profiles and users
No performance tracking.
Doesn't include cadence, resistance, distance, or output.
No leaderboard
No century T-shirt for completing 100 classes
In our testing, the peloton digital app is worth subscribing to for a few of reasons.
First, it gives access to all peloton live and on-demand workouts without having to own a bike or tread. (You can stream the content from your phone, tablet, TV, or computer.)
Third, it starts with a 30-day free trial and the monthly subscription fee can be reduced if you're eligible for a discount.
My experience with Peloton digital membership
I was using peloton digital membership way before I decided to get my bike+. Some classes appealed to me more than others, but the reason why I wanted to test-drive the app was the cost.
I was paying $12.99 per month, which is a fraction of the cost that I would need to spend on the bike.
Although I haven't used all classes, peloton digital gives access to over 25,000 on-demand classes across 11 fitness genres.
When I got my digital app, I was using my sunny spin bike.
Here's a photo of my Sunny bike, which is now collecting dust in my basement.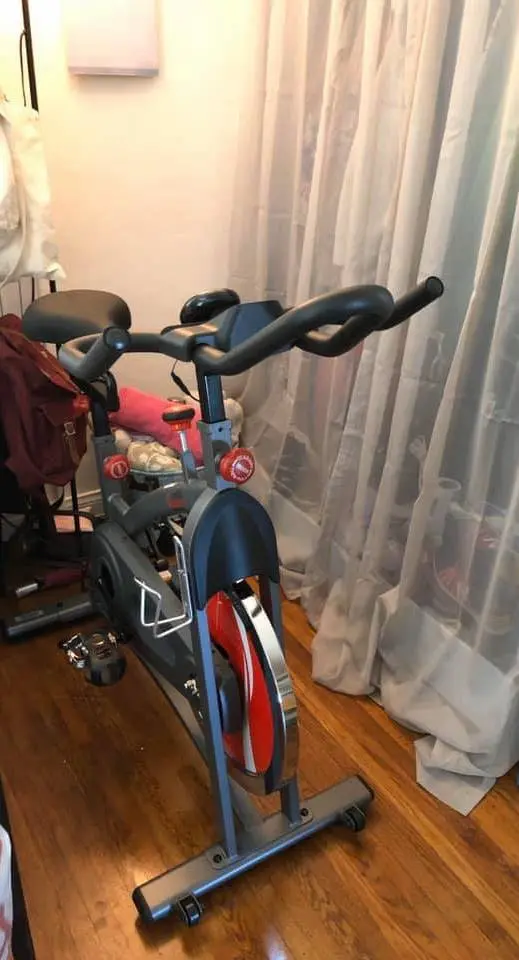 Peloton digital allowed me to stream all cycling classes from my iPad. All I needed was a small iPad holder that I mounted on my bike.
Benefits I've experienced from using the Peloton digital app
Here are some of the things that I really liked about using the peloton digital app.
1. Discounted price
For me, the biggest advantage of subscribing to peloton digital was the price discount. The app is a cheaper version of their all-access membership that is only available for bike and tread users.
The peloton digital app is less expensive than the iFit app ($15/month) but more expensive than the Beachbody app ($120/year) or the Echelon FitPass ($11.99/month).
Plus, thanks to my United Healthcare plan, I was able to apply my healthcare worker discount and get a peloton digital app for free.
Here's the photo of my confirmation notification after receiving a discount for my peloton digital.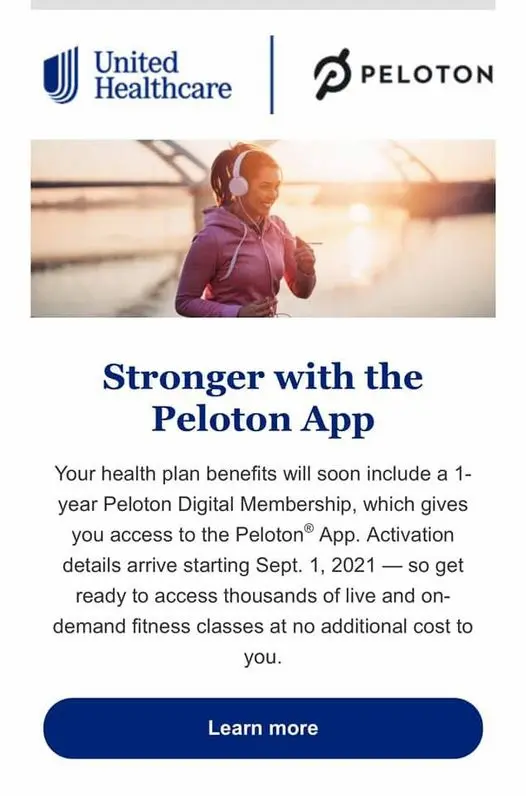 If you have a United Healthcare plan, go to their website and check if you're eligible for a 1-year Peloton App Membership for free.
2. I tried a lot of classes
Every day I could choose anywhere from 5 to 20 live classes, depending on the day of the week. Although I haven't joined many of them, I did a lot of on-demand workouts (the classes that were pre-recorded or previously done live).
With peloton digital, I got access to the same number of classes (both on-demand and live workouts) as I got with all-access membership.
The only difference is that with the all-access subscription I can stream classes directly from my bike screen, whereas with digital I could only stream classes via a mobile app.
Here is the updated list of all on-demand classes available with the peloton digital membership in 2022.
Yoga
Flow
Focus Flow
Slow Flow
Restorative
Theme
Pre and postnatal
Power
Beyond the Pose
Strength
Warm Up
Bodyweight
Full Body
Core
Upper Body
Lower Body
Arms and Light Weights
Strength For Runners
Adaptive
Barre
Pilates
Boxing Bootcamp
Meditation
Meditation Basics
Relax & Sleep
Emotions
Mindfulness
Fitness Focus
Breathwork
Zen in Ten
Meditation Anywhere
Cycling
Warm Up / Cooldown
Beginner
Low Impact
Music
Theme
Intervals
Climb
Power Zone
Heart Rate Zone
Groove
Pro Cyclist
Peloton Studio Original
Stretching
Full Body Stretch
Core Stretch
Upper Body Stretch
Lower Body Stretch
Foam Rolling
Pre and Post-Ride stretch
Pre and Post-Run stretch
Outdoor
Warm Up / Cooldown
Endurance
Music
Intervals
Theme
Speed
Walking
Podcast
Running
Warm Up / Cooldown
Running Skills
Intervals
Endurance
Speed
Music
Theme
DJ Live
Heart Rate Zone
Walking
Warm Up / Cooldown
Music
Theme
Power Walk
Hiking
Walk + Run
Peloton Studio Original
Cardio
Warm Up
HIIT
Music HIIT
Shadowboxing
Dance Cardio
Family
Bootcamp
Warm Up
Bodyweight
Body Focus
Music
Theme
Low Impact
Heart Rate Zone
Most of these workouts are done off the bike and don't need a lot of equipment (apart from dumbbells or resistance bands). I could take these workouts anywhere, especially when the gym was not available.
2. I tried peloton programs
Another thing I loved about the digital app was the programs. As we speak, the peloton has around 38 programs that last between 1 to 18 weeks.
For me, programs work just like stacked classes, but they come with a specific goal.
You can start a running program (teaches you how to run), a yoga program (explains the basics of yoga), or a strength training program (1 week split training routine).
Here is the updated list of all peloton programs (divided by the duration) available with the peloton digital membership in 2022.
1 week
Seated Adaptive Strength
Discover Strength: The Snatch
Discover Strength: The Clean and Jerk
Discover Strength: The Overhead Squat
Callie's Intermediate 3-Day Split
Robin's Advanced 3-Day Split
Adrian's Advanced 5-Day Split
Matt's Intermediate 5-Day Split
Flow to Finish
Power Restorative Yoga
Train Like Usain Bolt
Train Like Allyson Felix
2 week
The Power of Sleep
Get Hooked: Peloton Boxing
Path To Inversion
3 week
You Can Ride
Beginner Yoga
4 week
Crush Your Core (1 & 2)
Total Strength with Andy
Total Strength with Erik
Strong Core Strong Body
Floor Bootcamp
Arms with Tunde
5 week
Discover Your Power Zones
Build Your Power Zones
6 week
Mastering the basics of Cycling
Total Strength with Andy 2
Go The Distance: 5K
Road To Your 26.2 (1, 2 & 3)
Road To Your 5K
8 week
You Can Run
You Can Run Outdoors
Please remember that some of the programs do require a power output display and FTP bar, which is only available for the peloton bike.
2. I got all my workout summary
I was able to see my workout summary with the number of workouts and active days I trained, which was extremely motivating.
(I could see how my daily streaks become weekly streaks, then weekly streaks become monthly streaks, and so on.)
I could see all the workouts that I've done up to date, and how many calories I burned on my heart rate monitor. The app also allowed me to collect achievements and milestones.
3. I could join monthly Peloton challenges
Although I haven't done them all, the peloton challenges were diverse and helped me to stay on track with my wokrouts.
Here's the photo of the November activity challenge. (I haven't done much this month though.)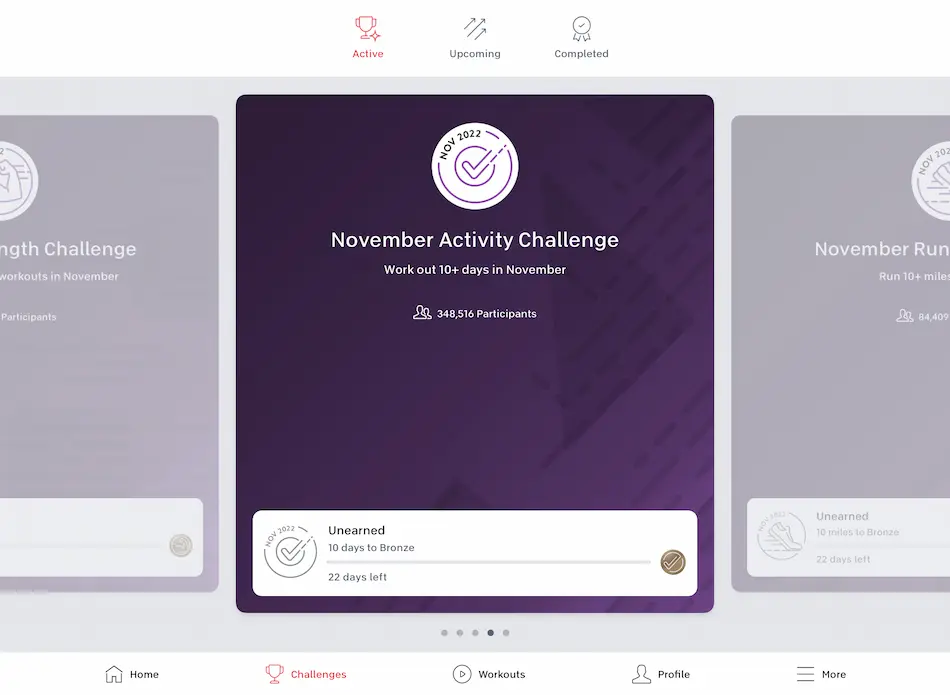 Wokrout challenges counted the number of classes I did within one month. Each one had three achievement tiers, based on my results. (5 workouts for bronze, 10 workouts for silver, and 15 workouts for gold.)
Activity challenges calculated the number of days I was active. (Again, they also gave badges based on how often I used the app.)
Peloton annual challenges count the number of minutes you spend working out. (The gold tier comes with 20 thousand minutes.)
4. Sharing digital app with others
Although my wife is not a huge fan of cycling, we were both using the app for all other classes. She is more of a yoga and pilates person, whereas for me I was doing mostly cycling, bootcamp, and strength classes.
After we got our bike+, I give my digital app away to my mom. (Yes, my mom loves Cody Rigsby.)
Back in the day, the peloton allowed me to create a handful of profiles on the digital. Nowadays, I can only have one, but I can give access to my login to other people.
[snapping fingers.]
5. I discovered new workouts
Although I always was an active guy, the peloton app showed me some new classes and types of workouts that I haven't seen before.
I mean, I haven't done guided meditation or guided walking before I got my digital app. (I was the typical meathead lifting weights in the gym.)
I tried indoor cycling in my local SoulCycle studio located in Brickell Heights Condo before, but I never followed any specific workout plan that includes heart rate zone training, recovery rides, or low-impact rides.
I also did yoga classes in the past, but these were general classes. I never tried restorative yoga, focus flow, or 5 minutes chair or desk yoga.
6. I got into shape
After using peloton digital for over a year, I lost over 25 lbs and got into the best shape of my life. I was doing peloton classes on daily basis.
My day started with the morning stretch, followed by 20 minutes of climb rides. (I find this combination works really well for me.)
At work, I was taking a short break for my 5-minute mindfulness and meditation sessions. (I like the Ross Rayburn classes.)
After work, I was back on the bike or doing a short 20-minute strength class. (If I felt really stiff, I was walking outside.)
7. I could workout while I travel
In my previous job, I had to travel for 3-4 days per week so using the peloton digital app was a blessing. (I'm talking about early mornings, long-distance flights, and late nights.)
I could use my app everywhere I went, regardless if the hotel, condo, or apartment I was staying have a gym or not.
I also met a few people who use the Peloton digital app because they live in places like Northern Canada (Nova Scotia, New Brunswick) or Europe (Spain, France) where it's difficult to get a Peloton bike or tread delivered.
8. It saved me money
Getting the peloton digital app saved me a few hundred bucks. I didn't have to spend almost $2,000 on the bike. Instead, I bought a Sunny spin bike for $600 on Amazon, attach my iPad, and was done. Nothing fancy.
9. I was giving hi-fives left and right
One of the features that I loved was giving hi-fives to other peloton members. In real life, I'm an extrovert and I love being around people.
Of course, no one is giving out medals (or becoming fitter) with hi-fives. However, this feature has proven over and over again to fuel my intrinsic motivation.
Disadvantages I've experienced in using the Peloton digital app
Apart from the benefits, I have to admit there were some things that I wish the peloton digital app could be done better.
1. It doesn't work with strive score
After I got my bike+, I was addicted to using my heart rate monitor and measuring my strive score after every workout.
Strive score helps to track my performance, unfortunately, the peloton digital app doesn't have this feature.
2. You won't get the T-shirt
Been there done that got the peloton century T-shirt (or not…)
With Peloton digital, I could do as many workouts as I wanted, but after reaching 100 rides, I didn't get the century T-shirt. You can only get it if you are an all-access member.
3. You won't measure power output
The biggest bummer was the lack of a power sensor. My sunny bike is very basic and even after scrolling the web a thousand times, I only could install the cadence sensors, but I wasn't able to track my output.
With power output, you can measure your intensity, calculate power zones, and discover your FTP score. Unfortunately, the digital app does not have this option.
4. No outdoor cycling metrics
The peloton digital app doesn't include features that can be used on the road bike like measuring your speed, RPM, cadence, or any motion sensors.
I think this is a basic feature and is already implemented by several other sports apps like RunKeeper, Nike + Run Club, Strava, and Arion.
5. No workout suggestions
I saw thousands of workouts on the peloton digital app, but it does not provide any schedule or progressively more challenging workout suggestions.
Other popular apps (e.g. Fitbod) uses advanced algorithms to design users' workout based on their goals, historical workout selection, and heart rate.
6. No air quality data
I like that peloton digital membership offer outdoor workouts and a GPS tracking system. However, it does not have any advanced features like real-time data on air quality or alternative planning routes based on the latest updates from air quality monitoring stations.
This is great for people who are sensitive to heavy pollution or with asthma as a way to plan their daily routes.
You can see this type of technology in several apps like Air from Plume Labs, Breezometer app, or British company Klarify.
Also, in 2019 the Apple Watch introduced a noise pollution software update where you can now monitor sound decibel levels and choose less noisy running routes.
7. The peloton digital app doesn't have a pedometer
Peloton digital app membership doesn't have the option to count my daily steps and keep all the information in organized metrics. (I feel embarrassed to even say it.)
The step-counting feature is already over a decade old, so it should not be difficult to integrate with the app.
8. You won't track your heart rate variability
Sure, you can connect the heart rate monitor with the peloton digital app and track your workout intensity that way.
However, you cannot track your heart rate for multiple hours or even days. Other companies including Apple, Garmin, and Fitbit already implement these features in all of their products.
9. No download feature
I would love to see the download option for the classes when I'm offline (yes, it happens a lot.)
The peloton digital app does not allow you to download any classes or programs, and access them without the internet.
Why is the Peloton digital subscription so popular?
According to Christina Gough, the research expert and Team Leader from Statista.com "increasing numbers of gym-goers are supplementing their workout routine with online fitness services that allow them to workout in the comfort of their own home".
"During a 2019 survey in the United States, 35 percent of Millennials stated that they paid for online fitness services," says Christina.
Below you can see the graph of fitness club members who pay for online fitness content in the United States in 2019, by age.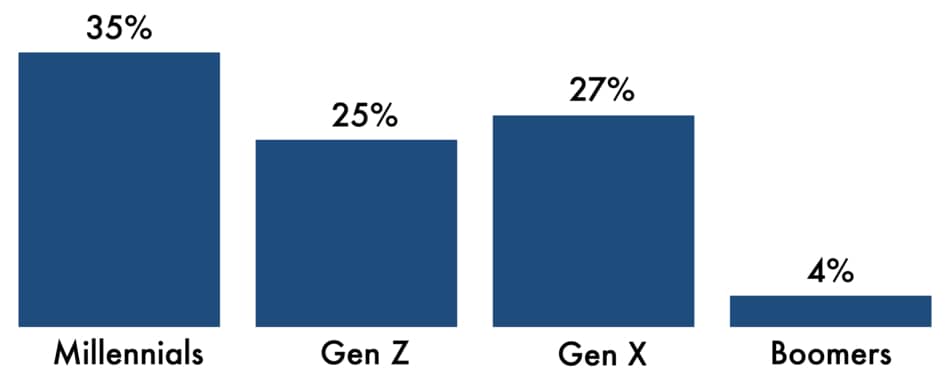 As you can see, one-third of millennials actively use online fitness content, despite using their local gym membership.
"Every fourth person who is in their 40s, 50s, and 60s regularly uses both apps and the gym," says Christina.
In other words, you can stick to the app and invest the rest of the extra money towards something else.
Peloton digital membership vs all access
Here you can see a great explanation of the differences between peloton all-access and digital membership from Matt.
How to share a peloton digital subscription?
As a whole, the peloton doesn't have the option to share digital membership and since 2020 they started to enforce a rule where one digital membership covers only one user.
The only way to share your peloton digital membership is by sharing your personal login and password, however, this is not recommended and is against peloton's terms and conditions.
In other words, the only way to make two people use one peloton digital membership is when they both live in the same household.
Can I gift a peloton digital membership?
Overall, you can gift a peloton digital membership to your friends and family by either adding them to your existing all-access membership as an additional profile (max 20 profiles).
You can also give them a free 60-day trial via peloton guess pass.
Peloton guess pass works by invitation only and is available for both subscription models.
Bottom line
If you ask me, peloton digital is still worth it. It offers great value compared to other apps like iFit, Aaptive, Beachbody, or Apple Fitness.
The classes differ in type, duration, and difficulty level and can be streamed from any mobile device. Plus, the price is lower than 3 cups of coffee at Starbucks, so I recommend getting it.