Michal Sieroslawski is a blogger, cook, coach, travel guide, yoga teacher, and exercise physiologist. He currently helps people to get back into shape, and motivates and inspires through his blog posts. In his free time, Michal travels with friends and family.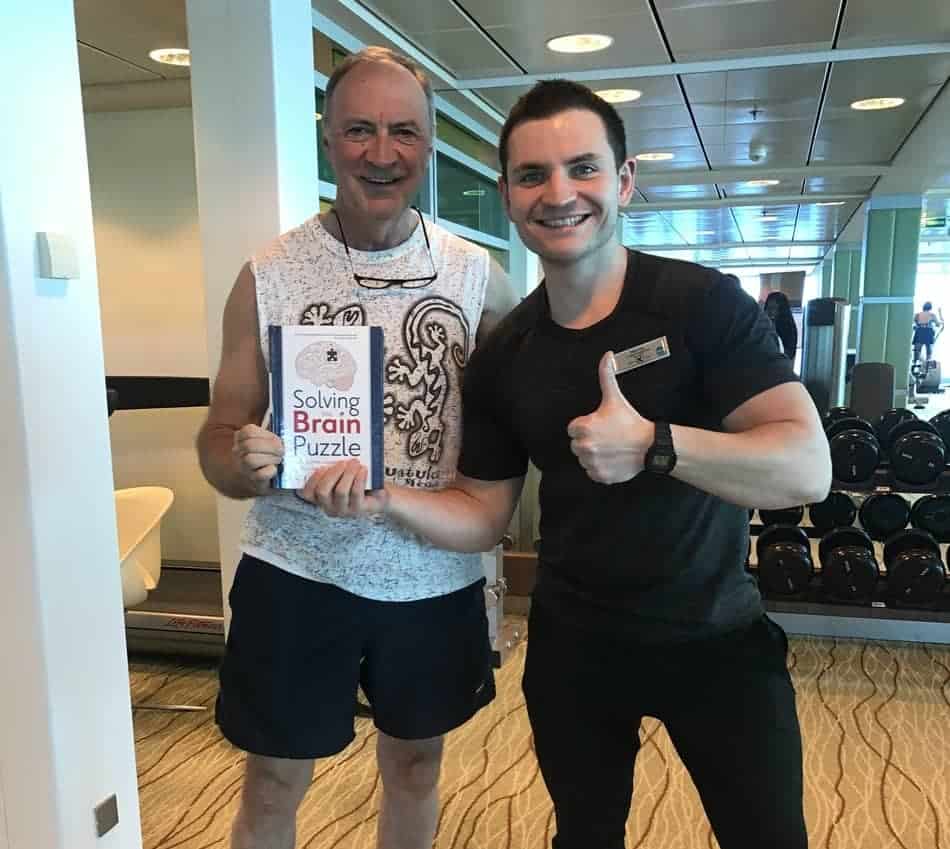 I've been living abroad since 2005. After getting my degree in Exercise Physiology (MSc) I was working in the rehabilitation center for the British NHS. After a couple of years, my itch for travel pushed me to become a crew member onboard cruise ships.
That allowed me to do what I love and travel the world.
My Experience
I worked with British NHS, Steiner Leisure, Virgin Active, and Canyon Ranch Tucson.
I currently juggle my time between this blog and a consulting business where I coach individuals who want to get fit.
I'm an exercise physiologist, certified personal trainer, certified nutrition coach, and yoga teacher. I specialize in behavioral change, food psychology, stress management, and nutrition.
It was a blast to spend over eight years onboard cruise ships, where I had the privilege to work with people from the US, Canada, Brazil, China, the Caribbean, Europe, South Africa, Thailand, Chile, Australia, and more. Not only it helped me to have an impact on people's health. But it also helped me to sharpen my coaching and interpersonal skills that I would not get anywhere else.
My goal for millennialhawk is to create a useful resource for people who need help, they are sick of BS, but don't have time to research every single detail about health and fitness on their own.
In short, this project is something that I wish I would have access to when I was getting into health and fitness over a decade ago. It would have saved me all the mistakes that I've obviously made along the way.
Nutrition coaching
These days, if you're giving advice about nutrition, you're in trouble. Here's why.
People don't live in the closet. This means that everyone is consuming some type of health information online. And most likely everyone has already shaped the point of view on what is right and what is not.
So my job is not to disregard and step on their beliefs, regardless of what they are. My job is to bring the boats alongside, and find what is good, and what can be better.
That's my view on nutrition. Completely agnostic. Whether you're doing a keto, paleo, plant-based, or carnivore diet, doesn't matter. In fact, I rarely use the word diet in my world. That's because nutrition is just so much more complex than protein and carbs.
To achieve deep health you need not only a good mix of nutrients, but also need sufficient movement, regular rest, access to clean air, real human connection, sincere emotional expression, meaningful purpose in your life, ongoing learning challenges, passion, and joy.
So it's not just about what you eat. It's also about what you do, how you move, what you feel, how you think, and how you cope with the pressure.
Check out my articles:
7 Steps To Stop Counting Calories
Exercise Physiologist and Personal Trainer
I specialize in behavior change. People are creatures of habit. And because we live in a fast pace world, it's very easy to get distracted.
Sometimes our own environment and support network makes it feel like change is not possible, extremely hard, or simply out of reach.
But the reality is different.
Everyone is capable of making it happen. They just need to know what to look for. In fact, positive change it's like passing hundreds of times through the coffee shop on the street that you know really well, but you've never actually even noticed before.
Or it's like that recipe book that's been sitting on your bookshelf for years, but you didn't even realize it's there.
This is how I look at behavior change and coaching. It's not about learning new things. It's about understanding what is already around you. Something that's always been with you, something that you already have within you, but you didn't pay attention to it.
Check out my articles:
How To Stop Worrying About Calories
How To Do OMAD Without Getting Hungry
Yoga Teacher and Mobility Specialist
I still remember my first-ever client who had bad knees and wanted to lose weight. I freaked out. Because I didn't know what to do. 10 years later I'm a certified movement and mobility specialist, and biomechanics has become one of my biggest passions.
It's easy to train people who are already fit. But once the rubber hits the road, and you see a guy who's on 5 different meds, walks on crunches, and spends the last 2 months on the hospital bed after having back surgery, you need to know what the heck you're doing.
That's why I'm obsessed with correct movement.
Unfortunately, many people don't have the skills completely developed to perform the exercises that they would love to do. That's why physiotherapists are busier now than ever before.
Check out my articles:
Can Kettlebell Swings Cause Neck Pain?
Are Farmers Walk Bad For Your Knees?