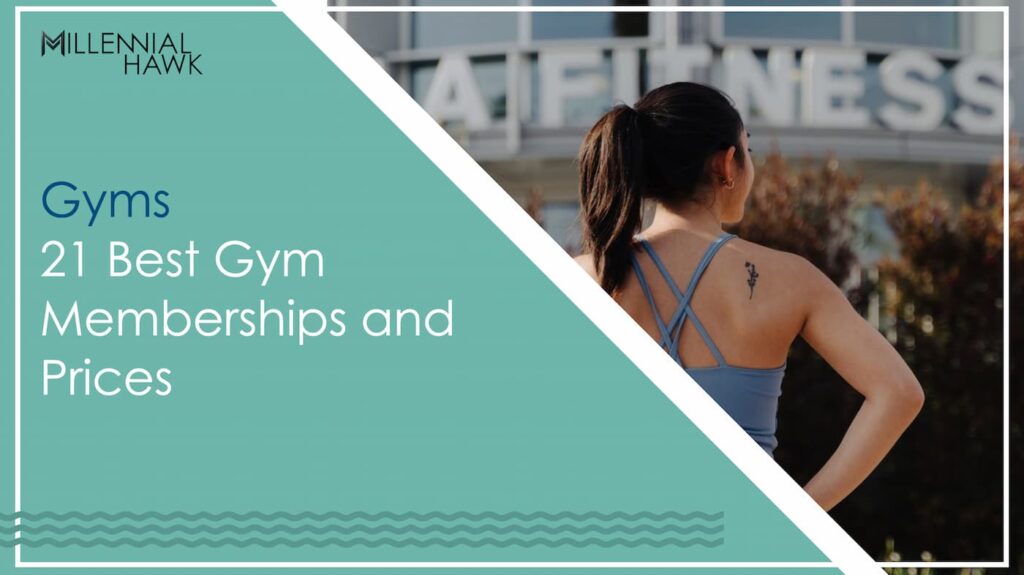 Gyms are places packed with exercise gear and fitness options. You can usually sign up for a gym membership, and in the U.S., it averages around $40 to $50 per month. However, prices for gym membership can go as low as $9.99 or sky-high over $400 each month. Gym subscriptions usually include access to gym facilities, equipment, and sometimes group classes. They often exclude personal training, premium classes, and additional amenities.
Training at the gym offers benefits like improved physical fitness, mental well-being, and social interaction, but can have cons like potential injury risk and the cost of membership. According to a study by Ceren Doğan in the European Journal of Psychology, gym workouts are seen as a means to create better versions of oneself, enhancing productivity, control over life, and emotional resilience.
There are various types of gyms out there, like workout gyms, boxing gyms, and weightlifting gyms. However, it's important to note that not all gyms are created equal; some are simply better than others. When it comes to popular gym memberships, you've got options like Planet Fitness, YMCA, Equinox, and Anytime Fitness to consider. A selection of the best gyms with different membership costs are all listed below.
| Best Gym Name | Type of Gym | Gym Membership Price |
| --- | --- | --- |
| Gold's Gym | Workout Gym | $55 – $100/month (+$49.99 annual) |
| YMCA | Community Gym | $15.95/week |
| Lifetime Fitness | Luxury Fitness Club | $149 – $299/month |
| Equinox | Luxury Fitness Club | $198 – $395/month |
| 24 Hour Fitness | Workout Gym | $10 – $60/month |
| Anytime Fitness | Workout Gym | $19.99 – $63.49/month |
| Crunch Fitness | Workout Gym | $9.99 – $29.99/month |
| LA Fitness | Workout Gym | $49.99/month |
| UFC Gym | MMA Gym | $59 – $129/month |
| Planet Fitness | Cheap Gym | $10 – $24.99/month |
| Orangetheory | HIIT Gym | $69 – $169/month |
| F45 Training | HIIT Gym | $154.99 – $169.99/month |
| Snap Fitness | Workout Gym | $39.99/month |
| Retro Fitness | Workout Gym | $24.99 – $34.99/month |
| Curves | Women Only Gym | $34.49 – $49.59/month |
| Burn Boot Camp | HIIT Gym | $100 – $179/month |
| 9Round | Kickboxing Gym | $79 – $109/month |
| Blink Fitness | Cheap Gym | $15 – $27/month |
| SPENGA | HIIT Gym | $79 – $169/month |
| CycleBar | Cycling Studio | $22 – $149/month |
1. Gold's Gym
Gold's Gym, a renowned fitness chain, offers a wide range of workout equipment and classes for various fitness levels. Gold's Gym membership costs range from $55 to $100 per month, with the iconic Venice Gold's Gym costing $100 per month plus a $49.99 annual fee for all locations. They provide personal training and nutrition counseling to help members reach their fitness goals.
With over 700 locations worldwide, accessibility is a key feature of Gold's Gym. Their guest pass policy allows potential members to try out facilities before committing, enhancing convenience. Peak times and crowd levels vary, but evenings and weekends are typically the busiest.
2. YMCA
The YMCA, a community-focused organization, provides fitness and wellness facilities accessible to a wide audience. YMCA gym memberships come at different prices depending on where you are, but the regular gym membership typically costs $15.95 per week, and there's a one-time joining fee of $69. You can pay conveniently through direct debit every two weeks, making it budget-friendly and easy to manage.
This membership includes group fitness classes, 24/7 gym access, personalized fitness programs, and the use of an outdoor heated pool. For those seeking a more budget-friendly option, the YMCA offers an off-peak membership at $11.95 per week, also with a $69 joining fee. This off-peak option includes group fitness and personalized programs, along with pool access, but restricts facility access to Monday to Friday from 10 am to 3 pm and during staffed weekend hours, excluding 24/7 access.
3. Lifetime Fitness
Lifetime Fitness, a high-end gym chain, offers a range of membership levels with varying amenities and services. Lifetime Fitness membership fees vary by location, for example, starting at $179 per month in Parker-Aurora, $299 per month in Walnut Creek, and $149 per month in Orland Park.
Their Signature membership includes access to multiple locations, a variety of classes like cycle, yoga, and studio workouts, along with pool access, sauna, steam room, sports courts, and child care with a junior membership. The Standard Lifetime Fitness membership provides similar benefits but excludes signature group training, priority reservations, and court fees.
4. Equinox
Equinox, a luxury fitness club chain, epitomizes high-end gym facilities and services. Known for its upscale amenities, Equinox offers memberships with varying access levels, including options for single clubs, regional clubs, or global access to all their locations. Guest pass policies at Equinox allow potential members to experience the club before committing to a membership.
Prices for these memberships depend on the location and type of membership chosen; for instance, accessing just the Brickell Club in Miami costs $198 per month, while The Loop in Chicago is $202 per month. For those seeking global access to all Equinox clubs worldwide, the membership fee is a premium of $395 per month.
5. 24 Hour Fitness
24 Hour Fitness, a widespread fitness chain, is known for its round-the-clock accessibility and diverse range of workout options. The 24 Hour Fitness offers memberships with prices ranging from $29.99 to $59.99 per month, accommodating various budgets and fitness needs. An additional annual fee of $25 to $50 is typically added to these monthly costs. With numerous locations across the United States, 24 Hour Fitness provides convenience and accessibility for a broad demographic.
Their facilities include a wide array of equipment, group fitness classes, and personal training options. Guest pass policies at 24 Hour Fitness allow potential members to try out the gym before committing to a membership. The gym's peak times usually occur in the early mornings and evenings, but with 24-hour access, members have the flexibility to avoid crowds.
6. Anytime Fitness
Anytime Fitness, a global gym chain known for its 24/7 access, caters to people with busy schedules. Membership fees vary depending on the club's location and current promotions. In Huron, SD, the 24-month plan costs $19.99 bi-weekly and includes secure gym access, a free fitness consultation, a 30-day fitness plan, and access to an exclusive app. The 12-month plan in Huron is $21.99 bi-weekly, offering similar benefits.
At the Anytime Fitness Fulton location, the 12-month plan is $63.49 per month due to regional pricing differences, while at Alameda, memberships start at $55 per month. Anytime Fitness is known for its supportive staff, state-of-the-art equipment, and comprehensive training and coaching services, making it a convenient fitness choice.
7. Crunch Fitness
Crunch Fitness is a dynamic gym chain known for its energetic atmosphere and diverse range of fitness options. They offer flexible membership plans tailored to individual needs, including 'Base', 'Peak', and 'Peak Results' levels with varying amenities and access privileges.
Prices range from $9.95 to $29.95 per month, with additional fees like a monthly processing fee and an annual fee. Members can enjoy facilities such as state-of-the-art cardio and weight machines, group fitness classes, and amenities like saunas and tanning, depending on their membership tier. Crunch Fitness has guest pass policies, allowing you to experience the gym before committing. Peak times at Crunch Fitness typically happen during early mornings and evenings, but the wide range of locations helps in managing crowd levels effectively.
8. LA Fitness
LA Fitness, a well-known fitness chain, provides a wide range of workout facilities and fitness classes. Their membership plans come in both single and multiple-person options, starting at $49.99 per month for one person. For a single membership, the initial payment covers the first and last month's dues, totaling $99.98, along with an annual fee of $49 per person.
LA Fitness also offers guest pass policies, allowing potential members to try out the facilities before committing. Peak gym times are usually from 6 am to 9 am and 4 pm to 7 pm, though this can vary by location and day of the week. The gym offers a variety of equipment, group fitness classes, and additional amenities to cater to different fitness preferences and levels.
9. UFC Gym
UFC Gym is a fitness chain that integrates the intensity and techniques of Mixed Martial Arts into its training programs. With 75 locations in the United States, this gym provides three main membership tiers: Fitness, Challenger, and Champion, each with distinct benefits. The Fitness membership costs $59 per month and includes access during all hours of operation, participation in UFC PPV fight parties, full strength and cardio access, and group fitness classes.
For a more comprehensive experience, the Challenger tier, priced at $99 per month, adds unlimited ultimate conditioning classes to the Fitness membership offerings. The premium Champion membership, available at $129 per month, encompasses all Challenger benefits plus skills and technique classes, a free MyZone device, 15% off personal training services, free guest privileges, access to all UFC GYM/FIT/CLASS global locations, the BOX.HIIT.LIVE virtual platform, a 90-day complimentary Fight Pass, and discounts on challenges.
10. Planet Fitness
Planet Fitness is a popular gym chain known for its affordable memberships, welcoming atmosphere, and emphasis on creating a judgment-free workout environment. They offer a range of membership options, including the PF Black Card and the Classic membership. The PF Black Card costs $24.99 per month and includes benefits like access to any club, the ability to bring a guest anytime, and access to PF+ premium digital workouts, with a $1 startup fee and a $49 annual fee.
The Classic Planet Fitness membership is priced at $10 per month, providing unlimited access to the home club, with a $39 startup fee and a $49 annual fee. Both memberships have no long-term commitment and are available at numerous locations across the country.
11. Orangetheory Fitness
Orange Theory Fitness is a dynamic gym specializing in high-intensity interval training (HIIT) classes. They offer several membership tiers to suit different workout frequencies and budgets. The Orange Premier membership, at $169 per month, provides unlimited monthly classes, ideal for those attending more than three times a week. For less frequent gym-goers, the Orange Elite membership is available at $109 per month, offering 8 classes per month with the option to purchase extra classes at a reduced rate. The Orange Basic plan, costing $69 per month, includes 4 classes per month, again with additional classes available at a lower cost, suitable for those attending weekly.
Beyond memberships, Orange Theory also sells class packs, allowing for 10, 20, or 30 classes, providing flexibility for irregular attendees. Additionally, they offer corporate memberships at a discount, typically around $10 off per month, for employees of participating organizations, promoting fitness in the workplace.
12. F45 Training
F45 Training is a global fitness community specializing in innovative, high-intensity group workouts that are fast, fun, and results-driven. Their membership options are varied, catering to different commitment levels and budgets.
The annual membership at F45 Training is priced at $154.99 per month, offering a cost-effective solution for long-term members. For those preferring a shorter commitment, the six-monthly membership is available at $164.99 per month. The monthly, no-commitment membership costs $169.99 per month and provides excellent flexibility. It's perfect for folks with shifting schedules or those just testing the gym.
F45 also provides 10-Class and 20-Class Passes, priced between $200-$270 and $400-$540 respectively, ideal for those who prefer to pay per class. Additionally, they offer a Trial Week for newcomers, ranging from $15 to $30, allowing potential members to experience the gym's unique training style.
13. Snap Fitness
Snap Fitness is a well-known gym chain that keeps things simple and accessible. They mainly offer a month-to-month membership plan, which typically costs around $39.99 per month, a consistent price across many U.S. locations. If you're in it for the long haul, some Snap Fitness gyms also offer one- or two-year contract options. Just be aware that when you sign up, there might be an initiation fee, which can range from $49 to $129, along with a fee for getting your access card.
Membership includes access to all strength and cardio equipment and group classes, ensuring a comprehensive workout experience. Annually, Snap Fitness charges a club enhancement fee, typically $35, used for equipment upgrades, new amenities, and staffing, enhancing the overall gym experience. Snap Fitness offers discounts for students, seniors, military personnel, and law enforcement officers, and sometimes family discounts for members sharing the same address.
14. Retro Fitness
Retro Fitness is a gym chain offering a mix of traditional and modern fitness solutions in a vibrant, retro-themed environment. They provide three main membership options: Ultimate ACH, Core ACH, and Flex ACH, each tailored to different needs and preferences. The Ultimate ACH plan, at $34.99 per month plus taxes and fees, offers the best value with no commitment, nationwide access, unlimited guest privileges, and a range of amenities including unlimited Hydromassage and group exercise classes.
The Core ACH membership, priced at $31.99 per month plus taxes and fees, requires a 12-month commitment and includes nationwide access, along with standard gym equipment and locker room facilities. For a more budget-friendly option, the Flex ACH plan costs $24.99 per month plus taxes and fees, providing access to the home club only and no long-term commitment. All memberships at Retro Fitness include a premium fitness consultation, featuring two comprehensive fitness assessments and two InBody scans with analysis.
15. Curves International
Curves is a fitness franchise designed specifically for women, offering a supportive and empowering workout environment. Membership costs at Curves vary between locations but generally range from $34.49 to $49.59 per month in most American clubs​​. The most popular option is the basic month-to-month program, which provides access to Curves classes and allows members to cancel anytime​​. This basic plan includes an initiation cost of $149.99​​.
Additionally, Curves offers an annual plan costing $419 for the base plan and $549 for the premium plan, each requiring the same initiation fee​​. For those who prefer working out at home, Curves also provides online classes at a monthly subscription of about $24.99​​. While the exact membership cost depends on the location and selected membership type, some clubs also offer a no-commitment plan where members can pay per visit or for a set number of visits​​. The initiation fee varies by location, ranging from zero to $149 on average​​.
16. Burn Boot Camp
Burn Boot Camp is characterized as a fun and friendly community-style gym, that offers a unique and dynamic workout environment. The Burn Boot Camp membership packages typically range between $100 and $179 per month. They provide a single gym membership with various benefits, including access to the home gym, unlimited camps, child watch, and focus meetings, among other perks.
There's also a universal gym membership with additional features like unlimited gym access and no drop-in fee. For those preferring digital workouts, Burn Boot Camp has a Burn On Demand option, offering a range of on-demand videos and daily live protocol workouts.
17. 9Round
9Round is a specialized gym focusing on kickboxing-themed fitness programs in a circuit training format. Their monthly memberships for a single adult come in various terms: 3 months at $109 per month, 6 months at $89 per month, and 12 months at $79 per month, each with a $99 enrollment fee but no cancellation fees.
For a shorter commitment, 9Round offers a 12-week term with a one-time fee of $349 and no enrollment fee. 9Round also provides online workouts via Zoom for $49 per month with no enrollment or cancellation fees.
18. Blink Fitness
Blink Fitness is a budget-friendly and easily accessible gym chain that provides three tailored membership plans, each with distinct features and pricing. The Gray plan is a basic month-to-month option at $15/month, offering single gym access and a free personal training session. The Blue plan, a 12-month commitment at $23/month, includes access to over 90 locations, unlimited Blink app content, and guest privileges.
The Green plan, also for 12 months at $27/month, extends the Blue plan benefits to include access to Manhattan locations. All memberships incur an annual fee of $54.99. Blink Fitness also offers a one-day free trial and periodic promotions, such as reduced startup fees ranging from $1 to the standard $49-$99, depending on the timing of enrollment.
19. SPENGA
SPENGA is a unique fitness studio offering a blend of spin, strength, and yoga in each session, designed for all fitness levels. They have various pricing options: four classes for $79/month, eight classes for $129/month, unlimited classes for $169/month, and a 10-session package for $250. SPENGA prides itself on creating an unrivaled fitness experience, with a supportive atmosphere that motivates members during every workout.
They offer a satisfaction guarantee, promising a refund if you're not satisfied within the first 30 days. The membership options include unlimited sessions with preferred booking, 8 sessions per month, and 4 sessions per month. SPENGA's approach focuses on finding balance and wellness, making it a comprehensive fitness destination.
21. CycleBar
CycleBar is a specialized fitness studio focused on indoor cycling, offering an immersive and energetic spin class experience. The pricing for CycleBar classes varies by location but typically includes options such as a single drop-in class for $22, a 10-pack for $180, and a 20-pack for $340. If payments are set to auto-renew, you can get better rates: 4 rides/month for $59, 8 rides/month for $109, and unlimited rides/month for $149. CycleBar frequently offers special rates and promotions, which vary depending on the season.
How to Choose the Best Gym?
To choose the best gym, consider key aspects like affordability, convenience, and the quality of facilities and services offered. Choosing the best gym also involves balancing personal needs with the amenities and services offered.
Evaluate Membership Costs: Compare price ranges and payment options, and determine if a contract is necessary, as signing up for 12 months or more typically leads to better deals. If you're looking to save money, avoid going month-to-month, and also carefully review contract terms and cancellation options. Additionally, be vigilant about marketing promotions and always check for enrollment fees, annual fees, and any other extras.
Assess Location Proximity: Check the distance from your home or workplace. A quick Google search for 'gyms near me' will display a full list of available fitness centers. If needed, think about selecting gyms that operate 24 hours a day.
Inspect Equipment Quality: When you head to your local gym, make sure the machines are up-to-date and well-maintained. Check that the treadmills aren't falling apart or making a racket when you run, ensure the bikes are in working order, and confirm that the heart rate monitors accurately sense your pulse. Additionally, check that the dumbbells are properly fixed and don't need manual weight adjustments.
Verify Cleanliness: Assess the gym's hygiene standards and facility maintenance. Evaluate the cleanliness of the changing rooms and determine if the gym showers meet your standards. Check if the gym staff actively cleans the premises and observe if members are using towels on equipment.
Explore Class Variety: While gyms like LA Fitness or Planet Fitness do offer classes, it's important to note that not all locations are identical. Be sure to check their class schedules to see how busy they are and if they tend to fill up quickly, making it almost impossible to sign up. Additionally, look for a variety of fitness classes being offered at your preferred location.
Read Online Reviews and Ratings: Read customer feedback, and have a chat with 2-3 people while you're there, just say you're new and looking to learn more about this place, but be descriptive, don't make it awkward. Also read online reviews, blogs, social media, and forums.
Inquire about Personal Training: If you're planning to hire a trainer, first check the availability and qualifications of the trainers. Look up their names on Google, see what others have to say about them, and find out if they have a website that looks like a legitimate business. Look for testimonials, before-and-after pictures, and sample diet plans to make an informed decision.
What are the best gyms for beginners?
Gyms for beginners are fitness centers that prioritize accessibility, comfort, guidance, and support for individuals new to exercising. They offer structured programs and welcoming environments, catering to those starting their fitness journey.
The best gyms for beginners include Planet Fitness, YMCA, and Snap Fitness. Planet Fitness is known for its judgment-free zone, making it ideal for those who might feel intimidated. YMCA offers a community-focused environment with a variety of classes suitable for all levels. Snap Fitness provides 24/7 access and personalized attention, catering to beginners with varying schedules.
The worst gyms for beginners might be CrossFit and Gold's Gym, mainly due to their intense and competitive atmospheres. CrossFit's high-intensity and complex workouts can be overwhelming for beginners. Gold's Gym, known for its focus on bodybuilding and strength training, might intimidate those just starting in fitness.
What are the best gyms for women?
Gyms for women are fitness centers designed to cater specifically to women, providing a comfortable, supportive environment, specialized programs, and often, privacy. They focus on the unique fitness needs and preferences of women.
The best gyms for women include Curves, gyms with daycare and childcare, home gyms, and Jazzercise. Curves Gym is tailored exclusively to women, offering a supportive community and fitness programs. Gyms with daycare and childcare cater to mothers, providing convenience.
Conversely, boxing gyms, martial arts gyms, and muay thai gyms might be less suitable for women, especially beginners, due to their typically intense, combat-focused atmosphere, which might not align with the fitness goals or preferences of many women.
What are the best gyms for men?
Gyms for men are fitness centers tailored to cater to men, featuring equipment like heavy weights and offering programs like strength training. They emphasize building muscle mass and endurance and often provide a competitive atmosphere geared towards male fitness goals.
The best gyms for men include Gold's Gym, UFC Gyms, and World Gym. Gold's Gym is renowned for its focus on bodybuilding and strength training. UFC Gyms cater to men interested in mixed martial arts and intense workouts. World Gym is known for its comprehensive strength and conditioning equipment. Any gym that doesn't align with one's specific fitness goals or lacks the desired equipment and atmosphere might not be ideal for some men.
What are the best gyms for teens?
"Gyms for teens" are fitness clubs that offer a safe environment, age-appropriate equipment, youth-focused fitness programs, and even physical education classes. These gyms are all about promoting a healthy lifestyle and helping young folks build good exercise habits.
The best gyms for teens include Planet Fitness, YMCA, and 24 Hour Fitness. Planet Fitness offers a welcoming, non-intimidating environment ideal for teens. YMCA focuses on community and youth development, providing programs specifically for teenagers. 24 Hour Fitness offers a variety of equipment and classes, making it a versatile option for teens with diverse fitness interests.
What are the best gyms for seniors?
Gyms for seniors are fitness centers that emphasize strength and mobility, avoiding heavy lifting and focusing more on stretching and balance. They feature specialized staff and personal trainers equipped to address the unique fitness needs of older adults.
The best gyms for seniors include Planet Fitness and Retro Fitness, known for their low-impact exercise options and welcoming environment. Stretching studios like StretchLab or Stretch Zone, and yoga studios like YogaSix, are also ideal for seniors, focusing on flexibility and balance. Gyms with saunas provide a relaxing experience, beneficial for senior health and wellness.
Conversely, Bootcamp-style gyms, boxing gyms, and CrossFit gyms might not be ideal for seniors due to their high-intensity, impact-heavy workouts, which can be challenging and pose a higher risk of injury for older adults.
What are the best gyms for travelers?
Traveler-friendly gyms, like hotel gyms and local pay-as-you-go options, are designed for people on the go, so you don't need a membership. Another great option for travelers is joining a well-known chain gym with locations in major cities, making it super easy for you to stay active during your travels.
The best gyms for travelers include Planet Fitness with its Black Card membership and LA Fitness. The Planet Fitness Black Card offers access to all their locations nationwide, ideal for frequent travelers. LA Fitness, with its widespread locations, also provides convenience for those traveling in different cities or states.
What are the best gyms for bodybuilders?
Gyms for bodybuilders are fitness centers equipped with heavy weights, and specialized machines, and often open 24 hours. These gyms are selective in membership, sell supplements, and offer protein shakes, catering specifically to bodybuilders' needs.
The best gyms for bodybuilders include Gold's Gym and dedicated weightlifting gyms, known for their extensive range of equipment and supportive environment for heavy and intense workouts, crucial for bodybuilding.
Conversely, gyms like Planet Fitness might not be ideal for bodybuilders due to their "no grunting" policy and focus on general fitness over heavy weightlifting, limiting the intensity of workouts typical in bodybuilding.
What are the best Gym Types?
The best gym type varies depending on your personal preferences and fitness goals. Traditional gyms such as Energy Fitness, Anytime Fitness, or Element Fitness provide a diverse range of equipment and classes, making them suitable for a general fitness approach. If you're into specialized workouts and a sense of community, you might prefer studios like CorePower Yoga, YogaSix, ClubPilates, or CycleBar.
For those who crave high-intensity training, options like F45, CrossFit, Eat The Frog Fitness or boot camps can offer challenging and structured workouts. Remember, the "best" choice depends on what suits you best. Below, I've listed the common types of gyms that people usually find themselves in:
Workout Gyms
Stretch Studios (stretching gyms)
Boxing Gyms
Home Gyms
Cycle Studios
1. Workout Gyms
Workout gyms, also known as fitness clubs or luxury gyms, are facilities that offer a wide range of exercise equipment and classes. They typically feature state-of-the-art machines, free weights, and various cardio equipment. Many, like PureFitness, O2 Fitness, and Fusion Gyms, offer personal training services and high-end amenities. Membership fees can range significantly, often reflecting the quality and range of services. These gyms cater to a broad spectrum of fitness enthusiasts, from beginners to advanced athletes.
2. Stretch Studios (Stretching Gyms)
Stretch studios, also known as flexibility centers, are stretching gyms that focus on improving range of motion and reducing muscle tension. Names like Stretch Zone, StretchLab, StretchU, and StretchMED are prominent in this niche. These stretching studios offer guided stretching sessions, often with trained professionals, and can include one-on-one or group classes. Membership and session costs vary but are generally affordable. Stretch studios are becoming increasingly popular for injury prevention and recovery.
3. Boxing Gyms
Boxing gyms, also known as boxing clubs, are small boutique sports centers that specialize in boxing training and fitness. Renowned names include TITLE Boxing Club, The Corner Boxing Club, and World Boxing Gym, with exclusive gyms like Mayweather Boxing Club offering a more private experience.
These gyms provide boxing rings, punching bags, and other specific training equipment. Membership fees can range based on the level of facilities and training offered. Boxing gyms cater to both amateur and professional boxers, as well as fitness enthusiasts interested in boxing workouts.
4. Home Gyms
Home gyms, also referred to as personal fitness studios, offer the convenience of working out at home with specialized equipment. Brands like Peloton, Tonal, NordicTrack, Vitruvian, and OxeFit provide a range of equipment from smart bikes to all-in-one strength training machines. Costs can vary, with some equipment like the Peloton bike being a significant investment. Home gyms are ideal for those who prefer privacy and flexibility in their workout schedule.
5. Cycle Studios
Cycle Studios, also known as spinning studios, are specialized fitness centers focusing on indoor cycling. Popular names in this category include SoulCycle, Cyclebar, Studio Three, and RIDE Indoor Cycling. These studios typically feature rows of stationary bikes and emphasize high-energy, instructor-led workouts often set to motivating music.
Membership or class fees vary, with some studios offering packages or memberships, while others operate on a pay-per-class basis. Cycle Studios provides a cardiovascular workout that's low-impact yet high-intensity, making them popular among those looking to improve endurance and burn calories in a group setting.