In this review, I will share my experience from doing 9Round fitness. I will explain if it's worth it, how I managed to sweat, have fun, but most importantly, how you can do it too.
Overall, the 9round fitness is worth it because it offers a style of workout that is geared towards boxing and kickboxing, which is completely different than regular gyms. It also doesn't require prior scheduling, which means you can start a class at any time.
However, there are some things to consider like price and opening hours, which are different for each 9Round location.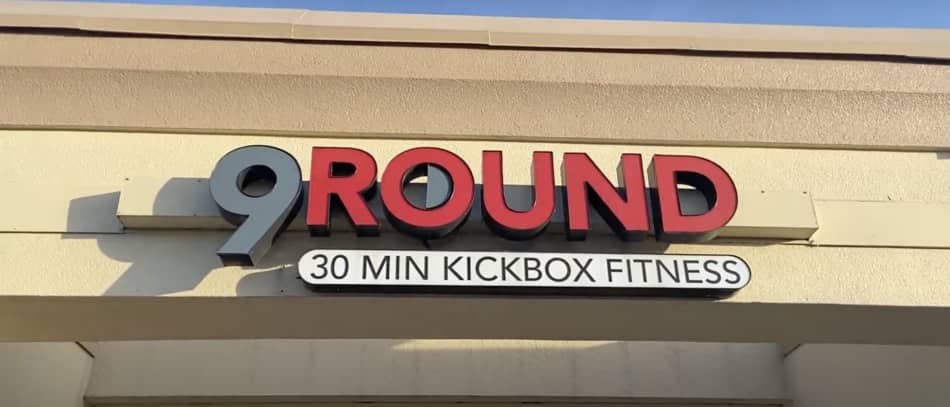 What is 9round Fitness?
As a whole, the 9Round fitness is a franchise gym boutique that specializes in kickboxing style training, but it also includes strength training components. It works by training your upper and lower body using several combinations of punching and kicking.
Before I did my first 9Round workout I spend some time chatting with one of the trainers at the Miracle Mile in Coral Gables.
He gave me to sign a liability waiver, explained how the session work and soon I was on the clock getting my ass kicked.
Is 9Rounds a gym? Overall, the 9round is a gym, but its not like LA Fitness or Planet Fitness where you have hundreds of cardio and weight training machines. Each 9Round studio has a set of dumbbells, kettlebells, and several different punching bags.
What I like about 9Rounds is its format of walk-in kickboxing circuit training, which I think is unique because you don't have to be tied up to a certain timetable. However, the gym is not open all day long.
9Round Openning Hours
9Round gyms are open usually for 6 to 8 hours per day.
Morning 8:00 am till 12:00 pm
Afteroon 4:00 pm till 8:00 pm
However, the trainer at the Coral Gabels told me that timetable is different at all locations and depends on the owner.
Some gyms can start as early as 6:00 am and reopen at 3:00 pm. But you will always see a gap during the day. If you want to know the opening time for each location, they have a website with all the gyms and timetables.

You don't gonna have to book your sessions in advance or arrive according to the set timetable because the classes are walk-in. This means you start your workout the moment you enter the gym door.
I think that's what separates 9Round fitness from other franchise gyms. Here you can show up anytime and instructors will give you undivided attention.
TIP: If you're a beginner and you need special attention from the trainers I recommend coming in the times when the gym is not crowded.
Is 9Rounds Effective?
Overall, the 9Rounds is effective because each class offers high-intensity interval training using a combination of many boxing and kickboxing drills, as well as bodyweight strength and core exercises. It is also fun and de-stressing.
I think the best part about my 9Round class was when the trainer comes along with boxing pads and encourage you to punch him.
I always liked boxing and in the past, I used to train with the punching bag. However, training with a partner is much better because it helps you to push yourself beyond what you thought was possible.
It was also a nice experience to hear the guys call you by your name and motivate you, so even when you feel like you don't have much more energy left, you still keep going.
What Are the 9 rounds at 9Round?
Overall, the 9Rounds are 9 stations where you do different full-body exercises. In the first couple stations, you start from strength training using bodyweight exercises, kettlebells, and dumbbells. Sections 3 to 8 covers boxing and kickboxing, and the last round is about abdominal exercise.
Here is the breakdown of all 9 rounds and the types of exercises you do at each one of them.
| # of rounds | Exercises |
| --- | --- |
| Round 1 | Aerobic exercise to get the heart rate up (Jump rope, jumping jacks) |
| Round 2 | Strength training with weights (dumbbells, kettlebells, or medicine ball) |
| Round 3 | Double-end punching bag together with some HIIT exercise (burpee, high knees) |
| Round 4 | Heavy bag (for punches and kicks) |
| Round 5 | Wrecking Ball (for punches and kicks) |
| Round 6 | Freestyle (you work with a trainer using boxing pads) |
| Round 7 | Horizontal bag (for kicks, punches, and HIIT exercise) |
| Round 8 | Speed bag (for punches and bodyweight strength exercise) |
| Round 9 | Core (2-3 abs exercises) |
9Round exercises
Each round is 3 minutes where you get to do 2 exercises. For example, you can be kicking a horizontal bag for 20 seconds followed by a set of squat jumps or lunges with extra weight.
Or you can be doing a speed bag for 30 seconds and a set of pushups for 15 seconds.
In short, the 9Round fitness is hard because you keep moving for 90% of the time doing strikes, punches, and kicks with full force, without a lot of rest. Plus, during the 30 seconds active recovery you also do some cardio bodyweight exercise.
What should I expect at 9Round? In general, you should expect challenging training at 9rounds. Every class is inspired by dynamic, high-intensity intermittent striking combat sport, where you move for the whole 30 minutes.
9Round For Weight Loss
Doing 9Rounds for weight loss can be beneficial, especially if you don't like regular gyms or fitness classes. I find that boxing is very therapeutic because punching and kicking can release an enormous amount of tension and stress from the body.
So apart from burning calories, 9Round is great for helping you to work through any negative feelings, de-stress and relax.
Can you lose weight with 9round? As a whole, you can lose weight with 9Round because each 30-minute session can burn between 400 to even 800 calories, depending on your fitness level. More advanced people can train harder and push themselves more, comparing to beginners.
The more punches and kicks you can do without any rest, the more calories you will burn.
Can kickboxing get you in shape? In short, kickboxing can get you in shape because it requires high peak and high anaerobic power output, as well as aerobic conditioning. Plus, adding strength training and boxing style bodyweight exercises improve muscle strength and endurance.
It takes a lot of energy to strike with full power. That's why each round of 9Rounds lasts for 3 minutes because if you give out your all you should feel out of breath.
One cool thing about 9Round is that you get to wear a heart rate monitor, which is connected to the screen so the trainers know exactly how hard you train.
In one 30 minute class I burned over 500 calories, which is more than running or cycling.
Can I lose belly fat by doing 9Round? In general, you can lose belly fat by doing 9Round fitness because it elevates and maintain your heart rate at the fat-burning zone. Also, in each class, you do 30 seconds of active recovery, which is usually a core conditioning exercise like v-sits, planks, and mountain climbers.
9round For Beginners
Overall, the 9Round fitness is suitable for all levels of fitness, even for beginners and overweight people. Each gym has a team of trainers that help to design and personalize your workout based on your fitness level. So even if you haven't done boxing before, you will feel comfortable.
9round is good for beginners because it helps to develop a habit of consistent exercise in a fun and engaging environment. The classes are different each time, which keeps things more interesting, especially if you're getting started.
To know how often you should be doing 9Rounds will depend on your fitness goals. People who want to lose weight should aim for at least 3 to 5 sessions per week. However, if you just train for health and fun, I recommend doing 1-2 classes per week.
Doing boxing 3 times a week will get you in shape, as long as you stay consistent and look after your diet. Boxing and kickboxing are excellent strength and conditioning workouts that challenge both your aerobic and anaerobic fitness.
This means they will get you fitter, but to improve body composition, you also need to control your diet.
Does 9Rounds make you gain weight? Overall, you should not gain weight from doing 9Rounds, as long as you control your calorie intake. 9Rounds fitness is a form of high-intensity interval training, which is effective in burning calories. However, you still need a calorie deficit to get the best results.
Please remember that the 9Round class is only 30 minutes. If your goal is to lose weight, 90 minutes of exercise per week won't cut it.
You either have to add more training volume or focus more on calorie intake.
Can you do 9round every day? As a whole, you can do 9Rounds every day because each class is only 30 minutes. However, you should implement at least one recovery day in the week because doing HIIT classes every day in the long term may lead to slower recovery and increase injury risk.
Does 9Round build muscle? In general, 9Round fitness does build muscle because boxing and kickboxing require continuous punching and kicking over the 3 minute round. This builds dynamic strength and strength endurance, especially in the legs and shoulders.
Also, you should not do 9round while pregnant because the class is mainly high-intensity interval training. According to The American College of Obstetricians and Gynecologists, pregnant women should avoid HIIT workouts (source).
What Should I Wear to 9Round?
On your first visit to 9Rounds, you should wear regular gym shoes and clothes. You should also bring a set of boxing gloves with the size of 10 to 12oz, and a pair of boxing strips to wrap around your knuckles. Those help to keep the wrist tight and protect from injuries.
Do I need gloves for 9Round? In short, 9Round will provide a pair of boxing gloves only to the people who sign up for the membership. If you're coming first time for the free trial, you may get a spare pair. That's why I always recommend bringing your pair of gloves.
I brought my gloves.
But if you don't have gloves and you are not sure yet if you're ready to become a member yet, each 9Round gym sells regular gloves for around $40.
Are 9Round gloves good? As a whole, the 9Round gloves are made of are made from latex foam and synthetic leather, which is good for your regular boxing session. However, synthetic boxing gloves usually wear out quicker and if you want to do boxing for the long term, you may consider getting full leather ones.
Punching the heavy bag without gloves can lead to a wrist injury, especially if you forget to keep the wrists tight. Having gloves not only makes it easier for your knuckles but also stabilizes and protects your wrists.
Here is the list of things to bring for your first 9Round class.
Sports shoes and outfit (shorts and tshirt)
Sweat towel
Bottle of water
Boxing gloves
Boxing straps
You don't have to bring a mouth guard or boxing head protection because you won't be doing any contact fighting.
Does 9round teach you how to fight? In short, you won't learn how to fight in 9Round classes. All gym is combat-inspired and the sessions do include some striking and punching with a partner, but they don't teach you fighting methodology as you would learn in the regular boxing or MMA gym.
Does 9Round have showers? Also, the 9Round gyms don't have any shower facilities, but they do have restrooms. Each gym is relatively small with just one main room where everyone is training.
Learn more: Click here to learn tips and hacks for "showering at the gym"
9Round Pros and Cons
Now let's talk about the benefits and issues that I noticed during my couple of days at the 9Rounds.
Pros
great physical wokrout (cardio, strength, endurance)
helps to down-regulate and de-stress
no boxing experience required
fun and entertaining
improves mental toughenss and self-confidence
Cons
crowded during peak times
no heavy weights
different fitness levels may feel intimidating
open on Saturdays only for 4 hours
closed on Sundays
Also, once you signed up as a member, you cannot go to any 9Rounds location because each gym is operated by individual owners.
This means once you sign up at one location, you need to stay committed to training there exclusively.
9Round vs F45
The 9Round and F45 are completely different types of workouts but are based on the same idea; functional group fitness workouts. They both have advantages and disadvantages compared to other fitness gyms, and both are effective.
The F45 training is more like a group HIIT training class where you use a variety of equipment like rowing machines, spin bikes, barbells, and dumbbells.
Learn more: Click here to learn more about "why I quit F45".
On the other hand, the 9Round fitness is more like a boxing boutique studio that offers less variety, but you can enter and start your session independently from the schedule.
Here are some of the main differences between F45 and 9Round fitness.
9Rounds
F45
Main focus
Kickboxing
Strength training
Duration
30 minutes
45 minutes
How does it work?
Boxing with a punching bag
Kickboxing exercises
Bodyweight exercises
Heart rate monitors
Weight training
Calisthenics
Indoor rowing
TRX Training
Indoor cycling
Heart rate monitors
Time
No schedule required
4-5 classes per day
Price
$80/month
$200/month
9Round vs F45
Is 9Round Worth It?
Overall, the 9Round is worth it because they offer novel types of training using boxing bags, speed bags, and heavy bags, as well as one-on-one with trainers. The workout is hard and fun at the same time because when you pair with others you forget about exercise, and focus on having fun.
I definitively recommend 9Round for everyone who wants to get back into fitness and is looking for something new and challenging at the same time.
Boxing and kickboxing is a great alternative to sports like running and cycling because it saves time and allows to train in a great community of like-minded people.
Conclusion
As you can see, the 9Round is a workout where you train using boxing and kickboxing style exercises. Apart from strength and conditioning, it also works on your speed, agility, power, balance, coordination, and reaction time.
My favorite part is the sparring with the trainer where I can double down on boxing techniques, release my stress, and feel energized by the end of the 30 minutes.
To start, on your first day at 9Rounds I recommend bringing a pair of gloves and boxing wraps. However, once you sign up for the membership, you will get a pair of each, as well as a heart rate monitor.
The 9Rounds uses heart rate monitors to measure your effort level, which is more precise than the rated perceived exertion (RPE) scale.