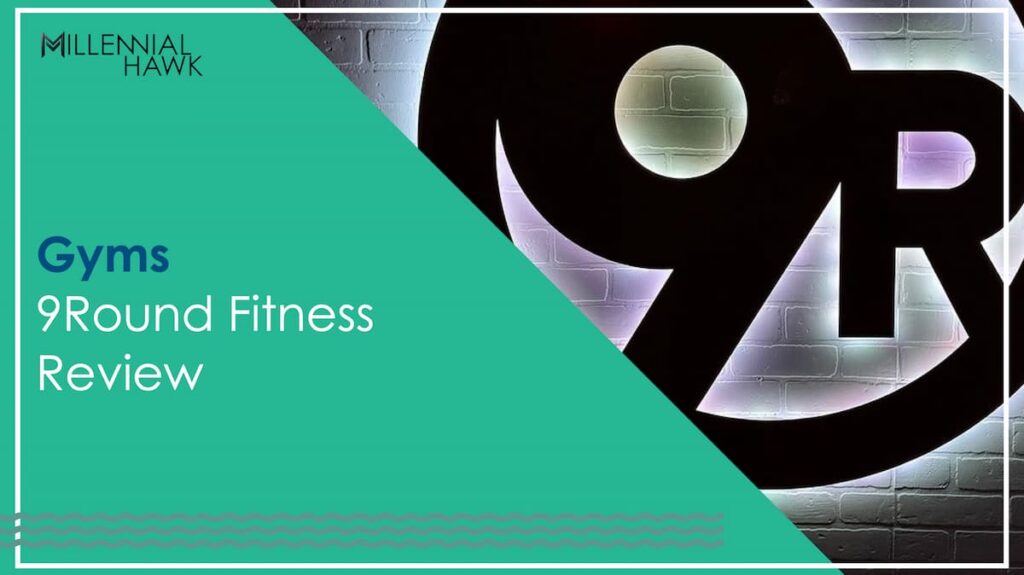 9Round Fitness refers to a specialized gym offering a high-intensity kickboxing workout where members rotate through nine stations, each lasting two minutes, focusing on cardio or strength training. It's ideal for busy folks, as you can jump into a class every three minutes without prior booking, guided by personal trainers.
The biggest perk of 9round is its unique focus on boxing and kickboxing workouts, ditching traditional gym equipment like weight machines and squat racks. This setup is great for beginners, and the wearable heart-rate tech helps you keep an eye on your exercise intensity. However, the flip side is that 9round's strength training is pretty basic (think push-ups, bodyweight squats, planks), and the experience can vary across locations due to differing instruction styles.
So, is 9Round Fitness expensive? Yes, a 9Round gym membership ranges from $69 per month for 4 workouts to $155 per month for unlimited sessions, although prices may vary based on location. This is more than double what you would pay at commercial gyms like Crunch Fitness or Gold's Gym. However, it's worth noting that 9Round offers semi-private classes tailored to your fitness level, available on the go without a prior schedule; you can start a class at any time, although it is open for less than 8 hours a day.
In this review, I will share my experience with 9Round Fitness, including details on 9Round cost and membership prices, what to expect, what 9Round franchise reviews say, and whether it's worth it. I'll also explain how I managed to sweat, have fun, and, most importantly, how you can do it too.
What is 9round Fitness?
9Round Fitness is a boutique gym franchise established in 2008 by Shannon "The Cannon" Hudson, a former IKF Light Middleweight Kickboxing World Champion and the current CEO of 9Round Franchising, LLC. This fitness concept revolves around 30-minute kickboxing-style training sessions that incorporate strength training elements.
9Round Fitness is designed to provide a full-body workout through a combination of punches and kicks. 9Round is under the umbrella of Lift Brands, the parent company that also owns Snap Fitness and FitnessOnDemand.
Where is 9Round Fitness located?
9Round Fitness has a widespread presence with over 600 locations across 41 states in the United States and a total of 297 locations spread across 20 countries, including Canada, Mexico, Costa Rica, Saudi Arabia, Japan, Australia, and more.
What are the 9Round Fitness Opening Hours?
The opening hours of 9Round Fitness typically range from 6 to 8 hours per day, and these hours may vary by location. Common hours include mornings from 8:00 am to 12:00 pm and afternoons from 4:00 pm to 8:00 pm.
I visited the 9Round near me at the Miracle Mile in Coral Gables. During my workout, I spent some time chatting with one of the trainers. The trainer at Coral Gables told me that the timetable varies at each location and depends on the owner.
Some gyms may start as early as 6:00 am and reopen at 3:00 pm, but there is typically a gap during the day. If you want to know the opening times for each location, they have a website with all the gyms and their timetables.

How Does the 9Round Fitness Work?
9Round Fitness functions as a gym but distinguishes itself from traditional gyms like LA Fitness or Planet Fitness. Each 9Round studio is equipped with dumbbells, kettlebells, and various punching bags, offering 30-minute classes. Unlike Orangetheory Fitness or F45 Training, it lacks treadmills or rowers but features punching bags and boxing stations.
Apart from in-person classes, 9Round Fitness also offers 9Round NOW, an online on-demand workout platform. It's available for members who have unlimited or 8-session-per-month packages and is designed to provide a full-body workout through a combination of punches and kicks.
During my first 9Round workout, I joined a group of four others. The trainer had me sign a liability waiver and explained the session's structure, which consists of nine rounds lasting 3 minutes each, and soon I was on the clock, getting my workout started.
What sets 9Round apart is its walk-in kickboxing circuit training format, which allows you to exercise without being bound to a specific schedule. You don't need to pre-book your sessions; simply arrive at the gym, and you can start your workout immediately. This flexibility stands out compared to other franchise gyms. However, what I dislike is that the gym is not open all day long. If you're a beginner and require extra guidance from the trainers, I recommend coming during less crowded times.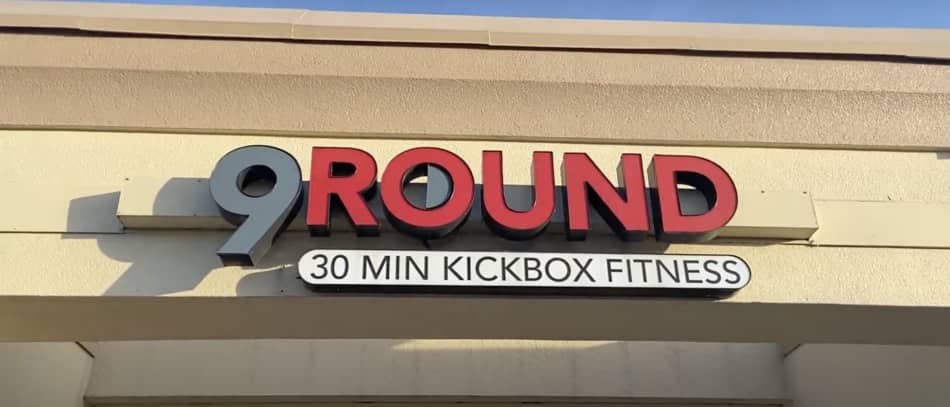 How Does the 9Round Fitness Work for Weight Loss?
The 9Round Fitness program works for weight loss through its high-intensity kickboxing-style training. Kickboxing can get you in shape because it requires high peak and high anaerobic power output, as well as aerobic conditioning. A 2015 study by Birinder S Cheema from the University of Western Sydney Research shows that 4 weekly sessions of boxing-style high-intensity interval training (HIIT) can lead to notable health benefits, including a significant reduction in body fat percentage and systolic blood pressure. In another 2014 study by Sarah P. Shultz from Massey University, similar benefits were highlighted in obese adolescent boys, including a moderate decrease in visceral fat thickness and gains in physical fitness and self-confidence.
In terms of calories burned, one cool aspect of 9Round is that you wear a heart rate monitor connected to the screen, allowing trainers to track your intensity. This way, you can monitor your calorie burn per class. I've managed to burn just under 350 calories during a 30-minute session, which is equivalent to running or cycling.
You can lose weight with 9Round because each 30-minute session can burn between 300 to 500 calories, depending on your fitness level. Advanced individuals can push themselves harder compared to beginners. The more punches and kicks you can do without any rest, the more calories you will burn.
Can I lose belly fat by doing 9Round?
Yes, you can lose belly fat by doing 9Round Fitness because it elevates and maintains your heart rate in the fat-burning zone. Additionally, in each class, you engage in 30 seconds of active recovery, typically involving core conditioning exercises like v-sits, planks, and mountain climbers.
What Are the 9 Rounds at 9Round?
The 9Rounds at 9Round Fitness are a series of 9 stations where you engage in various full-body exercises. The workout includes strength training with bodyweight exercises, kettlebells, and dumbbells in the initial stations, followed by boxing and kickboxing in stations 3 to 8, and concluding with an abdominal exercise round. This table shows the breakdown of all 9 rounds and the types of exercises you do at each one of them.
| Horizontal bag (for kicks, punches, and HIIT exercises) | Exercises |
| --- | --- |
| Round 1 | Aerobic exercise to get the heart rate up (Jump rope, jumping jacks) |
| Round 2 | Strength training with weights (dumbbells, kettlebells, or medicine ball) |
| Round 3 | Double-end punching bag together with some HIIT exercise (burpee, high knees) |
| Round 4 | Heavy bag (for punches and kicks) |
| Round 5 | Wrecking Ball (for punches and kicks) |
| Round 6 | Freestyle (you work with a trainer using boxing pads) |
| Round 7 | Speed bag (for punches and bodyweight strength exercises) |
| Round 8 | Speed bag (for punches and bodyweight strength exercise) |
| Round 9 | Core (2-3 abs exercises) |
9Round exercises
Each round lasts for 3 minutes during which you perform 2 exercises. For instance, you might kick a horizontal bag for 20 seconds and then switch to a set of squat jumps or lunges with added weight. Alternatively, you could do a 30-second session with a speed bag followed by 15 seconds of pushups.
Is 9Round Fitness hard?
Yes, 9Round Fitness is challenging because you keep moving 90% of the time, performing strikes, punches, and kicks with full force, with minimal rest. Additionally, during the 30 seconds of active recovery, you also engage in cardio bodyweight exercises.
What are the benefits of 9Round fitness?
The following list outlines the benefits of 9Round Fitness.
Provides a great physical workout: 9Round provides a comprehensive physical workout that includes cardio, strength training, and endurance exercises, ensuring a well-rounded fitness routine.
Helps to down-regulate and de-stress: Engaging in 9Round workouts can help down-regulate and de-stress, promoting relaxation and reducing the impact of daily stressors on your well-being.
Requires no prior boxing experience: One of the significant advantages of 9Round is that no prior boxing experience is necessary. It's accessible to individuals of all fitness levels, including beginners.
Offers a fun and entertaining exercise routine: 9Round workouts are designed to be fun and entertaining, making exercise an enjoyable experience rather than a chore.
Improves mental toughness and boosts self-confidence: Regular participation in 9Round sessions can enhance mental toughness, helping you build resilience and face challenges with confidence.
What are the drawbacks of 9Round fitness?
The following are the drawbacks and limitations that I observed during my visit at 9Rounds.
Can get crowded during peak times, affecting the workout experience.
Lacks heavy weights for those seeking advanced strength training.
Different fitness levels among participants may create an intimidating atmosphere.
Limited weekend availability, as it's open on Saturdays only for 4 hours and closed on Sundays.
The 9Round kickboxing prices are high so it can be expensive for those on a tight budget.
For me, the biggest con of 9Round Fitness was the limited availability of heavy weights for advanced strength training. Additionally, once you've signed up as a member, you cannot visit any 9Rounds location because each gym is operated by individual owners, meaning you're committed to training exclusively at the location where you signed up.
What is the 9round Fitness membership cost?
The 9Round Fitness membership cost varies depending on the plan you choose. Here's a breakdown of the pricing options:
| Membership Plan | Unlimited | 8 Workouts | 4 Workouts |
| --- | --- | --- | --- |
| Monthly Cost (12-Month Contract) | $125 | $99 | $59 |
| Monthly Cost (6-Month Contract) | $140 | N/A | N/A |
| Monthly Cost (No Contract) | $155 | $119 | $69 |
| Additional Benefits | Free heart rate monitor and access to 9Round NOW | Access to 9Round NOW | N/A |
9round Fitness prices
What are the 9 round pricing packages?
The 9Round pricing packages include three plans: Pro (Unlimited), Semi-Pro (8 Workouts), and Amateur (4 Workouts).
Who should consider joining 9Round Fitness?
9Round Fitness is ideal for beginners in fitness, offering a comfortable environment to foster consistent exercise habits, and is also great for those aiming to lose weight, benefiting from 3-5 weekly high-intensity sessions. It's also suitable for individuals seeking to enhance both aerobic and anaerobic fitness, as the workouts challenge dynamic strength and endurance. However, it might not be the best fit for those looking for longer workout sessions since each class is only 30 minutes, pregnant women due to its high-intensity nature, or those who prefer low-intensity or non-cardio-focused workouts.
How often should you do 9Round Fitness?
To determine the ideal frequency for doing 9Round Fitness, consider your fitness level. Beginners and those exercising for general health should aim for 1-2 sessions weekly to build a consistent exercise routine in a fun, engaging environment. For weight loss goals, increasing the frequency to 3-5 times a week, alongside a controlled diet, is recommended to effectively create a calorie deficit. For overall fitness maintenance, daily 9Round sessions are feasible, but ensure to include at least one recovery day each week to prevent overtraining and reduce injury risk.
What should you expect at 9Round Fitness?
Expect challenging and dynamic 30-minute sessions at 9Rounds, inspired by high-intensity intermittent striking combat sports. One highlight for me was the trainer holding boxing pads and encouraging us to push our limits, making partner training more motivating and effective than solo bag workouts. The sense of camaraderie and personalized motivation from the trainers keeps you going even when you feel drained. Overall, 9Rounds offers effective high-intensity interval training through a mix of boxing, kickboxing, bodyweight strength, and core exercises, all while providing a fun and stress-relieving experience.
What Should I Wear to 9Round Fitness?
During your initial visit to 9Rounds, it's advisable to wear standard gym attire and shoes. Additionally, bring a pair of 10 to 12-oz boxing gloves and some hand wraps to support your wrists and prevent injuries. I had my own gloves, but if you lack them and are unsure about membership yet, you can purchase regular gloves for approximately $40 at any 9Round gym.
The 9Round boxing gloves are constructed from latex foam and synthetic leather, suitable for your regular boxing sessions. Nevertheless, synthetic boxing gloves tend to wear out faster, so if you plan to pursue boxing in the long run, you might want to consider investing in full leather gloves.
Do I need boxing gloves for 9Round Fitness?
Yes, it's advisable to bring your own gloves, as 9Round provides boxing gloves only to members, and you may receive a spare pair during your first free trial session. Therefore, it's a good idea to have your gloves with you.
Punching the heavy bag without gloves can lead to a wrist injury, especially if you forget to keep the wrists tight. Having gloves not only makes it easier for your knuckles but also stabilizes and protects your wrists.
What Should I Bring to 9Round Fitness?
Here is the list of things to bring for your first 9Round class.
Sports shoes and outfit (shorts and T-shirt)
Sweat towel
Bottle of water
Boxing gloves
Boxing straps
You don't have to bring a mouth guard or boxing head protection because you won't be doing any contact fighting.
Does 9Round locker rooms have showers?
No, the 9Round locker rooms gyms don't have any shower facilities, but they do have restrooms. Each gym is relatively small with just one main room where everyone is training.
Is 9round a boxing gym?
No, 9Round is not a typical boxing gym, and you won't learn how to fight in these classes. Although the 9Round gyms are combat-inspired and the sessions do include some striking and punching with a partner, they don't teach you fighting methodology as you would learn in a regular boxing or MMA gym.
Which gyms are similar to 9Round Fitness?
Gyms similar to 9Round Fitness are listed below.
Orangetheory Fitness: Focuses on heart rate-based interval training.
F45 Training: Offers functional 45-minute circuit workouts.
Title Boxing Club: Specializes in boxing and kickboxing fitness classes.
RockBox Fitness: Combines boxing, kickboxing, and functional training.
CrossFit: Focuses on high-intensity functional movements.
Each of these gyms provides a unique blend of intensity, community, and specialized training akin to the 9Round experience.
What are the differences between 9Round Fitness and Rockbox Fitness?
9Round Fitness offers a circuit-based, kickboxing-themed workout with no set class times, allowing for flexible workout schedules, while RockBox Fitness combines boxing, kickboxing, and functional training in class-based formats. Additionally, RockBox often incorporates more diverse equipment and a broader range of strength training exercises compared to 9Round's focus on kickboxing and cardiovascular fitness.
What Are the Differences Between 9Round Fitness and F45?
The 9Round and F45 workouts are distinct from each other but share the concept of functional group fitness training. While they both offer effective fitness options, F45 focuses on group HIIT training with a variety of equipment, including rowing machines, spin bikes, barbells, and dumbbells. In contrast, 9Round Fitness is more of a boxing boutique studio, emphasizing kickboxing and bodyweight exercises, allowing members to start sessions independently without adhering to a fixed schedule.
Here are some of the main differences between F45 and 9Round fitness.
9Rounds
F45
Main focus
Kickboxing
Strength training
Duration
30 minutes
45 minutes
How does it work?
Boxing with a punching bag
Kickboxing exercises
Bodyweight exercises
Heart rate monitors
Weight training
Calisthenics
Indoor rowing
TRX Training
Indoor cycling
Heart rate monitors
Time
No schedule required
4-5 classes per day
Price
$80/month
$200/month
9Round vs F45
Is 9Round Worth It?
Overall, the 9Round is worth it because it offers novel types of training using boxing bags, speed bags, and heavy bags, as well as one-on-one with trainers. The workout is hard and fun at the same time because when you pair with others you forget about exercise, and focus on having fun.
I definitively recommend 9Round for everyone who wants to get back into fitness and is looking for something new and challenging at the same time. Boxing and kickboxing is a great alternative to sports like running and cycling because it saves time and allows you to train in a great community of like-minded people.