I use Huel plant-based shakes and instant meal replacements on a regular basis, not because they're yummy, but because they save me heaps of time. As much as I like the convenience, I really don't like the taste of their products.
Today I will explain how to make Huel taste better, whether that's a Huel hot and savory or Huel powder.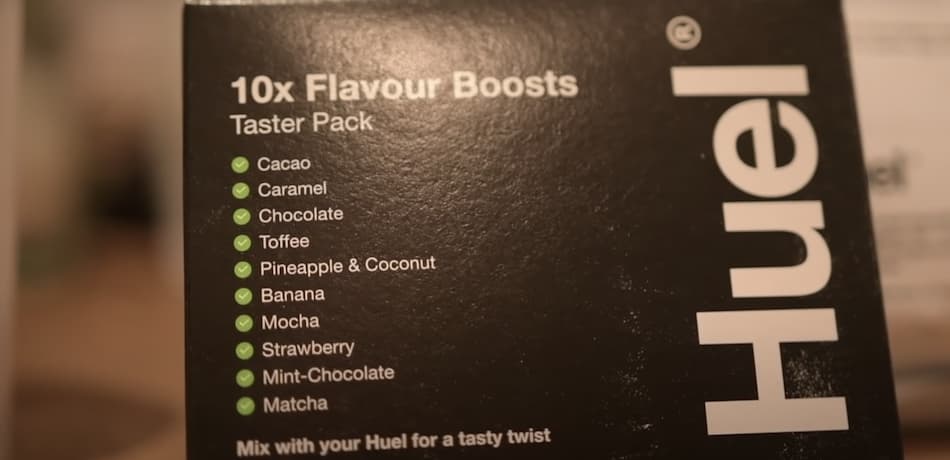 As a whole, you can make flavored Huel shakes taste better by adding a squeeze of lemon or lime juice to balance the sweetness. For unflavored, I recommend mixing Huel powder with mineral water and black coffee. Finally, you can add a drizzle of something acidic like vinegar or a pinch of salt to reduce the flaming-hot flavor from the Huel Hot & Savory instant meals.
Here is my overall answer, but, if you wanna know more about how to improve Huel taste based on a specific shake, keep reading.
How Does Huel Shakes Taste?
In general, huel shakes have a variety of flavors, but to me, they all taste the same (they aren't yummy though).
All of the shakes are made from pea protein, ground flaxseed, and brown rice protein, which has a horrible bitter, even earthy flavor due to the high amount of amino acids like arginine and glutamic acid.
The ingredients in huel shakes are also dominated by plain oats and other natural powders, regardless if you choose chocolate, vanilla, or unflavored.
For the flavored shakes, Huel uses sucralose, which is a zero-calorie artificial sweetener that is about 600 times as sweet as table sugar. Sucralose does neutralize the bitterness of the pea protein, but it also has a very sweet aftertaste that's just unbearable to drink.
The unflavored Huel shakes are more natural but have a bitter and unpalatable taste, which is why the company recommends adding "huel natural flavor boosts" to their shakes. Adding artificial sweeteners helps to hide the chalky flavor.
Why does huel taste so bad?
Huel original and unflavored are bland and leave a bad taste in the mouth. On the other hand, all the flavored huel shakes like coffee, vanilla, and chocolate are packed with sweeteners that make them too hard to drink (something similar to Mcdonald's caramel milkshake).
Obviously, I'm not bashing the company. I've been using Huel for a while and I understand that just becasue they taste weird, it does not mean they are less effective.
There are around 40 ingredients in huel meal replacement shakes. The main ingredients that are typically found in most Huel meal replacements include:
Oats
Pea Protein
Ground Flaxseed
Brown Rice Protein
Sunflower Oil Powder
Calcium Carbonate
Corn Starch
Tapioca Starch
Kombucha Tea Powder
This combination helps to deliver all essential macro and micronutrients to the body. They are packed with protein, carbs, fats, as well as fiber, probiotics, prebiotics, vitamins, and minerals.
Learn more: Click here to learn which are my best huel flavors, and why.
Apart from these, you also find a laundry list of substances that are normally used in food fortification programs to prevent nutrient deficiencies like acerola cherry powder, pyridoxine hydrochloride, or thiamine mononitrate.
Yes, they also have additives to either enhance the color, taste, or texture like:
Natural Flavor
Xanthan Gum
Maltodextrin
Sucralose
Okay, do you want to know what you can mix with your huel to make it taste delicious? Here are a couple of ways to transform your boring shake into a flavor-packed treat.
Learn more: Click here to learn more about the differences between huel and protein powder.
How To Make Huel Vanilla Shakes Taste Better
In a nutshell, the Huel vanilla shake does not taste like vanilla. Thanks to the plant-based protein powder, it has an earthy texture and because it's packed with sweeteners, it also has this horrible aftertaste.
Luckily, you can add a number of things to your Huel vanilla shake to improve the taste, without having to spend more money or add additional calories.
Mix Huel vanilla powder with acidic liquids
You can make huel vanilla taste better by mixing the powder with acidic liquids that can balance the sweetness like lemons, or limes, as well as using infused water with citrus, berries, melons, fresh ginger, or mint.
For me, lemon works great. I squeeze usually half of the lemon into the shake and blend it in my Nutribullet to ensure the juice is spread evenly. I know some people who like to mix Huel vanilla with vinegar.
How To Make Chocolate Huel Taste Better
Last week my wife bought us a chocolate Huel shake which has a strong sugary taste (I normally buy unflavored). Huel chocolate leaves a syrupy aftertaste in my mouth, so instead of biting the bullet, I've decided to enhance the taste by mixing it with bitter liquids.
Normally, when I buy chocolate protein powders, I don't add any more flavors (apart from my morning brew). However, huel powders are different. They are based on pea protein, which has this beany "huel" taste.
Mix Huel chocolate powder with bitter liquids
Overall, you can make your chocolate Huel taste better by mixing it with cucumber water, alkaline water, or unsweetened cranberry juice as your base to balance the sweet flavor. Adding bitter flavors helps to hide the sweet flavor.
You can also make chocolate huel more desirable by adding black coffee (this can be instant or filtered), especially if you drink it in the morning. I usually drink my Huel before work so adding a shot of double espresso not only makes it taste delicious but also gives me a caffeine boost.
How To Make Unflavored Huel Shakes Taste Better
In my opinion, unflavored Huel shakes are the best of all their products becasue they don't have artificial sweeteners, which means you can use more ingredients to change their flavor.
If you wanna make them sweet, you can add milk. If you wanna make them sour, you can add citrus juices, and if you want to make them bitter, you can add a shot of espresso.
Plus, unflavored Huel powder is perfect for baking and cooking because they tend to retain moisture better than flavored powders.
Mix Huel powder with milk
In general, you can improve Huel taste by drinking it with milk, as long as you use unsweetened milk like almond milk, soy milk, or rice milk. if your Huel doesn't taste sweet enough, you can add ingredients that will enhance the sweetness like honey, maple syrup, or cocoa powder.
You can also blend Huel with tea, spring water, coconut water, or orange juice for a better, mouth-watering taste, especially if your shakes feel too chalky.
How To Make Huel Hot and Savoury Taste Better
You can make improve the taste of huel hot and savory by adding a pinch of salt, fresh ground pepper, and garlic which brings out all the other flavors present in the dish. However, the ingredients you choose should depend on the flavor you have.
For example, I find that Huel Mexican chili and Thai green curry are super spicy, so I would recommend adding some lemon juice.
On the other hand, huel mac and cheese have a savory umami taste, which you could enhance by adding salt, garlic powder, or paprika.
One problem that I have with huel hot and savory instant meals is that I don't really use them at home (so I don't have access to any of the ingredients to make them taste better).
For example, I use huel hot and savory on my fishing trip, when I travel by plane, on my road trips, and so on. My point is that I don't eat Huel meals when I'm home.
So if I don't deliberately remember to pack extra salt, pepper, or other spices, it is difficult to enhance its flavor.
Okay, let's wrap this up.
Conclusion
You can improve huel taste by adding ingredients that help to either enhance or mask the flavor. For example, adding salt to a shake not only makes it saltier but also enhances or counteracts other flavors.
You can also add acidity (lemon juice or vinegar)to help balance out those sweet flavors.
I personally can't deal with the aftertaste of artificial sweeteners, so to keep it simple, I use Huel unsweetened and unflavored. However, because it does not have any artificial sweeteners, I often add things like coffee or milk to hide amino acid bitterness.