Need to ship a barbell to the buyer, or maybe you're relocating to your new place?
Today I will explain everything there is to know about barbell shipping and its cost, as well as give you some packaging tips and recommendations.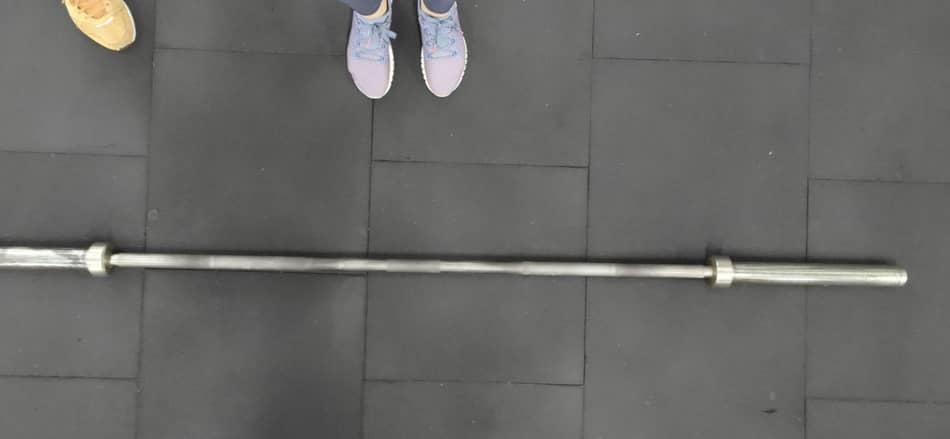 As a whole, to ship a barbell you need to prepare a packaging tube for shipping that will secure your package in the transport. Your package has to be measured (including weight, length, and height), and based on the number you can choose the courier service provider. The prices for shipping the barbell can range from $60 to even $500.
I will also give you some tips if you decided to use your car or another vehicle to transport your barbell from one place to another.
How To Ship A Barbell Across The Country
Shipping barbells (whenever you want to sell an old barbell or transport your entire home gym to a new location) can feel doubting but it's not as hard as you may think.
Use these packing steps and tips to make sure it arrives on time and in great condition.
1. Prep To Ship A Barbell
In general, if you're shipping a barbell overseas or to your new home, you need to prepare a barbell shipping tube (mailing tube).
Ideally, you should keep the original tube the one that your equipment arrived for you when you bought it.
However, if you don't have the original packaging tube, to ship the barbell you can also use:
Cardboard tube
Styrofoam box
Bamboo tube container
To ship my barbell I've used the cheap bamboo sticks that were laying around in my backyard (see picture below).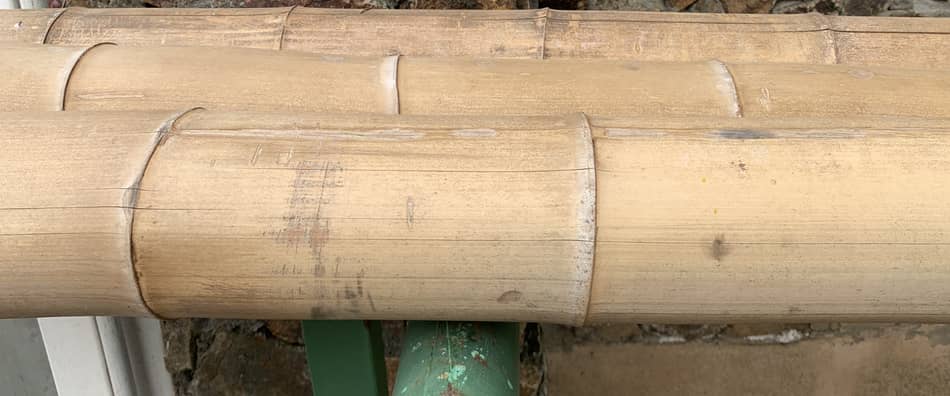 I was lucky because the diameter of this bamboo was big enough so I could fit my barbell easily.
Where can you get a shipping tube for the barbell?
As a whole, you can get a shipping tube for a barbell in Walmart, Amazon, or other packaging supplier shops.
Alternatively, you can visit your local hardware store or HomeDepot and find the PVC pipe that will fit the dimensions.
Can you ship a barbell without a box?
Overall, you cannot ship a barbell without any box or container.
Every shipping company like UPS or FedEx requires you to pack your items in a sturdy box (at least two inches wide).
In case you don't have a container, you can contact the shipping company directly, provide them with barbell dimensions and get a quote on the cost.
Please keep in mind that your packaging tube has to match the dimensions of the barbell.
Olympic barbell sleeves have a diameter of 1.96 inches (50 mm).
However, the thickest part of the barbell is not the sleeve, but the built-in collar that prevents the weights to move toward the shaft.
Here's a photo of the dimensions of the Olympic-size barbell.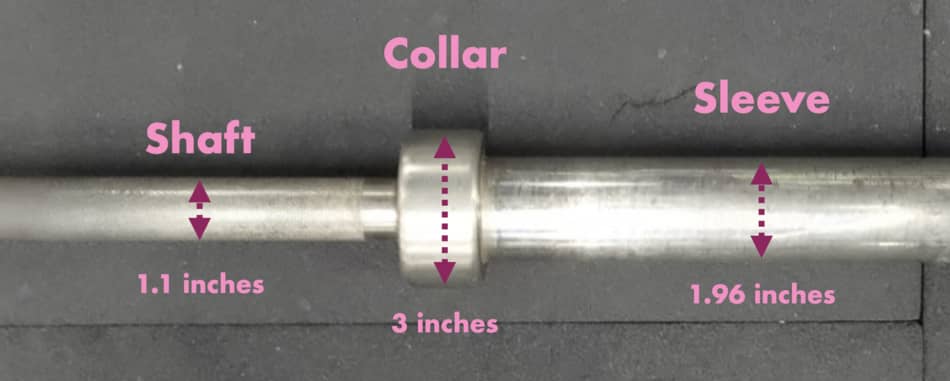 It goes without saying that the standard Olympic-size barbell won't fit into the 2″ diameter cardboard tube.
Here are the dimensions for the standard 7-foot Olympic-size barbell.
| Barbell size | Barbell dimensions | Container dimensions |
| --- | --- | --- |
| Length | 2.2 meters (7.2 ft) | minimum 2.3 meters (7.5 ft) |
| Diameter (built-in collar) | 3 inches (76 mm) | minimum 3.2 inches |
| Weight | 20 kilograms (44 lbs) | 20 kilograms |
Shipping barbell dimensions
Some of the shipping and packaging companies do not offer cardboard tubes with custom-size diameters, which means you need to choose oversized tubes (some companies do sell custom sizes but they're much more expensive).
For example, you would need to choose 6″, 8″, or even 10″ if nothing else is available.
If that's the case, that case, you also need to prepare some type of cushioning, such as foam tubing or padding, or bubble wrap to protect the barbell from damage.
2. Pack Your Barbell
To pack your barbell for shipping you need to remove weights and clips from the sleeves, as well as any other accessories that will increase the size of the box, break the container, or potentially get damaged. Any small parts like clips, collars, or barbell end caps can go into a bag or small box.
Wrap the barbell with bubble wrap to prevent scratches, make it more stable, and minimize movement during shipping.
Place your barbell into the box, close the bike box and shake it. If you hear that your barbell is rattling or unstable, add more padding or packaging fillers to keep the contents of your mailer box safe and secure.
3. Seal Your Packaging Tube
Once you're satisfied with the packaging filler, you can start to apply packing tape. For extra support, add a strip of tape or styrofoam padding around the ends of the tube.
Measure the dimensions of the entire shipment (including packaging) and get the total weight.
TIP: Labelling your packaging tube (over 20kg) with a "HEAVY" label will help ensure the safety of people handling them.
4. Choose a Shipping Company
Whether you are moving to a new home or selling gym barbells, one of the best options is to ship your equipment through a courier service like UPS, FedEx, USPS, and DHL.
Here is the list of the most common courier service companies in the US.
Courier Service Companies
United States Postal Service (USPS)
FedEx
UPS (United Parcel Service)
Blue Dart Shipping Company
DHL Express
ShipBob
Central Courier
LaserShip Courier
Aramex
SkyPostal
These are your best options because courier companies provide various fast delivery and shipping services like same-day delivery, next-day delivery, on-demand delivery, and more.
They also offer a tracking system, as well as provide solid advice on shipping services with the right options for your package. However, they can be pricey (more on that next).
TIP: Choose the companies that already offer tracking systems and insurance included in the final price. This helps not only to shave off some costs but also provides you with security and peace of mind.
How Much Does It Cost To Ship A Barbell
On average, to ship a barbell you can pay between $60 to $500. To calculate your rates, or even just estimate the approximate price, you will need to consider several factors like departing location and destination (the further your shipment travels, the higher the cost of shipping), as well as the size and weight of the package.
To estimate shipping costs, most companies provide online shipping calculators that help more or less know what price to expect. To use these calculators you will need to enter information like:
Receiver address (package departing location)
Sender address (package destination)
Total weight and dimensions of the barbell (including packaging).
Plus, you also have to take into consideration other shipping costs like the type of mail service that you choose.
Same Day Courier
Overnight Shipping Services
On-Demand Deliveries
Standard Delivery Services
International Delivery Services
Of course, different service providers have different shipping capacities and modes of transport.
For example, shipping the barbell across the country for the next day delivery via UPS Next Day Air Early cost over $300.
On the other hand, shipping a barbell across 900 miles via USPS normal delivery time (around 3-4 days) costs $90.
Which shipping method is the cheapest?
In general, the cheapest way to ship your barbell is via USPS standard ground service.
They have the lowest rates while offering the most reliable and economical way to ship not-so-urgent packages and oversized deliveries.
Here is the list of estimated prices for shipping barbells across the country using a FedEx mailing service (all for the same destination).
| FedEx | Barbell shipping cost |
| --- | --- |
| FedEx First Overnight (next day by 10 am) | $573 |
| FedEx Priority Overnight (next day by 12 pm) | $499 |
| FedEx First Overnight (next second day by 10 am) | $517 |
| FedEx Priority Overnight (next second day by 12 pm) | $480 |
| FedEx Standard Overnight (next second day by 4.30 pm) | $461 |
| FedEx 2Day AM | $300 |
| FedEx 2Day | $251 |
| FedEx Ground | $83 |
| FedEx Express Saver | $205 |
Barbell shipping costs FedEx
As you can see, the price for ground delivery (usually 2 to 8 business days) is the cheapest option.
The difference between the prices varies on the type of service you choose. Usually, the quicker your parcel comes, the most expensive it will cost.
Which shipping company is the best?
According to thebalancesmb.com, the best shipping companies that can help you ship your barbell are USPS (United States Postal Service), FedEx, and UPS.
These companies not only help businesses deliver goods on daily basis but also use extra care for shipping out items of higher value.
How Do You Open A Barbell Shipping Tube
Here you can see a video from Trinity CrossFit about how to open a barbell shipping tube.
How Long Does It Take To Ship A Barbell?
On average, it takes between 1 to 8 business days to ship a barbell across the country.
The fastest company that offers overnight shipping (next-day delivery by 10 am) is FedEx's First Overnight Priority.
The shipping time will depend on the type of mailing service and the time of the day you choose to send the package.
How To Transport Barbell In The Car
In general, a standard Olympic barbell is 7-foot long, and the average car is around 14.7 feet.
Excluding the size of the hood that covers the engine, you can easily transport a barbell in the car.
The best way to transport a barbell in the car is by placing the bar from the trunk and positioning it sideways where the barbell ends go across and reaches the front passenger seat.
Transporting the barbell in the car is much more affordable, however, you can only do it for a short distance.
For the longer distance, I recommend using the shipping company.
Here is the video on how to transport a barbell in the car from Andrew Mackey.
Conclusion
Packing and moving barbells may seem difficult and expensive so it's important to take the necessary precautions and do your due diligence about the right packaging and shipping company.
I recommend FedEx and USPS as they've been rated as of the best overall courier companies. An alternative way to transport your barbell is by car or truck.
Be sure to wrap your equipment in bubble wrap before placing it into appropriately sized shipping boxes or containers.