Running and kettlebell swings are completely different exercises. Running is the first thing on people's minds who want to lose weight, whereas kettlebell swings are associated with CrossFit and bodybuilding.
Today I will explain the difference between the two, and (most importantly) explain which one is better for health and weight loss.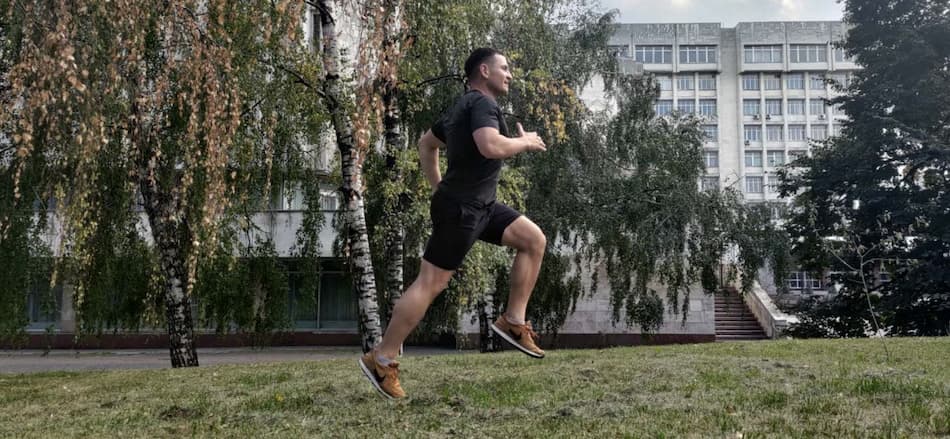 Overview
Running and kettlebell swings are both effective exercises that can be done alone, as well as part of your strength and conditioning workout.
In a nutshell.
Running is a cardio workout that helps to improve your cardiorespiratory fitness, aerobic capacity, and VO2max.
Running is free, and doesn't require many skills, which means it can be done by everyone. However, it is a high-impact activity, which is a limiting factor for people with injury, as well as with higher BMI.
Kettlebell swings are more effective in developing strength, building muscle, and maintaining high resting metabolic rate.
Kettlebells are not free, but, they can be used for decades.
For safety reasons, kettlebell swings have to be done with a correct technique, ideally under the supervision of an experienced trainer or physiotherapist.
In other words, they both have advantages and disadvantages.
Body Composition
In general, running is more effective for weight loss that kettlebell swings, at least in the short term.
One hour of running burns between 600 to 1,000 kcal, depending on your weight, running speed, and incline level.
Running is easier to monitor and adjust your intensity, as long as you're using a heart rate monitor.
That (of course), depends on the intensity.
Dr. Beat Knechtle and Dr. Götz Kohler from the University of Basel in Switzerland assessed the effects of running on body composition and muscle mass.
The group of ultra-endurance runners was assessed before and after the 338 km run over the course of 5 days.
The results showed there were no changes in body fat mass. However, there was a significant decrease in skeletal muscle mass.
This means that high-volume running doesn't lead to changes in fat mass, but will lower your muscle.
Kettlebell swings are better in the long term
On the other side, kettlebell training doesn't burn as many calories but is more effective for fat loss in the long term.
Jason P Lake, PhD., is a professor of strength and conditioning from the University of Chichester in the UK.
In his recent randomized controlled trial, Dr. Lake examined the effects of kettlebell swings and muscle strength improvements.
After 6-week of doing the kettlebell swings program twice a week, the maximum strength improved by almost 10%, and explosive strength improved by almost 20%.
In a nutshell.
Kettlebell training helps to increase your strength and lean body weight, which leads to a higher resting metabolic rate and muscle protein synthesis.
Kettlebell swings still can be used as cardio, but it's hard to do them for specific heart rate training.
For example, if your goal is to lose weight and you want to spend most of your workouts at an intensity equal to 70-80% of the maximum heart rate, running is king.
My thoughts
I like to do both of these exercises. However, if you would have to split hair and pick just one
If your goal is to improve your body composition, then the kettlebell swings training program seems to have more profound effects.
It doesn't mean that cardio is useless (it's the opposite).
Cardio is very important for health. However, if you are driven by the body composition results, just be aware that better, more effective methods exist. The best solution would be a combination of the two. Running and kettlebell swings.
Performance
Running is better than kettlebell swings to improve your cardiorespiratory fitness and physical performance.
Davide Greco and Luca Calanni from the University of Pavia in Italy compared doing a 30-minute kettlebell swing workout with a 30-minute treadmill run.
The results showed much higher cardio and metabolic responses from kettlebell training, compared to treadmill running.
This shows that kettlebell swing is a very powerful method, even for cardio.
As much as I love science, the data from the aforementioned study can be misleading.
This research has been done on the elite kettlebell half-marathon athlete.
These very experienced professional athletes were used to training with high intensity so they could do as many reps of kettlebell swings as possible within a 30-minute time.
I'm sure that the results would be totally different for you or me (keep that in mind).
Running is effective even at the slow pace
Running is been proven over and over that can be extremely beneficial for cardio health. Even if it's done at a slow pace.
At Iowa State University, Dr. Duck-chul Lee and his colleagues did a massive 15-year follow-up observational study and examined 55,137 adults and the long-term effects of running on mortality.
Across the multiple groups, even 5-10 minute runs per day at slow speed resulted in 29%-50% lower risks of all-cause and cardiovascular mortality.
It so doesn't matter how you cut it. It works.
My thoughts
In the past, I did both running and kettlebell swings. For running, I used to train for half marathons (it was like therapy for me and it felt like the best painkiller).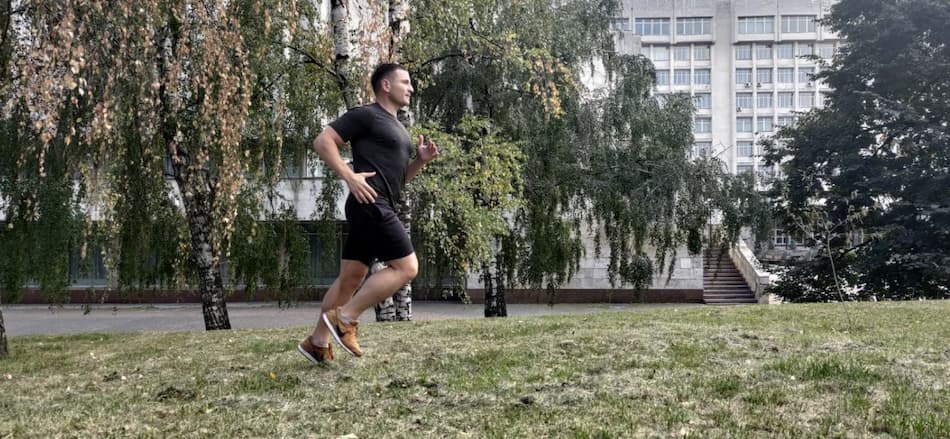 I was doing 22 km in under 2 hours and 20-minutes.
Training frequency was around 2-3 times a week.
My performance was getting better, week by week. However, I was still fat.
So if your goal is to run longer or faster, and you don't care about your fat percentage, I recommend you do running.
Plus, I think that when it comes to cardio, running is more effective becasue it's more accessible to the general public. As you saw in the previously mentioned study, slow running (jogging) can deliver significant results.
Safety and technique
Safety (the last thing before we wrap up).
I've noticed over the years that for people who want to kick start their training routine, the first thing they think of is running (not many people run to the gym to try out a new kettlebell workout).
Running is not only safe but it's also one of the most popular forms of physical activity.
On the other hand.
Kettlebell swings are one of those exercises that when you do them incorrectly, can get you in trouble.
It is not a user-friendly move, especially if you're getting started.
However, when it is done right, it is a highly effective training method.
The kettlebell workout has been proven to be multifunctional. This means if you are good at kettlebell swings, you will get good at everything else.
A great example comes from Roger McCarthy, who completed a 3000m unsupported row across the Atlantic ocean.
Mr. McCarthy said that his secret weapon was a kettlebell swings training.
Rowing is a hip hinge movement, as well as the kettlebell swing.
So it makes a lot of sense that if you get stronger as swings, immediately this will improve your strength across all hip extension movements (squat, deadlift, lunge, spring).
So if there is gonna be just one thing for you to take away from this article – the form is everything.
I've learned that the hard way.
My thoughts
I won't be persuading you to do one or another. I don't wanna be that guy (full transparency).
I used to love running and how I felt after. But now I mainly do swings, and if done at a good intensity I can easily get out of breath as well.
Conclusion
Before you start any physical activity, always take into consideration what is your main goal.
Before you start any physical activity always consult with your doctor first.