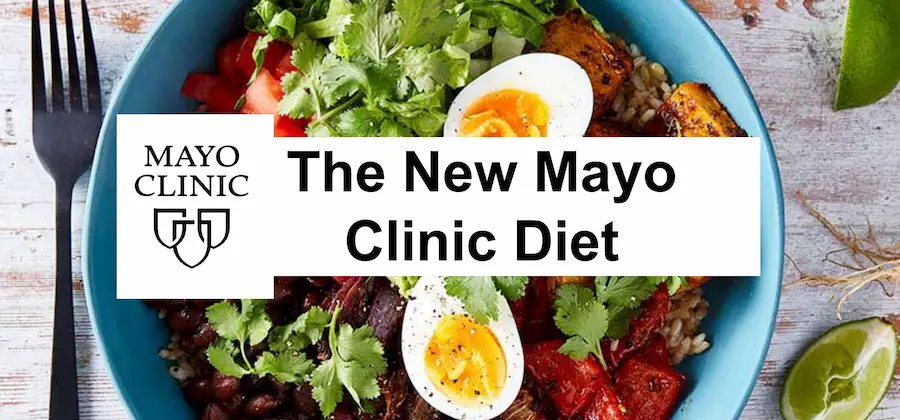 Mayo Clinic is a nonprofit medical center with campuses in Rochester, Minnesota; Jacksonville, Florida; and Phoenix/Scottsdale, Arizona. It employs thousands of physicians and scientists and specializes in treating difficult cases and conducting research. 
The Mayo Clinic Diet refers to a weight loss and lifestyle program designed to help people break bad habits and learn new dietary approaches for improved health. Rather than focusing on short-term goals like a New Year's resolution, the Mayo Clinic Diet encourages a sustained lifestyle approach for achieving and maintaining a healthy weight.
The Mayo Clinic Diet was developed by experts including Dr. Donald Hensrud, who is the medical director of the Mayo Clinic Healthy Living Program and the medical editor-in-chief of the Mayo Clinic Diet.
I tried this program in July and voila, I lost 10 pounds right off the bat in the initial two weeks! By the end of October (month four), I went from 227 lbs to 179 lbs, despite my "eating lifestyle". That's almost 50 pounds in 4 months. This was the first time in my life that I lost weight and managed to keep it off.
Obviously, I'm excited about this program, but in this article, I only share my honest experience with the Mayo Clinic Diet, explain how I managed to lose 50 pounds in just under 130 days, discuss the pros and cons of the Mayo Clinic Diet, and outline the cost of this weight loss plan.
This page includes affiliate links. If you click and purchase, I may earn some coffee money, which I promise to drink while looking for more helpful content like this.
What Is The Mayo Clinic Diet?
The Mayo Clinic diet is a 12-week program that is designed to establish healthy habits for life. This evidence-based behavioral science plan focuses on lifestyle habits that contribute to your weight.
The idea is to adopt 10 healthy habits and break five unhealthy habits during the first two weeks of the program – known as "Lose it!". The diet does not count calories but allows healthy snacks such as fruits and vegetables.
Why Did I Start The Mayo Clinic Diet?
One of the reasons why I started the new Mayo Clinic Diet was my obesity problem. You see, my upbringing was far from conventional. Raised on the farm, the idea of weight loss was always portrayed as a steep mountain to climb – something incredibly "hard" to achieve.
The concept of a balanced diet or mindful eating was never part of my childhood narrative. My mother, bless her heart, never discussed the nuances of healthy eating.
By the time I hit 35, I wasn't just carrying a few extra pounds. I was fat. I was 5 foot 7 inches tall and tipping the scales at 235 lbs. I mean, it got to a point where I was always just too worn out to catch up with friends. I couldn't cross my legs. I sweat when I ate.
I've Tried 12 Different Diets
Before I did the Mayo Clinic Diet, I tried it all to shed these pounds. In the past decade, I must have switched diets, like, 12 times.
I gave the Optavia 5 and 1 plan a shot and ended up quitting. WW? Tried it, but nada. The Military diet – no change. Even going down the OMAD (One Meal a Day) wasn't for me. Would you believe it, I actually gained weight!
How Does The Mayo Clinic Diet Work?
The Mayo Clinic Diet is pretty straightforward and easy to follow. You won't be taking any diet pills or powders. No chalky-tasting drinks to mix.
There's no specialty food you'll need to hunt down, you can find everything you need at your local grocery store. And the best part? You won't be obsessing over counting calories or points.
The reason this program worked for me was simple. I was nonstop eating.
I was eating foods I really love like bread, pasta, and fruits. It's also low in sodium, so I wasn't retaining water. And yes, you're allowed to eat out.
How Does The Mayo Clinic Diet Plan Work?
Alright, so let me break down how the Mayo Clinic Diet plan works. First off, it's not a fad diet. This diet is medically backed, has been a best-seller, and is trusted all over the globe. Plus, it now comes on this all-new digital platform that's been helping people lose three times more weight.
You kick things off with the Mayo Clinic diet 12-week course where you'll learn everything you need to know about healthy weight loss. This isn't just any content, it comes straight from Mayo Clinic doctors and experts (so you know it's good).
What Is Phase 1 of The Mayo Clinic Diet?
In the first two weeks, you jump into phase 1 of the mayo clinic diet, which is called the "Lose It!" phase where you could potentially lose 6 to 10 lbs. From there, you've got all these tools to track your progress, meals, activities, measurements, and body weight.
The best part is – the plan is holistic and focuses on your whole self. You don't need to count calories, and there's a food tracker with a massive array of over a million food options. You can chow down on unlimited fruits and vegetables, giving you lots of nutritious choices.
What Is Phase 2 of The Mayo Clinic Diet?
The second phase, called "Live it!", requires commitment and emphasizes making smart food choices, finding balance when it comes to portion sizes, preparing meals in advance as well as participating in physical activity, and exercising regularly.
What's On The Mayo Clinic Diet Menu?
In terms of what you'll be eating, they've got quick, easy, healthy, and tasty recipes. The menu on Mayo Clinic Diet is also straightforward. Meal plans cater to everyone – Keto, High Protein, Vegetarian, and even Mediterranean options.
There are no bizarre ingredients – just good, wholesome food. During the initial 'Lose It' phase, you'll mostly munch on fruits and veggies. But don't fret – you can still enjoy meats, dairy, fish, potatoes, and pasta in your meals. You basically just follow the Mayo Clinic food pyramid.
How Does The 7-day Mayo Clinic Diet Plan Looks Like?
The 7-day Mayo Clinic diet plan is simple. Three meals per day (and unlimited veggies). The first two weeks are designed to help you shed more pounds so, naturally, here is more restrictive.
This table shows the Mayo Clinic diet 7-day meal plan.
| Day | Breakfast | Lunch | Dinner | Snacks |
| --- | --- | --- | --- | --- |
| Mon | Strawberry "cream" toast | Mexican buddha bowl | Garlic chicken zoodles | Vegetables & fruits |
| Tue | Banana berry smoothie | Chicken & snow pea sambal salad | Naked beef fajitas | Vegetables & fruits |
| Wed | Asparagus scramble | Protein-packed avocado toast | Leftover Naked beef fajitas | Vegetables & fruits |
| Thu | Strawberry "cream" toast | Chicken & snow pea sambal salad | Seared salmon with cucumber & tomato sambal | Vegetables & fruits |
| Fri | Banana berry smoothie | Leftover Mexican Buddha Bowl | Leftover Seared salmon with cucumber & tomato sambal | Vegetables & fruits |
| Sat | Strawberry "cream" toast | Protein-packed avocado toast | Leftover Naked beef fajitas | Vegetables & fruits |
| Sun | Banana berry smoothie | Cheese, tomato & avocado sandwich | Garlic chicken zoodles | Vegetables & fruits |
Every week, you get a fresh menu with all the recipes and instructions clearly laid out for you. It's like having a mini culinary masterclass.
Each serving gives you close to one serving of fruit, a little over two servings of carbohydrates, one serving of protein or dairy, and just above one serving of fats. Also, you're looking at about 370 calories and nearly 20 grams of protein.
What Foods Are Not Allowed On The Mayo Clinic Diet?
Here's what's off the table during the Lose It! phase: no alcohol, no eating while watching TV, and eating out is a no-go. You also gotta say bye to sugar that doesn't come from fruit and heavily processed foods like junk food and pre-packaged snacks.
But here's the cool part – you get to kickstart a daily exercise routine for at least 30 minutes. And guess what else you can eat? Loads of vegetables and fruits. As in, unlimited. You can also dig into whole grains, lean protein and dairy, and even healthy fats.
After the initial Lose It! phase, things loosen up a bit in the Live It! phase, helping you to maintain the healthy habits you've developed.
What Are The Advantages of the Mayo Clinic Diet?
Let's talk about the pros.
The Mayo Clinic diet is nutritionally sound, filled with high-fiber foods that are really filling. You'll get help through coaching or group support, which can be a game-changer for many! Having a clear plan with recipes provided makes things easy for you and it has proven health benefits, so that's pretty awesome.
What Are The Disadvantages of the Mayo Clinic Diet?
The disadvantage of the Mayo Clinic diet is the fact that you need to make your own meals from scratch. This can take up some time. Be prepared to put on an apron and cook, as there are no meal replacements on this diet.
How Much Does The Mayo Clinic Diet Cost?
If you're thinking of jumping on board the Mayo Clinic Diet, let's chat about what it would cost you. The Mayo Clinic Diet membership starts at just $4.61 a week if you commit to the 12-month plan.
This table shows the prices for the Mayo Clinic diet.
| Plan Duration | Cost per Month | Cost per Week |
| --- | --- | --- |
| Monthly Plan | $49.99 | $11.54 |
| 3-Month Plan | $39.99 | $9.23 |
| 6-Month Plan | $29.99 | $6.92 |
| 12-Month Plan | $19.99 | $4.61 |
If you're not sure about a long-term commitment, you can go for the monthly plan at $11.54 per week. Once you're a member, you can log in to access Mayo Clinic meal plans, health guidance, virtual meet-ups with doctors, and a bunch of other members-only goodies.
This graph shows how much the Mayo Clinic Diet costs.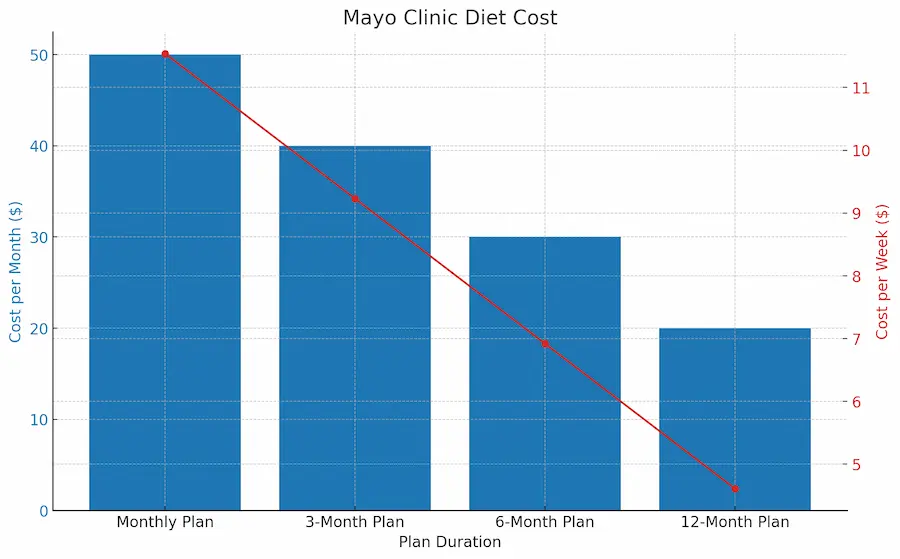 Want a breakdown of the different plans? Check this out. The yearly plan comes to $19.99 a month, which works out to about $4.61 a week. The six-month plan costs you $29.99 per month, so roughly $6.92 a week. The three-month plan? That would be $39.99 per month or about $9.23 a week. And the one-month plan is $49.99 for the month, or about $11.54 a week.
How Effective Is The Mayo Clinic Diet For Weight Loss?
Although I've managed to lose 50 pounds on the Mayo Clinic diet within 4 months, my results aren't unique. According to over 500 online reviews on Trustpilot, the Mayo Clinic Diet appears to be quite effective for weight loss when followed faithfully.
One user declared it the best lifestyle plan they've ever encountered, losing over 20 lbs in just 12 weeks. They loved the meetings, recipes, and tracking facilities provided by the diet, and noted that their tastes began changing for a healthier lifestyle.
Another user found the Mayo Clinic Diet effective due to the knowledge they gained on living a healthy life. They believed that meal planning, recipes, and grocery lists were foundational to their success. They also found the extra resources such as Zoom classes and Q&A sessions to be particularly helpful.
We also hear from Jodi who, even with breathing problems, managed to lose 7 pounds in just 15 days and started to walk 2 to 3 miles a day. She was determined to treat food as nutrition rather than comfort, which seemed to reach a previously unattainable goal with the help of the diet.
How To Get Started With The Mayo Clinic Diet?
Had enough of those trendy diets that promise the moon but leave you high and dry in the end? Well, getting on board with the Mayo Clinic diet is as easy as pie. Don't press pause on your journey to a healthier, happier version of yourself.
Just click here and you're on your way to joining the Mayo Clinic Diet for as little as $5 per week. Let's get you started on the path to smashing those weight loss goals!