There's something truly amazing about before and after weight loss transformation pictures. They remind me that it is possible to make significant changes in my body with Orangetheory, even if it might take a long time.
When I feel unmotivated, looking at OTF before and after pictures can help me refocus my goals and remember why I'm doing this in the first place.
Of course, weight loss transformations are not always easy (or straightforward). For many people, it's a long and difficult process.
But when I see the amazing results that other people have achieved, I am reminded that anything is possible with hard work and dedication.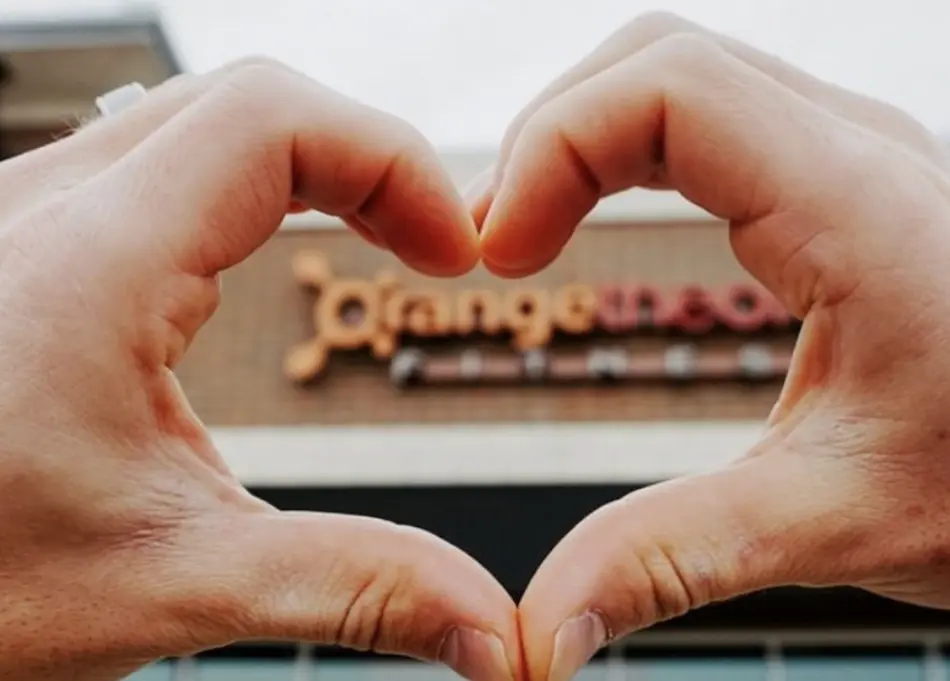 10 Orangetheory Before and After Success Stories
The following before-and-after Orangetheory transformation stories are unique and inspiring.
Each person had a different body type, but they all pushed through issues to reach where they wanted in their fitness journey.
1. Erin Nicole
Erin says she feels so good to be able to say that she has hit over 100 classes at the Orangetheory Fitness in Hackensack in New Jersey.
Erin says this is the first time in a long time she felt so happy (and strong). Erin says that her body has transformed into something stronger and better than ever before.
She does not regret any of the OTF workouts, and now she is ready to conquer a new milestone in her journey – 200 and even 300 classes!
Erin said her achievement is in large part due to her amazing fitness group from Hackensack.
"It's been an a privilege to be able train with you, Orangetheory. I hope that we can continue training together in the future as well," says Erin.
2. Sara Gonzales-Thomas
Sara admits that the bathing suit seasons never felt so good for her in years. Before losing over 60 pounds, the thought of putting on tight-fitting clothing make her feel self-conscious and uncomfortable.
Of course, the journey towards living her body wasn't linear – sometimes we take ten steps forward, Sara says, then two back.
Sara is so proud of her dedication and willpower to become the best version of herself, beyond physcial fitness.
She is grateful to Orange Theory for being there to push her when she didn't have anything left to push herself.
3. Jaci Baccus
Jaci was running on E for the last few years, and never had time for herself and her fitness. As a result, she didn't live a fulfilling life and gained weight.
But this year was different. In 2022, Jaci finally decided to focus on her health and her fitness has become her number one priority.
After 6 months of going to strenuous Orangetheory classes 3-4 times per week, and eating fewer foods that she always enjoyed the most like bread and sugar, Jaci lost over 30 pounds.
She says she is extremely proud of herself for finally finding a workout program (and a community of like-minded people) that she loves to do.
4. Claire Ashley
After college, Claire Ashley developed unhealthy habits and gained 35 pounds in four years.
She says that she continued to eat whatever she wanted without thinking about it because of social media pressures from friends on what women should look like.
It wasn't long after she realized she couldn't fit into the majority of her wardrobe.
Claire joined Orangetheory Fitness in her local town Arlington and after 18 months, a 29 year old lost over 30 pounds, going from 170 lbs to 140 lbs.
Claire says she could see results faster, but she wasn't ready to give up bacon cheeseburgers and wine, her favorite treats.
5. Tatiana Bido
When she decided to take control of her health and change the way she eats, Tatiana was figthing an uphill battle against her own mind.
She realized there were so many things pulling her away from being active. She said that her busy life always was in the way and she never was able to plan her workouts.
After joining Orangetheory fitness in 2015, Tatiana Bido, who never used high-intensity interval training in her life, lost almost 40 pounds.
6. Tynesha S
Tynesha explains her key to success was in setting small, achievable goals. When Tynesha started at Orangetheory Fitness, her first goal was to just show up.
With time and effort passed by on her journey towards better health, Tynesha slowly worked towards bigger goals.
Now, she says, "I'm able to row 500 meters in less than 2 min, and run a mile in under 8 minutes." She has lost 76 pounds since joining Orangetheory fitness.
7. Daisy Frances
Daisy says she still remembers what it felt like to be 150 pounds overweight. It was tough to do everyday activities, and she was always out of breath.
Daisy felt like she was never going to be able to lose weight. But she did it, and now she's down to a healthy weight. It was a long process, but it was worth it.
Daisy explains she started by making small changes to her diet and began working out slowly at Orangetheory fitness. At first, it was hard, but after a while, it became part of her daily routine.
"The before and after pictures are stark, but what's even more amazing is how much better I feel now after losing over 150 pounds," says Daisy.
8. Anusha P
Anusha says that when you start a new fitness routine, it can be hard to see any progress on the scale for weeks. One day of eating healthy foods wasn't enough.
Taking before and after progress photos always motivate her more than anything else in life. It's one of the ways Anusha knows her hard work and dedication are working.
Anusha explains that the picture on the left shows a girl who had no idea she'd be showing up at the Orangetheory gym at 6 am every day to lift weights and run on the treadmill.
9. Marc Galvez
Marc says that one of the most gratifying things is seeing your own progress through pictures. He admits that Orangetheory fitness has helped him beyond getting into shape.
The community of people who have come together to support and motivate each other through the fitness journey is what makes this brand so valuable.
Marc made life-changing friends along with learning from amazing coaches, all while having fun getting creative on social media or even sharing a spotlight together.
Losing over 20 pounds was a very important milestone. Mars says that OTF has not only impacted his life. It has changed it.
10. Connie Cantu
Connie has been active for most of her life, but only recently has she decided to combine a healthy diet together with her OTF workouts.
She doesn't track calories but she eats 400-600 calories less than last year.
Connie is a mom of 3 and recently has completed 600th classes at her local Orangetheory Fitness in Richland, WA, and can run one mile in under 8:25 seconds. She also uses a peloton bike, plays tennis, and loves to take hikes on the weekend.
The bottom line
We can't deny that physical fitness is an important part of our life. These people have done what needs to be done for achieving the bodies they want.
Every person who posts their success stories or pictures has overcome something major that prevented them from reaching their goals before – and now they're happy as can be!
The journey to lose weight and get in shape is a tough one, but the people on this article have been through it all.