Peloton is known for its indoor cycling and running classes on the bike and treadmill, however, they also offer many outdoor workouts.
Today I'm peeling back the curtain to show you how I use peloton outdoor running program, and (most importantly) how you can fit these classes into your weekly workout plan.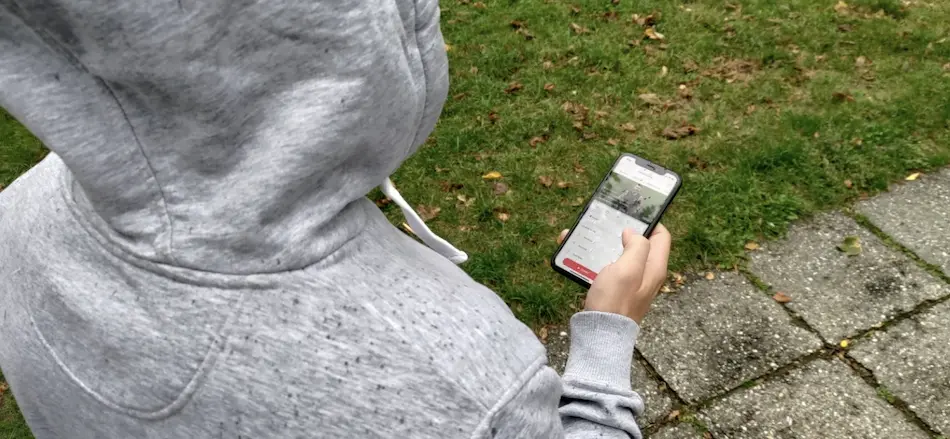 Peloton outdoor running review
As a whole, peloton outdoor running is a collection of over 400 running classes available in the peloton app.
These classes are not like the typical peloton workouts for weight loss that you do on the bike or tread.
For example.
You don't have a leaderboard and high-fives (you do earn milestones).
The idea behind this class is to make your freestyle outdoor runs more fun and challenging.
Instead of following a class plan, you simply listen to audio instructions from the peloton coaches.
How does it work?
In general, the peloton outdoor run works by listening to the guided instructions from the peloton trainers in the audio format while running or walking outdoors.
Each class provides clear guidelines on what to do and when to increase the intensity level.
Every class starts with a warm welcome from the instructor and goes through all the details about what is coming.
Class structure
The workouts range between 20 to 60 minutes. However, the classes vary not only in length but also in difficulty level and type of running.
This means you can choose the classes from a totally beginner-friendly level, all the way to tempo runs, HIIT, and marathon training.
What I like about this program is that instructors walk you through every step of the way, explain the next phases, and describe how you should feel within each part of the class.
Plus you get constantly reminded about your posture, running technique, and safety measures.
So not only do you get a heads up about what's going to happen, but you also learn the correct way to run.
Peloton outdoor running is not a typical running app
Peloton outdoor running is not a typical peloton tread class on the app.
This class doesn't track your miles, pace, stride, and cadence.
This app doesn't have a built-in GPS that shows you the map or counts the steps.
It doesn't have options to create new routes or choose routes based on members' recommendations (similar to typical running apps like MapMyRun).
It doesn't provide you with detailed data analytics about your performance.
Peloton outdoor classes work just like an audio podcast or outdoor running coach. It basically helps you to stay focused throughout the run.
You choose your own routes.
You choose your own pace.
You choose your own running distance.
The goal of this class is to make your freestyle runs easier and more fun.
Classes are designed for everyone who wants to get started with running, improve performance, or do marathon training.
How to find peloton outdoor running
The easiest way to use the peloton outdoor running is via mobile phone. All you need to have is either your all-access or peloton digital membership.
Open up your mobile and find the peloton app. (If you don't have the app, you can quickly download it for free from the app store.)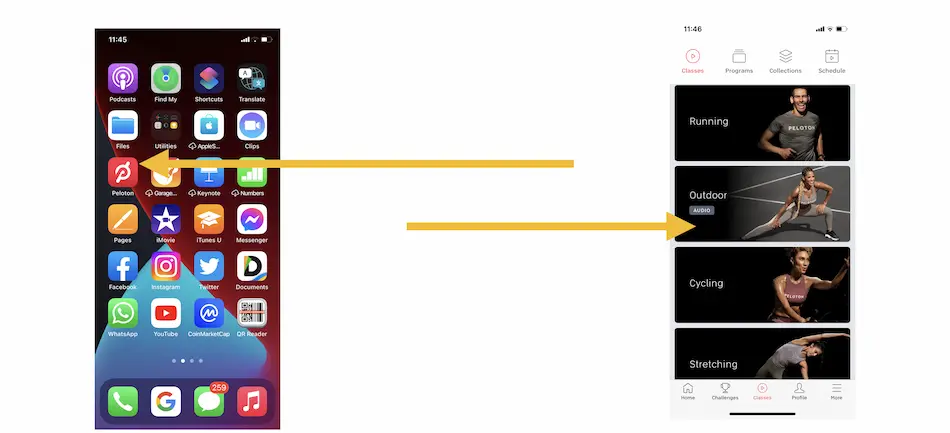 Log in to your peloton app using your login and password, the same that you use for your bike or tread.
Choose the "Classes" tab in the top left corner and scroll down to "Outdoor Audio".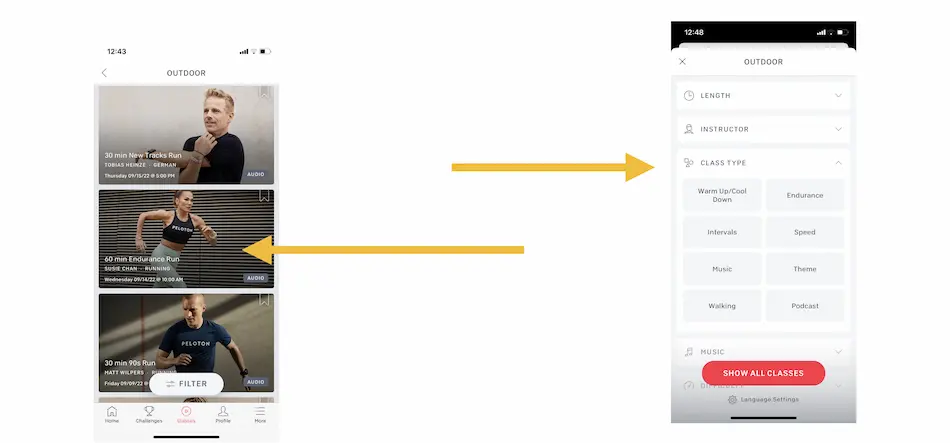 Once you choose the "Outdoor" classes, you can go ahead and further filter the workouts you want by type, instructor, distance, music, and more.
Peloton outdoor categories
Currently, there are 8 different subcategories in the Peloton outdoor.
Warm-up/Cooldown
Endurance
Intervals
Speed
Music
Theme
Walking
Podcast
How to use Peloton outdoor running
Each class can be further filtered by its difficulty level and duration.
This means you can always find a workout that suits your needs, whenever you're looking for a long-distance challenge or recovery walk after a peloton cycling workout.
When I go for light running, I like to choose endurance and peloton recovery classes. These are slower pace runs but often cover a longer distance (up to 60 minutes).
When I have less time, I often go for Intervals and speed. These workouts are shorter but much harder and include many HIIT and Tabata-style runs.
When I have more time, but I don't feel like running, I often choose Walking and Podcast.
You cannot do Peloton outdoor running without a phone
As of now, it is not possible to use the peloton app without a mobile phone.
You need to carry a mobile device all the time together with you to be able to stream the class from the Peloton digital app.
The peloton app for the apple watch doesn't allow streaming the class from the watch.
Peloton outdoor running on apple watch
You can use the Peloton outdoor running on an apple watch to be able to read your metrics like calories burned or heart rate, but you still need to have a phone close by.
If you don't have an apple watch, but you still want to read your heart rate while doing peloton outdoor running class, then you need to get a heart rate monitor.
Those can be easily connected to the phone and get an accurate reading.
I use a Garmin GPS watch that perfectly reads all the metrics I need for all of my peloton outdoor runs.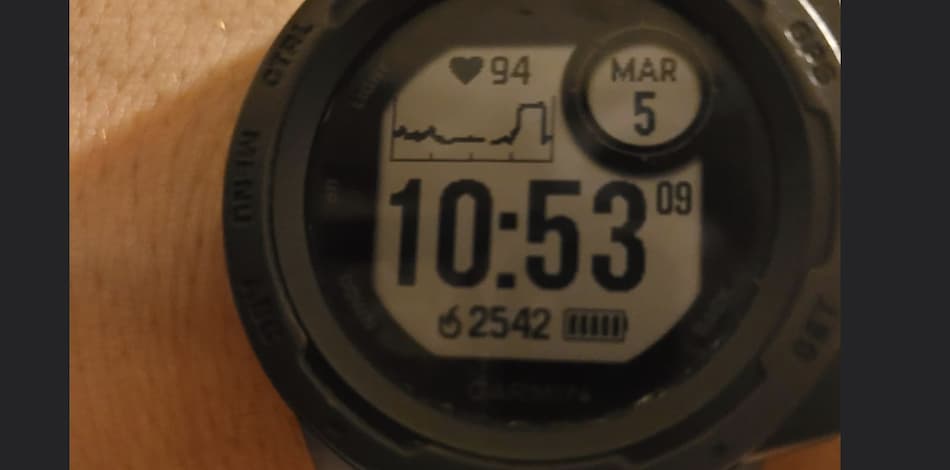 It also has an app with the history of my previous runs so it makes it easy to compare.
Benefits of using peloton outdoor running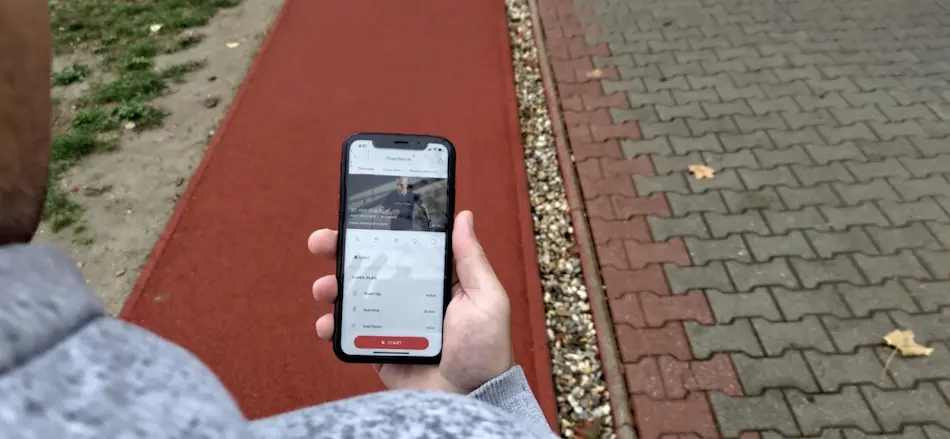 There are several ways you can use the peloton outdoor running, regardless if you're a beginner or an advanced runner.
For example, I love to run outside but I get bored quickly.
On the one side, I understand the health benefits of running, but on the other side, I just cannot motivate myself to run (I prefer running after the ball or something).
Anyway, here is the list of the benefits of using the peloton outdoor running that I've noticed so far.
Peloton outdoor running makes it easier to run outside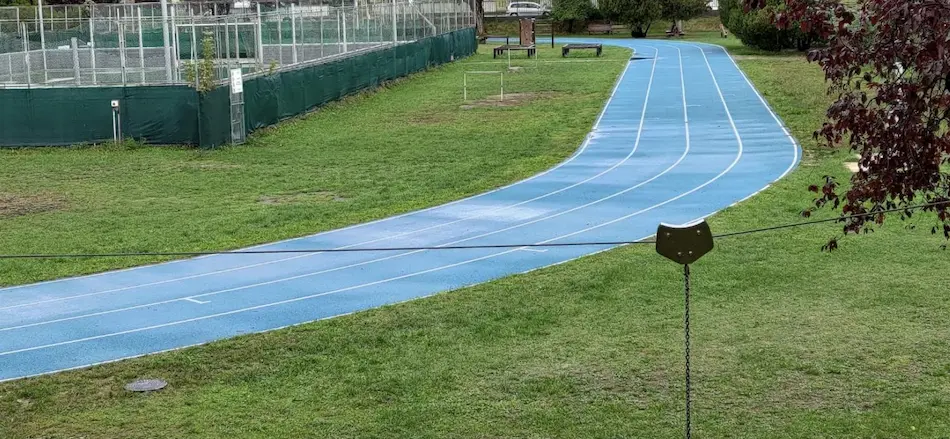 One of the biggest benefits I get from the peloton outdoor running classes is they make it easier to run longer distances.
Normally, I get bored soon after I hit the first 15-20 minutes mark (especially if I run around the same lake or street).
My legs start to ache and my energy drops.
My muscles start to feel tight and heavy to run for longer.
I basically feel like wanna quit and go home.
After its point, running longer feels like pulling teeth. And without any music, podcast, or audio class, it gets really tough to continue.
Peloton's outdoor running program helps me to keep going. The classes have a gentle but motivating soundtrack accompanied by instructors engaging guidelines.
This makes it more fun and doesn't feel boring anymore.
Peloton outdoor running keeps me accountable
Another advantage of peloton outdoor running classes is that they keep me accountable to stay active.
For example.
I schedule them on the weekly basis in my calendar.
I stack them back to back with my peloton strength classes, yoga classes, and bootcamp classes.
I basically tread them just like any other regular wokrouts.
Normally, I would go for a run at random times and on random days, usually when i "felt" like running.
After listening to some guidelines from the peloton instructors, I tread my outdoor runs just like another gym or cardio session.
I like to listen to peloton podcasts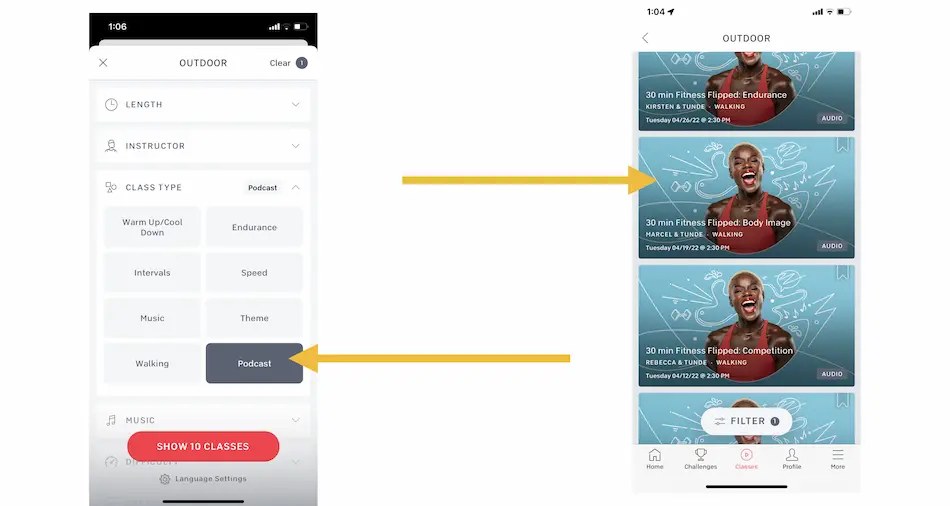 Another reason why I love outdoor running workouts is that I really enjoy listening to peloton instructors.
These guys have a lot of knowledge and know how to talk to people to keep them engaged and motivated.
In March 2022, the peloton outdoor introduces a new sub-category of a run called "Fitness Flipped".
This is a 30 minutes podcast with peloton instructors where they talk to each other about the topics related to health, fitness, and performance.
For example.
The episode "Competition" is a conversation between Rebecca and Tunde and they talk all about having the right mindset on how to prepare before the big race.
The episode "Stress" is all about the tactics on how to deal with stress and how exercise (e.g. walking) helps.
Unfortunately, there are only 10 episodes available up to date.
It makes walking more interesting
Another plus of listening to peloton audio classes is they help to keep me engaged during walking. I like to spend the early morning for walking and get myself ready for the day ahead.
After walking I get more energetic and productive.
After walking I get less stressed and more focused.
Basically my whole day is better if I spend 30-45 minutes on brisk walk.
The problem is that walking alone without listening to any music or podcast can get tedious.
Peloton outdoor audio classes (also some tread classes) make walking more interesting.
Best Peloton outdoor running classes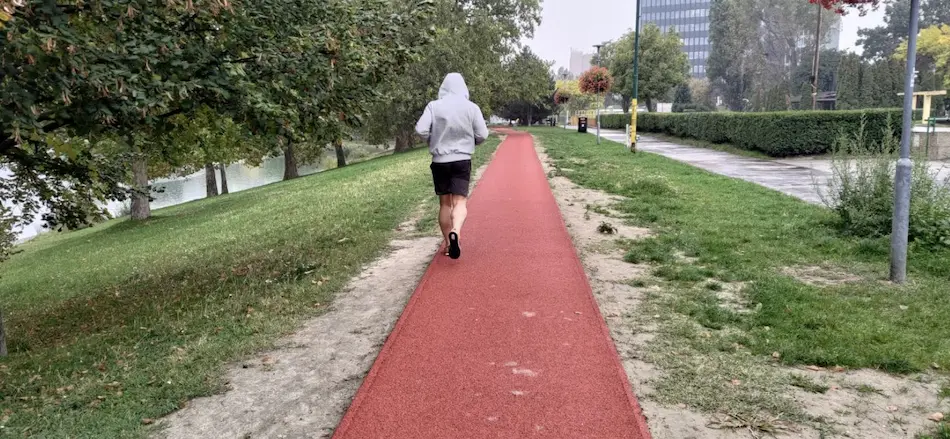 So far, I tried over 70 peloton outdoor running classes. Here is the full list of the workouts that I recommend you should try.
1. Marathon Race Prep
Marathon race prep is a series of classes that helps you train for a running event like a marathon or triathlon, or if you just want to practice long-distance running.
Throughout the class not only do you get clear instructions on your pace, but also constant reminders about your form.
What I like about this class
This class is good for runners because it helps you to stay concentrated on the run and keeps your mind on the road, instead of thinking about quitting.
It helps you to develop the physical and mental skills required to continue to run, even when you feel you don't want to.
I like this class because, as I mentioned before, during the longer runs, I find that my motivation to push myself declines.
However, when I listen to this guided class, it helps me to continue and stay focused, despite feeling muscle fatigue.
For me, there is a big difference between interval runs and long-distance running.
Sprints and HIIT are all about going all out for short time, followed by recovery.
Long-distance is tough because it requires not only good muscle endurance but also mental clarity and motivation.
This means long-distance running requires a completely different set of skills. The worst part is getting started.
2. Interval Runs
The peloton outdoor interval run is a series of 20 to 45 minutes classes that usually comes with a 1:1 or 2:1 work-to-recovery ratio.
The short duration helps to maximize the effort level and increase the heart rate within a minimum time.
What I like about this class
I like doing this class first thing in the morning because it helps me to get ready for the day ahead, especially if I only have 20-30 minutes.
Not only do I get a good sweat, but it also gives me more energy, makes me more productive and helps to deal with problems quickly.
The peloton outdoors intervals are good because it has several variations of intensity.
This means it can be done by all levels of fitness, regardless if you're a beginner or a skilled runner. Harder classes have typically less recovery time, whereas easier sessions have more recovery.
Jerome Koral, Ph.D., a Strength & Conditioning coach from Valencia, says that "doing sprint intervals 3 times a week is enough to significantly improve 3,000-m run time in as short as 2 weeks."
"If your goal is to run 5K or a 10K with a better time, adding an interval run can help," says Dr. Koral.
Plus, I think this class is perfect if you want to blow off the steam and you don't have much time for it.
My favorite class is 20-minute Intervals with Matty because of the soundtrack and the encouragement he gives.
I also find that 20-minute classes with Robin, one of the hardest peloton instructors, are highly inspirational and encouraging to run.
3. Tempo Run
The peloton outdoor tempo run is a class where intensity reaches the lactate threshold, and the clearance rate of the lactate from the muscle still exceeds the production.
This class is perfect for everyone who wants to either run faster or longer.
What I like about this class
In general, the peloton outdoor tempo run is good because it helps to run at a higher intensity, without the accumulation of too much blood lactate.
The class consists of 5 minutes tempo intervals that elevates your heart rate, followed by a 1-minute recovery.
If the intensity goes too high, the production of lactate and other by-products in the muscle exceeds the clearance, which leads to immediate muscle fatigue (Figueira, et al. 2008).
This workout is about finding the sweet spot where you can run with maximum effort, without the burning sensation in your lungs or muscles.
I like to do this type of session at least once every two weeks not only to challenge myself, and also to compare my results from my previous run.
It is a great assessment tool to track my progress and increase my intrinsic motivation.
Basically, the outdoor tempo run is something that will elevate your performance to the next level.
4. Outdoor Walking
Peloton outdoor walking is a series of over 120 classes.
The workouts last between 20 to 45 minutes and incorporate speed, hills, and even running. It can be used as an active recovery or your main workout of the day.
What I like about this class
This class is good especially for beginners because it helps to get started with running.
It helps to build up muscle strength and endurance and prepares the body for more advanced sessions.
It can also be done throughout the day, outside of your daily training program.
This means this class can easily fit into your daily schedule, whenever that's on your lunch break, at the downtown mall, or as a recovery session after your main workout.
One of the peloton outdoor running programs includes walking classes. Those classes are mainly targeted at beginners, however, even skilled runners can benefit from power walk for the rest day.
Studies have shown that daily 1-2 mile walking can significantly reduce BMI, improve cardiovascular health and help to improve longevity (Zhao, et al. 2015).
I like to make the peloton walking classes more interesting by adding speed and arm work. This way I transform my regular walk into the most invigorating 20-minute of my day.
5. Road to 5K
This is the peloton version of the outdoor couch to 5k program that helps beginners get started with running.
It consists of a 6-week strength and running program, where you progressively increase the volume, duration, and intensity.
This is not a single class (Road to 5K you can find the ready-made peloton programs), however, it has the components of outdoor running, which I recommend you have a look at.
What I like about this class
I like this program because it's already organized with classes in the hierarchy that starts from the easiest workouts and slowly over time it builds up the difficulty.
It includes classes like walking running, and even boot camp sessions.
The peloton road to 5k is good because it provides a step-by-step guide for beginners who want to get moving and start running.
It has slow and methodological progressions that not only help to improve fitness but also burn calories and lose weight.
This program works by implementing principles of progressive overload where you add more intensity over the time of 6-weeks.
You can lose weight doing peloton road to 5k because it has a variety of different classes that are designed to build strength, and improve flexibility and muscle endurance.
Peloton Outdoor Running Workout Plan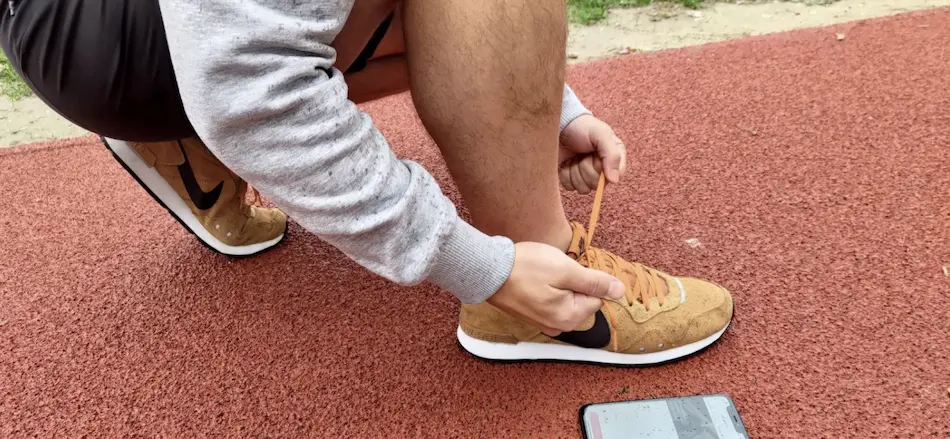 Below you can see the example of how to add your outdoor runs to your weekly workout schedule (whenever you're just getting started with running or you want to add some variety to your regular peloton workout plan).
The program starts slowly and with each week there is slight progress in either the duration or the intensity.
Week
Workout
1
HIIT Run 20-minute
Full-Body Strength Class 20-minute
Power Walk 30-minute
2
Interval 20-minute
Full-Body Strength Class 30-minute
Power Walk 30-minute
3
HIIT Run 30-minute
Full Body Bootcamp Class 30-minute
Walk + Run 30-minute
4
HIIT Run 45-minute
Upper Body Bootcamp Class 30-minute
Lower Body Bootcamp Class 30-minute
Progressive Run 30-min
5
HIIT Run 45-minute
Upper Body Bootcamp Class 30-minute
Lower Body Bootcamp Class 30-minute
Progressive Run 45-min
Power Walk 30-minute
Peloton Outdoor Running workout plan
The left column corresponds to the number of weeks.
The right column corresponds to workouts per week
To implement progressive overload, each week you should focus on increasing one out of three things.
Increase the total number of your workouts (training volume).
Increase the duration of the classes (choose longer classes).
Increase the intensity (difficulty level) of the class.
For the best results, just pick one. Do not increase all three every week.
For example, between weeks 2 and 4 just focus on adding more time. Don't ramp up on all variables. This will lead to too much effort and can slow the results.
Peloton Outdoor vs Running
The difference between peloton outdoor and running is that running classes require the use of a treadmill.
The instructions include things like increasing the treadmill speed or adding the incline, which cannot be done accurately outside.
On the other hand, the peloton outdoor program is in audio format and it can be done either indoors or outdoors.
This class has the instructions following an RPE one to ten scales. For example, the trainer may ask to run faster for the 30-second bout to reach 7 out of 10 intensity.
This makes it more individualized and suited for outdoor running because every person has different levels of fitness.
That being said, you still can do peloton tread workouts outside.
If you need motivation for your running or find it boring to run, then keep reading. What I like about the peloton is the easy access from the phone via the Peloton digital app which means you can run outside with a peloton.
You can do peloton runs outside
Yes, you can do peloton runs outside, as long as you have your phone with you to stream the app. I often take my peloton tread classes outside.
Keep in mind that some tread classes are more "how it feels" based, and some of them are more "numbers-based". Still, the majority of the instructions are verbal.
Peloton outdoor running download
One thing that I dislike about peloton outdoor runs is they all need internet access.
You cannot download peloton outdoor running classes on the phone and use them without the internet.
The app allows only to preload classes, which will save you data, but you cannot stream the class without wifi.
Is Peloton Outdoor Accurate?
As a whole, peloton outdoor isn't the most accurate and you shouldn't rely on the numbers of calories that the app shows.
The number of calories burned during the run will depend on several factors like total body weight, lean body weight, age, gender, pace, and overall activity level.
This means you can have the same outdoor workout run and the calories will show the same for two completely different people.
The best way to track your calories is with a decent heart rate monitor or body composition tracker like InBody or Garmin.
My thoughts
I think running is one of the most rewarding cardio exercises because it not only improves your overall fitness but also develops mental toughness and self-efficacy.
However, it's incredibly hard to get started.
It requires discipline and constant motivation, which have to be built over time.
So whenever you're a runner or you want to add some extra cardio component to your existing strength routine, there are hundreds of peloton outdoor running workouts available in the peloton app.
Conclusion
Peloton outdoor running workouts are an excellent way to add some spice to your existing routine.
It is suitable for anyone who is looking to start running and needs some methodological and safe way to design a progression, without getting injured or burned out.