The Beachbody started in 1998 in Santa Monica and were known for their series of infomercials and workout videos. Today they have over 90 on-demand fitness programs, as well as nutrition and supplement brands.
The peloton and Beachbody are completely different fitness brands but are based on the same idea; on-demand and live classes streamed from fitness apps. They both sell indoor cycling bikes, as well as offer a variety of workouts.
I will briefly cover the pros and cons of the two, but the goal of this article is to focus on the app review, not the hardware. This is not the comparison between the Peloton Bike and MYX Fitness Bike.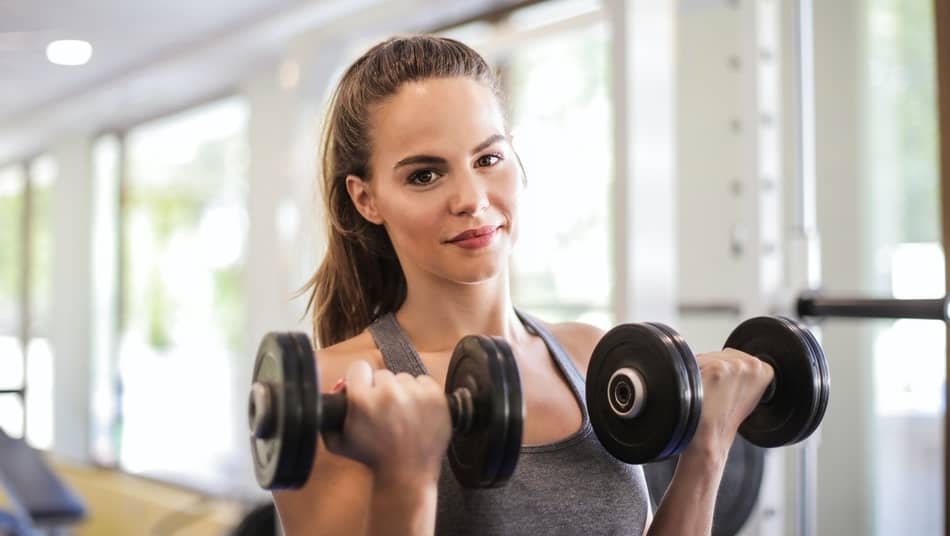 Peloton Digital vs Beachbody On Demand
There are several differences between Peloton digital vs Beachbody on-demand including class format. The Beachbody on-demand mainly focuses on fitness programs that last between one to 13 weeks. They also offer digital nutrition programs and access to "personal coaches" who work as sales consultants.
When starting with Beachbody on-demand may feel like you get a better deal because of the unlimited access, meal plans, nutrition guides, and recipes. However, this company is known for its multi-level marketing tactics, which are more about further selling their products.
With peloton, you don't have any upsells or "personal coaches". Nobody is trying to talk someone into buying any shakes or supplements. They have a team of dedicated instructors who created an extraordinary community around their brand.
Peloton Instructors vs Beachbody Coaches
The peloton instructors and Beachbody coaches are completely opposite, however, both help with the marketing of the brands. The peloton instructors only conduct their classes and are not obligated to sell or promote any products.
The only way you will see them promoting the brand is by wearing peloton apparel. I like this kind of marketing because it's not pushy, and if consumers want to spend money on the apparel they can do it at their will.
Not only that.
All of the Peloton instructors are carefully selected into their team and have been involved with fitness for a number of years (often at the professional level).
The Beachbody coaches are the opposite. They not only have to market their supplements but also "invite" people who bought their products to further sell to their friends in a multi-level-marketing system.
This means anyone can become a Beachbody coach, regardless if you have a background in nutrition and human physiology or not.
Peloton vs Beachbody on Nutrition
The peloton openly admits that their instructors are not allowed to provide any dietary guidance.
According to The American Nutrition Association, it is illegal for a personal trainer/fitness coach without a nutrition license to use nutrition tools in their work (source).
That's why you won't get any personal recommendations for meal planning or nutrition supplements from the peloton instructors. I think this approach is more transparent and helps with the company's integrity.
On the other hand, the Beachbody on-demand makes a chunk of its profits from selling nutrition shakes, meal plans, and supplements.
I guess there are some regulations and licenses that allow you to include nutrition advice.
Peloton Live vs BODi

Both of the companies, the Peloton and Beachbody on-demand offer live stream classes. The peloton has over 190 new live workouts each week, where the BODi is in the beta testing stage.
Does Beachbody have live classes? As a whole, Beachbody started a BODi, which stands for Beachbody On Demand Interactive. This is an online fitness and nutrition content membership where you can stream live classes. The classes include Cardio, HIIT, Bootcamp, and more.
What's the difference between BODi and peloton live? As a whole, the difference between BODi and peloton live is that peloton offers live classes to all of their current members, regardless if you have all-access membership or a peloton digital app. The BODi is an add-on, which is only available to existing BOD members.
Here you can see the comparison of both peloton digital membership and BODi membership.
Peloton Live
BODi
Price
starts from $12.99/mo
starts from $19.95/m
Classes
Strength
Yoga
Meditation
Cardio
Stretching
Cycling
Outdoor Running
Running
Walking
Bike Bootcamp
Tread Bootcamp
Cardio/HIIT
Bootcamp
Pilates
Barre
Core
Yoga
Nutrition
Cycling
Peloton Live vs BODi
As you can see, there is more variety in the peloton digital when it comes to the live classes.
What I like about peloton live is that every class is immediately saved into their on-demand library. Plus, because they have been doing live classes from the beginning, they managed to already establish a raving fans culture.
Their live classes often include music themes, challenges, and special guests. The instructors have been there for many years now and have managed to develop a great rapport with people.
On the other hand, the BODi is just getting started into the live-stream games. One cool feature that BODi launches is live nutrition classes. This will include live cooking and meal planning sessions.
Peloton Classes vs Beachbody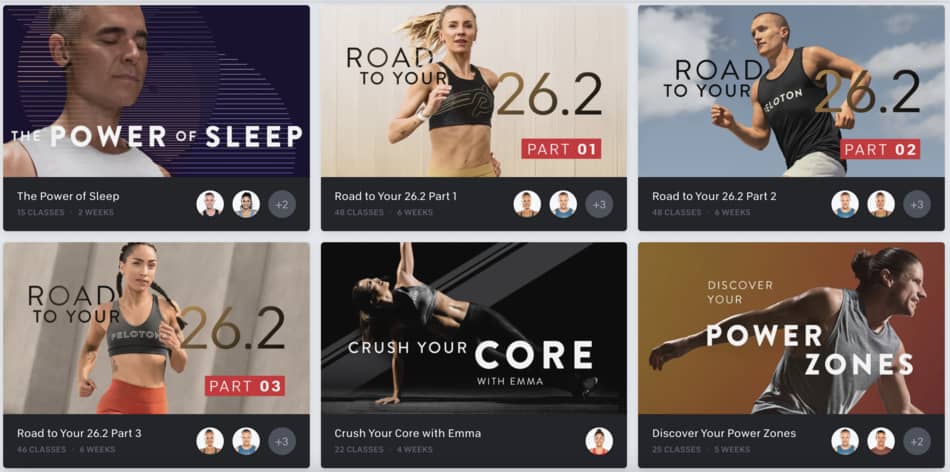 The difference between the peloton classes and Beachbody is that peloton is mainly focused on the bike workouts. Almost half of their weekly sessions are peloton rides. They do have plenty of strength and yoga sessions, but that is just a small part of their program.
Does Beachbody on demand have cycling? As a whole, Beachbody on demand doesn't have cycling classes because the only workouts they offer are on the mat. People who use MYXfitness bike stream cycling classes from the Openfit platform, which is owned by the Beachbody on-demand parent company, The Beachbody Company.
Beachbody on demand is famously known for its long-haul fitness programs that last up to 90 days.
I feel nostalgic thinking about Beachbody because that was my first on-demand class experience. Back when I was working on the cruise ships everyone was doing Beachbody, including dancers, spa girls, acrobats, even the captain.
Not only that.
Some of their older programs like P90X, Insanity Max 30, and T24 are actually extremely challenging and when combined with a healthy diet can deliver great results.
The only caveat for those types of programs is that they are all based on the HIIT and high-impact exercises, which is not the best for beginners (more on that later).
Does Peloton have programs like Beachbody? As a whole, the peloton does have programs that are similar to Beachbody including Total Strength, You Can Run, or Crush Your Core. However, the Beachbody has over 90 fitness programs that last between 1 to 13 weeks long and require no to minimum equipment.
Can Beachbody compete with Peloton? Overall, Beachbody can compete with peloton because they own a large number of already proven to work fitness programs. Some of the best programs from Beachbody require you to train for 6 days a week.
Peloton Strength vs Beachbody
There is a big difference between the peloton strength and Beachbody. Peloton strength was initially designed to supplement the lack of resistance training in cycling or running classes. Adding sessions like strength for runners or yoga for runners helps to target all the muscle groups that you couldn't work on the bike.
The foundation of the peloton is cycling and running. All the rest of the classes work as support. Nobody is buying the peloton because of its strength workouts. Everyone is buying the peloton because of the bike.
However, since the peloton started to add more variety to their classes, they launched peloton digital as an option for people who don't own the bike.
Overall, the peloton strength classes are still worth it because you can get a good workout and burn plenty of calories.
On the other hand, Beachbody has over 24 strength and muscle programs that are designed to make you work harder week after week. The strength and weight loss with minimum equipment is the core foundation of the Beachbody series.
Is Beachbody better than peloton strength for weight loss? As a whole, the Beachbody is better than peloton strength for weight loss because it has more advanced and challenging programs. Each of the programs implements progressive overload, which makes you work harder week by week.
But here's the problem.
One thing that I don't like about Beachbody is that they don't offer any lessons on the correct form and safety of their more advanced exercises. Most of their workouts include high-impact and high-intensity exercises, which is very easy to get injured.
With peloton, there are only two strength training programs, where one is all about safety for beginners. Beginner strength navigates you throughout all major exercises, helps to find your rhythm, and always reminds you about the correct form.
With Beachbody, each class is performed by groups of people, and one person on the side will do a modified version of the exercise.
Overall, the peloton strength is better for beginners than Beachbody because each beginner class teaches you the fundamental moves like squats, pushups, rows, or crunches. Beachbody on demand doesn't have any beginner-friendly tutorials for people who need more support.
I think if you're a complete newbie it's much better to learn the basics first before you get tempted into more advanced sessions.
Peloton Yoga vs Beachbody
The difference between peloton yoga and Beachbody yoga is that peloton offers almost 3,000 yoga sessions that range from complete beginner to advanced classes. It has a dedicated Yoga Basics program that explains each asana step-by-step.
It also has a series of more intermediate classes called "focus flow" where you work on getting stronger or more flexible at specific body parts (e.g wrists strength, hips opener, core strength).
Finally, you also have more advanced classes for the real-time heroes to master the most difficult poses like headstand, handstand, crane pose, or even split.
Does Beachbody have a yoga program? As a whole, the Beachbody does have yoga classes which include 6 different programs. The program ranges between 3 to 30 days and is beginner-friendly. Beachbody yoga is an extension of their Refresh Kit supplementation nutrition.
In other words, the Beachbody 3-day yoga series is a workout that is claimed to boost your results from their supplement products.
Is Beachbody yoga good? Overall, Beachbody yoga is good because it includes the majority of the most basic yoga moves that help to reduce muscle tension and improve flexibility. However, it has a limited variety of sessions and doesn't include different styles of yoga.
Also, peloton yoga has an excellent series of classes called "yoga anywhere", where you can practice from anywhere you are including office, train, airport, or shopping mall.
Learn more: I've already covered everything there is to know about "peloton yoga" in my article, which I recommend you read.
Is peloton yoga better than beachbody? As a whole, peloton yoga is better than a Beachbody because it offers more variety in their yoga program including chair yoga, standing yoga, restorative yoga, and flow classes. It also has over 250 power yoga classes for more advanced students.
Peloton Cardio vs Beachbody
The difference between peloton cardio and Beachbody is that peloton has only a single classes, where Beachbody got multi-week programs. You start from low-impact workouts and gradually build up the intensity as the weeks go by.
I think Beachbody was an industry first that introduced HIIT training to on-demand fitness because all the exercises that you see in Peloton are from Insanity or T25.
What's the difference between Insanity and Peloton? As a whole, the difference between insanity and peloton is that the insanity program is 60 minutes HIIT workout that includes 8-10 exercises done back to back with 30 seconds rest. Most of the exercises include power, speed, agility, and coordination.
The peloton cardio is easier than Beachbody because the longest peloton cardio class is 30 minutes, and it's a mix of strength and cardio exercises. Each class is done in a circuit training style where you do 3-4 exercises back to back with minimum rest.
I think that Insanity is one of the best on-demand fitness programs available. It involves plenty of jumping, running, and kickboxing elements that elevate your heart rate and burn plenty of calories.
However, keep in mind that doing HIIT isn't recommended to be done every day. In fact, studies have shown that high-intensity sessions significantly weaken the nervous system, and require 2 to 3 days to recover (Brownstein et al. 2017).
This means doing Insanity class for 6 days a week may lead to overtraining because there is not enough time to recover.
Peloton Dance vs Beachbody
Next, let's talk about the dance classes because Beachbody is one of the few platforms where you can actually let loose and break a sweat without doing pushups or jumps.
Does Beachbody have dance workouts? As a whole, the Beachbody has several dance workouts including CIZE, Let's Get UP, LIVE It UP, Country Heat, and more. Each workout is based on the dance choreography where you learn steps one by one so you don't really feel like you exercise.
Most of the instructors from Beachbody are actually professional dancers so it just feels natural to release a dance fitness program.
What I like about the Beachbody CIZE is that you can do it with your friends in the group, even if none of you are talented dancers. I did this workout a couple of years ago on my rest days and I spend more calories from laughing than dancing.
Does peloton have dance classes? As a whole, the peloton does have 10 dance cardio classes but it hasn't been updating the library with more workouts. The classes are very basic with almost no dance moves that you can see in the Beachbody series.
The difference between the peloton dance and Beachbody dance is that Beachbody offers 12 different programs all focused around dancing in several styles including hip hop, r&b, ragga, and house. The peloton has only a few dance cardio workouts.
I used to teach step and aerobic classes (that's how old I am) and after doing peloton dance class I have to say there was nothing exciting, to be honest. Each move was predictable, monotonous, even boring.
However, with the CIZE I was struggling because most of the moves there are actually taken from professional choreography.
Is peloton dance better than beachbody? Overall, the Beachbody is better than peloton dance classes because they offer more fun and variety in their dance workouts. When you try Beachbody dance, I recommend doing it with many people at once, keep an open mind, and don't forget to have fun.
Is Peloton or Beachbody Better?
As a whole, the peloton is better than Beachbody for beginners because it offers in-depth exercise tutorials and has more beginner-friendly classes. On the other hand, Beachbody has a more advanced cardio and strength program that is been proven to deliver results.
Another thing I like about peloton is they employ people who are not only passionate about health and fitness but also specialize in one given workout genre. This means people like Matt Wilpers (who teaches cycling classes) won't teach yoga or meditation classes.
The Beachbody on demand has celebrity trainers who seem to teach all of the classes.
Conclusion
Overall, it seems like there is more intelligence involved in the peloton fitness program comparing to Beachbody. Not only do they include a good mix of low-impact and recovery classes, but also they stay away from nutrition and supplement recommendations that aren't backed by science.
The peloton started their on-demand classes with cycling workouts and slowly expanded into more diverse options including strength, cardio, and yoga. Still, almost half of their workouts are cycling classes.
The biggest difference between the peloton digital and Beachbody on demand is that the peloton app comes with thousands of single classes that you can take on its own. On the other hand, the Beachbody workouts are usually part of the multi-week programs.