You might think I'm insane, but in this article, I will compare a peloton bike with a road bike and help you decide which one is better for you (based on your long-term goals and budget).
As a whole, the difference between a peloton bike and a road bike is that peloton allows you to train in a safe environment at the comfort of your home and access multiple genres of fitness classes. A road bike is a great tool for performance-oriented goals like racing or triathlon training.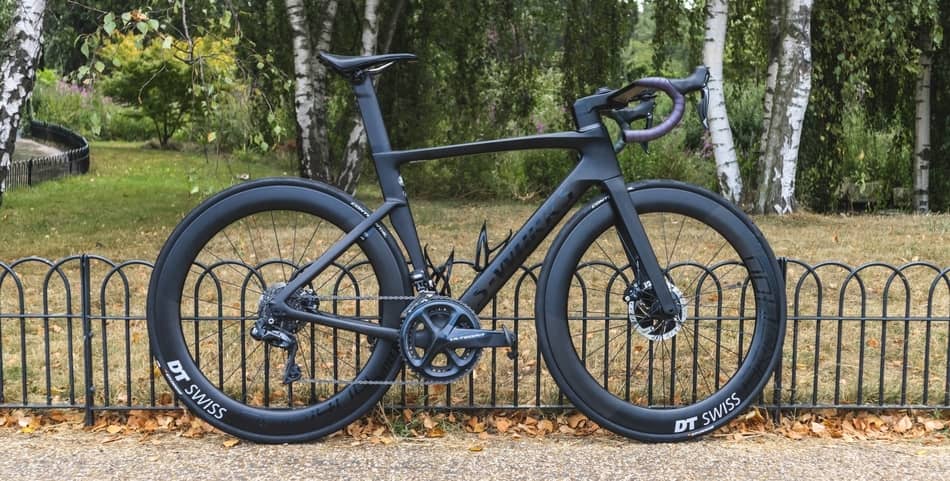 Peloton vs Road Bike for Beginners
The peloton bike is more beginner-friendly than a road bike because it allows training on daily basis. It is also safer and more convenient to do classes at home versus riding the road bike with the SPD SL cleats, especially in crowded streets.
Saves time – Peloton allows you to jump on the workout even with a limited amount of time. Most of the classes are 30 to 45 minutes. Road bike session usualy takes 3 to 4 hours.
Environment – Riding the road bike outside on country roads or fields is more fun, more relaxing, and it allows you to enjoy the scenery with fresh air. It also helps to get some sun on your skin.
Plus, you have the chance to take a break, sit down and have a nice coffee with cake from the local cafe.
Community – Peloton bike has strong online support and raving fans. However, meeting people in-person and riding the road bike with your friends is more pleasant and fulfilling.
Safety – Peloton bike doesn't require to wear a helmet or paying attention on the road conditions. It is also easy to clip in and out of the pedals with your cycling shoes. Riding outside with cycling shoes requires you to always remember to clip out from the pedals, especially when arriving to the traffic lights.
Road biking is more dangerous than a Peloton bike because with a peloton you're not exposed to cars and traffic. Plus, if you forget to unclip yourself from the pedals, you will fall off the bike. This happened to me more than once.
Which is better peloton bike or road bike for beginners? Overall, the peloton bike is better than a road bike for beginners because it makes it more convenient and accessible to train every day, without spending hours outdoors. This makes it easy for beginners to develop the habit of exercise, before getting on the road bike.
Peloton vs Road Bike for Triathlon Training
As a whole, the road bike is better than a peloton for triathlon training because it exposes you to realistic weather conditions. Riding in the rain, cold, and wind builds your resilience and often burns more energy, comparing to riding indoors.
I personally love to ride outside, with the fresh air and a bit of wind on my face. However, when I'm outside on the road bike, it makes it difficult to know how much power am I currently using, and follow any detailed training program.
Which is better peloton bike or road bike for performance? Overall, the peloton bike is better than a road bike for performance because you have access to live metrics and historical data from your previous rides. It also allows you to use power zone training to train smart and optimize your sessions for performance.
What is power zone training? As a whole, power zone training is a way to exercise and measure the intensity based on the power output. Peloton bike displays your current effort level measured in watts and provides immediate feedback based on your goals.
Also, the peloton has a whole selection that is purely designed to improve your performance. You simply join the class and follow the instructions.
On the other hand, riding the bike outdoor is hard to know precisely which effort level you're currently at if you don't have a power meter or heart rate monitor.
You can learn more about the "peloton power zone" training program in my article here.
Road Bike vs Peloton Bike for Weight Loss
As a whole, you can lose weight with both a peloton bike and a road bike, as long as you spend enough time for your training practice and combine your workouts with calorie restriction. Indoor and outdoor cycling is equally effective in burning calories and improving body composition.
However, the Peloton bike allows you to be more consistent in your workouts and gives you access to the whole online workout library. From there you can use classes like strength, cardio, yoga, and meditation.
This is a huge difference for weight loss because you can:
Combine strength with cardio – Peloton has over 24,000 on-demand classes that range if different fitness categories. You can use all of the strength, bootcamp and HIT workouts to complement your cardio.
Studies have shown that "combined aerobic and resistance training significantly improves body composition, reduce body fat and maintain lean body mass, compared to cardio alone" (Schroeder C et al. 2019)..
Train different muscle groups – Doing multiple types of wokrouts allows you to target several muscle groups, which makes your workout more complete and symethric.
Increase the variety – Adding more variety to your training helps to keep things more fun and interesting.
Studies have shown that "increasing the variety of exercise increase their exercise participation and enjoyment of that exercise without altering their perceived exertion" (Juvancic-Heltzel et al. 2013).
In other words, some people feel bored and demotivated to stay consistent when they do the same thing over and over, especially in the beginning.
Which is better peloton bike or road bike for weight loss? Overall, the peloton bike is better than a road bike for weight loss because it allows for more frequent workouts and provides more variety with over thousands of on-demand and live classes. On the other hand, a road bike is great for people who have more free time to train outside.
Peloton Calories vs Road Bike
Peloton bike and road bike burn a similar amount of calories. However, you need to take into account the individual conditions that will require higher energy output on the road like aerodynamic drag, gravity, or friction between your tires and the road surface.
These little details can significantly increase the effort level, and therefore, burn more calories.
Also, you need to take into consideration things like your location (altitude and latitude), weather conditions, cycling infrastructure, and even traffic accidents.
Below you can see the table of calories burned in 60 minutes on a road bike for 150 lbs person, depending on the pace.
| Road cycling | Kcal |
| --- | --- |
| Leisure pace (5.5 mph) | 251 |
| Light effort (10 – 11.9 mph) | 487 |
| Moderate effort (12 – 13.9 mph) | 573 |
| Vigorous effort (14 – 15.9 mph) | 716 |
| Racing pace (16 – 19 mph) | 859 |
Road bike calories
Please note that these numbers exclude any wind speed, rolling resistance, drag, or weight of the bike.
Here you can see the calories burned in 60 minutes on a peloton bike for 150 lbs person, depending on the watts.
| Peloton bike | Kcal |
| --- | --- |
| Light effort (30 – 50 watts) | 251 |
| Light to moderate effort (51 – 89 watts) | 344 |
| Moderate effort (90 – 100 watts) | 487 |
| Moderate to vigorous effort (101 – 160 watts) | 630 |
| Vigorous effort (161 – 200 watts) | 787 |
Peloton bike calories
As you can see, to estimate effort level on the peloton, the bike uses build one power meter to calculate watts, not the mph like in the road bike.
Peloton Watts vs Road Bike Mph
You can try to compare watts with mph, however, there are too many variabilities that can affect the results:
headwind or tailwind
bicyle weight and material
uphill vs downhill
tire thickles
hands position
In general, riding at 10 mph on the road bike is equivalent to 60 watts on a peloton bike, assuming there is no headwind on 0% incline grade. However, to maintain 10 mph on the road bike with a 3% incline and 5 mph headwind will be equivalent to 225 watts on the peloton.
See the table below for a reference.
| Watts | Speed | Incline |
| --- | --- | --- |
| 100 | 12.3 mph | 0% |
| 100 | 10 mph | 1% |
| 100 | 8.1 mph | 2% |
| 100 | 6.5 mph | 3% |
| 100 | 5.3 mph | 4% |
| 100 | 4.5 mph | 5% |
peloton watts vs road bike mph including incline
Riding outside on the inclined surface significantly increases the overall power output required to maintain the speed. That's why it's very difficult to compare peloton and road bike because when you're on the road, there are several factors that can influence your effort.
Peloton Price vs Road Bike
As a whole, the price for a regular road bike is less expensive than getting a peloton bike together with the monthly membership fee. However, some carbon frame road bikes like Van Rysel can cost between $2,200 – $3,500 or more.
In fact, for some of the road bikes from the top shelf like Colnago C64 you can expect to pay even over $10,000. The price depends on the frame, wheels, weight, and other moving parts.
Below you can see the comparison table between the peloton and other road bikes.
| Bikes | Price |
| --- | --- |
| Ribble Endurance | $999 |
| Cannondale Synapse | $999 |
| Boardman SLR | $1,100 |
| Triban RC520 | $1,299 |
| Peloton bike | $1,495 |
| Trek Domane AL 5 Disc | $2,029 |
| Vitus Vitesse Evo Cr | $2,699 |
| Van Rysel EDR CF | $2,999 |
| Bianchi Sprint 105 | $5,000 |
Peloton vs road bike price
As you can see, the peloton isn't as expensive, when you compare it with other top-shelf bikes.
Which Is Better Peloton Bike or Road Bike?
The difference between the peloton bike and a road bike is that the peloton bike is more beginner-friendly because it allows training at home with minimum time required. On the other hand, the road bike gives a better experience and is can burn more calories with bad weather conditions.
What I like about peloton is that you're not dependent on the weather and geographical location. If you live in a sunny place like Florida or California then you can definitively enjoy riding the bike outdoors.
However, if you live in Mississippi, North Dakota, or Wyoming then you won't be spoiled for choice. Weather conditions, cycling infrastructure, or even traffic accidents are just a handful of obstacles that you should consider.
If you're getting the bike to train more, get fit and lose weight I recommend getting the peloton bike. It has more classes and allows yo to train even with 10 minute sessions.
If like being outside and train with other like minded people, get a road bike. This can build your endurance and prepare for the long-distance events.
Conclusion
As you can see, there are few differences between road cycling and peloton bike. I love to ride outside. However, for most days, I simply do not have time to budget 3 to 4 hours on the exercise.
That's why I love to have an option for an indoor workout and so far, the peloton has been a great companion.