Recently I've tried over dozen cycling shoes that are compatible with Peloton bikes.
In this article, I'm going to pull a rabbit out of my hat and share my thoughts on which are the best non-peloton shoes based on your foot structure and budget.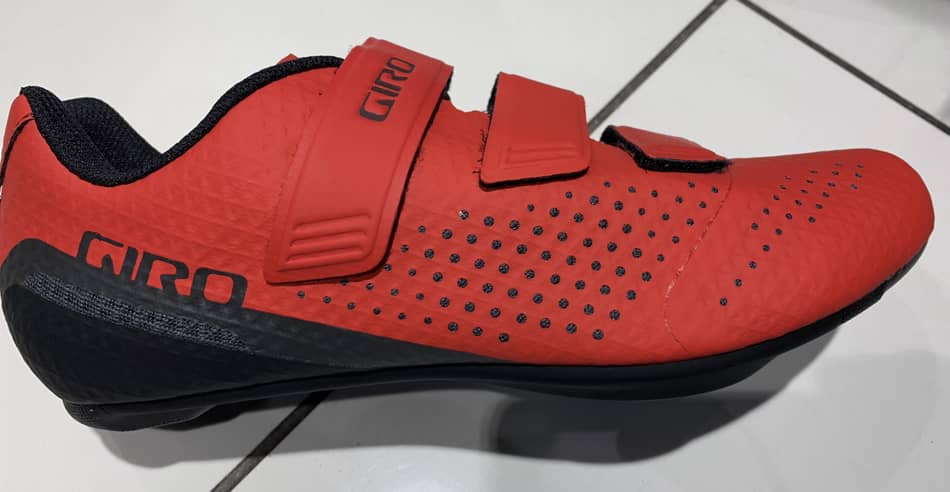 As a whole, the best peloton shoe alternatives that are compatible with the 3-bolt cleat system are Shimano, Giro, Scott, and Van Rysel. All these road cycling shoes have a seamless midsole structure, stiff outsole and stylish aero looks.
However, you should always choose your shoes carefully based on the type of foot you have because not all the models are the same.
Let's get right into it…
Are Peloton shoes the same as cycling shoes?
The difference between the peloton shoes and other cycling shoes like Shimano or Giro is that the other brands leverage the newest research and constantly infuse data and technology into their products.
They have a dedicated team that designs everything from the upper, and midsole, as well as stiffness index and shoe inserts that help with performance.
For me, the stiffness index in cycling shoes is important because it translates into higher peloton power output.
Less flexible and stiffer shoes can generate higher power transfer more efficiently.
According to Dr. James Hurt from the University of Colorado in the USA "Most competitive and recreational road cyclists use stiff-soled shoes designed for cycling and 'clipless' pedals that firmly attach to the shoes".
The problem I have with the peloton shoes is that they are made from a generic one-size-fits-all model.
They are not as stiff as some road cycling shoes, which reduces the power transfer during the rides.
(So if cycling is your thing, I recommend you buy your own shoes for Peloton.)
For me, the Peloton shoes are good, however, for the same price, you can get a better deal that is more durable, lasts longer, and is designed by a professional cycling company.
(I did use peloton shoes in the past, however, since I started using Shimano and Scott, I'm not going back.)
What type of shoes do I need for Peloton?
In some classes, you need to wear clipless road cycling shoes that can clip into the SDP SL pedals.
Other classes like strength training or running require you to wear sneakers, while other workouts like yoga you can do without any shoes.
You will need clipless road cycling shoes that can clip into the SDP SL pedals. For other workouts like running, strength training, or HIIT you will need just the regular sneakers.
In specialty workouts like bike bootcamp, you need to wear both types of footwear and change them back and forth.
Best Peloton Shoes Alternatives
Below you can see the 6 best peloton-compatible shoes that can be used on the peloton, as well as on other bikes.
Shimano TR501
Shimano is a publicly-traded Japanese company that dominates the cycling industry. They manufacture shoes, pedals, eyewear, and other cycling components.
Here's a photo of the TR5 model that I used for a couple of months.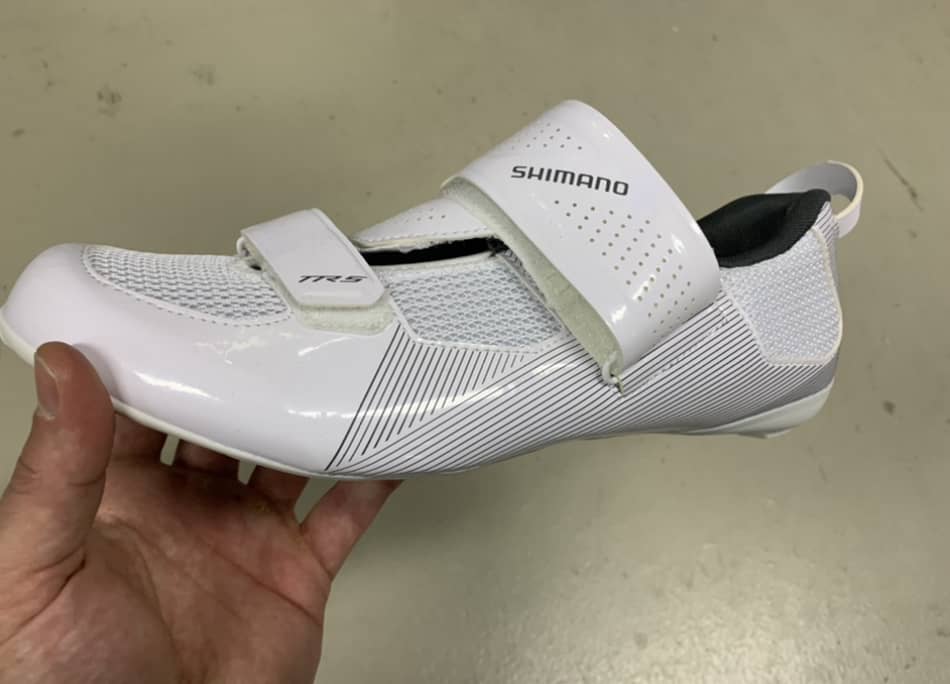 This is the triathlon shoe that I used during my triathlon training in 2019.
Pros
Breathable material
Neutral toe spring
Low stack height midsole
Cons
Standard sizing
Narrow feet
What I like
I like it because it has a 3D breathable mesh that not only feels super comfortable but it also improves the airflow into the shoe.
You can use Shimano TR501 shoes on the peloton because they have a 3-bolt cleat system, which is compatible with the peloton clipless pedals.
They also have a neutral toe spring, which reduces the stiffness of forefoot pressure.
Shimano TR5 triathlon shoes have velcro straps that you fold outside of the foot, which allows for super-fast transitions.
They also have a heel loop on the back, which helps to take them off quicker.
Plus… and much more importantly…
The Shimano has a low stack height midsole, which not only helps to stabilize the foot but also allows for better power transfer efficiency.
According to Shimano engineers and researchers "reducing stack height, the distance between the sole and pedal axis stabilizes pedaling strokes and increases power transmission efficiency".
Another thing that I love about the Shimano TR5 is they prevent my feet from sweating, thanks to the small holes in the sole.
See below.

As you can see, the Shimano TR5 (like all of the triathlon shoes) has little grills on the bottom front of the sole for extra ventilation.
These drain holes help to remove the water from wet feet after the transition from swimming to cycling, which keeps feet as dry as possible while you're on the bike.
What I don't like
Shimano SH-TR501 model comes only in standard sizing, which means they are designed for narrow feet.
Their cycling shoes are manufactured in standard, half, and wide sizes. This means they can fit both wide and narrow feet. However, not all models come in a variety of sizes.
Price
Shimano TR501
Shimano TR501 ranges between $80 to $120
Peloton shoes
The peloton Altos cost $145
I think that the Shimano TR501 triathlon shoes are better than the peloton because they have glass fiber-reinforced nylon sole, which provides better stiffness. Plus, the price is better, which makes them the best inexpensive peloton shoe alternative.
Giro Empire ACC
Giro is a US-based company that specializes in manufacturing gear for cycling, skiing, and snowboarding.
Here's a photo of the Giro Empire ACC model from 2018.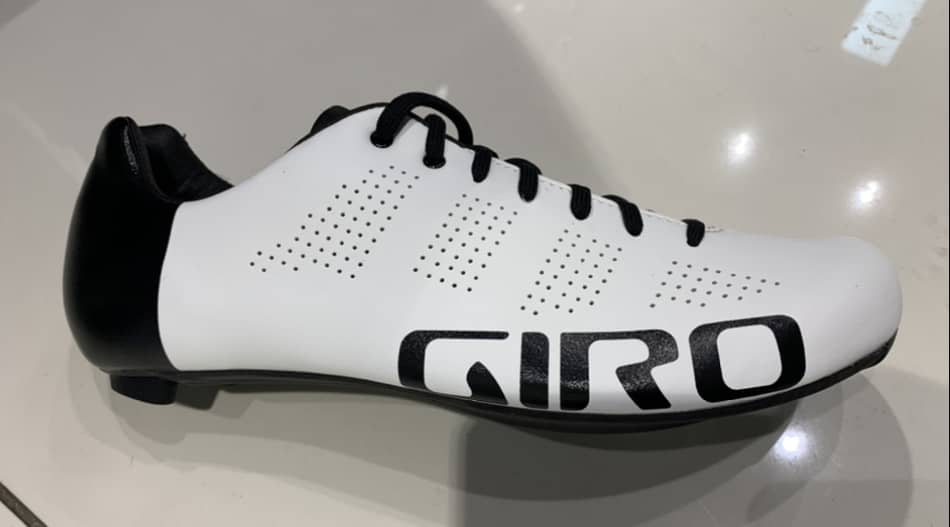 Pros
Designed for high arches and flat feet
Good for overpronation or under-pronation
What I like
I like Giro Empire ACC because they have this classic Italian look with an old-school-laced fastening system.
I think this is the best peloton-compatible shoe for high arches and flat feet because they have an adjustable arch support system.
Adjusting arches helps to enhance fit and foot alignment to maintain stability and comfort while maximizing power transfer.
(It's kind of like wearing specialized shoe insoles.)
Giro provides a snug-fitting heel cup, which helps to maintain comfort, especially for long endurance rides.
They also have an SLX2 carbon outsole that improves stiffness, while minimizing plantar pressure.
What I don't like
The only thing that I don't like about the Empire ACC is they come in standard sizes only, which makes them not good for people with extra wide feet.
Also, they are more expensive than peloton shoes.
Price
Shimano TR501
Giro Empire ACC starts at $180
Peloton shoes
The peloton Altos cost $145
(These shoes have been around for a few years now, which means you can find a good deal and a discount.)
I can confidently say that Empire ACC is better than peloton cycling shoes. They have improved breathability, have higher durability, and are water-resistant, thanks to the Evofiber technology.
This means you can use them on your Peloton bike, as well as on the road, even during rainy weather.
3. Shimano S-Phyre RC9
Shimano S-Phyre RC9 is a professional performance cycling shoe that is packed with the latest technology like DYNALAST, reinforced microfiber leather, and new BOA Fit System Li2 dials.
Here's a photo of the S-Phyre road cycling shoes (model 2019) that are compatible with Peloton bike and bike+ thanks to SPD SL cleats.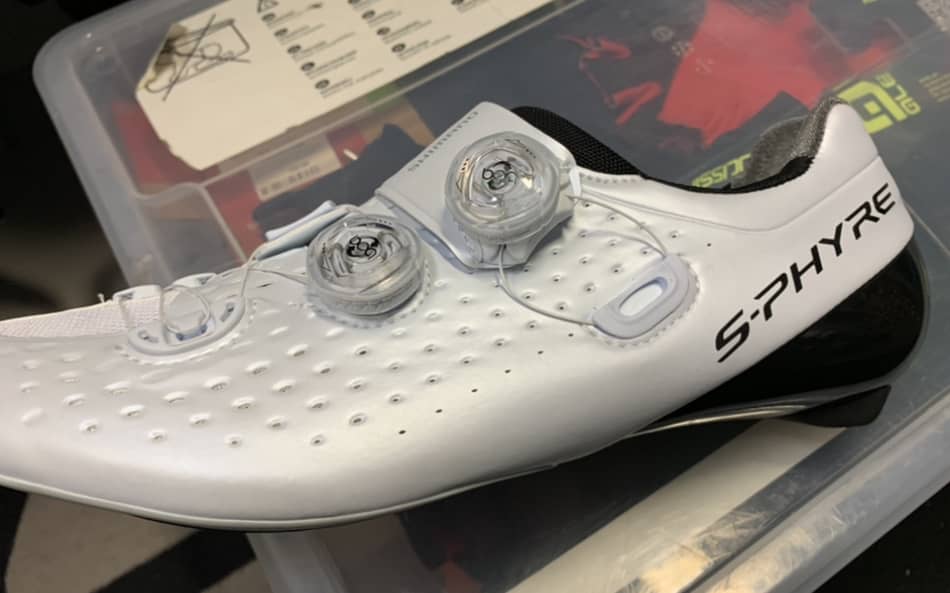 Pros
Carbon fiber midsole
Anti-twist stabilization
Best for wide feet
What I like
Shimano has a carbon fiber midsole and a heel cup with anti-twist stabilization (which allows for smoother clip in and out of the pedals).
It has a snug fit and it almost feels like the shoe is hugging your foot. Both RC9 models are true to size and come in a variety of different sizes (including wide and narrow feet).
The peloton shoes have a plastic sole, which provides less stiffness, leaves more space in the heel, and keeps the foot unstable. This means you have to twist your foot more to clip out of the shoe.
They have a higher toe box volume that fits the natural contours of the foot, which makes them the best peloton shoes for wide feet.
(The peloton shoes do not fit wide feet, which is one of the biggest problems I see with people emailing to me.)
Most of the cycling shoes have narrow toe box. This makes people choose a higher size to accommodate the width of the foot.
This makes the cleat position too far forward and can lead to biomechanical inefficiency, knee pain, and hip pain.
(This was the number one reason why I got my S-Phyre.)
Since then I had to be more diligent in choosing the right footwear for my rides.
Here is the full list of all Shimano shoes for wide feet that are compatible with the peloton bike.
| Model | Sizes for wide feet |
| --- | --- |
| SH-RC902 | 36 – 48 |
| SH-RC902S | 36 – 48 |
| SH-RC902T | 36 – 48 |
| SH-RC702 | 38 – 50 |
| SH-RC502 | 38 – 50 |
| SH-RC300 | 36 – 52 |
Best peloton shoes for wide feet
As you can see, the Shimano offers a full selection of wide shoe sizes that range from 36 to even 52.
Honestly, I think these are the most comfortable cycling shoes I've ever worn on the peloton.
It has an engineered fit that improves the stability of the foot and keeps the heel in place. It also uses the dual BOA metal dials for the upper and lower part of the shoe.
What are BOA dials? As a whole, the Shimano BOA dials are the shoe fastening system for quick and precise micro-adjustments, without the need of undoing the shoelaces.
This means you can loosen Shimano shoes without even getting off the bike.
Are RC9 shoes better than peloton? As a whole, the Shimano RC9 road cycling shoes are better than peloton because they provide seamless power transition into the bike, which makes it feel like an extension of the bike.
What I don't like
This product has been developed with professional cyclists in mind and the price is three times higher than peloton shoes. This is a Shimano flagship product and it comes with a steep price tag (around $400.)
4. Giro Stylus
Giro Stylus and Peloton Altos are slightly different road cycling shoes but they share things in common; they are both true to size and are suitable for people with narrow feet (more narrow than a standard tennis shoe).
They also have a similar velcro closure system to snug the fit.
Here's the picture from the newest Giro Stylus model.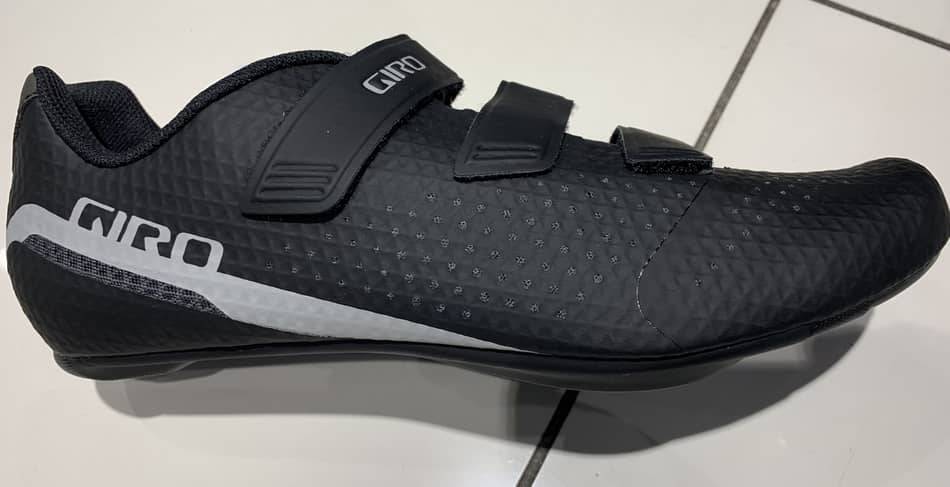 What I like
One thing that I love about the Giro Stylus is it has a nylon/fiber sole that can accommodate both two and three-bolt cleats.
See below.

Two bolts in the middle (the green arrow) are where you can attach SPD cleats. These are usually used for mountain bikes, but also commute bikes and indoor cycling bikes in most US-based fitness clubs.
The three yellow arrows are where you attach the peloton compatible Look Delta cleats. Unfortunately, you cannot have both cleats attached at the same time, which means you need to switch if you wish to change them.
The difference between Peloton shoes and Giro Stylus is that the Giro sole is a combination of nylon and glass fiber, with a dual-injected TPU toe, as well as an enhanced heel pad.
It is compatible with three-bolt cleats. However, the Giro doesn't include SPD SL cleats when you buy the Stylus model, which means you have to get the cleats separately.
The peloton does have a comfortable upper, but I hate the synthetic material and non-breathable feeling. Of course, you do get cleats in the package.
Also, the Giro uses the Synchwire construction, which increases the durability and ventilation of the upper.
(Please remember that neither peloton nor giro aren't available in half sizes.)
Overall, the Giro Stylus is an entry-level cycling shoe that works with the peloton bike, as well as with other indoor cycling bikes. The quality is better than in the peloton, and the price is less than $100.
5. Scott Road Comp
Scott is a Swiss producer of cycling gear, winter sports equipment, motorsports gear, and sportswear. Most of their shoes have a BOA adjustment system, however, the Road Comp has a velcro strap, which is perfect for recreational riders and less expensive than their flagship products.
Do Scott shoes work with peloton? As a whole, the Scott cycling shoes are compatible with Peloton bikes. The sole of Scoot road comp is a combination of nylon and glass fiber with a stiffness index of 6, which is great for beginners, as well as advanced riders.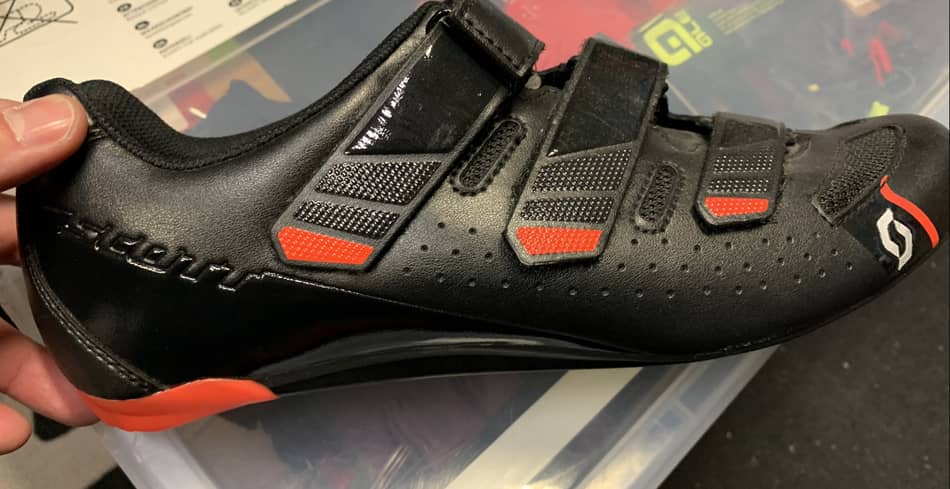 The difference between Scott Road Camp and Peloton Cycling shoes is that Scott has an increased range of cleat adjustment, as well as an additional layer of synthetic leather which makes the foot feel like in the glove. It also provides enough stiffness while reducing the forefoot pressure.
However, both peloton and Scott shoes do not support wider feet, which means they work best for narrow feet.
For beginners, if you're looking for something simple yet inexpensive, the Scott Road Comp are the best peloton shoes for under 100 dollars.
How To Choose Peloton Shoes
The best place to buy peloton shoes is not online, but directly in the cycling store because you should always try cycling shoes before buying them.
I always recommend getting professional help because cycling shoes are in nature stiffer than regular tennis shoes, which means if you choose the wrong sizing, you may experience discomfort.
Visit your local cycling store – I recommend you go to the store and talk with people who understand cycling and the right shoe fitting. You can do that by simply walk-in or setting up an appointment in advance.
Get your feet measured – In most of the stores, the sales rep will use a Brannock device to measure your foot size.
The Brannock device is the most accurate foot-measuring device that's been around since 1927. It measures length (heel to toe size), width, and heel to the ball of the foot, which is how much your arches elongate.
This is the most popular way to measure the foot sizes of men, women, and children.
See below.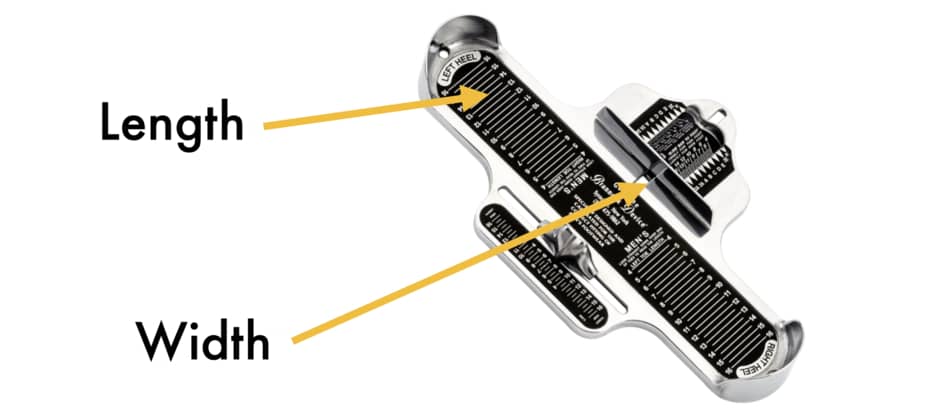 You probably saw this device in many shoe stores, as well as in the sports shops and even podiatrists' offices.
Measure your aches – Once you measure your foot, the store assistant will advise you about your arches. They can determine if your feet are flat, pronate or supinate. This is important because you can choose a specific shoe insole for your cycling shoes, if necessary.
Can you use insoles in cycling shoes?
Overall, you can use insoles in cycling shoes because they help to maintain a neutral foot position in the shoe, especially if you struggle with plantar fasciitis, flat feet, or high arches.
People who overpronate or under-pronate tend to lose foot and ankle stability, which can translate into lower power transfer (more on that at the end of this article).
Studies have shown that "Foot insoles improve postural stability via a somatosensory or biomechanical effect. Use of footwear with the proper features can be an appropriate intervention in order to increase the balance control" (Aboutorabi et al. 2016).
Best Insoles For Peloton Shoes
Here you can see the full video from Francis that explains how to choose insoles for cycling and what are the best options.
Conclusion
As you can see, the shoe fit is such a personal thing, which is why so many people complain about the peloton shoes. They are one-size-fits-all, and if you want to spend hundreds of hours on your bike, I highly recommend getting a professional cycling shoe alternative.
To choose the best peloton shoes you need to visit a cycling store where the specialist can measure your foot size using a Brannock device. The sales rep will also be able to determine if your feet and narrow, standard, or wide.