A couple of years ago I bought peloton cycling shoes and recently I splurge on another new Altos model. My wife also owns two pairs so we both tested their cycling shoes excessively.
Today I will explain if peloton shoe sizing is off, are true to size, or maybe they run small.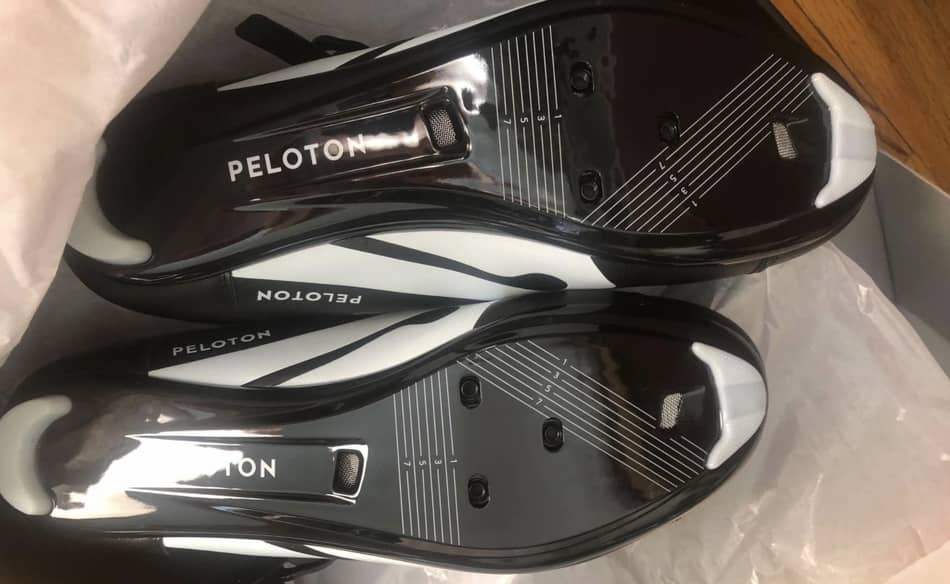 Peloton shoes do not run small and are true to size. However, they can feel stiffer and less flexible compared to regular shoes.
Peloton cycling shoes have a built-in inflexible platform that allows transferring more power to the pedal, but at the same time, it reduces foot mobility and can make you feel tighter than normal shoes.
Peloton shoes are true to size
I own two pairs of peloton shoes and they are both true to size. Peloton footwear is fitted based on the length and width of the foot.
However, you cannot compare them to your normal tennis shoes becasue they have a hard plastic sole platform used for the Delta cleats.
This helps to generate more power during the stroke but it also stiffens the shoe and can immobilize the foot.
So it does make you feel like you have less space for your feet in the shoes, but it's not due to the size. All cycling shoes have some level of stiffness which makes them more compressed.
Peloton shoes are supposed to feel stiff
In normal running shoes or sneakers, the rubber sole is extremely flexible. You can bend and twist it in all directions.
This helps your arches to freely pronate and supinate, allows you to clench your feet, and moving your toes around.
This flexibility helps you to move more efficiently when you're walking or running.
If you're used to training with sneakers or running shoes, your body is accustomed to this flexibility and complete foot range of motion.
However, once you put on the peloton shoes (or any cycling footwear that has a plastic platform), you may feel like the shoes run small because of the stiffness.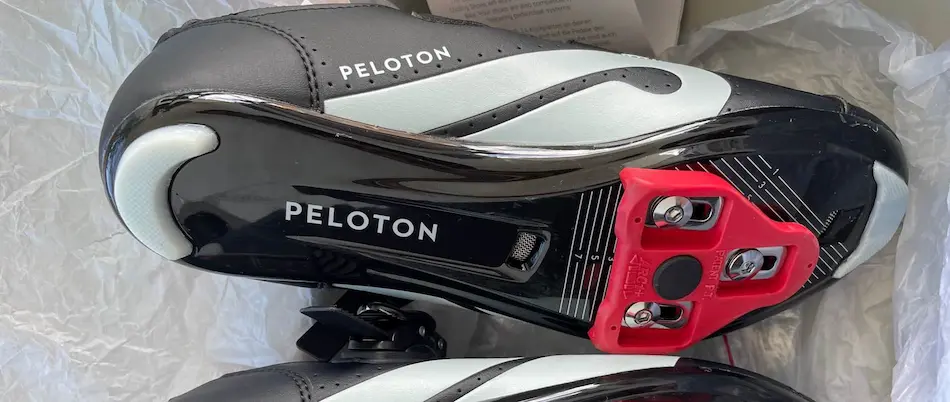 In the peloton shoes, the sole is made of a stiff plastic platform.
The platform has 3 holes at the bottom for cleats where you attach the Delta blocks, which then can be clipped into the peloton bike pedals, as well as other bikes.
This delta system helps to generate higher power output during the stroke.
Take a look at the picture below. This red attachment you see is the Delta cleat that is screwed to the shoe using 3 bolts.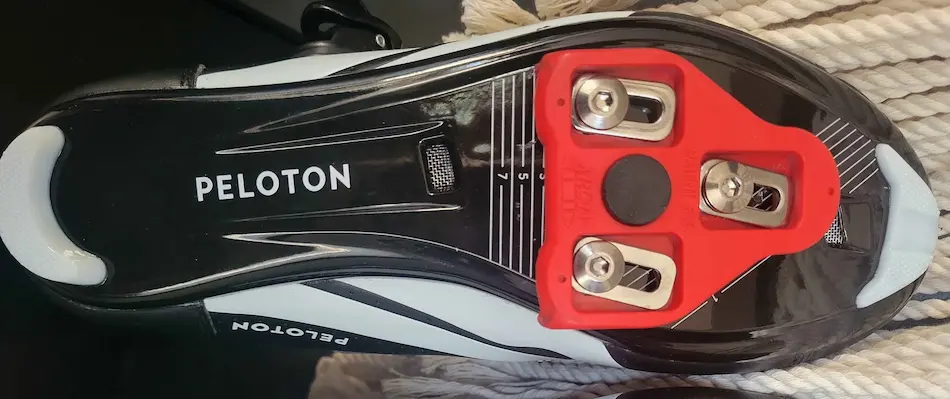 Why is this important? Not only you can push down during the stroke but also pull up. This means you will be able to engage more muscle groups like hamstrings, hip flexors, and glutes.
Peloton shoe size chart
Peloton shoes come in a variety of sizes that range for men from size 7 to 13.5 and for women from size 5 to 12.
Below you can find the peloton shoe size chart with US sizes that corresponds to European size.
| US size | EU size |
| --- | --- |
| Women 5 | 36 |
| Women 6 | 37 |
| Women 7 | 38 |
| Women 8 | 39 |
| Men 7 / Women 9 | 40 |
| Men 8 / Women 10 | 41 |
| Men 9 / Women 11 | 42 |
| Men 10 / Women 12 | 43 |
| Men 10.5 | 44 |
| Men 11 | 45 |
| Men 12 | 46 |
| Men 13 | 47 |
| Men 13.5 | 48 |
Peloton shoe size chart
As you can see in the shoe size guide, the Peloton doesn't offer half size. Only for men's 10 and men's 13.
Peloton Shoe Size Compared To Nike
Peloton shoe size is slightly different compared to Nike shoes. For example, in the peloton, the men's 7 corresponds to the women's 9. In Nike, the men's 7 corresponds to women's 8.5.
Here is the comparison between the Peloton size chart vs Nike.
| Peloton US | Nike US |
| --- | --- |
| Women 5 | Men 6 / Women 7.5 |
| Women 6 | Men 6.5 / Women 8 |
| Women 7 | Men 7 / Women 8.5 |
| Women 8 | Men 7.5 / Women 9 |
| Men 7 / Women 9 | Men 8 / Women 9.5 |
| Men 8 / Women 10 | Men 8.5 / Women 10 |
| Men 9 / Women 11 | Men 9 / Women 10.5 |
| Men 10 / Women 12 | Men 9.5 / Women 11 |
| Men 10.5 | Men 10 / Women 11.5 |
| Men 11 | Men 10.5 / Women 12 |
| Men 12 | Men 11 / Women 12.5 |
| Men 13 | Men 11.5 / Women 13 |
| Men 13.5 | Men 12 / Women 13.5 |
| | Men 12.5 / Women 14 |
| | Men 13 / Women 14.5 |
| | Men 13.5 / Women 15 |
| | Men 14 / Women 15.5 |
Peloton shoe size chart vs Nike size chart
As you can see, another difference between the Peloton and Nike cycling shoes is that Nike gives you half sizes for all sizes, whereas the peloton offers half-size only for 10s and 13s.
How To Fit Peloton Shoes
Here you can see exactly how to fit peloton shoes plus how to attach the Delta cleats to the bottom of the sole. The shoes come with cleats, however, they are not attached.
This means you need to set up the cleats based on your foot position.
Peloton shoe sizing
One of my biggest problems in choosing any type of footwear is that I have wide feet. So when I shop for shoes, I need to make a lot of due diligence.
This means I cannot rely on sizing charts. I have to actually put the shoes on and test them for at least several minutes.
I decided to visit a peloton showroom and one of their staff members advised me to go one size up.
She said that as much as peloton shoes' length and width are true to size, people with wider feet usually have to go one size higher.
You can try on peloton shoes in the store
As a general rule, you can try on peloton shoes in the peloton stores in the fitting rooms.
I recommend visiting their showroom, especially for people who use peloton with plantar fasciitis or other foot-related problems. This way you can ensure you're getting the right shoe size.
Peloton has over 80 stores across the US and Canada and 40 stores in Europe. Alternatively, if you don't have access to the peloton showroom, you can walk into any cycling store.
In the cycling shops, you won't be able to find peloton shoes, but you can get any road cycle shoes with the Delta clips that will fit your peloton bike.
Should you go up a size in peloton shoes?
Yes and no.
Both of my peloton shoes are one size higher than my regular tennis shoes. That's only becasue my feet are weird. Apart from the fact that they are wide, I also have one foot bigger than another.
So to feel more comfortable, it made sense to go one size higher.
I suggest you do the same. Going up in size will give you more space.
Alternatively, to get the best fitting you can visit your local cycling shop and get a professional to measure the length and width of your foot. This will help you to choose the shoes that fit you properly.
I love my cycling shoes, however, I know there are other peloton compatible shoes available out there. And if you plan to use your peloton bike for years, then getting started with the right shoes is critical.
Do peloton shoes come in wide?
One of the problems (but not a dealbreaker) is that all peloton cycling shoes don't come in wide. All shoes are manufactured in the same generic sizes.
According to the peloton website, both new Altos and older cycling shoes are for normal and narrow feet.
For example.
The size 9 is the same for everyone, regardless if you have a narrow or wide foot.
This means people with wider feet may feel uncomfortable or tight in their shoes, even if the length feels right.
On the other hand, going to the specialized cycling shop allows you to pick shoes that are based on your individual length and width.
For running shoes, it may not be that big of a deal because the shoe is flexible and can adjust.
However, cycling shoes, it is very important because the shoe is stiff. So even a small discomfort can cause problems later.
How should peloton shoes fit?
In general, peloton shoes should have a snug, sock-like fit on your foot, especially in the heel. In the front, there should be room to comfortably wiggle your toes, similar to the soccer shoes with cleats.
When you're fitting the shoe, you need to make sure they feel tight but comfortable.
You should have some space around the toes.
However, because of the plastic sole and stiff upper of the shoe, it will feel more rigid and less flexible.
You don't have to break in peloton shoes
As a whole, you don't have to break in peloton shoes because the shoe is designed to compress the foot in one fixed position for better stability during the pedal stroke.
The upper of the peloton shoe is also more rigid and secure, compared to an elastic running shoe.
The running shoes or leather shoes will break in after you wear them for some time.
However, cycling shoes have plastic, nylon, or carbon components, which aren't meant to stretch or break in.
Those components make the foot more stable in the shoe and allow for more power.
Also, when you look at the upper of the peloton shoe you will notice that it is fixed.
It is designed to hold your foot and keep it in one stable position. This compression allows transferring more power toward the pedals.
They should feel a little tight
As a whole, peloton shoes should feel slightly tight because this allows for better foot stability.
The velcro strap fastening system keeps the foot in one position, which allows for optimum power during the stroke.
However, the shoe should still feel comfortable.
That's why I personally prefer to visit the cycling shoe store for a more personal fitting (more on that later).
The cycling shoes aren't gonna break-in, so getting the right size that is tight and comfortable is important. Even the slight discomfort may turn to unbearable pain after 30 minutes of the bike intervals.
Peloton shoes don't stretch
As a whole, peloton shoes don't stretch. The upper of the shoe is a mix of fabric material and plastic finish to provide support. The sole and the heel stiffener of the shoe are made of hard-density plastic, where you attach Delta cleats.
Some parts of the shoe made of fabric can wear out and become looser, but the whole shoe isn't designed to adjust to the foot like leather shoes or rubber shoes.
Will any cycling shoes fit the Peloton?
The peloton bike comes with standard Delta clips, which is a classic road bike system.
Of course, the peloton and road bike are completely different bikes, but share one thing in common; they both use Delta 3-piece clipped pedals.
On the other hand, the mountain bike shoes have 2 bolt SPD clips, which can only fit into mountain bike pedals.
The Delta cleats are wide and have 3 holes at the bottom of the sole, right on the metatarsal part of your foot.
The SPD cleats have 2 bolts, are much smaller, and have two treads that allow for walking on trails. This is a completely different setup.
As you can see in the picture below, the pedals are completely different.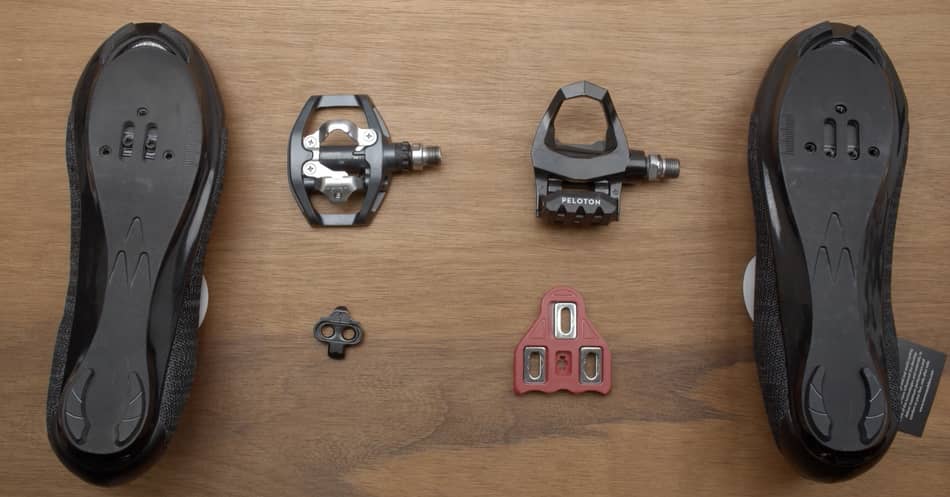 On the left side, you have a pedal with an SPD block underneath. This system is smaller, with allows being installed in regular walking or hiking shoes.
On the right side, you can see the Delta system. Those pedals are slightly wider, and the cleats have 3 bolts. Those are the classic road bike cleats. In those shoes, you're not supposed to walk or hike.
The peloton bike originally comes with the Delta cleats (the right side picture) so you can use any of the cycling shoes, as long as they have Delta cleats on.
My thoughts
I think using peloton shoes with Delta cleats can transform your training and make your workouts more effective.
They create a strong connection between you and the bike. However, it also comes with slight discomfort.
Alternatively, you can use a peloton without shoes, but this will require changing your pedals from the Delta system and installing toe cages.
However.
As much as peloton toe cages do not require cycling shoes, it also provides less foot stiffness, which can contribute to lower power output.
On my peloton, I use pedals that have attachments for Delta cleats on the one side, as well as designated toe cages on the other side.
I changed my pedals becasue I like to use tennis shoes for my peloton bike bootcamp classes where I need to get in and out of the bike several times per workout.
When should I replace my Peloton shoes?
Recently I replaced my old peloton cycling shoes with the new Altos model. I don't recommend replacing cycling shoes too often. Wait until they wear out.
You shouldn't replace your peloton shoes until they start to wear out.
Peloton shoes can last for many seasons, as long as you use them only for the peloton classes, you avoid walking on abrasive surfaces and you keep them clean.
On the other hand, if you're using the peloton shoes for outdoor rides, plus you walk on the rocks and pebbles then the sole of the shoe is the part most susceptible to damage.
(I did use my peloton shoes for my road bike, so they go quite beaten up.)
The Delta cleats are less durable and can be replaced more often. The peloton recommends replacing the cleats once every year, depending on the amount of exercise you do.
Conclusion
Choosing the right peloton shoe size over the internet may be hit-and-miss.
If you're planning to use the bike indoors and outdoors, I would strongly suggest getting shoes from your local cycling store.
You can get better service, more precise fit, and better comfort and they will last you for years.