One of my clients who just got her baby reached out and asked me to recommend her the best peloton rides for postpartum. She said that she did a lot of research, however, didn't find enough information on how long do you have to wait to use peloton postpartum?
Overall, according to the AOCG guidelines, you can gradually resume physical activity (including using the peloton) as soon as it is physically and medically safe. However, according to the Norwegian Directorate of Health, you should wait after the six-week postpartum clinic visit.
After doing research myself, I found that the information about postnatal fitness isn't conclusive, and depending on where you live, you may get different recommendations. In addition to seeing the list below, please read carefully the different guidelines I've listed at the bottom.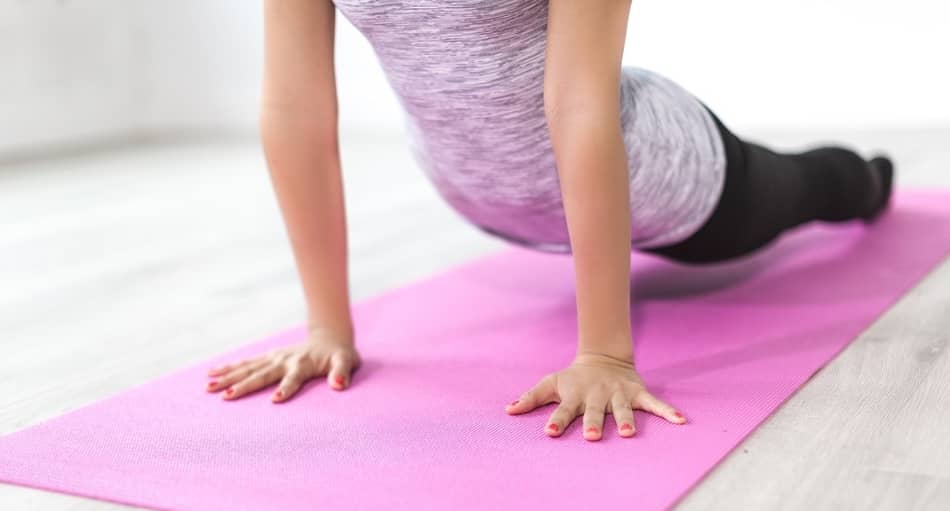 Best Peloton Classes For Postpartum
Some of the best peloton classes postpartum include yoga, walking, strength, and peloton ride at low to moderate intensity levels. Those classes are gentle and can increase the strength in the muscles, without causing exhaustion and muscle fatigue.
Does Peloton have postnatal classes? As a whole, the peloton does have dozens of postnatal classes that include core strength, pilates, yoga, and low-impact rides. Classes focus on gentle full-body exercises that help reengage in physical activity and improve mental health and mood.
Some of the benefits of exercise include better mood, improved cardiorespiratory fitness, weight loss, as well as a reduction in postpartum depression and anxiety (Mottola 2002). However, despite the benefits, not all of the women are willing to resume their workouts.
In fact, according to a prospective cohort study, over 25% of women experienced a major weight gain at 1 year postpartum (Olson et al. 2003).
When you feel tired and weak, the last thing on your mind is to exercise. So focus on behaviors, not the outcomes. It's easier to develop a habit of being active, even if you just do 10 to 20 minutes of light workouts per day.
Here are the best peloton classes for postpartum.
#1 Outdoor Walking
I start the list from walking because this activity is not only easily accessible by everyone but also recommended by all organizations including the Canadian Society for Exercise Physiology, Royal College of Obstetricians and Gynaecologists in the UK, and AOCG in the US.
Why outdoor walking peloton is good for postpartum? As a whole, peloton walking is good for postpartum because it's the easiest way to reach recommended 150 minutes of moderate-intensity aerobic activity. Walking also helps to improve sleep quality, reduce fatigue and depression in new mothers during the postnatal period.
There is over 500 peloton walking classes (including treadmill and outdoor). However, not all of them are suitable for postnatal. Some involve interval training, running, or both. The best peloton walking classes for postpartum are 20-minute music walks and 20-minute power walks.
Those classes can break a sweat because they slightly increase the heart rate, but are not high enough to cause fatigue.
One of the cool things I've seen is joining the organized postpartum walking groups. The benefits of joining such a group help to minimize the stress and provide support from others in the community.
However, because of fixed timing, joining such a group can be a huge effort.
Doing peloton walking classes and participating in the online community removes the limitation of time and fixed schedule. This way anyone can connect while maintaining a flexible timetable.
#2 Postnatal Yoga Flow
Peloton offers over 20 postnatal yoga classes that include pelvic floor exercises, breathing sequence, and abdominal strengthening moves. What is cool about postnatal yoga is that all of the classes are 10 to 20 minutes long. This way you don't tax the body and you can do it daily.
Does the peloton have pregnancy yoga? As a whole, the peloton does have pregnancy yoga classes that include pre and postnatal classes. Those classes are focused on low-intensity strength exercises and help mothers to improve and stabilize their emotional health and wellbeing.
Why peloton postnatal yoga flow is good for postpartum? As a whole, a peloton postnatal yoga flow is good for postpartum, because it helps to gradually build the strength of muscles around the hips, lower back, and midsection. It also includes multiple full-body stretches that help to relax and body and reduce stress.
Does the peloton have prenatal yoga? As a whole, the peloton does have prenatal yoga classes available in the peloton app library under the "Family" tab. The classes include gentle stretches and balancing exercises that help to maintain core and low back strength during pregnancy time.
#3 Yoga Anywhere
Yoga anywhere is originally designed for people who are on the go. Whenever you're sitting at your desk, in the office, or waiting in line. However, because the duration is relatively short and includes low-intensity poses, this class is perfect for the postnatal peloton program.
Why peloton yoga anywhere is good for postpartum? In general, peloton yoga anywhere is good for postpartum because it helps to enhance recovery, and it's a good antidote to postural patterns that we develop. The classes last between 5 to 20 minutes and include chair yoga, desk yoga, or standing yoga.
This class is not about building strength. This class is about correcting the posture and reclaiming the optimal range of motion by doing short and frequent stretches throughout the day.
It is better to do three 10-minute stretches in one day, versus one 30-minute class.
What I like about this class is it can literally be done anywhere. As long as you have your phone and earphones you can quickly do a 5-minute stretch routine that helps you to restore your position, improve breathing capacity and improve posture.
#4 Recovery Rides
The peloton recovery rides are originally designed for days off to help you enhance the healing process. It's a workout where you reduce the intensity (just to get the muscles moving).
The low-impact and steady pace helps to kick start lymphatic drainage and enhance blood flow to eliminate lactate from the tired muscles. Unlike low-impact rides, the recovery ride doesn't have any intervals in the program.
Why peloton recovery ride is good for postpartum? In general, the peloton recovery ride is good for postpartum because it has the lowest intensity of all of the available peloton rides. The class duration is between 20 to 30 minutes. The whole class is done in the saddle at an easy pace, which means you won't have to get up and down all the time.
In other words, that's the easiest ride available from all peloton cycling classes. This class is not about burning calories or racing for speed. This class is about moving the muscles, slightly increasing the heart rate, and be active instead of sedentary on the days off.
#5 Peloton Pilates
One of the most common occurrences is postpartum fatigue and stress that affects mothers immediately after delivery. Multiple studies have shown that doing floor exercises like pilates not only helps to combat physical and mental fatigue but also improve overall motivation (Heh et al. 2008)
Not only that.
Studies have shown that Pilates classes done five times per week for consecutive 8 weeks help to improve sleep quality in postpartum women (Ashrafinia et al. 2014).
Why peloton pilates is good for postpartum? As a whole, the peloton pilates is good for postpartum because it strengthens the core, stabilizes muscles around the pelvis and spine, and improves the breathing pattern. Most of the peloton pilates classes have 3-4 difficulty levels, which is considered as easy.
There are over 40 pilates classes available in the peloton app. The most suitable for postnatal exercise are classes that are no longer than 20 minutes, ideally with a green "beginner" tag.
Keeping the duration under 20 minutes helps to reduce the intensity, yet still, provides a good workout for new mums that helps to reconnect with their center.
Does Peloton have classes for Diastasis Recti? As a whole, the peloton doesn't have designated abdominal classes for diastasis recti. However, the peloton senior instructor, Emma Lovewell suggested that the best abdominal classes for diastasis recti include mostly breathing exercises.
Learn more: Click here to read more about "peloton pilates"
When Can I Ride Peloton Postpartum?
According to AOCG guidelines, if you had a healthy pregnancy and a normal delivery, you can start riding the peloton (or doing any moderate-intensity aerobic activity) as soon as you feel ready. However, if you had a cesarean birth or other complications, you should ask your health care provider.
So how soon after giving birth can you get a peloton will depend on the delivery, but also it depends on the place where you live.
Different countries have different guidelines for postnatal exercise. Recommendations in Australia are different from guidelines in Canada, UK, or the US.
Here are the postpartum exercise guidelines for 5 different countries.
| Country | Guidelines |
| --- | --- |
| US | Overall health should be evaluated before prescribing an exercise program. |
| Canada | Depending on the delivery, most types of exercise can be continued or resumed in the postpartum period. |
| UK | If delivery was uncomplicated, a mild exercise program may begin immediately. |
| Australia | With normal delivery, non-ballistic exercise could be done as soon as it's comfortable. |
| Norway | Women should start to exercise only after a 6-week postpartum check-up. |
Recommendations for postpartum resume (Evenson et al. 2014)
As you can see, the recommendations aren't universal. This means a health practitioner from the US will have a different perspective on postnatal workouts, compared to health care providers in UK or Canada.
However, the commonality that stands out in most of the recommendations is that you should start doing the exercise once you feel ready, as long as you had an uncomplicated delivery.
Learn more: Click here to learn more about how to get a "peloton healthcare discount".
Peloton Postpartum Program
Now let's have a look at the type and modality of exercise that should be included in your peloton postpartum program. Again, I wanna show you different recommendations based on the 5 already mentioned countries.
Here you can see the best exercises after giving birth according to international guidelines for physical activity.
Country
Guidelines
US
Aerobic
Strength
Canada
Aerobic
Yoga
Strength
Stretching
Walking
UK
Yoga
Stretching
Walking
Australia
Aerobic
Non-ballistic exercise
Running
Norway
Yoga
Swimming
Recommendations of postpartum exercise type (Evenson et al. 2014)
As you can see, several commonalities occur in most countries including walking, yoga, and aerobic exercise.
Is peloton good for postpartum? In general, the peloton is good for postpartum because it allows participation in moderate-intensity aerobic activity. Riding the bike at moderate to low-intensity counts as aerobic exercise. It is recommended to do at least 150 minutes of moderate-intensity aerobic activity every week.
Peloton Postpartum Weight Loss
Starting the peloton after giving birth not only can help you safely strengthen the body, but also help to lose weight. However, adding exercise alone isn't enough to reduce excess weight. Nutrition is important.
Why is postpartum weight loss so hard? As a whole, postpartum weight loss is so hard because it takes time for your body to get back to its pre-pregnancy state. The abdominals and back muscles are weaker, as well as joints, and ligaments are more flexible, which is an increased the risk for injury.
Doing peloton training will help to balance the muscles and regain strength. But to shred the extra pounds off you will need more than 20-minutes walking.
Learn more: Click here to read more about "peloton diet"
Postpartum Nutrition Guidelines
Juggling between good nutrition and the needs of a new baby is difficult because there's a lot to deal with. Many new mothers skip on their nutritional quality because they're rushed and exhausted.
That's why working out helps. The goal of the exercise isn't to burn calories. The goal of the exercise is to develop strength and reduce fatigue.
When you're tired, your food choices default to the most convenient options. But when you're stronger (physically and mentally) you have the energy to put in the extra work and look after the nutrition.
But be realistic and keep it real. Looking at the "inspirational" images of celebrities who "bounced back" after pregnancy and got their six-pack abs back in six weeks won't gonna help.
Here is the list backed by scientific research and realistic nutritional interventions you can do to enhance weight loss.
Recommendation
How it works
Eat slowly
Eating slowly helps to reduce food intake, without counting calories. If needed, set up the timer for 20 minutes.
Eat until 80% full
Instead of eating until full, stop eating when you're "no longer hungry"
Add protein, quality carbs, healthy fats, and colorful fruits and veggies.
The more variety you add to your meals, the less likely will be for nutrient deficiencies.
Supplement with mega-3 EPA/DHA
Quality fish oil helps to reduce inflammation and improves mood.
B-complex
Vitamin D
Magnesium
Zinc
Those are the most common nutrient deficiencies. They all contribute to postpartum depression.
Peloton postpartum weight loss (Opie et al. 2020)
Will peloton help me lose weight after pregnancy? As a whole, the peloton will help you lose weight after pregnancy. It has hundreds of low to moderate intensity classes that not only help you to recover after pregnancy, but also burn calories, and increase your metabolic rate.
Can I start Peloton while pregnant? In general, you can start peloton while pregnant because they offer multiple prenatal classes led by the vice president of peloton fitness programming, Robin Arzon. She presents multiple classes that range from cycling to strength training.
How long after C-section can you ride peloton? As a whole, according to guidelines, you can ride the peloton 6 to 8 weeks after C-section. This time allows the body to recover after birth. However, each case is different, so it is wise to ask your doctor for your individual recommendations on when is it safe to resume exercise.
Conclusion
As a whole, the best peloton workout after giving birth is brisk walking and postnatal yoga classes. Walking 30 minutes per day is enough to meet the minimum aerobic requirements.
Yoga classes include several pelvic floor exercises, including abdominal and back muscles. Focusing on developing a habit of exercise is more important than trying to aim for body composition or performance.