Peloton offers thousands of classes that range from beginners all the way to advanced. But what about the kids, does peloton have family classes?
In general, peloton does have over 80 family classes that range from 5 to 20 minutes long. This provides an opportunity to spend time with your kids, have a workout, and have fun at the same time. Not only it builds good habits but also bonds the family together.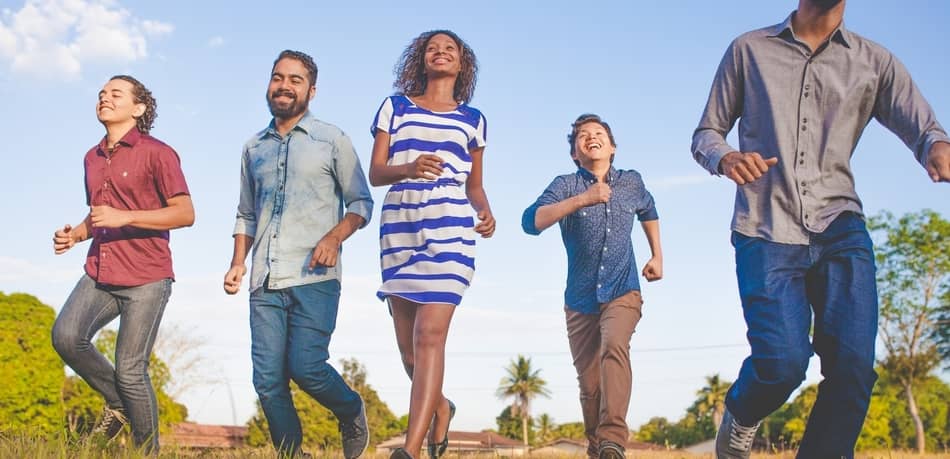 Plus, you don't need to own the bike to get access to the family classes because they are available from the peloton app.
Does peloton have workouts for kids?
Peloton does have workouts for kids. The classes are low impact and don't use any equipment apart from the yoga mat. They involve Family Brian Break, Family Fun, Fit Family Strong, and Yoga. Peloton advises to be mindful and supervise kids throughout the class.
I think that there is nothing better than spending time with kids while being physically active. That can be hiking, playing, chasing after balloons, or doing any type of sport.
According to recent studies, promoting physical activity in the early stages of life is the key to preventing and controlling childhood obesity (Lindsay, et al. 2017).
If we gonna go a step further, current studies show that today's children are probably less fit than children 20 years ago (Harsha 1995). This means kids aren't moving enough, which translate into their health later on in life.
I'm not saying that the peloton app is the answer. But it just gives you another opportunity to teach kids that physical activity should be a regular part of life.
And if that can be engaging, fun, and entertaining then you don't have to motivate them to do it.
They will want to do it anyway.
Can the whole family use peloton?
In general, the peloton can be used by the whole family. The app has dozens of family-friendly classes to choose from. However, for the peloton bike, there is a minimum age requirement of 14 years old. The minimum height for the riders is 4′ 11″.
So if you have kids younger than fourteen, they should stop at the peloton classes from the app that are designed for kids.
Peloton For Family Benefits
There are several benefits that comes with using peloton and working out together with your kids, apart from calories burned.
Benefit #1: Build a strong bond between parents and kids
Training together brings people closer to each other. When two people train and go through the same challenges they feel a better connection with each other. Do you think I'm joking?
Look at the study done by Dr. Arran Davis from the University of Oxford in the UK about "Social Bonds and Exercise".
In this study, he documented that certain forms of group movement and exercise lead to social bonding (Davis, et al. 2015).
Not only that.
The study also showed that higher intensity of exercise creates a stronger bond. This means that people who exercise together and need to face some challenges are more likely to get together.
Benefit #2: Create a lifetime habit of being active
The overwhelming about of research shows that fewer and fewer kids are more active than in previous decades.
This obviously has an impact on the physical and emotional health of kids, and their development. Here are just a few examples of how does physical activity impacts children's health.
Benefit #3: Opportunity for parents to become a role model
There is no secret that kids acquire habits and behaviors from their parents. In the perfect world, we would all be doing Tims Ferris 4-hour work week and spend most of the days traveling with kids.
But in the reality, people have to work and make a living. This means being at work for 10-12 hours a day.
However, working out in the times when you don't feel like it comes with a lesson for your kids. They see that exercise is something that has to be done.
Being consistent with your own workouts gives a good example and provides a positive role model for your children.
Benefit #4: Helps to spend quality time together
Time is something you're not gonna get back. And today not everyone has the opportunity to spend as much time with their kids as they want. However, once they do, it is important to do something meaningful together.
Exercise together is just another option. Weekend trips and holidays are all good, but what happens during the ordinary day?
A 20-minute peloton class is a good start. It helps to down-regulate stress from the long day, unplug and just have some fun.
Learn more: Click here to learn more about "does peloton have elliptical?"
Peloton Family Challenge
If your goal is to get fit, you can get the whole family on board with you. I know that working out with kids is a challenge in itself. Knowing kid's short attention span, they can be all over the place.
That may mean you not always gonna get the best results. But that is irrelevant.
Peloton kids workout allows you to spend time with your kids in a meaningful way, make them feel included, and have some fun with them.
It's not only about calories. It is a great opportunity to teach them that fitness is a part of their lifestyle.
Learn more: Click here to learn more about peloton rides that burn the most calories
Conclusion
Peloton family workouts are a great opportunity to relax after work, spend quality time together and develop strong habits that can be helpful in the future. Remember that this is not about compliance. It's more about fun than anything else.