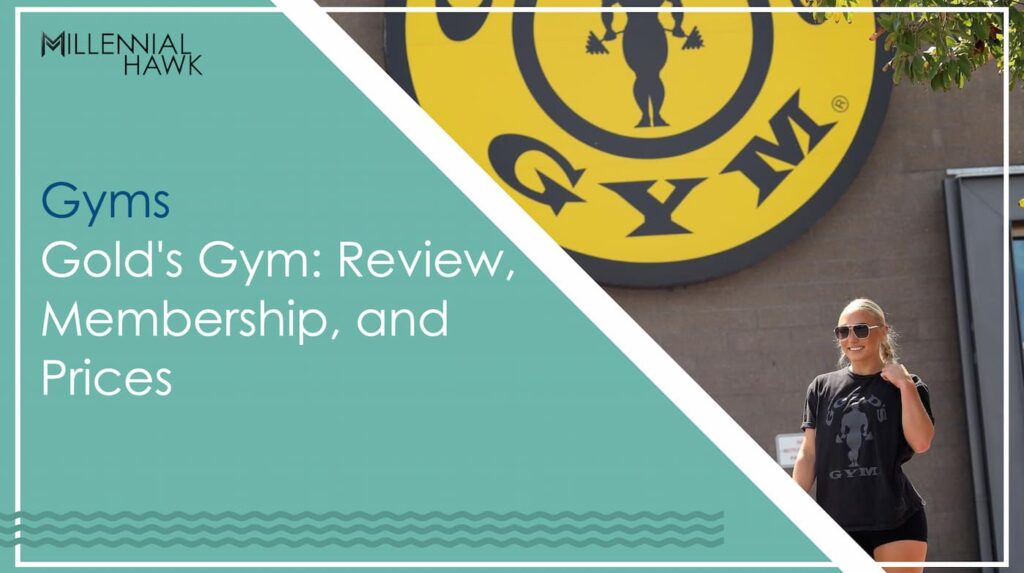 Gold's Gym, founded by Joe Gold in 1965, is a global franchise, but it's not your average fitness club. It gained worldwide fame, thanks to Arnold Schwarzenegger and the documentary "Pumping Iron" and quickly became an iconic hotspot for celebrities around the globe. In the 1970s, Gold's Gym Venice earned the nickname "the Mecca of Bodybuilding." However, in 2020, the franchise faced financial troubles, filed for bankruptcy, and was subsequently acquired by the new owner, RSG Group, one of the largest fitness groups in the world.
Gold's Gym offers memberships at 224 locations in the United States, and the monthly cost varies depending on the location, ranging from $55 to $100 per month. Additionally, there's an annual fee of $49.99. Gold's Gym also has special membership deals that include a Free 30 30-day pass, access to Personal Training sessions, and inBody Scans.
Gold's Gym isn't the only option if you're looking for affordable alternatives to lift weights and get in shape. There are many options, including Planet Fitness, Snap Fitness, Anytime Fitness, and World Gym.
What is Gold's Gym?
Gold's Gym refers to a well-known fitness chain founded in 1965 by Joe Gold, with its first location in Venice Beach, California. Gold's Gym has a strong reputation in the bodybuilding community, known for being an iconic and influential gym where legends like Franco Columbu, Lou Ferrigno, Arnold Schwarzenegger, and Frank Zane have honed their physiques. The purpose of Gold's Gym is to provide a comprehensive fitness environment with equipment, classes, and personal training for individuals aiming to achieve their health and fitness goals.
If you've never been to Gold's Gym before, their approach to fitness and health sets them apart from your typical 24 Hour Fitness gyms. In addition to treadmills, ellipticals, and exercise bikes, you'll find an enormous variety of weight machines designed for every muscle group. They have separate lines for Olympic platforms and benches, and all the equipment is a combination of Hammer Strength and Gym80.
Of course, it's not 1965 anymore, so don't expect to see posters on the wall featuring Mr. Olympia athletes. Nowadays, it's all about neon lights and Gold's Gym branding that's hard to miss – huge logos greet you at the entrance and adorn the gym from corner to corner. Gold's Gym has evolved over the years and now caters to a diverse clientele, including beginners, seniors, and a wide range of individuals, from newcomers to seasoned fitness enthusiasts.
Who founded Gold's Gym?
Joe Gold founded Gold's Gym in August 1965 in Venice Beach, California, and it has since grown into a global fitness brand with more than 700 locations worldwide, including 224 in the United States. According to the co-CEOs, Danny Waggoner and Brian Warne, the franchise has ambitious plans for further expansion.
How does the Gold's Gym work?
Gold's Gym works by offering a range of membership options, including month-to-month, annual, and multi-year plans, all granting access to state-of-the-art facilities and equipment. While each Gold's Gym location may vary, most include cardiovascular and strength training equipment, as well as saunas and steam rooms. You have the flexibility to work out at Gold's Gym 24/7 independently, or you can opt for a personal trainer, with sessions typically costing between $70 and $110 each.
If you want to hire a Gold's Gym personal trainer, the more sessions you buy, the cheaper the price per session is. There are options for 30-minute and 60-minute sessions. On the other hand, if you want to exercise at the Gold's Gym on your own, you will receive an induction (familiarization) of the venue, with one of the trainers for free. You can also sign up for InBody body composition analysis or join fitness classes like indoor cycling, yoga, or functional training.
When I first entered Gold's Gym in Cerritos, I was impressed by the variety of equipment they have, from Hip Thrust Machines to new smith machines and designated boxing rings. Other gyms I've visited, like Planet Fitness or Snap Fitness, don't offer these types of equipment. Although I was in a rush to get a shower, the changing rooms and lockers did look clean and spacious.
What does the Gold's Gym look like?
Gold's Gym looks like a modern fitness center with all those cool features you mentioned – free weights, strength machines, big-screen TVs, and mirrors that can give you that "slimmer" illusion. They even offer fitness classes in two separate studios, though snagging a spot between 5-7 pm might be a bit of a challenge.
If you were to ask me to describe Gold's Gym in one sentence, I would say this: massive space, bright lights, loud music, and tons of people. In terms of style, Gold's Gym has a sleek and modern design that isn't intimidating, although, for beginners, some of the gym machines and the amount of weight some people use may seem a bit daunting.
What are the benefits of the Gold's Gym?
The following are the benefits of Gold's Gym.
Extensive Fitness Equipment: Gold's Gym offers a variety of high-quality fitness equipment from brands such as Hammer Strength, Precor, and Gym80. This equipment includes cardio machines, weightlifting gear, and functional training tools, which means members have everything they need to work towards their fitness goals.
Expert Personal Training: Members at Gold's Gym have access to experienced personal trainers who can create personalized workout plans tailored to their specific needs and goals, utilizing their knowledge and expertise to maximize results and potential.
Varied Group Exercise Classes: Gold's Gym offers a diverse selection of group exercise classes, such as high-intensity interval training (HIIT), yoga, and cycling, providing options for all fitness levels and creating a fun and motivating environment for members.
Additional Amenities: Gold's Gym provides additional amenities to enhance the fitness journey, including locker rooms, saunas, and childcare services, ensuring members have a comfortable and convenient experience during their workouts.
State-of-the-Art Facilities: Gold's Gym boasts state-of-the-art facilities, equipped with the latest advancements in fitness technology and design, creating an optimal environment for members to achieve their fitness goals.
Community Support: Gold's Gym fosters a sense of community among its members, offering opportunities for social interactions, support, and motivation, which can contribute to increased adherence and long-term success.
What are the drawbacks of the Gold's Gym?
Here are three primary drawbacks of Gold's Gym.
Crowded classes: Reduced personal space and attention from instructors.
High membership fees: Financial burden for some individuals.
Contract cancellation: Challenges and fees associated with canceling.
One thing I don't like about Gold's Gym is how crowded it gets after 5 pm; you may not always get what you want. Also, the locations are usually situated in city centers. So, if you have to drive 30 miles one way, it can be frustrating to go to a crowded gym.
What is the Gold's Gym membership cost?
The cost of a Gold's Gym membership can vary from $55 to $100 per month, depending on where you sign up. On top of the monthly fee, there's also an annual charge of $49.99. This membership includes access to your chosen location, free parking, access to the spa (which is essentially a sauna), use of all equipment and classes, and access to the pool if your location has one. However, personal trainers, nutrition consultations, InBody scans, massages, and other services are not covered by the Gold's Gym membership.
What is the average annual membership price for Gold's Gym?
The average annual membership prices at Gold's Gym vary based on membership type and location. The basic membership costs between $500 and $700 per year, while the All-Access Membership ranges from $800 to $1000 annually. Family memberships typically range from $1000 to $1500, and corporate memberships vary between $600 and $800.
What are the membership discounts available at Gold's Gym?
Gold's Gym offers several membership discounts to make fitness more affordable. These include:
Student Discount: Gold's Gym provides a discount for students, allowing them to save money while prioritizing their fitness journey.
Military Discount: Active-duty military members and veterans can avail of a special discount at Gold's Gym by presenting their military ID or proof of service.
First Responder Discount: Gold's Gym extends a discount to first responders, including police officers, firefighters, and paramedics, upon showing their valid ID or proof of employment.
Senior Discount: Individuals aged 65 and above can enjoy a discount at Gold's Gym by providing proof of age.
Corporate Discount: Gold's Gym offers corporate discounts for employees of participating companies, helping them stay fit and healthy.
Family Discount: Families can save money on memberships at Gold's Gym with their family discount options.
Group Discount: Gold's Gym provides group discounts for organizations or groups who want to join together for fitness activities.
Who is eligible for a Gold's Gym free pass?
To get a free pass at Gold's Gym, you just have to be a first-time visitor and be interested in checking out their facilities. You can either sign up online or simply walk into one of their locations and fill out the form.
How much does it cost to hire a personal trainer at Gold's Gym?
The cost of hiring a personal trainer at Gold's Gym ranges from $70 to $110 per session, which adds up to about $560 to $880 per month, depending on how often you train.
Is Gold's Gym membership worth the money?
Yes, a Gold's Gym membership is worth the money, especially if you're a beginner looking to hire a trainer or if you're seeking a gym with a wide range of weights and strength training equipment available 24/7. However, if you're interested in specialized workouts like spin classes or boot camp-style sessions, Gold's Gym might not be the best choice.
How to cancel Gold's Gym membership?
To cancel your Gold's Gym membership, follow these steps.
Contact your local Gold's Gym location directly.
Visit the gym in person or call their customer service line.
Provide your membership details, such as your name and membership number.
State your reason for cancellation.
Review the terms and conditions of your membership agreement.
Understand any cancellation fees or notice periods that may apply.
Communicate your intention to cancel.
Follow the instructions provided by the gym staff.
Successfully terminate your Gold's Gym membership.
What types of equipment are available at Gold's Gym?
Gold's Gym offers a wide range of equipment to support various fitness goals. Here are seven examples of equipment available at Gold's Gym:
Treadmills: Gold's Gym provides state-of-the-art treadmills with adjustable speed and incline options to challenge endurance and improve cardiovascular fitness.
Ellipticals: Gold's Gym offers ellipticals that provide low-impact workouts, targeting lower body muscles while minimizing stress on joints.
Weights: Gold's Gym has a diverse selection of weights, including dumbbells, barbells, and weight machines, to help individuals build strength and tone muscles.
Stationary Bikes: Gold's Gym features stationary bikes for cardiovascular exercise and lower body strengthening.
Rowing Machines: Gold's Gym provides rowing machines for a full-body workout, engaging muscles in the arms, legs, and core.
Resistance Machines: Gold's Gym offers resistance machines that can be used for strength training exercises targeting various muscle groups.
Functional Training Equipment: Gold's Gym includes functional training equipment such as kettlebells, medicine balls, and suspension trainers to improve overall strength, stability, and mobility.
Who is Gold's Gym good for?
Gold's Gym is a great option if you're looking to build muscle, lose weight, or enhance your physical performance, especially if you work in the city center since some locations are conveniently situated in shopping malls. However, it may not be suitable for individuals with severe mobility issues who find it challenging to move or use standard gym equipment, those dealing with chronic pain, particularly if it worsens with physical activity, or people who prefer to work out alone without crowds.
What are the Gold's Gym age requirements?
To join Gold's Gym, you need to be at least 16 years old to sign up for a standard membership.
Is Gold's Gym safe?
Gold's Gym is a safe option for healthy adults looking to get in shape and access a variety of machines. However, it may not be suitable for individuals recovering from surgery who require specialized exercise routines supervised by a licensed physiotherapist.
How often should you go to Gold's Gym?
You should aim to visit Gold's Gym 3-5 times a week, depending on your workout's intensity and duration. According to current recommendations in primary care, adults should engage in moderate-intensity physical activity for at least 150–300 minutes per week or 75–150 minutes of vigorous-intensity activity.
For bodybuilders or those focused on muscle strength, 4-6 visits a week are ideal. If you're an older adult, it's important to prioritize balance training and fall prevention exercises, which should be done more than 3 times a week. This means seniors can benefit from going to Gold's Gym at least 3-4 times a week, where they can utilize both strength and balance training equipment.
What are Gold's Gym's operating hours?
Gold's Gym hours can indeed vary by location, with some being open 24/7 and others operating from 4 am to 11 pm. To get the exact opening and closing times for a particular gym, it's a good idea to visit their website or get in touch with them directly.
What's the dress code at Gold's Gym?
Gold's Gym doesn't have an official dress code, but most folks usually wear workout clothes like athletic shorts, t-shirts, and good old athletic shoes. Just steer clear of jeans or anything that might cramp your moves to make sure you have a comfy workout.
Does Gold's Gym have saunas?
Yes, some Gold's Gym locations offer saunas, but not all of them do. You can find out if a particular gym has saunas by visiting their website or contacting them directly.
Which gyms are similar to Gold's Gym?
Gyms that are similar to Gold's Gym include fitness chains like Planet Fitness and Anytime Fitness. These gyms offer a range of equipment and amenities for achieving fitness goals, such as state-of-the-art exercise machines, group fitness classes, personal training sessions, cardio and strength training equipment, saunas, steam rooms, swimming pools, childcare services, juice bars, functional training areas, group cycling classes, and full-service spas.
Other gyms similar to Gold's Gym include:
24 Hour Fitness: Features a wide range of fitness equipment, group exercise classes, and personal training services.
LA Fitness: Offers state-of-the-art facilities, group fitness classes, indoor pools, and basketball courts.
Crunch Fitness: Provides a mix of exercise equipment, group classes, and specialized workout areas.
Equinox: Known for its upscale facilities, high-quality equipment, and luxurious amenities like spas and steam rooms.
YMCA: Offers a variety of fitness options, including exercise equipment, group classes, swimming pools, and childcare services.
What are the differences between Gold's Gym vs LA Fitness?
Gold's Gym and LA Fitness differ in their facilities, services, membership options, and pricing. Gold's Gym has a no-frills atmosphere preferred by serious fitness enthusiasts, while LA Fitness offers a more modern and upscale environment with amenities like swimming pools, basketball courts, and racquetball courts.
What are the differences between Gold's Gym vs Planet Fitness?
Gold's Gym generally has higher membership prices compared to Planet Fitness. The exact prices may vary based on location and membership level, but on average, Gold's Gym membership can range from $55 to $100 per month. On the other hand, Planet Fitness is known for its affordable membership prices, typically offering monthly plans for $10 to $22.