The Hydrow rower is a smart rowing machine with tons of interactive and challenging workouts. It's a sleek, premium rowing machine designed to deliver a solid, full-body workout, similar to what Peloton is to the exercise bike. The Hydrow Rower elevates the typical rowing experience and has received excellent reviews, with a 4.7 overall star rating based on 9,000 TrustPilot reviews.
The Hydrow rowing machine comes in two models, priced at either $1,895 or $2,495. The All-Access Membership costs $44/month plus applicable tax, or you can prepay for a 1-year membership, providing full access to the entire Hydrow library for full-body workouts and an immersive experience that transports you to the world's most beautiful places. At $2,495, the Hydrow Rower is considered an investment, as it's not a cheap option.
However, Hydrow offers an email list to receive a promo code for potential savings. While it offers best-in-class ergonomics, it's worth noting that there are also other cheaper alternatives available to consider. For example, Concept2 rowers are quite similar to the Hydrow, with the main difference being that the Hydrow is a bit taller and a foot shorter in length. While the Hydrow offers a fantastic experience with a high-quality machine, it does come at a higher cost compared to the Concept2 rowers.
Millennial Hawk is a reader-supported platform. Purchases made through our links may earn us an affiliate commission at no extra cost to you.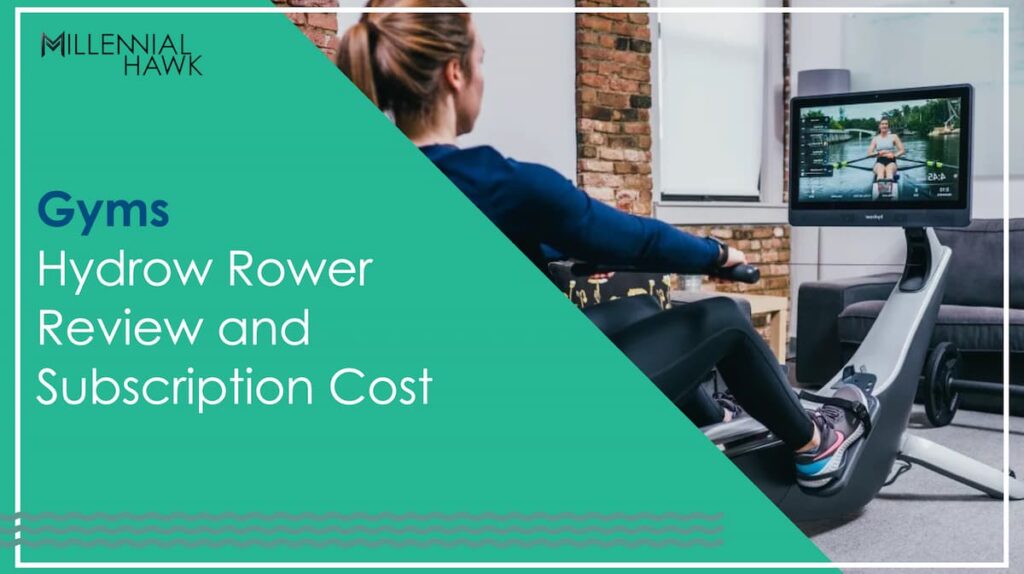 What is Hydrow?
Hydrow, the Boston startup that offers a $2,495 rowing machine, is a premium body fitness equipment manufacturer. This sleek, low-profile indoor rower utilizes patented electromagnetic technology to simulate drag, providing an immersive at-home rowing experience. You can explore over 4,000 low-impact, full-body workouts and enjoy the Live Outdoor Reality, which sets this rowing machine apart from other home gym workouts.
Hydrow's rowing workouts are filmed on the water in stunning locations around the world, led by world-class athletes in places like the Thames in London, the Scottish Highlands, the California coast, and Boca Raton, creating an immersive and realistic virtual rowing experience. There are 25 different Hydrow workout types, including rowing and on-the-mat workouts such as Drive, Sweat, Breathe, Distance, and Journey sessions.
My favorite Hydrow workout was the "Hydrow Hour of Power Row," which is the longest and most challenging rowing pyramid-style workout led by Manteo Mitchell, a former lead runner on the U.S. men's 4×400-meter team. It's an endurance workout where you maintain a pace of 28 strokes per minute. My wife's favorite was the "HIIT Row," which focuses on short bursts of intensity, where you go all out for 30-90 seconds, aiming to reach 28-36 strokes per minute. It's quite brutal!
The Hydrow hardware measures 86″ in length x 25″ in width (219 cm x 64 cm) and features a seat height of 16″ (41 cm) from the floor. There are no specific size, weight, or build requirements for using the Hydrow. The Hydrow, constructed with an aluminum and steel frame and boasting a crystal-clear 22″ display, weighs 145 pounds (66 kilograms), making it suitable for compact spaces. While it does require its dedicated space, it's important to note that a standard home gym bike may be more space-efficient. Its footprint closely matches that of the Echelon Row-S.
What is the Hydrow location?
Hydrow does not have physical stores; people purchase Hydrow online from their website or Amazon, where we've found more deals and discounts available. The company is based in Cambridge, Massachusetts, with Bruce Smith as the founder and CEO of Hydrow, while John Stellato serves as the President and Chief Financial Officer at Hydrow, Inc.
When it comes to Hydrow workout locations, it can be challenging to keep up with new ones as they film their workouts everywhere, from San Francisco Bay to the Ohio River and even Loch Ness in Inverness, Scotland.
How does the Hydrow rowing machine work?
The Hydrow rowing machine operates with patented electromagnetic drag technology, engaging both upper and lower body muscles simultaneously. It effectively targets 86% of major muscle groups, surpassing the 44% engagement seen in running or cycling. The machine operates quietly, and the workout enhances blood flow, promoting the delivery of oxygen and essential chemicals throughout the body.
This full-body Hydrow workout engages muscles in the arms, back, glutes, quads, triceps, and legs, making it comparable to the Peloton rowing machine. Hydrow's workouts burn more calories than many other home gym workouts, with the potential to consume over 600 calories during a session and up to 400 calories in just 20 minutes.
So it's a serious piece of equipment that not only helps build your fitness foundation but is also good for muscle gain and weight loss, making it suitable for beginners. If you've never done indoor rowing, no worries, as they have dozens of instructional videos to guide you on proper hand and foot placement, basic form cues, and how to row using proper form for effective workouts.
How does the Hydrow work for cardio?
If you're looking to improve your cardiovascular fitness, the Hydrow rowing machine is suitable for individuals of different fitness levels. According to a 2023 study by Renata Cardoso Araujo at Fluminense Federal University, indoor rowing training can boost maximal aerobic capacity and cardiorespiratory adaptations, especially in older individuals. Additionally, a 2015 study from Ankara University by Firat Akca and Dicle Aras suggests that high-intensity interval training (HIT) and supramaximal interval training (SMIT) can significantly enhance rowing performance, leading to reduced 2,000-meter rowing times.
How does the Hydrow work without a subscription?
You can use the Hydrow without a subscription or membership. When not subscribed, Hydrow rowers will function in Just Row mode, where it displays your metrics without additional features. However, it's essential to note that the Hydrow rower is designed to be purchased and used with the Hydrow Membership for the full range of features and benefits.
How much does hydrow cost?
The Hydrow rowing machine will cost you either $1,895 or $2,495, which is similar to the price of the Peloton rower. You'll also get Hydrow's 1-year Home Use Limited Warranty included at no extra cost with your purchase. If you prefer, you can finance the Hydrow through Klarna for around $36 a month for 48 months. However, it's worth noting that Hydrow offers a 30-day risk-free trial, and while some may find it expensive, the machine's quality justifies the price.
The Hydrow Wave, priced at $1,895, is a more manageable and less expensive option, especially for those with limited space. Keep in mind that you'll need a $44/month membership to experience the full functionality of the Hydrow, which adds to the overall cost along with any necessary accessories.
How much does hydrow Accessories cost?
Here's a table with the prices of Hydrow accessories you will need for your workouts.
| Hydrow Accessory | Price |
| --- | --- |
| Hydrow Mat | $90.00 |
| On The Mat Workout Kit | $120.00 |
| The Hydrow Wave Vertical Anchor | $190.00 |
| Hydrow Rower Upright Storage Kit | $80.00 |
| Yoga Blocks | $30.00 |
| Polar Verity Sense Heart Rate Monitor | $90.00 |
| Jaybird Vista Wireless Headphones | $120.00 |
| Performance Foam Roller | $40.00 |
| Multi-Resistance Band Kit | $100.00 |
| Multi-Use Workout Mat | $80.00 |
| Yoga Strap | $15.00 |
The total price for all the listed Hydrow accessories is $1,193.00. I recommend looking for the best alternatives to Hydrow accessories. While they may not be Hydrow branded products, they can save you over $500. I've been using them, and they work just fine.
What's included in the hydrow membership?
A Hydrow All-inclusive membership provides full access to our workouts on Hydrow and the Hydrow mobile app. It includes access to custom workouts, live stream rowing workouts, averaging 2 to 4 per day, and an extensive on-demand library. You can track your workout history, heart rate using any ANT+ heart rate monitor, and monitor your progress.
The Hydrow subscription also offers perks like unlimited profiles for friends and family, with each profile tracking workout summaries, week streaks, calories burned, distance, achievements, challenges, and milestones.
The Hydrow subscription doesn't cover the feature I was most curious about, which is the Hydrow 1:1 Personal Coaching. It includes a one-on-one 30-minute coaching session where you receive real-time, personalized guidance and feedback. I recommend you get this right away so you don't make any mistakes when rowing; it's essentially a Zoom call, although it does require an additional $79.00 investment.
What are the differences between hydrow subscription vs Digital?
Hydrow offers two types of memberships: the Hydrow Digital App Membership and the All-Access Hydrow Membership. The Hydrow App Membership, priced at $19.99 per month plus tax for those without a Hydrow rower, provides access to on-demand workouts like yoga, pilates, and strength training on Android or iOS devices. However, it lacks live rowing classes, so you can't really use it with your own rower, and it doesn't offer progress tracking features.
In contrast, the all-access Hydrow subscription, priced at $44/month, is necessary to unlock all the perks. It includes live workouts, encore workouts, on the mat workouts, displays and saves performance metrics, leaderboard ranking, workouts streak, progress incentives, multiple user profiles, and a community of fellow rowers.
What are the differences between hydrow vs hydrow wave?
The membership for Hydrow and Hydrow Wave rowers is the same, even though the machines themselves are completely different. The Hydrow Wave's smaller size and lighter weight make it ideal for compact spaces, but its 16″ HD screen display lacks a monitor pivot, which can be annoying, especially for floor workouts when compared to the Hydrow's larger 22″ screen with a rotation option. While the Hydrow has a smoother 10-roller seat system, the Wave's simpler 2-roller system offers a more budget-friendly option. Essentially, the Hydrow gives you a more premium experience with all the cool features.
What are the Pros and Cons of the Hydrow Rower?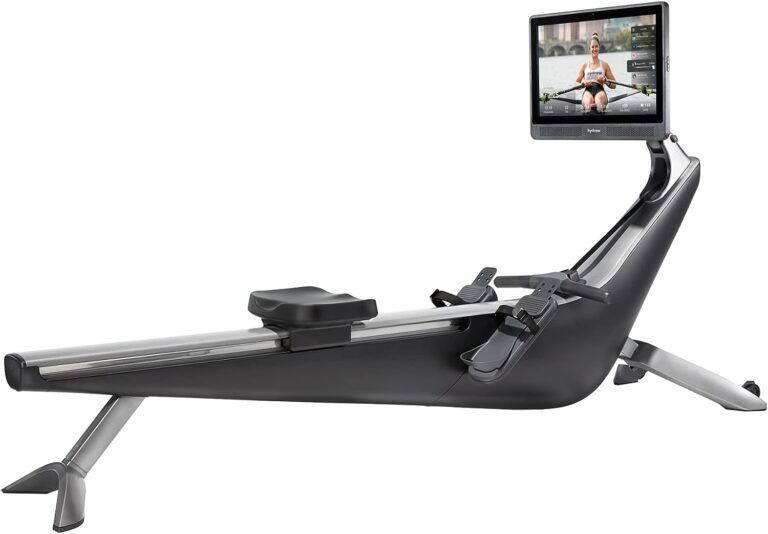 Pros
Smooth and straightforward initial setup process, no problems with delivery time
Constructed with high-quality materials, it offers durability and provides a fluid rowing motion with magnetic resistance.
It offers an effective workout that engages your whole body with an easy-to-use touchscreen interface.
You have thousands of classes to choose from, with diverse instructors, locations, and workout intensities, suitable for both beginners and advanced users.
Helps to keep you engaged with a rewards system to celebrate milestones and achievements
Helps to keep you engaged with rewards system to celebrate milestones and achievements
Cons
A large footprint takes up considerable floor space
Expensive compared to other options
When I conducted my own in-house experiments with the Hydrow Rower over the last couple of months, my wife and I used the rower as much as possible. I preferred more steady-state 40-minute workouts to work on my cardio and endurance, while my wife enjoyed shorter "sections" that lasted for 5-10 minutes, including HIIT rows with Hydrow, which served us both well.
What we liked about it was the cool and modern design, the abundance of classes to choose from, and the high-quality machine that didn't make any squeaks or movements; it looks powerful. However, we didn't like the amount of space it takes up; you need a decent amount of storage or a dedicated Hydrow room or corner. While rowing was no problem, the workouts off the mat were quite annoying because you need more space outside of the rower for exercises like squats and push-ups. The classes off the rower also felt quite basic.
Is Hydrow Gym worth the money?
Yes, the Hydrow Rower is worth the money if rowing is your go-to sport, you've done it before, and you're confident that you like it. It's also a good choice if you need more workout variety, want to work on specific skills, aim to perfect your form, and want a regular online coaching sessions from a Hydrow coach. Additionally, having a considerable amount of available space is a plus.
On the other hand, Hydrow may not be worth it if you're on a budget, uncertain about rowing as your fitness choice, or can't decide between a bike, treadmill, elliptical, or rower. I recommend testing it first by perhaps trying a cheaper option or visiting a commercial gym with the Concept2 version to see if indoor rowing suits you. Alternatively, you can utilize the 30-day money-back guarantee option to determine if it's the right fit for you. Keep in mind that if you decide it's not for you, you can return the rowing machine within 30 days of delivery, but it must be shipped with the original packaging and will incur a $250 return shipping fee.
What are some alternatives to the Hydrow rowing machine?
Several alternatives to the Hydrow Rower offer different features and price points:
Concept2 Indoor Air Indoor Rower Machine: Known for its quality, this air rower has a PM5 computer and LCD screen for various programs. It supports Bluetooth connectivity and has a 500-pound weight capacity. Price: $1559.
NordicTrack Smart Rower: Features a 10" HD Touchscreen, 26 digital resistance levels, and a 30-Day iFIT Family Membership. It's priced at $1,099 with a 250-pound weight limit.
Sunny Health & Fitness Magnetic Indoor Rowing Machine: Offers eight magnetic resistance levels and an LCD monitor for tracking. It's a budget-friendly option at $249.
XTERRA Fitness ERG200 Folding Magnetic Indoor Rowing Machine: A cost-effective alternative at $255, with eight levels of magnetic resistance and an adjustable monitor.
ENCHANFIT Magnetic Indoor Rowing Machine CR49: Provides 16 levels of resistance and targets 92% of body muscles. Compact and affordable at $199, with a 350-pound weight capacity.
What are the differences between Hydrow vs Nordictrack?
The main differences between the Hydrow and NordicTrack rowers lie in their design, interactive features, and resistance mechanisms. Hydrow has a sleek design with a large, immersive touchscreen and primarily uses electromagnetic resistance, providing you with a smooth and quiet rowing experience. NordicTrack, on the other hand, combines air and magnetic resistance, offering a slightly different feel. It includes a 10-inch HD touchscreen and often integrates iFIT programming but places less emphasis on the immersive, scenic rowing experience that Hydrow offers.
What are the differences between Hydrow vs Peloton Rower?
While both Hydrow and Peloton rowers offer high-quality, immersive rowing experiences with robust class libraries and professional instruction, the Hydrow emphasizes on-water realism and a connection with nature, whereas Peloton focuses on a wide range of fitness classes and a studio-like experience. The choice between the two would depend on personal preferences in workout style, budget, and space considerations.
What are the differences between Hydrow vs Concept 2?
While Concept2 offers a traditional, fan-based resistance rowing experience with a focus on reliability and straightforward workout statistics, Hydrow stands out with its modern, electromagnetic resistance mechanism, immersive HD screen, and a wide array of interactive and engaging workouts.
What are the differences between Hydrow vs Ergatta?
the Hydrow rower is better suited for those seeking a more ergonomic design, a quieter magnetic resistance system, and a more immersive viewing experience with instructor-led workouts. Ergatta, with its gamified approach and water resistance, is ideal for experienced rowers looking for an interactive, game-based workout experience and a close replication of on-water rowing.