Hydrow offers over 4,000 interactive workouts that include rowing, strength training, yoga, and pilates, as well as one-on-one coaching sessions. However, to use all those cool features you have to not only spend a lot of money upfront but also subscribe to their monthly membership.
Today I want to help you clarify if Hydrow membership is worth it, and what happens if you use it without a subscription.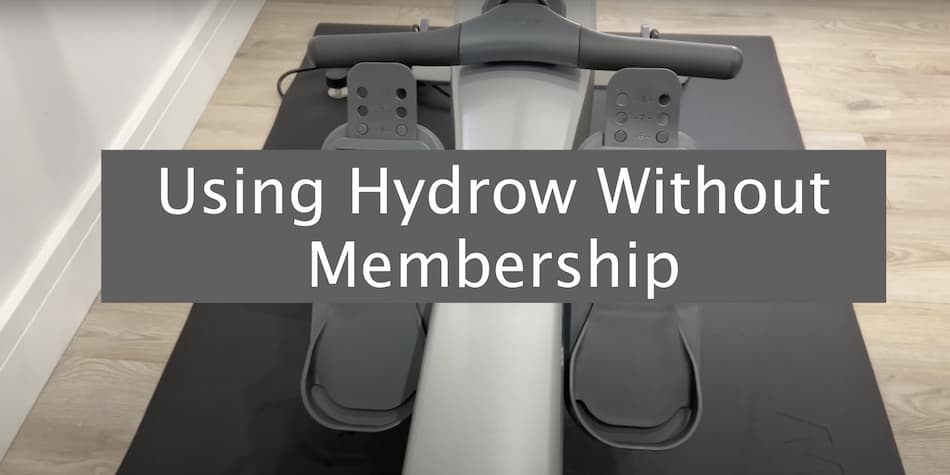 You can use Hydrow without a membership, but with access to limited features. It comes with the "Just Row" option that shows your standard performance metrics like distance, calories burned, and power output. A good alternative to an Hydrow subscription is Hydrow Digital Basic Membership.
Here you have my overall answer, but if you wanna dive deeper and learn more about what are the pros and cons of using Hydrow without membership, keep reading.
Using Hydrow Without Membership
In a nutshell, it's possible to use Hydrow without a subscription. You don't have to financially strap yourself for 12 months to pay for the membership. Plus, you have a 30-day money-back guarantee, in case you're not satisfied with your rower.
As much as a Hydrow subscription is not required to use the rower, keep in mind that using this machine without membership will limit your experience.
All the interactive workouts, metrics, and fancy features that come with a Hydrow monthly subscription are what separates this rower from the rest.
How much is Hydrow membership? Just like Peloton or Tonal, Hydrow rower offers plenty of content and options to track your performance, but it also comes with the hearty price tag of $38 per month (on top of the cost of a rower).
What's included in the Hydrow subscription?
The Hydrow subscription includes access to thousands of workouts in different fitness genres:
Rowing – Obviously, the biggest chunk of Hydrow workout content is rowing. The classes range from distance-based, HIIT, warm-ups, and cooldowns, to even learning how to row tutorials.
Mobility Workouts – Hydrow subscription gives you access to many mobility workouts that help to improve posture, make you more efficient during rowing, as well as improve recovery after.
Bodyweight Strength Training – Most of the strength training classes available on Hydrow include bodyweight exercises that target the full body. They also have classes that focus on specific muscle groups (e.g. glutes or core).
Resistance Bands – I haven't seen any workouts on Hydrow using the free weight like dumbbells or kettlebells. Instead, they have some resistance band sessions that target the full body.
Yoga – Hydrow membership gives you access to hundreds of Yoga sessions filmed in exotic scenery. Most of the classes are between 5 to 20 minutes long and are beginner-friendly.
Pilates – Hydrow does offer pilates classes that help to improve your core strength and stability. On average, there are 1-2 new pilates classes per week.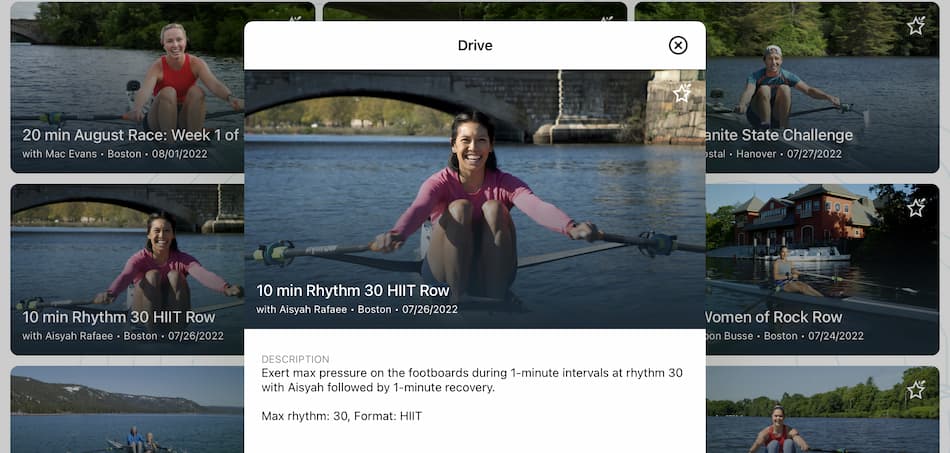 NOTE: One thing you will notice straight away is that all of their workouts are filmed outdoors in charming locations like Maine, California, Italy, Spain, Switzerland, and United Kingdom.
Apart from the on-demand, Hydrow membership also includes access to live stream workouts on the water.
On average, Hydrow stream between 2 to 4 live workouts per day, and all of them are rowing. Keep in mind that it does not have live on-the-mat strength or yoga workouts.
Other perks that come with Hydrow membership include an unlimited number of profiles for your friends and family members. With each profile, the Hydrow will track and save your activity history:
Workout Summary

Week Streak
Calories Burned
Distance
Achievements
Challenges
Milestones
Is Hydrow Membership Worth It?
In general, a Hydrow membership is worth it, as long as you plan to use the guided workouts and the rest of its features. For example, tracking your progress can not only help you to stay motivated but also optimize your training for better performance, just like having a personal trainer.
Also, if you want to get access to the analytics, monitor your workout activity, and participate in a members-only forum, the membership is worth the cost.
However, if you just want to use a Hydrow as a regular rower, then paying a monthly fee is not worth it. There are plenty of quality rowers like Concept2 that do not require a monthly fee.
Below you can see the comparison of what you get with and without a subscription.
Hydrow with subscription
Hydrow without subscription
Displays and saves performance metrics
Access to athletes
Music during workouts
Bluetooth technology
Custom workouts
Heart rate tracking
Milestones
Leaderboard ranking
Workouts streak
Progress tracking
Workout history
Live classes
Variety of on-demand classes
One-on-one coaching
15 minute "Just Row" session
Displays performance metrics
Hydrow with vs without a subscription
As you can see, going without a subscription means you're left with an expensive rower machine that will display your current performance metrics like calories burned or average speed, but you won't be able to save that data.
One of the most important metrics (for me) is heart rate tracking. You can learn more about how to use hydrow heart rate monitor and which devices are the most accurate in my article.
I think that Hydrow membership offers an incredible deal, but it's not for everyone (all these cool features are only beneficial if you actually going to use them).
In the table below, you can see the list of pros and cons of some features that comes with Hydrow membership.
Feature
Pros
Cons
On-demand workouts
Over 4,000 on-demand workouts
A large variety of workouts
Great outdoor experience
Most of the classes are done on the rower
The longest wokrouts are 45-minutes
Access to digital app
You can use the app with all content on the go
Most classes are specific to rowing (e.g. post-row pilates or post-row stretching)
Performance metrics
Tracks your daily activity
Tracks your calories burned
Tracks your distance
Tracks your power output
Does not provide any insights on how to improve your performance
Display leaderboard
It shows you a number of people in the class and your position
Heavier people generally generate higher power output, which affects the leaderboard position
Unlimited profile
You can create an unlimited number of profiles
Not useful if you gonna be using it by yourself
Heart rate tracking
Displays your heart rate during rides
Helps to track intensity
You need to buy an additional heart rate monitor
Music in the background
Makes wokrouts more pleasant
Not worth it if you don't listen to music during workouts
Personal Training
One-on-one 30-minute coaching session over Zoom
Provide an analysis of your form and point out what can you do to improve
Only for people with active membership
Requires additional fee
Hydrow membership features pros and cons
As you can see, there are some pros and cons to getting a Hydrow membership. On the one hand, if you're committed to using all the features, I think $38/month is a good deal.
On the other hand, people who are into rowing and want only the basic functionality may find the subscription cost is not worth it.
Why is Hydrow membership so expensive?
As a whole, a Hydrow subscription is so expensive because the company consistently adds content that's been filmed in beautiful locations, not in the fitness studio. They also constantly update new features, add music, and innovate their software to improve user experience.
Plus, having a Hydrow subscription also gives you the opportunity to stream the classes from your phone, laptop, or tablet, without any additional cost.
I personally like the idea of using the Hydrow app, especially when I've on the go. I like the variety of mobility and stretching classes, but I don't like the limited number of strength classes and the fact that they don't use any dumbbells or barbells.
Here is the comparison table between the prices for Hydrow rower membership and other popular smart home-gym brands.
| Product | Price for membership |
| --- | --- |
| Hydrow | $38 per month |
| Peloton | $44 per month |
| Tonal | $49 per month |
| Mirror | $39 per month |
| Tempo | $39 per month |
| Nordictrack | $39 per month |
| Oxefit XS1 | $39.99 per month |
Prices comparison between Hydrow and other popular home-gym equipment
As much as Hydrow membership is pricey, it's about the same price that you would need to spend for Peloton, Mirror, or Nordictrack.
Is Hydrow Worth It Without Subscription?
In a nutshell, it's not worth it to get the Hydrow rower without getting a subscription because the active membership unlocks a lot of cool perks that make this equipment special. Without a membership, you don't have access to visual or audio content and you can only do 15-minute rowing sessions.
Below you can see the list of people who I believe would be satisfied with getting a Hydrow subscription.
Hydrow with a subscription is good for:
Couples and families who live and train together
People with high disposable income
People who love the technology
People who like to track their metrics
People who like variety and online classes
Hydrow subscription benefits
One of the benefits of getting a monthly membership with Hydrow is the actual financial commitment to train. I know from experience that people are willing to do something when they spend money on it. For example, working out with a trainer.
The fear of losing money is higher than a fear of discomfort from the training.
On the other hand, there are thousands of YouTube workout videos available online for free, yet, many people don't use them.
Does Hydrow rower work without membership?
One of the reasons why people use Hydrow without membership is becasue it works better than other rowers. Instead of controlling the airflow into the flywheel, Hydrow uses electro-magnetic resistance which creates a magnetic field between the magnets that generate opposing force, and therefore silent, frictionless resistance.
So regardless if you're using Hydrow with or without membership, one thing that doesn't change is the quality of this product.
Now, I understand that people's circumstances may change where they have to temporarily reduce their expenses.
If that's the case, I would still keep the Hydrow and use it without membership. The quality of this product is second to none and every stroke feels incredibly smooth. Plus, is made of steel so is more stable, compared to other aluminum rowers.
However, if you really believe that paying $38/month is excessive, it is better to get a different rower.
Here you can see the list of who I believe shouldn't get a Hydrow subscription.
Hydrow without a subscription is good for:
People who just want to row
People who don't need performance metrics to stay motivated
People who don't use online classes
People who don't care about the leaderboard
People who temporarily cannot afford the additional monthly fee
Hydrow without subscription
Also, if you're planning to use Hydrow in addition to your Strength Training (not as your primary workout method) you may find it hard to justify paying extra for the features you won't use.
Hydrow Membership vs Hydrow Digital Basic
One cool thing that Hydrow introduces is the new digital basic membership, a great alternative for people who love the classes but don't want to pay extra for the rower.
You can see many YouTubers doing DIY Hydrow by combining Hydrow digital basic on their tablet with a concept 2 rower.
Two types of memberships are referred to as all-access membership and digital basic membership.
Hydrow digital basic membership gives you access to the Hydrow app from laptops and mobile devices. Technically, you can use any rower without membership and stream your workouts directly from the Hydrow digital basic.
It has the same features as the all-access membership, but you're not able to display the metrics (e.g. power output or distance). So you can "view" the content, but it does not have the capability to input any metrics It is also limited to only one profile per device.
You cannot use Hydrow digital basic membership on your Hydrow rower. The machine only allows using all-access membership.
Is Hydrow digital basic free with the membership?
Hydrow basic digital comes free with an all-access subscription. Once you start your Hydrow subscription, you automatically have access to the Hydrow basic digital.
All you need is to download the app and log in.
Why is the Hydrow all-access subscription more expensive than the app?
In general, a Hydrow membership is more expensive than an app because you can use all the tracking features, monitor your workout history, and create an unlimited number of profiles.
You also have access to the leaderboard where you can see yourself on the list and compare with others.
Conclusion
In general, you don't need a membership for Hydrow becasue the rower works without activating the subscription.
However, it will only allow using basic functions like the "just row" feature. You won't get access to a Netflix-style content library and you won't be able to save your metrics and leaderboard achievements.