Today I want to show you some of the toughest peloton workouts that you should try before 2022. In this review, I will explain what are the hardest peloton rides and why they are important.
In short, the hardest ride on a peloton is a 20-minute FTP test ride. The FTP stands for functional threshold power and it's a way to measure your power output. Knowing this information is important to design your training plan to improve performance.
Facing and conquering challenges helps to build resilience and make us stronger. They often transform our minds and widen our horizons. Are you ready for the peloton challenge?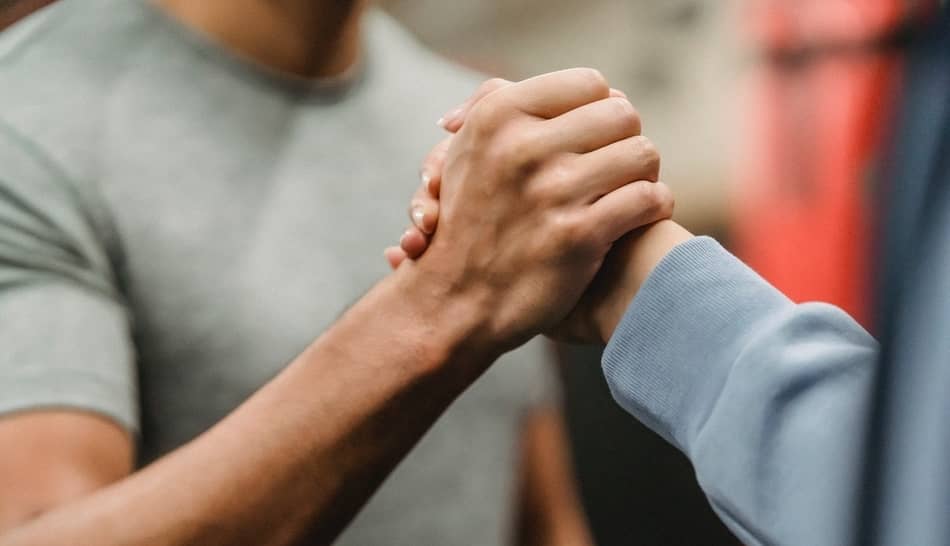 Hardest Peloton Rides
The most difficult peloton rides usually include classes that are either marked as advanced or have difficulty level 8 or above. Those are typically high-intensity interval sessions that require vigorous effort.
What are the levels on the peloton? The difficulty levels on peloton are the metrics used to describe how hard is the class in the spectrum of 1 to 10. Classes that are closer to 10 require to maintain higher power output for longer, use heavier weights, or have shorter recovery time.
There are two ways you can filter peloton rides by their difficulty level:
Using "difficulty" filter and choosing between beginner, intermediate or advanced.
Using the "sort" filter and selecting "hardest" or "easiest".
What does intermediate mean on peloton? Overall, the intermediate on peloton means the class includes some of the more complex movements that require more strength, balance, and/or flexibility. It can also indicate effort level, however, some of the intermediate workouts have the same difficulty level as advanced.
Take a look at the picture below.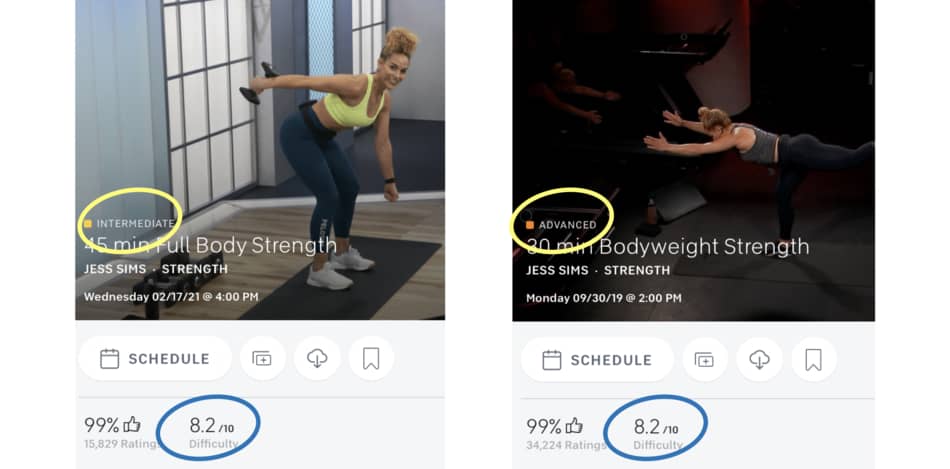 As you can see, the 45 minutes Full Body Strength class is marked as intermediate and the 30-minute Bodyweight Strength is labeled as advanced. However, both sessions have the same difficulty score.
So keep that in mind.
Why is peloton so hard? Overall, some of the peloton rides like HIIT and climbs are hard because they require much higher effort, compared to low-impact rides. Also, it takes time and a lot of practice for beginners to build up muscle endurance and strength.
Does peloton get easier? Like with anything, the peloton will get easier as long as you train regularly and gradually increase intensity over the weeks. Once you apply progressive overload and stick to it you will notice that challenging classes are becoming more comfortable.
#1 Peloton FTP Test Ride
Overall, the peloton FTP test ride is an assessment class that calculates your average power output for the whole 20 minutes and gives you your current FTP score. After you take the class the peloton algorithm uses these numbers to estimate your individual power zone.
Also, immediately after you finish and save your results, the peloton will unlock the power bar where you can see live feedback of your effort level measured in watts and power output across 7 power zones.
I think this is the hardest 20-minute peloton ride ever, together with All-Star Ride by Robin Arzon.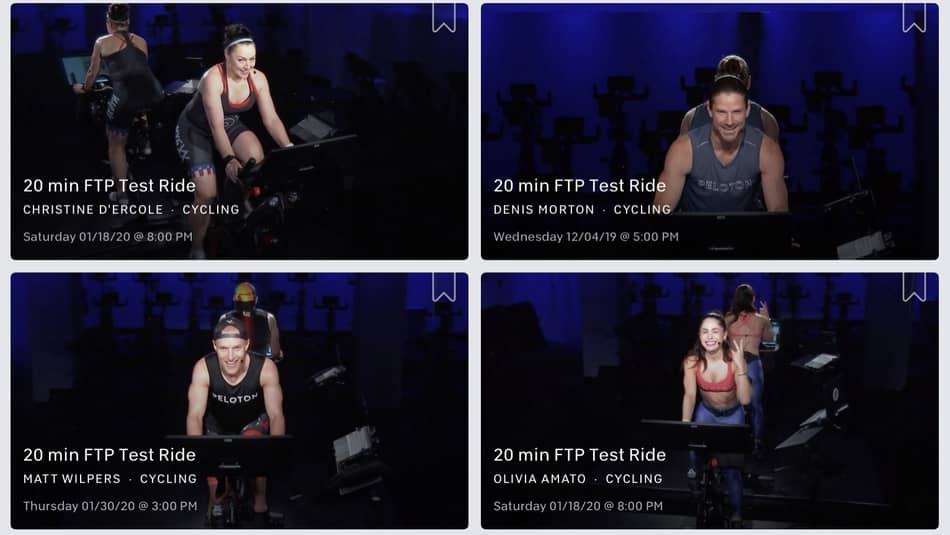 Why peloton FTP test is so hard? In short, the peloton FTP test ride is hard because it requires you to train at your personal best with maximum intensity to get the most accurate results. Finishing the test without your best effort will influence the numbers and dilute the results.
This is important for people who want to take their training to the next level and use peloton bike to display their power zones for every ride.
Training around your power zones is the fastest way to improve your performance. However, with the inaccurate and slappy FTP test, your numbers can be way off.
I like to use the peloton FTP test as a regular workout, especially at the beginning of the week. That's when I feel the most refreshed and I know I can handle the intensity.
| | |
| --- | --- |
| Duration | 20 minutes |
| Date | 27th February 2021 |
| Instructor | Denis Morton |
| Difficulty level | 9.7 |
Hardest FTP test ride
You can learn more about the "peloton FTP test" in my recent article here.
#2 Tabata Ride
There are over 300 Tabata rides in the peloton library that range from 15 to 45 minutes. Tabata ride uses one of the most effective high-intensity intermittent training methods with a 2:1 work to rest ratio.
What is high-intensity intermittent training? The difference between interval and intermittent training is that the interval method uses low intensity between bouts of high effort. High-intensity intermittent training is a workout method where participants completely stop the exercise during rest time.
In 15 minutes Peloton Tabata classes, the work to rest ratio is 20 seconds ON (max effort) and 10 seconds OFF (full recovery). In the 45-minute classes, you have 2 minutes of hard work, followed by a 1-minute recovery.
Why Tabata ride is so hard? Overall, the peloton Tabata ride is hard because the greater work to rest ratio allows you to maintain 85–95% of the maximum heart rate. This helps to enhance both aerobic endurance performance, as well as anaerobic capacity.
I believe that the hardest peloton Tabata ride is the 45-minute class with Robin Arzon and Ally Love. They both have a difficulty level at 9.5 and it's a nice mix of seated and standing positions.
Alternating positions on the bike require more muscle activation and can generate higher output.
Please keep in mind that the Tabata rides are very effective, however, they are not suitable for beginners. Untrained people have a much slower recovery rate, comparing to trained individuals.
| | |
| --- | --- |
| Duration | 45 minutes |
| Date | 31st August 2020 |
| Instructor | Ally Love |
| Difficulty level | 9.5 |
Hardest Tabata Ride
#3 Peloton All-Star Ride
Peloton All-Star Ride was an iconic event hosted by television sportscaster Ryan Ruocco from ESPN together with Ally Love. It was a competition between some of the greatest athletes in the world riding live on the peloton bikes.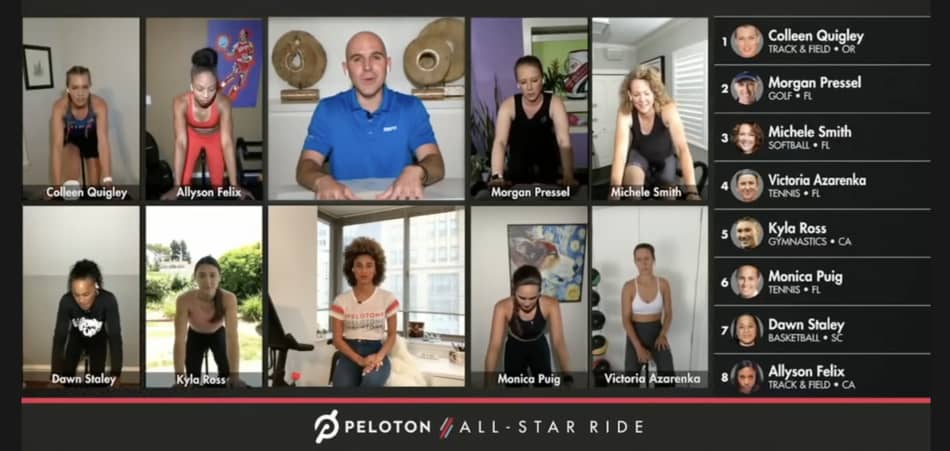 The instructors were Robin Arzon and Alex Toussaint.
It was the charity ride where Peloton donated one million meals to the Food Bank in New York City once all 16 athletes collectively passed the 3,000 output.
Why peloton all-star ride is so hard? As a whole, the peloton All-Star Ride is hard because it was a competition between some of the greatest athletes like Gordon Hayward from the Boston Celtics, an Olympic swimmer Matt Grevers, or Colleen Quigley, the Olympic track and field athlete.
The live class was epic, but here is the best part.
If you log in to this class today, you will see the leaderboard and all the people who tried to beat the record of the output that's been done by the professional athletes.
This means you can compete against Morgan Pressel, Kyla Ross, Allyson Felix, and everyone else who was there. The leaderboard shows you current and all-time best results, so if you push it hard, you can beat those numbers.
If you love competition I think that's really cool way to test yourself.
| | |
| --- | --- |
| Duration | 20 minutes |
| Date | 30th May 2020 |
| Instructor | Robin Arzon |
| Difficulty level | 9.6 |
Hardest All-Star Ride
Who is the hardest peloton cycling instructor? In general, the hardest peloton instructor is Robin Arzon because most of her workouts are considered advanced. She has over 400 bike rides and a large portion of them are Tabata rides, Climb rides, HIIT rides, and only a few low-impact.
#4 Peloton Pro Cyclist Ride
Peloton Pro Cyclist rides are one of the most difficult classes available in the app. Classes range between 30 to 45 minutes and most of them have difficulty levels between 8.8 to 9.2.
Why Peloton Pro Cyclist Ride is so hard? Overall, peloton pro cyclist rides are hard because they are taught by the professional road racing cyclist and Tour de France competitor, Christian Vande Velde. Every class is based on interval training where you progressively increase intensity.
I love to take Pro Cyclist classes, even after doing them multiple times. Riding alongside with Tour de France competitor is like going straight to the horse's mouth for motivation.
Christian shares plenty of value through his teachings, stories, and insights.
Unfortunately, there are only 14 classes available and it doesn't seem like Peloton will be adding more.
| | |
| --- | --- |
| Duration | 45 minutes |
| Date | 17th June 2019 |
| Instructor | Christian Vande Velde |
| Difficulty level | 9.2 |
Hardest Pro Cyclist Ride
#5 Peloton Metalica Ride
Peloton Metallica ride is one of those theme rides with a Metallica soundtrack. The average beat per minute is between 80 to 120 BPM, which means you can be out of the saddle for most of the class.
Not only it makes it very easy to sync your moves to the beat, but it also motivates you to keep adding more resistance.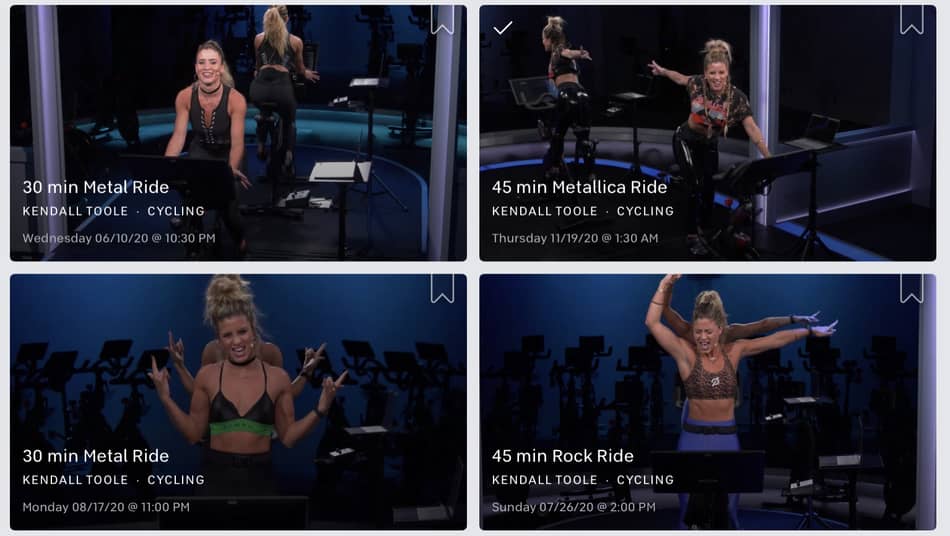 I think those are some of the toughest peloton rides because being out of the saddle does require much more energy and it engages more muscle groups. So by the time I reach the end of the class, I'm pooped.
However, I still like it because it's fun, motivating, and energizing.
Plus, it burns quads like no tomorrow.
Why Metallica ride is hard? In general, the peloton metallic ride is hard because it has a slow music rhythm where you have to increase the resistance while keeping the cadence low. It's a simulation of hill-climbing on the bike so most of the time you need to be standing.
You can search for Metallica ride in the "music" filter tab by selecting Rock. Keep in mind that there are over 1,200 rock classes, so if you want the most challenging ones, use the last filter option "sort" and choose the hardest.
| | |
| --- | --- |
| Duration | 45 minutes |
| Date | 11th November 2020 |
| Instructor | Kendal Toole |
| Difficulty level | 9.4 |
Hardest Metallica Ride
Hardest Peloton Workouts
The hardest peloton strength classes usually are labeled as advanced and include a full-body class with heavyweights. However, some of the intermediate sessions that focus on one body part like "arms" can be equally challenging.
What is the hardest peloton class? Overall, the hardest peloton non-cycling class is full-body Bootcamp. This is a 60-minute strength training workout that works by alternating 10 minutes running with 10-minute resistance training, with minimum rest in between.
#6 Full Body Bootcamp
Peloton full-body Bootcamp is one of those classes that you use both strength and cardio in one session. My favorite Bootcamp instructors are Jess Sims and Adrian Williams.
Why is peloton full-body Bootcamp hard? In short, the peloton full-body Bootcamp is hard because you train for the whole 60 minutes with little recovery time. Each round consists of either running on the treadmill for 4 to 10 minutes, followed by a full-body workout using weights and bodyweight exercises.
It may seem excessive to train for the full 60 minutes. However, peloton Bootcamp is designed in a way that alternates between lower and upper body exercises, which helps to improve blood flow and reduce lactic acid accumulation.
This way you don't feel muscle fatigue so you can continue to train.
| | |
| --- | --- |
| Duration | 60 minutes |
| Date | 10th October 2020 |
| Instructor | Jess Sims |
| Difficulty level | 8.9 |
Hardest peloton Bootcamp class
To learn more about how does "peloton bootcamp" works, check out my article here.
#7 Hills Run
Running uphill is used in many peloton classes because it creates mechanical and metabolic adaptations. Studies have shown that an elevation of 2% is enough to increase the heart rate by 5-10 bpm (Padulo et al. 2013).
Even walking at a 7% incline can elevate the heart rate by 20-25 beats per minute.
Why is peloton hills run hard? In general, the peloton hills run is hard because it combines inclination with interval training for the whole 45-minute class. Running uphill significantly increases the heart rate, as well as the blood lactate levels. This creates greater metabolic demands and increases energy expenditure.
Not only that.
The whole biomechanics change once you add more incline. Typically you see an increase in step frequency and reduction in step length, all to maintain a constant speed.
Peloton hills run is the hardest peloton tread class because it includes high-intensity interval training where you not only increase the cadence but also add more incline.
Running fast on a flat surface is completely different than running uphill.
Studies have shown that "incline running requires greater muscular activity and higher power output at all joints, especially in the hip" (Vernillo et al. 2017).
This means you will need much more energy to maintain the speed, compared to level running.
| | |
| --- | --- |
| Duration | 45 minutes |
| Date | 7th September 2020 |
| Instructor | Jess Sims |
| Difficulty level | 9.1 |
Hardest peloton tread class
Using Peloton Rides In Training Program
In general, you should not do the hardest peloton classes on a daily basis because it can lead to muscle fatigue, poor recovery, and overtraining.
Studies have shown that "performing HIIT only twice per week is effective in promoting cardiometabolic health-related adaptations and quality of life" (Stavrinou et al. 2018).
This means that you get diminishing returns from going hard every day. Even every other day.
To learn more about how to implement hard sessions into your weekly "peloton training plan", check out my article here.
Conclusion
As you can see, peloton does have a large variety of hard classes, that includes some of the toughest.
However, keep in mind that every class can be labeled as hard or easy, but at the end of the day you are the one who adjusts the resistance knob.
This means that the classes will only be challenging if you are willing to do the work.