I've been doing Peloton bootcamp ever since they added Floor Bootcamp with Jess and Selena into their on-demand programs.
Today I'm peeling back the curtain and want to share how effective is this workout and how I've used it to lose over 20lbs.

Key Takeaways
The peloton Bootcamp classes are good because they allow working on full-body strength, without exhausting the individual muscle group.
Alternating between cardio and strength training helps to build strength, without getting big. It also provides a high-intensity workout, without accumulating lactate in the muscle.
Peloton Fall Bootcamp Challenege 2022
On September 12, 2022, Peloton launched another Fall Bootcamp Challenge, which is a monthly challenge that will last till October 10, 2022.
So far, I've been quite consistent. I did 5 bootcamp workouts per week. The goal of this challenge is to do 4+ bootcamp classes every week for the month.
Right now, there are over 117,500 people joining the challenge and as soon as it's finished, I will come back and update this article on my results.
Peloton Bootcamp Review
In April 2022, peloton launched a new bootcamp program called "Floor Bootcamp". This is a 4-week challenge where you do three bootcamp sessions per week, followed by 5 minutes stretch class.
I decided to give it a try becasue this was the first peloton bootcamp program.
I completed the whole thing and I was hooked. Ever since I've been doing 4-5 bootcamp classes per week and managed to lose over 20 lbs.
My peloton bootcamp weight loss results
I've discovered the peloton bootcamp a couple of years ago, even before I got my peloton bike. Back then, I was doing bootcamp classes as a part of my peloton elliptical workout and I loved it.
You can think of peloton Bootcamp as a series of classes that combine cardio and resistance training.
Each class includes multiple rounds of high-intensity intervals done on the bike or tread, followed by resistance training using bodyweight exercises or weights.
This workout not only improved my overall fitness but also helped me lose over 20lbs in less than 4 months.
What is peloton bootcamp?
Peloton bootcamp is a unique workout that includes two types of classes in one session. You can do bootcamp on the tread, as well as on the bike.
The peloton bike bootcamp is a combination of strength and cycling classes in one session. Currently. there are over 250 classes available on the app.
Peloton tread bootcamp includes strength training and running in one workout. Right now, there are over 1,000 tread bootcamp classes (clearly this one is more popular).
What is Peloton bike bootcamp?
The bike Bootcamp peloton is a series of classes available in the peloton app that combine cycling together with weight lifting for a number of rounds.
The number of rounds will vary depending on the duration and intensity of the class you choose.
What I like about this class is that you can always get a good workout and modify resistance (both weights and bike), regardless if you choose beginner or advanced.
What is peloton tread bootcamp?
Peloton tread bootcamp was the first bootcamp introduced by the company. It has almost 800 classes that vary all the way from 5 to 60 minutes long.
It is a series of classes that integrates running on the tread together with weight training in a circuit training style.
Just like bike bootcamp, each class has a number of rounds that rotate between cardio, bodyweight, or free weight.
Basically, it's exactly the same workout as the bike bootcamp, but you're using the treadmill.
I like this class more than a bike because you don't have to keep on changing cycling shoes for sneakers (more on that later).
How does Peloton bootcamp work?
The peloton bootcamp works by a combination of HIIT cardio together with weight training for the number of rounds.
Each round includes 5-7 minutes of cardio work, followed by 10-15 minutes of resistance training with or without weights.
The total class runs for 30 to 60 minutes and all you do is repeat the rounds.
One of the reasons why I like this class is that there is not much rest in between. The only rest you have is when you get on and off the treadmill or bike.
For the tread bootcamp, you don't have too much rest. Once you get off the treadmill, you can start lifting weights right off the gate.
For bike bootcamp, you will need more time to change cycling shoes for tennis shoes, unless you're using the peloton toe cages (more on that later).
Why I choose peloton bootcamp
The peloton Bootcamp workout comes with several benefits that go even beyond burning fat, improving body composition, or building muscles.
Improve Blood Pressure – studies show that this type of circuit training can be considered as a low-risk treatment for people with high blood pressure (Nabilpour, 2018).
Cardiorespiratory Health – A combination of cardio and strength in one session back to back helps to strengthen the cardiorespiratory system (Mang, et al. 2021).
Improves Resting Heart Rate – this type of workout help to reduce sympathetic activity, increases vagal modulation, and improves parasympathetic activity (Piras, et al. 2015).
What are peloton bootcamp classes like?
Peloton bootcamp is similar to a circuit training called peripheral heart action training, which is a workout method that alternates upper and lower body resistance exercises with minimal rest between sets.
This training routine was popularized in the 60s by Robert Gajda, an American bodybuilder and performance training pioneer.
The peripheral heart action training uses the pumping action of the muscle to accelerate muscle growth as well as recovery.
The same workout was also endorsed by Bruce Lee.
In Lee's book called "The Art Of Expressing Human Body", there is a clear description of the Peripheral Heart Action training method learned from Ironman magazine.
Here is the screenshot from the aforementioned book.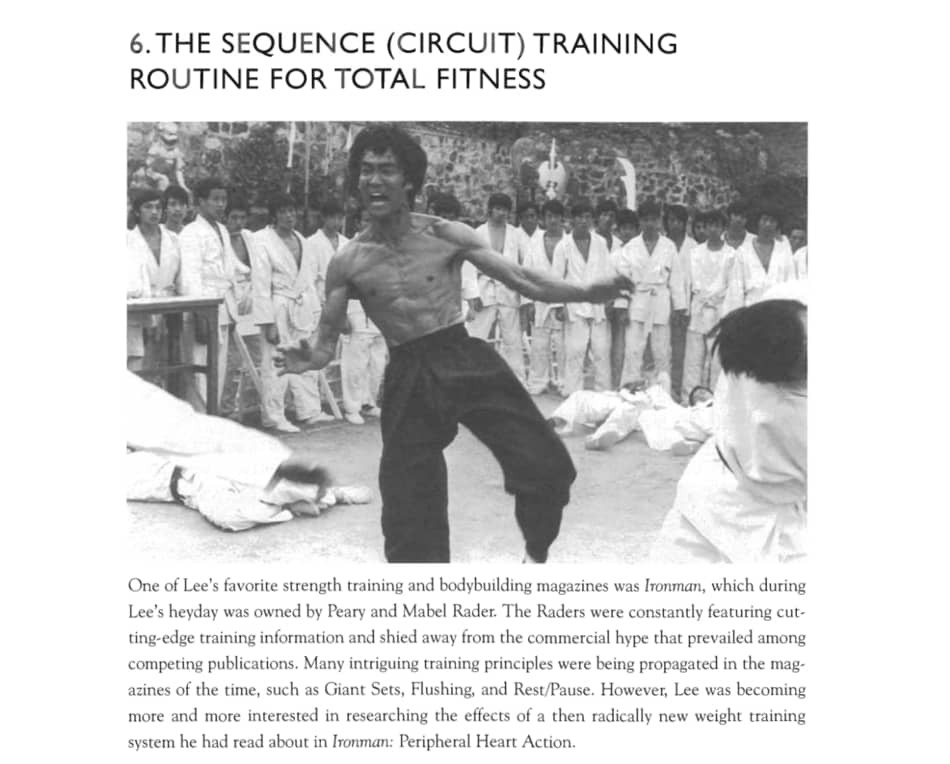 "Many intriguing training principles were being propagated in the magazines of the time, such as Giant Sets, Flushing, and Rest/Pause.

However, Lee was becoming more and more interested in researching the effects of a then radically new weight training system he had read about in ironman: Peripheral Heart Action."

The Art of Expressing the Human Body
Is Peloton bootcamp effective?
In general, the peloton bike Bootcamp is a good workout because it blends cycling together with lifting weights.
Combining upper and lower body strength exercises, together with cycling in between helps to increase heart rate and burn more calories, compared to cardio on its own.
Bootcamp was one of the hardest peloton classes that I did. I love this type of workout becasue it's intense.
After the very first class, I noticed I was sweating more, compared to regular cardio workouts.
I usually go for the shortest classes (around 30 minutes) and burn between 400 to 500 kcal, according to my Garmin watch.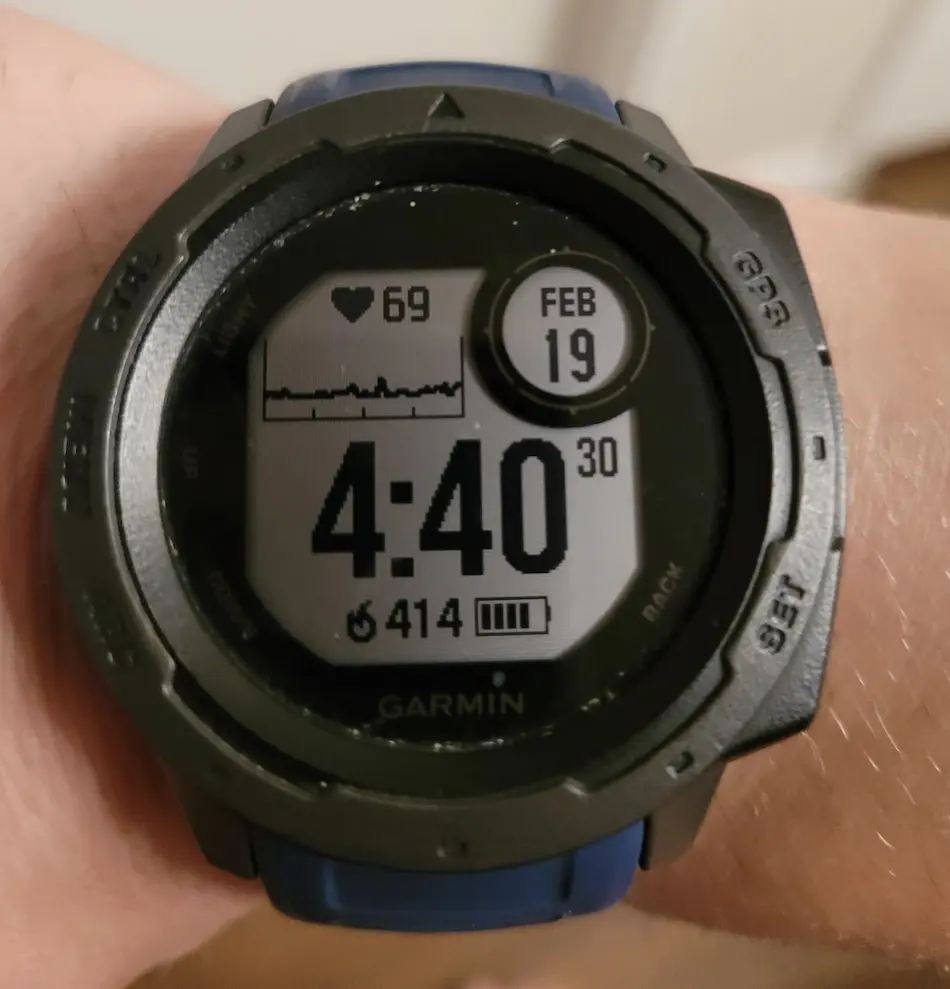 Here is the picture from my recent bootcamp class where I burned 414 kcal in under 30 minutes.
Peloton bootcamp class overview
Another reason why I love this workout is that each class is different.
Of course, on the surface, each class follows the same structure, but it will differ depending on the instructors and the exercises they choose.
Here is an example of the peloton Bootcamp class.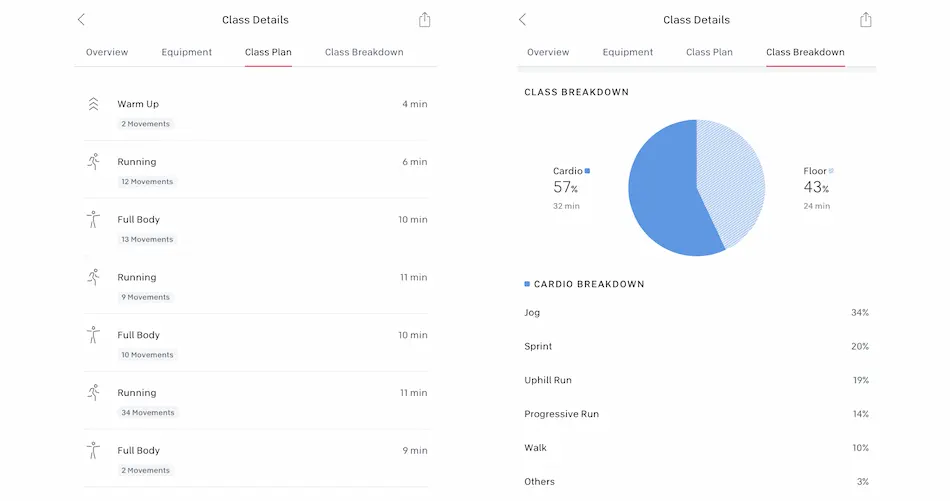 Warm-up
Each peloton bootcamp class has a short, but intense warm-up. Here you will spend 4-5 minutes usually on the bike or tread.
The goal of the class is to increase your heart rate and prepare you for the main class.
Cardio
Immediately after the warm-up, you will jump on the bike or tread and start doing 5-7 minutes of cardio.
This first part usually starts easily so you should not expect to do HIIT or sprints. You will likely stay in heart rate zone 2 and 3 levels of intensity.
Some classes have longer cardio sections (up to 12 minutes) and some are shorter (around 2 minutes or less).
Strength
During the strength phase, you get off the machine and follow a whole-body circuit style training with minimum rest in between.
In some bootcamp classes, you can use weights. In some, you will use bodyweight exercises only.
The shorter classes tend to add fewer exercises per round, whereas the longest 60-minute workouts can have up to 13 exercises in one round.
Length
The length of the peloton bootcamp classes ranges from 30, 45, and 60 minutes. The longest classes are usually more difficult and include more exercises and more rounds.
My favorite 60-minute class is with Jess Sims. She includes 3 running and 3 full body rounds. Each round kicks ass and could be a separate workout on its own.
The shorter classes have fewer rounds in total, but they also can be challenging.
During my weight loss journey, I was trying to pick up the classes that are no longer than 45 minutes.
My favorite class was Thunder 45 with Adrian Williams where he does over 28 exercises in just one strength round.
Difficulty level
In general, peloton bootcamp classes have three difficulty levels.
Beginner
Intermediate
Advanced
The difference between classes is usually the number of strength exercises you do per round, as well as the type of cardio you do.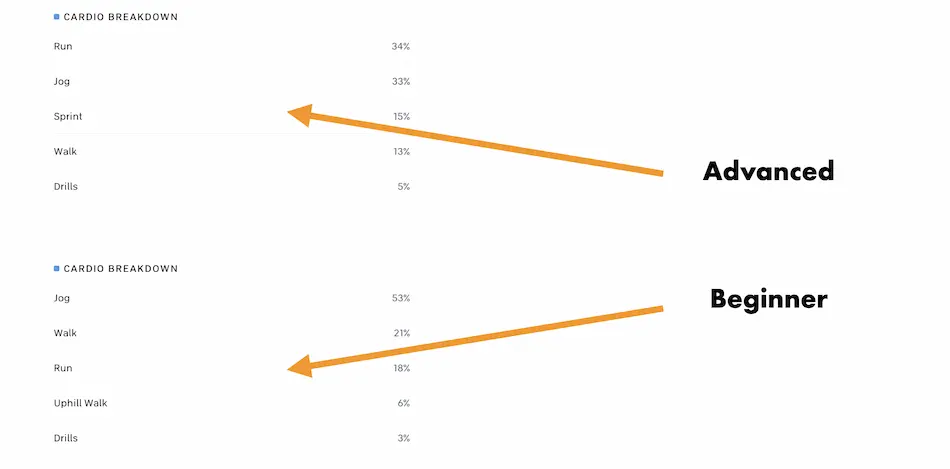 In the graph below you can see a screenshot from two peloton bootcamp classes.
The one on the top is advanced. It includes 34% running, 33% jog,ging and 15% sprinting.
The one on the bottom is a beginner. It includes 53% jogging and 21% walking.
During my bootcamp weight loss transformation journey, I was trying to consistently pick the advanced and intermediate classes becasue they include more exercises and more intense cardio.
Peloton bootcamp exercises
The exercises used in the peloton Bootcamp consist mainly of cardio (running, cycling) and full-body strength exercises.
Those can be either body weight (push-ups, planks, squats), or free weights (dumbbell press, dumbbell row, dumbbell squat).
Peloton bodyweight bootcamp uses only calisthenics, whereas the core bootcamp class is a combination of weights and body weight.
During my weight loss journey, I tried to pick up classes that use peloton dumbbells becasue it got my heart rate higher and I felt like I was getting a better workout.
What equipment do you need for the peloton bootcamp?
The equipment needed for the peloton Bootcamp is a set of weights (medium), an exercise mat, a gym towel, and a cardio machine like a bike or tread.
Alternatively, you can also use kettlebells or peloton resistance bands if you don't have any weights.
Again, I was trying to choose the classes that use heavier weights, but you can still get a good sweat from the bodyweight classes.
Peloton bootcamp weights
Choosing the right weight for the peloton bootcamp class is important as this is often the primary way how you can modify your intensity.
In a nutshell.
The weights for peloton Bootcamp vary anywhere from 10 to 30 pounds, depending on your fitness level and the class you choose.
Some classes use two different pairs of weights (light and medium), others use only one pair, and others use no equipment.
I would recommend getting at least two pairs of weights as this gives you enough room for modifications. One pair light and one pair medium.
Strength
Cardio
Light weights
High repetitions (10 – 15)
High-intensity interval training
Faster run or cycle
Medium weights
Medium repetitions (8 – 12)
Shorter intervals
More rest time
Heavy weights
Low repetitions (1-5 reps)
Walking or light jog in between sets
Peloton Bootcamp weights modifications
A good alternative if you don't have weights is to do a peloton with kettlebells, as long as you know how to use them.
Where can I buy peloton Bootcamp weights?
You can buy peloton Bootcamp weight directly from the peloton, from amazon, eBay, or even from your local sports shop.
You can also look in the social media groups or marketplace close to your neighborhood. Alternatively, you can also use kettlebells.
How much are peloton Bootcamp weights?
As a whole, the peloton Bootcamp weight cost between $45 to $95, depending on the size you choose. The heavier the weight, the higher the cost.
Alternatively, you can look for dumbbells in the local sports shops or in other online stores.
Exercise mat for peloton bootcamp
Ideally, you should have a separate exercise mat that you can use for the off-the-bike rounds.
Here you will need to do most of your planks, crunches, sit-ups, and other abdominal exercises.
Shoes for peloton bootcamp
The difference between the peloton bike and tread bootcamp classes is the shoes.
For the peloton bike bootcamp, you need to have two pairs of shoes – cycling shoes compatible with peloton (for the bike) and regular tennis shoes for the mat.
The bikes have delta cleats on the bottom of the shoe.
Exercising or even walking in the shoes with the delta cleats isn't best for balance, it can damage the cleat and scratch the floor. Using the toe clips allows you to do the class without cycling shoes.
For the tread bootcamp, you need to have only one pair of tennis shoes.
I hate changing the shoes back and forth so I decided to use new pedals with toe cages.
Peloton Bootcamp workout plan for weight loss
Regardless if you want to lose weight or build muscle, I recommend adding bootcamp to your weekly peloton workout plan.
This type of training is different from regular full-body or split training workouts that you do in the gym.
It implements resistance training with running or cycling. When you constantly switch from upper to lower body you improve blood flow and reduce muscle soreness.
This allowed me to train almost every day, without feeling sore the next day.
On the other hand, when I was doing the same split training routine in the past, I felt more tired and sore several days later.
The Peloton bootcamp workout plan for beginners
Here is an example of a weekly peloton bootcamp workout plan for beginners. The week includes 2 bootcamp sessions, two low-impact rides, and a few recovery classes.
| Day of the week | Peloton class |
| --- | --- |
| Monday | 30 min HIIT Bootcamp + 20 min Recovery Ride |
| Tuesday | 30 minutes Low-impact Ride |
| Wednesday | 20 min Full Body Strength + 20 min Recovery Ride |
| Thursday | 45 min Hiking Bootcamp |
| Friday | 30 minutes Low-impact Ride |
| Saturday | 20 min Outdoor Power Walk |
| Sunday | 20 min Restorative Yoga |
I like to do Hiking bootcamp becasue there is no running (so the whole class is less strenuous) yet I still get the benefits of doing weights in between cardio sets.
The Peloton bootcamp workout plan for advanced
Below is an example of a peloton bootcamp workout plan for advanced. The difference is that here I added 3 bootcamp sessions, longer low-impact rides, and fewer recovery classes.
| Day of the week | Peloton class |
| --- | --- |
| Monday | 45 min Thunder 45 + 20 min Recovery Ride |
| Tuesday | 30 minutes Low-impact Ride |
| Wednesday | 45 min Thunder 45 + 20 min Recovery Ride |
| Thursday | 30 minutes Low-impact Ride |
| Friday | 30 minutes Low-impact Ride |
| Saturday | 45 min Hiking Bootcamp |
| Sunday | 20 min Restorative Yoga |
How often should you do peloton bootcamp?
You should do peloton bike bootcamp 3-5 times per week, depending on your current routine and fitness level.
People who are new need more time to rest for the body to adapt without getting sore.
People who are trained can increase the volume of the training to 4-5 times per week.
It also depends on the total volume of exercise you already doing.
Peloton Bootcamp vs Strength Classes
The difference between peloton Bootcamp and peloton strength is that the strength classes only consist of doing resistance exercises back to back.
The class can be as long as 45 minutes and includes a full-body workout covering all muscle groups.
On the other hand, peloton Bootcamp is a combo of strength training and cardio in one session.
This makes the class more engaging, more interesting, and definitively more challenging. In fact, very similar approach you can see in the popular OrangeTheory class.
Peloton Bootcamp vs OrangeTheory
The difference between the peloton bootcamp and Orangetheory is that the peloton bootcamp uses only one piece of equipment for cardio and the exercises are counted by reps.
On the other hand, the Orangetherory class consists of running on the treadmill, 3 strength training moves (counted by 30 seconds), and rowing.
What is better?
In general, peloton bootcamp is better than Orangetheory because peloton can be done at home (without booking in advance) with a monthly fee of $12.99.
The Orangetheory can be only done in the studio, with a cost of 4 sessions of $59.
Peloton Bootcamp
OrangeTheory
$12.99 peloton app
$44 peloton membership
Unlimited on-demand classes
No prior booking
4 classes $59
8 classes $99
Unlimited classes $159
Booking in advance
Peloton Bootcamp vs OrangeTheory on cost
When it comes to the difference between the exercises, the Oragnetheory offers access to the whole studio so you don't have to worry about equipment.
Peloton Bootcamp
OrangeTheory
Dumbbells
Peloton bike or tread
TRX Training
Dumbbells
Treadmill
Rowing machine
Peloton Bootcamp vs OrangeTheory on exercise
Related: You can read the full comparison of peloton vs orangetheory in my article here.
Peloton Bootcamp instructors
The instructors you will see doing the bootcamp classes are usually their senior trainers.
Here is the list.
| Tread Bootcamp | Bike Bootcamp |
| --- | --- |
| Adrian Williams | Callie Gullickson |
| Andy Speer | Robin Arzon |
| Becs Gentry | Jess Sims |
| Daniel McKenna | Cliff Dwenger |
| Jess Sims | Cody Rigsby |
| Joslyn Thompson | Tunde Oyeneyin |
| Matty Maggiacomo | |
| Olivia Amato | |
| Rebecca Kennedy | |
| Robin Arzon | |
| Selena Samuela | |
My favorite bootcamp instructor is Adrian and Jess. They both kick ass and their workouts are often one of the toughest classes on the app.
How to find peloton bootcamp
To do the peloton bootcamp, you need to have a all-access membership or peloton digital membership.
Peloton membership you can use when you have either a peloton bike or tread. The peloton app is an online platform that anyone can access.
Download the app from the app store (The peloton app is available for download for iOS and Android devices).
Sign up for a free trial (The peloton offers the first month for free to test out the water. You still need to provide your card details but you can cancel anytime).
Turn on the app (The app can be turned on from your phone, tablet, or desktop).
Select Bike or Tread Bootcamp (In the workout tab choose the category called "bike bootcamp" or "tread bootcamp").
Filter by difficulty or duration (You can further filter the class by the type, time, instructor, etc.)
Prepare your weights or exercise mat (Some classes require weights but for others, you only need an exercise mat)
You can do the class with or without cardio equipment (You don't have to own a bike or tread. Simply substitute the cardio time for any exercise of choice. More on that next.)
You don't need a treadmill for peloton Bootcamp
That's right.
You don't need a treadmill for peloton Bootcamp because the class can be done with any cardio equipment.
The original peloton tread Bootcamp uses a treadmill but you can use a bike, air bike, stepmill, or arc trainer.
How to do Peloton bootcamp without a treadmill
Yes, you can do peloton Bootcamp without a treadmill (even without the bike) by substituting the machine for any piece of cardio equipment (rower or elliptical).
On the days when I was traveling, I was using any form of cardio, as long as it had moderate intensity and I could do it for the duration of 5-7 minutes.
You can also do outdoor running, or even walk up and down the stairs. Each time when the instructor starts the cardio part you just do your cardio of choice.
You can do something that is light (walking, step master, jumping jacks) and add more resistance during the strength training part. This way you won't burn out too early.
Doing something that is more intense will lead to early muscle fatigue. So basically you can easily do all of the bootcamp classes without having access to a treadmill.
Peloton Bootcamp with Elliptical
Instead of using a treadmill, you can do a peloton Bootcamp with an elliptical. To get started simply turn on your peloton app and run your favorite class. Place the laptop or tablet in your eyesight so that you can see and hear the instructions.
During the running phase, you simply use the elliptical. After the run, you get off the elliptical and start your strength training part with the dumbbells or kettlebells.
PRO TIP: When you do the elliptical, keep the heels on the platform all the time and try to avoid bouncing up and down. This will help you engage your glutes better.
Peloton bootcamp with the rower
Another modification of doing peloton Bootcamp is using the rower. Place the dumbbells close to your rower. For the cardio part use rower and try to stay within the low to medium intensity.
After you are done with the cardio part, get off the rower and follow the instructions with weights. Repeat the sequence as many times as required by the type of class you do.
PRO TIP: Keep in mind that rower is mostly upper body cardio, so if you pull too hard you get tired quickly. Pace yourself and spread the energy evenly throughout the 5-7 minutes.
Peloton bootcamp with steps
My favorite way to do peloton Bootcamp with no tread is by going up and down the staircase. All you need is a set of weights. You don't even need to see the exercises. You can simply plug in earphones and steam the class directly from your phone.
On the cardio part, simply walk up and down the stairs. After the cardio is done, grab the weights and continue with the circuit.
PRO TIP: To make it more challenging take a step every second step. This will get your heart rate higher and mimic a higher-intensity run.
Peloton bootcamp with walking
Another great option, especially for beginners, is to just use walking instead of running.
This way you have enough time to catch your breath after lifting weights and you can slowly build up the intensity until you're fully ready for running.
I like this option because you can even combine running with walking, based on how you feel that day. On the days when you have more energy, you can implement run.
And on the days where you feel low simply stick to walking.
PRO TIP: To make it more challenging, hold the weight with both hands in front of your chest or wear a weighted vest. This will increase your heart rate and transform a simple walk into a power walk.
Peloton bootcamp with a recumbent bike
If your only cardio equipment is a recumbent bike you can still improvise. A recumbent bike doesn't allow you for higher output like the regular bike.
However, as an aerobic component of peloton Bootcamp, it is good enough.
You can still add more resistance and cadence. Set up your weights close by to get easy access when you transition from cardio to strength part.
PRO TIP: By moving the seat closer and adjusting the back support to the back (so you don't lean forward as that much), you create a better hip extension which allows for better glute activity during cycling.
Conclusion
I personally think that peloton bootcamp is one of the best on-demand classes that is available on the web.
Apart from weight loss and muscle gain, it offers several other benefits.
Plus, it can be done with any piece of equipment.
All you just need is a bit of imagination to transform your regular and boring workouts into the power training that burns fat and builds strength like no tomorrow.