I've been using the Hydrow digital app for over 6 months and today I will share with you my thoughts on what is good about this app (and what could be better).
The Hydrow digital app is worth it, as long as you use it with an alternative rowing machine like a Concept2. Hydrow Digital Basic Membership gives access to over 4,000 on-demand classes and live workouts, however, most of them are rowing workouts with only a handful being on-the-mat classes.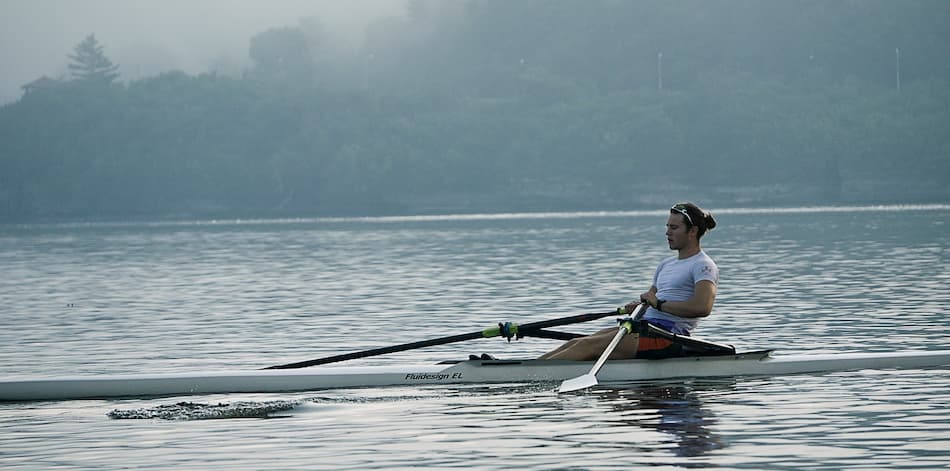 How Does Hydrow App work?
Overall, the Hydrow digital basic membership costs $19.99 per month and unlocks access to thousands of classes and workout programs. The workouts can be accessed directly from a phone, tablet, or web browser.
It's a subscription-based streaming platform that works on both Android and iOS devices, kind of like Netflix, but for rowing wokrouts.
The difference between Hydrow digital and all-access membership is that digital basic doesn't allow you to stream live workouts and doesn't have an input to measure metrics such as calories burned, power output, or distance rowed.
Can I use the Hydrow app without the machine?
In general, you can use the Hydrow app without a rowing machine.
The app allows users without Hydrow to stream content, but there are some limitations.
Also, for people who already have all-access membership, the Hydrow app is free.
Does the Hydrow app work with Concept 2?
As a whole, the Hydrow app does work with any type of air rower including Concept2, ProForm, or AssaultRower Elite.
It also works with all water rowers, including Echelon. However, to use the app you need to have a mobile device mounted to the machine.
I've seen some people mounting their phones on top of the Concept2 monitor. This may be a good idea, but in doing so you will be limited to a relatively small screen, which can ruin the experience of watching the Hydrow scenic rows.
I personally prefer to use something with a larger screen like a tablet or laptop. All you need to do is place your tablet on some chair or table desk that is in front of you.
Alternatively, you can stream the workouts directly from your TV. All you need to do is connect your Hydrow mobile app to Airplay or Chromecast.
This is a great solution if you have a rower in your living room, or if you have a spare TV in your basement or garage gym.
Hydrow app offers you a free trial
One of the best ways to test the water and see if the Hydrow app is good for you is by taking advantage of their 30-day free trial. The free trial unlocks all the features that are available for app users. You can stream live and on-demand workouts and see if that is something for you.
After the 30-day trial, you will be automatically billed $19.99 per month, unless you cancel the membership.
NOTE: Click here to learn more about how to use hydrow without membership.
What Do You Get With The Hydrow Digital Membership?
In general, with the Hydrow digital app, you get access to a large variety of classes that includes rowing, bodyweight strength training, yoga, pilates, and mobility. The rowing workouts vary between endurance training, HIIT, and intervals to heart rate zone training.
Here are all the features that you get from the Hydrow digital app.
Apart from the video content, you also have some additional features that help you to track your workouts like an activity log, weekly streak, challenges, as well as earn milestones.
One thing that I really like is that the Hydrow app allows you to be part of the Hydrow community via an online forum directly from the app (it's called Hydrow feed). In the feed section, you can follow members, comment on their posts, and create your own threads in the community.
Hydrow Digital Basic Membership On-Demand Classes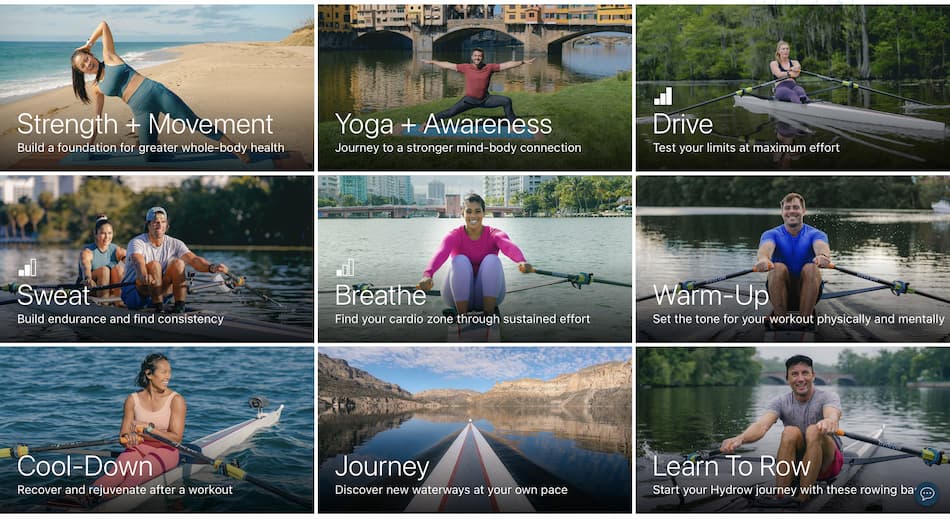 The Hydrow digital membership provides access to a browsable compendium of over 4,200 workouts. All of the workouts are nicely divided accordingly to the type.
With Hydrow digital app, you get access to the same number of classes as you get with all-access membership.
You can read more about the best Hydrow workouts for health and weight loss in my article.
The only difference is that with the all-access Hydrow membership you can stream classes directly from your rower, whereas with digital basic you can only stream classes via mobile device.
Here is the updated list of all on-demand classes available with the Hydrow digital basic in 2022.
| Workout | Description |
| --- | --- |
| Drive | Over 900 rowing workouts with higher rhythms (between 26 to 34 s/m) that focus on performance (e.g. HIIT, spring intervals, power training) |
| Sweat | These are rowing classes with medium rhythms (between 24 to 30 s/m) and include a combination of intervals, climbs and steady-state rows. |
| Breathe | These are the least strenuous sessions that allow you more recovery time with rhythms between 15 to 24 s/m |
| Distance | These are brand new classes that are mimicking the "Just Row" feature. The goal is to row for a distance (e.g. 1000m, 250m, 2,000m) at your own pace. |
| Journey | These are Hydrow time-based scenic rows where you row at your own pace. These are the longest workouts from the app. |
| Warm-up | Over 230 short warm-up drills that last 5 to 10 minutes are designed to prepare you for the workout |
| Cooldown | Over 540 short cooldown 5-minute sessions designed to reduce your heart rate |
| Yoga | Combination of 250 yoga classes with different styles like Yoga Flow, Yoga Align, and Restorative Yoga. |
| Bodyweight Strength | Includes over 150 bodyweight strength classes divided into subcategories like full-body, upper body, or specific body parts (e.g. glutes). |
| Mobility | Contains over 130 mobility sessions that range from static stretching, and dynamic stretching to foam rolling. |
| Pilates | A mix of over 200 pilates classes, mainly focused on the core. |
Hydrow digital membership classes
One thing that I must point out is that all of their classes are filmed in epic locations. None of the classes are done in a traditional fitness studio, which makes the workout more engaging and exciting.
Plus, since I've been using the Hydrow app, there have been many classes added to their library on a daily and weekly basis so I hope this trend will continue and the company plans to add more workout types.
Hydrow Digital Basic Live Classes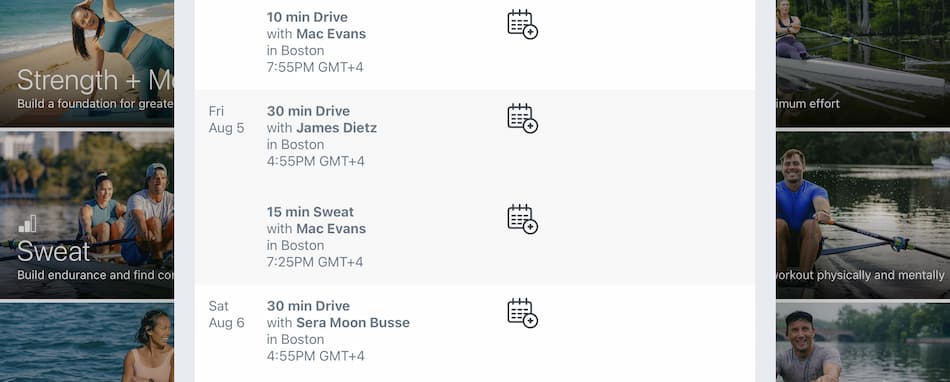 Hydrow digital membership gives you access to all of the live classes that are streamed from a variety of locations around the world.
Unlike Peloton or Tonal, all of the Hydrow live wokrouts are on the water, done by the elite level athletes who live and breathe rowing.
The only thing that bugs me is that there are only 2-3 live workouts per day, and they are all in the afternoon GMT+4 time. There are no live classes in the morning.
Another bummer is that Hydrow does not live stream their on-the-mat workouts like strength and pilates.
Hydrow Digital Basic One User Profile
The Hydrow digital basic is a cheaper version of their all-access membership that is only available for Hydrow rower users.
Unline all-access Hydrow membership, the digital basic allows you to create one user profile. To be honest, this is not a deal breaker. Most of the other companies that have two types of subscriptions like Peloton also restrict their digital users to one profile per app.
The Hydrow digital membership is cheaper than all-access membership because it doesn't get access to performance data and metrics, which is useful to track your progress. Plus, it doesn't give access to the leaderboard.
The Disadvantages Of Hydrow Digital App
In a nutshell, the Hydrow digital app is more affordable, but it does have some limitations. There are a few things that are missing from this app, which I think would make the app more desirable.
You cannot download classes – The Hydrow digital app does not allow you to download any classes or programs, and access them offline. There is not even an option to preload the classes, which could reduce the buffering time and save cellular data.
No free weights – One thing that I miss from this app is the strength training with free weights. All of the strength and pilates classes are done without any equipment, which is effective, but it can get tedious after a while.
No performance metrics – The Hydrow digital app doesn't have the capability to input any stats like calories burned or meters recorded. I think this is a very basic feature and is already implemented by several other sports apps like RunKeeper, Nike + Run Club, Strava, or Arion.
You cannot connect the heart rate monitor – As of right now, you cannot use a heart rate monitor with the Hydrow app. This would enable you to track your intensity and unlock calories burned.
No leaderboard – With the Hydrow app, you won't get access to the leaderboard. You can still use the members-only feed though.
Hydrow App vs EXR App
The difference between the Hydrow app and the EXR app is that Hydrow has live and on-demand workouts that are instructed by real athletes in stunning locations on the water. The Hydrow app has also thousands of workouts and rowing tutorials.
On the other hand, The EXR app offers a limited number of workouts. Instead of live classes, the EXR has virtual classes, kind of like playing a video game.
See the picture below.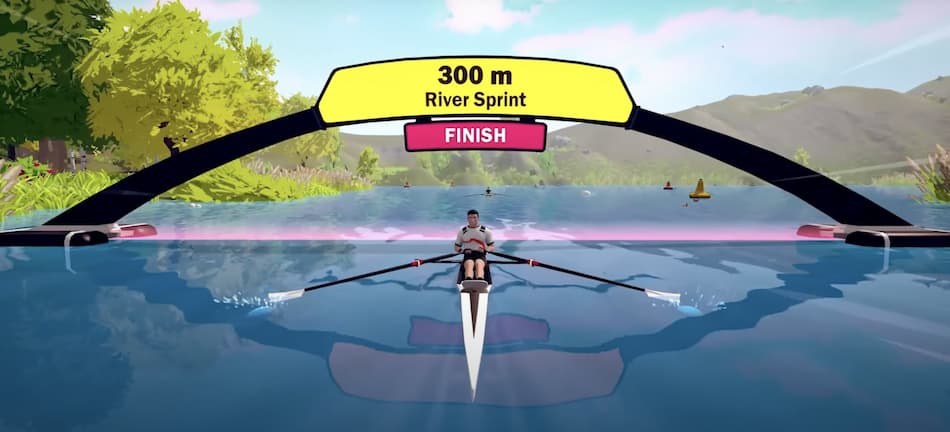 The biggest benefit of using EXR is that you can connect it directly to your Concept2 rower, which means it will get access to all detailed metrics and reports like power output, strokes per minute, and distance in meters. It also gives allows you to connect your heart rate monitor.
The EXR also has several games, challenges, and access to the leaderboard.
Customer Reviews and Brand Reputation
In general, Hydrow is not BBB accredited. However, there are not many customer complaints and most of the bad reviews are about the app functionality and features that it's missing.
Trustpilot users give Hydrow 4.7 out of 5 stars. Out of 9,402 reviews, they have 84% excellent ratings, 10% great, and 3% average. Only 2% of reviews are bad.
The customer reviews with low scores tend to focus on issues with customer service, delivery, and installation problems. However, each complaint is being professionally handled and responded to within 24 hours.
Apple AppStore users give Hydrow 4.1 out of 5 stars. Out of 138 Ratings, over 80% gave excellent ratings.
The customer reviews with low scores mentioned that the Hydrow app doesn't integrate with other devices and is more expensive than competitors.
Conclusion
As you can see, I have mixed feelings about the Hydrow app.
On the one hand, it has thousands of high-quality content and employs professional world-class coaches who share their knowledge and hands-on experience from years of training.
On the other hand, I would not recommend using it for on-the-mat workouts. The app is growing and slowly introduces more content, new features and better functionality, however, there is still a lot of room for improvements.