One of the smartest things you can do to track your performance and exercise intensity on Hydrow is use a heart rate monitor.
Today I'm peeling back the curtain to show you the benefits and effectiveness of using heart rate monitors (and most importantly) what are the best HRM compatible with Hydrow.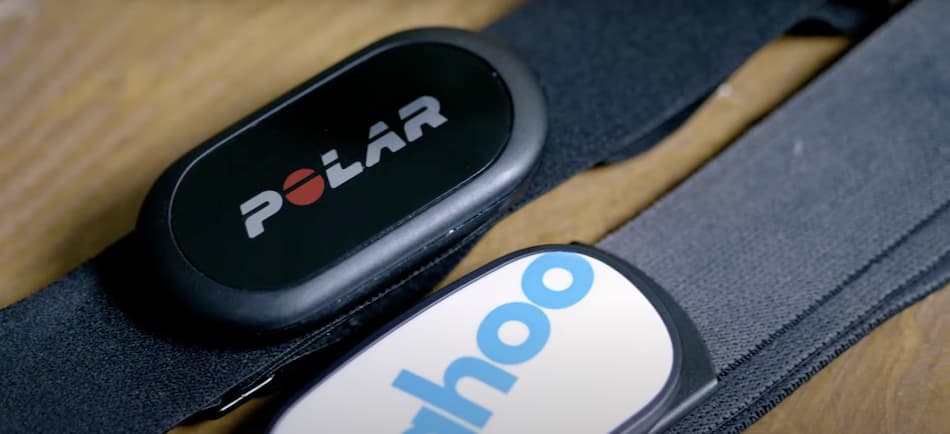 In our testing, the best heart rate monitor for Hydrow under $50 is Wahoo TICKR because it is reliable and very accurate. For armbands under $80, I'd recommend the Wahoo TICKR FIT. In the premium category, the armband Scosche Rhythm+ was also decent ($90). If you want the best of the best at any price, go with the waterproof Polar H10 chest strap.
Here you have my overall answer, but if you want to know more details on how to maximize your Hydrow workouts with a heart rate monitor, keep reading.
How Does Hydrow Heart Rate Monitor Works?
In a nutshell, wearing a heart rate monitor helps you to make smart training decisions about the training intensity based on your workout goals.
To be clear, Hydrow doesn't manufacture branded heart rate monitors. However, they recommend using Polar Verity Sense, a versatile optical armband that supports both Bluetooth® and ANT+ technology.
Now, I'm a huge fan of Polar heart rate monitors, but I personally prefer to use ECG (chest strap) rather than PPG (optical).
Optical heart rate monitors use PPG (photoplethysmography) sensors.
It works by illuminating the skin and subcutaneous tissue with LED light (light emitting diode) of a specific wavelength.
See below.

The light is either absorbed, reflected back, or passed through via a photodetector at the surface of the skin. Changes in the wavelength indicate changes in blood volume, which corresponds to changes in the heart rate.
Personally, I think this method is ideal to use every day for heart rate variability for most people becasue it's easy and convenient.
Wahoo TICKR FIT is the best optical heart rate monitor for Hydrow
A good example of a reliable optical heart rate monitor is Wahoo TICKR FIT (armband).
I like this heart rate monitor because is one of the most affordable, yet very accurate heart rate monitor compatible with Hydrow and many other smart home gym machines.
It has both Bluetooth and ANT+ technology, which means you can use it with other fitness apps.
However, optical heart rate monitors do have a few limitations, especially if you plan to use them for rowing (more on that later).
Hydrow Heart Rate Monitor Accuracy
As a whole, the most accurate heart rate monitors compatible with Hydrow are chest-strap models like Wahoo TICKR, Wahoo TICKR X, Garmin HRM-Dual, and Polar H10. These heart rate monitors use ECG sensors to transmit radio signals when a heartbeat is detected.
The difference between ECG and PPG sensors is that ECG measures the electrical signals that cause the heartbeat.
The PPG sensors measure the blood flow changes after the heartbeat.
Multiple studies have shown that chest strap HRM is considered the most accurate and should be used, especially when accurate HR measurement is imperative.
According to Stephen Gillinov, M.D., from Yale University, optical heart rate monitors are viable options for runners becasue of the minimal arm movement required to run.
However, for sports activities that require arm movement (e.g. rowing), electrode-containing chest strap monitors are more accurate.
Optical heart rate monitors deliver delayed signal
The PPG is less accurate than ECG heart rate monitors (chest strap) for a couple of reasons:
Firstly, the PPG waveform is always delayed with respect to the ECG signal (see graph below).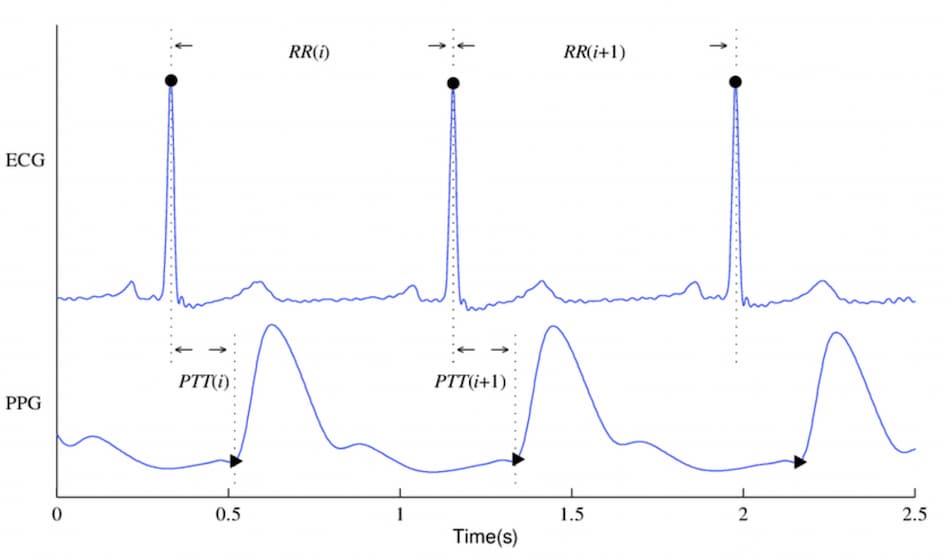 In the graph above you can see the difference between the ECG and PPG signals.
As you can notice, the ECG heart rate monitors measure electrical impulses directly from the cardiac muscles, whereas the PPG measures the changes in the blood volume after the cardiac muscle activity is done.
Armband heart rate monitors are sensitive to arm movement
Another thing that makes the armbands less accurate is that PPG heart rate monitors must be worn on the forearm, making them more sensitive to the movement of the arm (and can interfere with the signal).
For example, during arm movements like pulling, rowing, or pressing, you need to use a grip and contract muscles in the forearms.
Those movements won't significantly increase your heart rate, however, they do impact the arterial blood flow in your arms, which can result in inaccurate heart rate measurements.
In other words, the PPG sensors can detect changes in the blood flow due to arm muscle contraction, not due to elevated heart rate in the cardiac muscle.
Related article: Best Hydrow Workouts For Health And Weight Loss
Polar H10 is the best chest-strap heart rate monitor for Hydrow
One of my all-time favorite chest-strap heart rate monitors is Polar H10 (I've been using Polar chest strap heart rate monitors since 2010).
Why do I love Polar H10?
Two reasons:
Firstly, this HRM works with everything (literally). It connects with smart gym machines (Hydrow, Peloton), fitness apps, and even gym treadmills and ellipticals.
Secondly, this heart rate monitor is used in most scientific studies as a baseline criterion device (aka it's very accurate).
According to Katrina Hinde, Ph.D., a senior physiologist from Yorkshire in the UK, Polar H10 is considered a gold standard for measuring heart rate.
"Polar H10 appears to be the most accurate wearable device when compared to criterion measures and even appears to supersede traditional methods during exercise"

Hinde, Katrina et al. 2021
What Does The Hydrow Heart Rate Monitor Do?
One of the most obvious ways to use a Hydrow heart rate monitor is to determine the exercise intensity of a training session using heart rate zones.
Heart rate zone training is a guide that helps you to understand when to adjust your workout effort, based on your personal goals.
For example, if your goal is to improve your time for 500 meters row, you should use interval training (e.g. HIIT row sessions) with short bursts of maximum effort (around heart rate zone 4 and 5) followed by recovery time.
On the other hand, if your goal is to improve body composition and burn fat, you should spend more time on longer workouts with lower intensity (around heart rate zone 2 and 3).
Not only that.
Apart from monitoring workout intensity from within the session, you can also use a Hydrow heart rate monitor to:
Track your calorie expenditure – Wearing Hydrow heart rate allows you to estimate the number of calories burned in the session.
To be honest, I'm not a huge fan of tracking calories becasue heart rate monitors provide only an estimated calorie burn (aka they're not accurate).
Track your progress – With a heart rate monitor, you have access to historical workouts and compare your results with previous sessions. Other indicators that let you "know" you're getting fitter include faster recovery heart rate and better resting heart rate.
A faster recovery rate means your body is becoming more efficient at bringing your heart rate down immediately after the interval.
For example, how soon you can get back to normal breathing after a 20-second sprint row. The faster your heart rate recovers, the better cardiovascular shape you are in.
Resting heart rate is measured as the number of heart pumps (beats per minute) when you're not exercising.
According to Dongfeng Zhang, MD Ph.D., a researcher from Qingdao University in China, resting heart rate is a predictor of all-cause and cardiovascular mortality in the general population (Zhang et al. 2016).
Implement progressive overload and design a workout routine – Based on your heart rate numbers, you can design your workout plan in advance and plan your progression accordingly.
What Heart Rate Monitor Works With Hydrow?
One thing that I don't like about Hydrow is it's very limited when it comes to Bluetooth connection.
Yes, it works well with most of heart rate monitors that use ANT+ technology. However, according to the Hydrow website, heart rate monitors that use Bluetooth connection may poorly impact your experience.
The difference between ANT+ and Bluetooth is that the Bluetooth technology doesn't allow you to connect your heart rate monitor to multiple users and once the HRM pairs, it changes its state from "ready to pair" to "connected".
ANT+ technology allows you to connect your heart rate monitor directly to your Hydrow rower, as well as to other apps or devices at the same time.
For example, if you are using a Hydrow rower with a personal trainer, your trainer can pair your heart rate monitor with his/her phone via the Strava app and monitor your intensity (as long as they're in close range).
This is great if you like to track your performance and share the data about your current workouts across multiple devices.
Most Smart Watches do not work with Hydrow
Overall, Hydrow rowers do not work so well with some popular Smart Watches (e.g. Apple Watch) that have heart rate monitors as a separate function.
For example, if you're using a Polar H10 chest strap, you will have the most accurate heart rate reading (this device is only meant to be used as a heart rate monitor, therefore, it's suitable to connect with Hydrow rowers).
On the other hand, if you're using Fitbit watches, Apple Watch, or other smartwatches, it will likely not work with Hydrow. Apart from a heart rate monitor, these devices have dozens of other features (e.g. heart rate variability), which is what (apparently) interferes with the signal.
I'm not sure why Hydrow software doesn't support Bluetooth heart rate monitors, as well as cannot pair smartwatches with the rower (in this day and age). Other smart gym machines can easily pair via Bluetooth with any smartwatches.
For example, I can connect my Apple Watch with my Peloton or Tonal and have zero problems reading my heart rate.
You can read more about how to use "Tonal with a heart rate monitor" in my article here.
Conclusion
As a whole, the best heart rate monitors compatible with Hydrow are chest-strap models from Wahoo, Polar, and Garmin.
For the armbands, I recommend using Wahoo TICKR FIT, Scosche rhythm+, and Polar Verity Sense because they're light, have an excellent variety of connection options, and are fully waterproof.
If you want the best of the best, I recommend going for Polar.
Among the reasons mentioned above, I like the H10 becasue it has a solid battery life (around 500 hours) equivalent to over 1000 Hydrow workouts.