As an exercise physiologist, I received a peloton healthcare worker discount when I got my peloton bike+ subscription. Today I want to clarify what is peloton healthcare worker discount, what it includes, who is eligible, and how to get one.
As a whole, the healthcare workers, medical professionals, and first responders do get a discount on selected peloton products, as long as they're currently working in the healthcare field or have an active medical license or certification. Peloton uses SheerID for the verification process.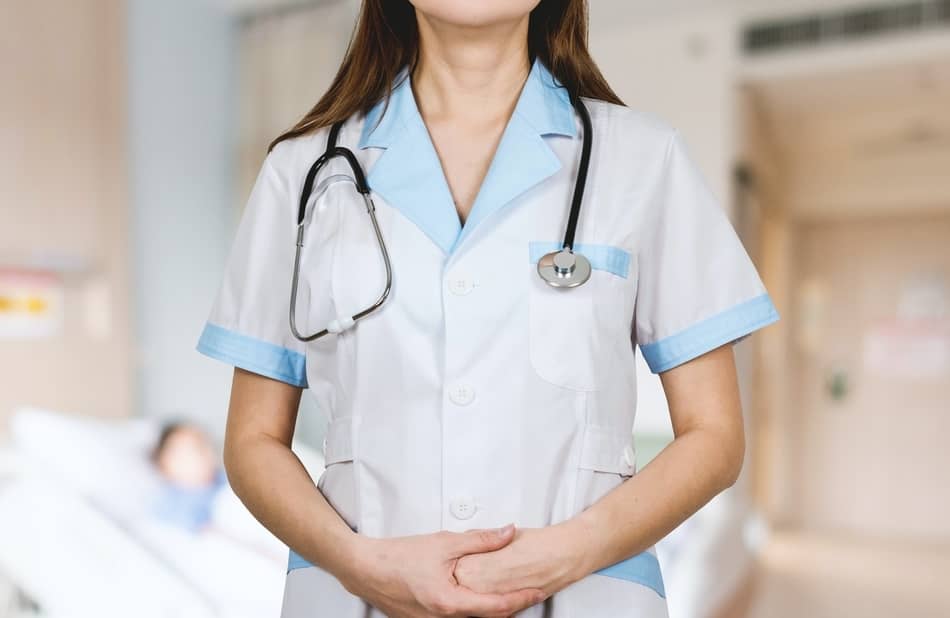 What Is The Peloton Healthcare Discount?
Overall, the peloton healthcare worker discount is a reduction in the cost of the peloton accessories like heart rate monitors, resistance bands, cycling shoes, or exercise mats. However, the caveat is that you must first purchase Peloton Bike, Bike+, or Tread to be eligible for this offer.
Please keep in mind that this is for new purchases only. If you have already owned a bike or tread for a while, you are not eligible for this discount. Also, the discount doesn't cover all-access membership.
Still, I think this is a great deal because you can save up to $200 from buying the accessories that you would have to buy anyway to fully use the bike and do the classes.
You can apply the $200 to any product from the accessories. Alternatively, you can apply the discount to peloton packages and it will be deducted at the checkout from the total price.
How does the peloton healthcare discount work? As a whole, the peloton healthcare worker discount works by applying the promo code at the checkout. This means you need to first get verified that you currently work in a medical or healthcare facility. After the verification process, the peloton will send you an email with the discount promo code.
See below.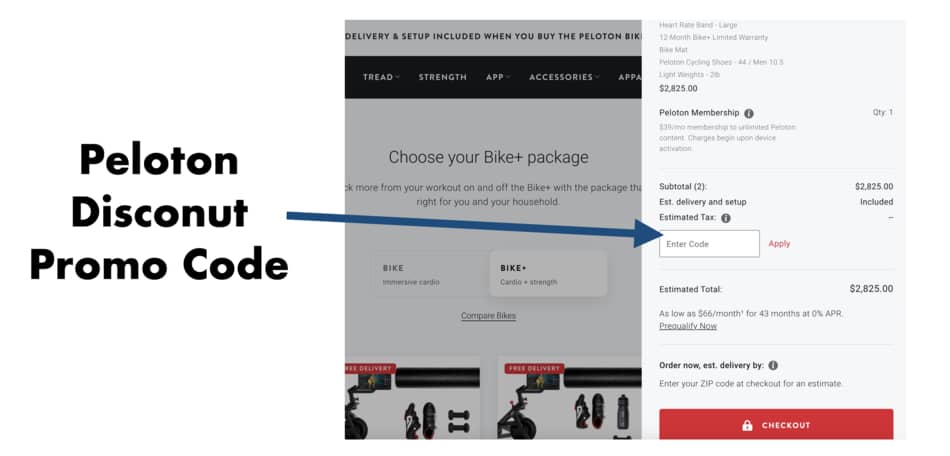 Once you get the promo code in your email, you can enter the code just before you hit the checkout button during your purchase. After the code gets verified, you will automatically notice a reduction in the total price.
Alternatively, you can also contact the peloton customer support team and get your discount via online chat. Please remember that they will also need to verify your healthcare worker status, which means you should have your ID cards and other necessary documents on hand.
You can also contact them via phone. That's what I did. I called peloton support after being disconnected from the chat. The lady asked me to send pics of ID cards for proof and started the process immediately.
Everything took less than 30 minutes.
I think calling directly is much easier because once you get on the line with the peloton customer service team member and they can answer any questions.
Why Peloton Gives Away Discounts For Healthcare Workers
As a whole, the peloton gives away discounts for healthcare workers to express their gratitude for all the hard work that medical and healthcare professionals do every day. Healthcare workers promote health, save lives, and provide treatments to everyone, which helps to improve their quality of life.
In fact, there are several other companies and brands in multiple fields that choose to give away discount codes for first responders, healthcare workers, and medical personnel.
Theragun
Under Armour
Adidas
Nike
Lululemon
North Face
Peloton App Discount For Healthcare Workers
Another discount that peloton offer for healthcare workers is the reduction of the peloton digital subscription. It includes 30 days free trial for the first month when buying peloton digital membership, and then $9.99 per month, instead of $12.99 per month.
This process can be also done via phone, chat, or directly via the website. Regardless of which way you choose, you will need to get first verified by the SheerID company.
What is SheerID? As a whole, SheerID is an American eligibility verification services company that specializes in offering exclusive discounts for specific target groups like college students, teachers, military personnel, and healthcare workers. They help retailers and subscription service providers like peloton that want to protect the exclusivity of their discounts.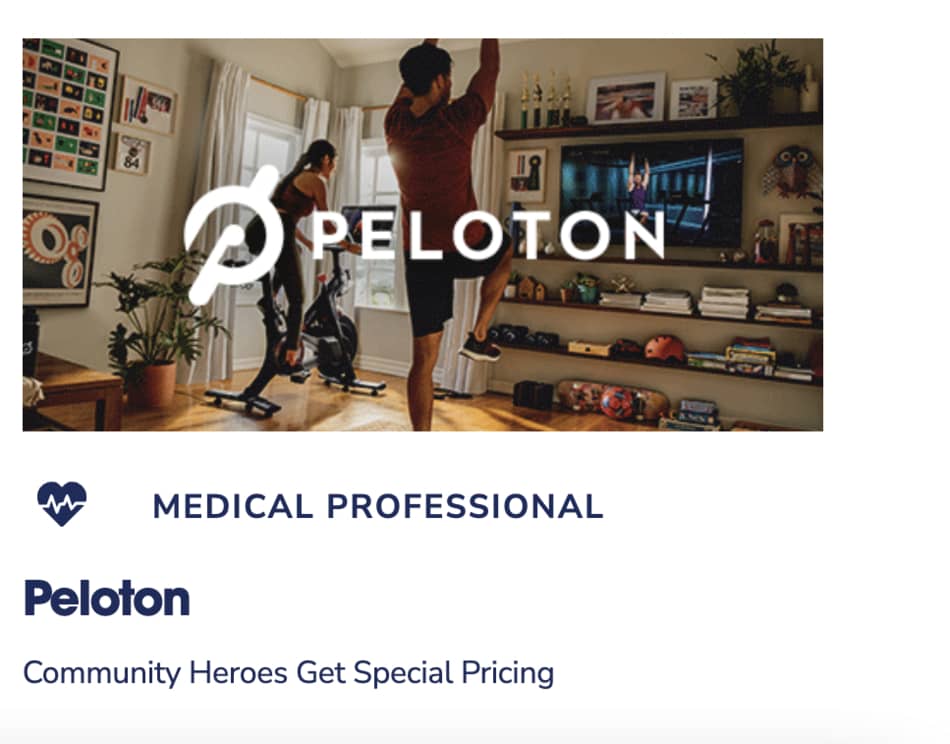 In other words, they make sure that people who apply for the selected discount are eligible to get them.
The company collects personal information that is necessary for verification purposes. It includes:
First and last name
Email address
Date of birth
Organizational association
Place of employment
Licensing documentation
Work ID card
Pay stub from within last 90 days
What I like about this company is they provide fast verification via email. This means you will get instant confirmation whether or not you're qualified. Also, if you're not qualified immediately, they will typically ask you to provide more information.
How To Get Peloton App Healthcare Worker Discount
In general, you can get a healthcare worker discount for the peloton digital app by filling out the online form on the onepeloton.com website. In the form, you will need to fill out your status, organization, name, email address, and postal code.
Status – Status requires you to choose which medical profession or healthcare job you have. You can choose between a Doctor, Nurse, or another healthcare worker.
See below.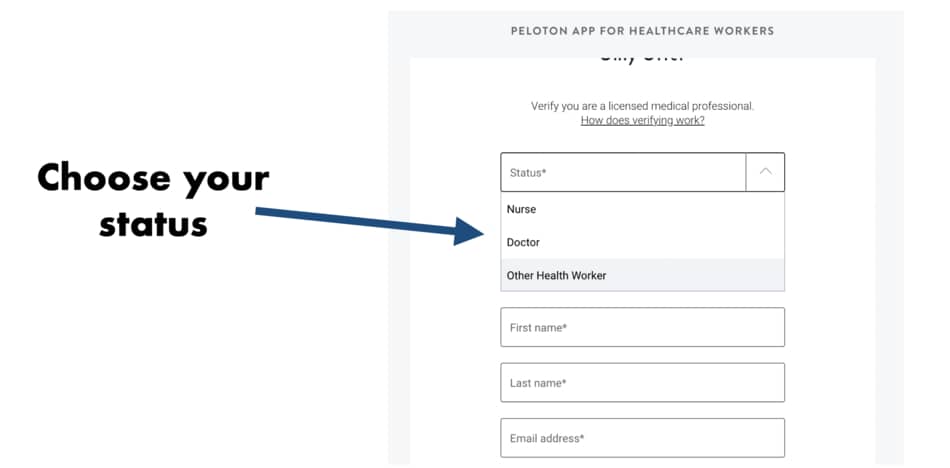 Peloton didn't provide a lot of information on how to fill out these forms.
However, according to SheerID "only medical professionals with an M.D. or D.O license apply under a status of Doctor. Other medical doctors (e.g. dentists, chiropractors) should apply under the status of Other Health Worker" (www.sheerid.com).
Do nurses get a discount at peloton? As a whole, registered nurses and nurse practitioners do get a discount at peloton because they're classified as medical professionals. Other medical professionals include doctors, hospice workers, emergency medical technicians, and other trained caregivers.
You should choose the "Other Health Workers" if you're a physician, respiratory therapist, veterinarian, dietician, nutritionist, pharmacy technician, physical therapist, or family practitioner (more on that later).
Organization – Organization refers to the place of employment like Miracle Mile Medical Center in Los Angeles, or Cleveland Clinic Hospital in Weston.
You just need to press the letter and the auto-complete feature will show you the names of the facilities.
See the picture below.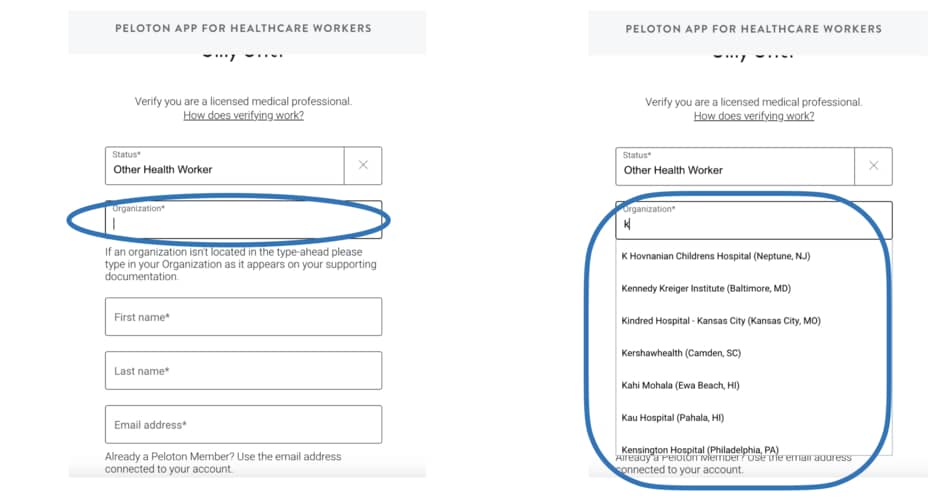 As you can see, the peloton has over 500 medical facilities from the US in its directory. However, if you can't locate your organization from the list provided, then just copy the full name of your medical organization from your work documentation.
Who Is Eligible For Peloton Healthcare Disconut
In general, most medical professionals and healthcare personnel are eligible for the peloton app and accessories discount. These include but are not limited to emergency medical personnel, dental professionals, medical and nursing students, laboratory technicians, administrative personnel, and even hospital volunteers.
Below you can see the full list of healthcare and medical professions that qualify for the peloton healthcare worker discount.
Eligibility for peloton healthcare discount
Medical assistant
Nursing assistant
Licensed practical nurse
Physicians
Physician assistants
Veterinarians
Veterinary technologists
Dieticians and nutritionists
Cardiovascular technologists
Therapists and mental health counselors 
Registered nurses
Pharmacists
Pharmacy technicians
The diagnostic medical sonographer (DMS)
Emergency medical technicians
Clinical laboratory technicians
Dentists
Dental hygienists
Dental assistants
Radiologic technologists
Physical therapists
Physical therapy assistants
Massage therapists
Health information technicians
Clinical laboratory technologists
Respiratory therapists
Family practitioners
Nurse practitioners
Surgical technologists
Medical transcriptionists
Occupational health and safety specialists
Chiropractors
Peloton healthcare worker discount profession list
Please keep in mind that some professionals may need to provide additional information for the verification process.
Conclusion
As you can see, there are several ways to take advantage of the peloton healthcare worker discount. Unfortunately, you cannot use the promo code for an all-access subscription, but you can shave off extra costs when getting a peloton bike or tread package.