Peloton bike gives you access to on-demand and online workouts, as long as you have decent access to the internet. However, what happens when you're offline? Can you use peloton without the internet?
In general, you cannot use peloton without the internet, even with the pre-load feature. Preload features allow you to download the audio and video from classes, so you're not limited by the data plan or poor WiFi connection. However, there are ways to go around it.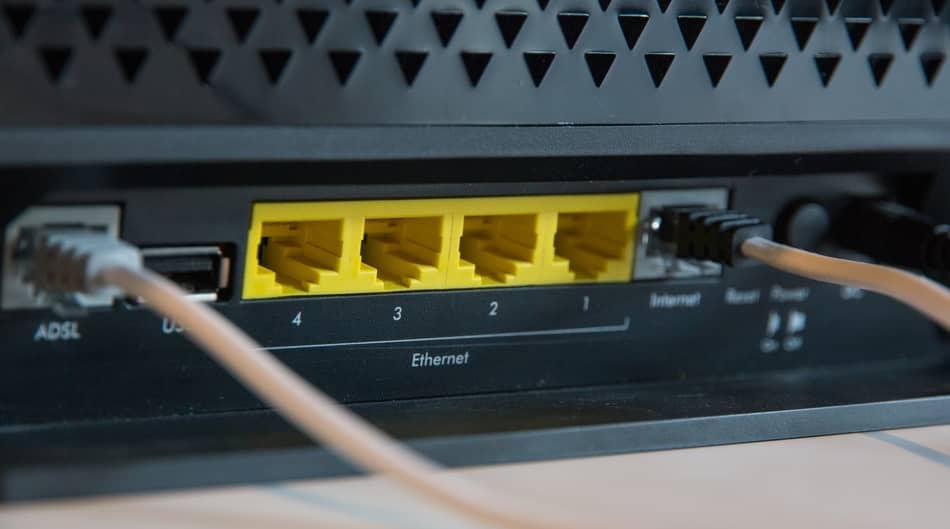 There is one trick you can do as long as you have a good phone or tablet service.
Using Peloton offline
I think that using peloton offline would be a great way to stay active even when your internet has a hiccup or when you're in rural areas with no internet connection.
Peloton offers many "on-the-go" classes like yoga anywhere, outdoor running, meditation classes, or bodyweight cardio that can be done literally anywhere you go.
This is what I think separates peloton on-demand classes from other fitness apps. The idea behind doing 5-minute "anywhere" classes is to be active when you're out and about.
For example.
At the airport while waiting for your next flight.
On the train ride.
At work behind the deck
So it would make sense to be able to download them into the app and then stream without the internet.
However, if you don't have a wifi connection or you experience some internet issues, you better suck it up becasue the app doesn't allow you to even scroll through the classes.

I tried to use peloton without the internet
I like to stay active and the peloton app is often the only way to do it, especially when I travel.
When I don't have access to my bike, I either visit the hotel gym where I stay or use peloton classes on my laptop from my Airbnb to stream some quick bodyweight workouts.
I'm not crazy to search for a hotel with peloton bikes. I'm happy with any hotel. In most cases, the hotels that I choose don't have any bikes!
Here you can see my attempt to do peloton elliptical workouts in a hotel gym where there was no internet connection. Obviously, this gym did not have any bikes so I had to use the elliptical as an alternative.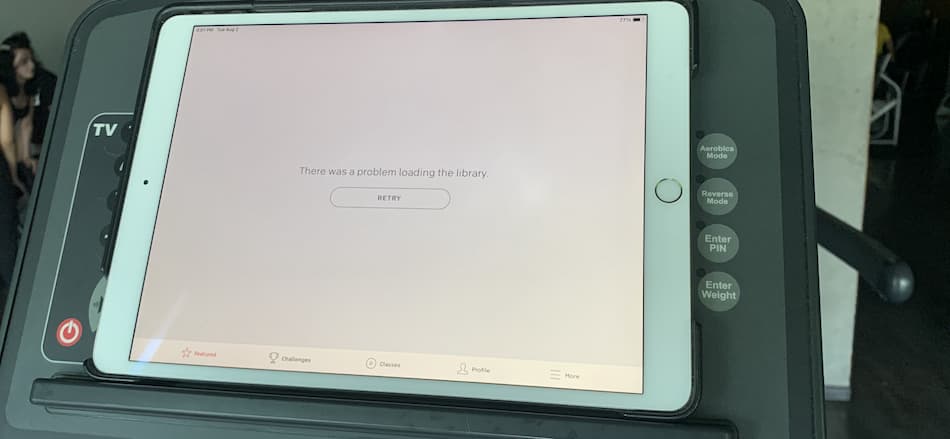 Needless to say, this first workout didn't end up well becasue I completely forget about the internet connection.
(It's funny when you have broadband at home, you completely forget about it when you travel.)
You cannot use Peloton offline
In general, you cannot use peloton offline because to use the peloton app you need to have access to the internet.
The only decent solution you have is to use their "pre-load" feature that allows you to download the heaviest data, which can help with any internet speed issues.
I like this idea because it downloads the biggest files upfront so when you use a poor wifi connection or your phone, you still can stream the classes without any problems.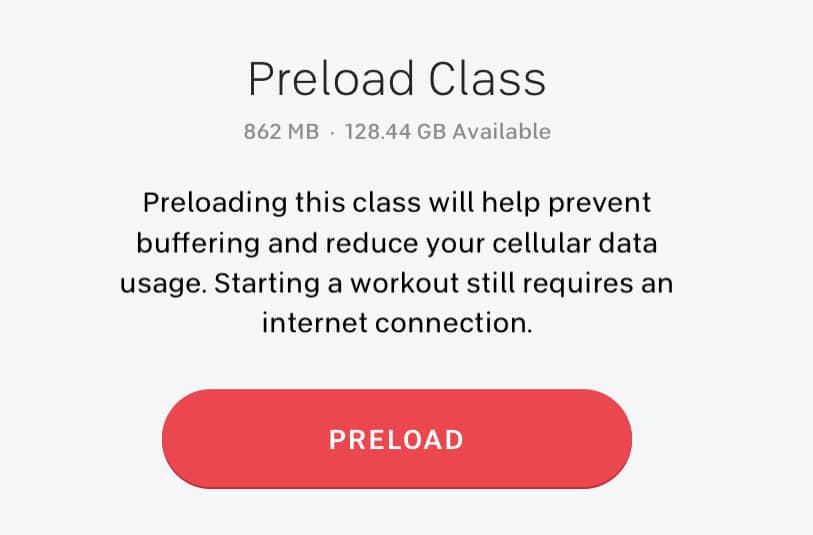 If you don't pre-load the class and you have internet issues, the app will start buffering and all the content stops until the software downloads more data.
How much internet does peloton use?
Streaming workouts from their app can use anywhere from 250MB to 1.5GB, depending on the quality of the video and the workout duration. As far as I know, peloton workouts are filmed with a surprisingly low-quality video, so you can expect to use around 500-700MB per 60-minute class.
I have unlimited fiber optic internet from AT&T, so it doesn't matter. However, if you're streaming workouts from your mobile phone data, it can eat up your MB very quickly.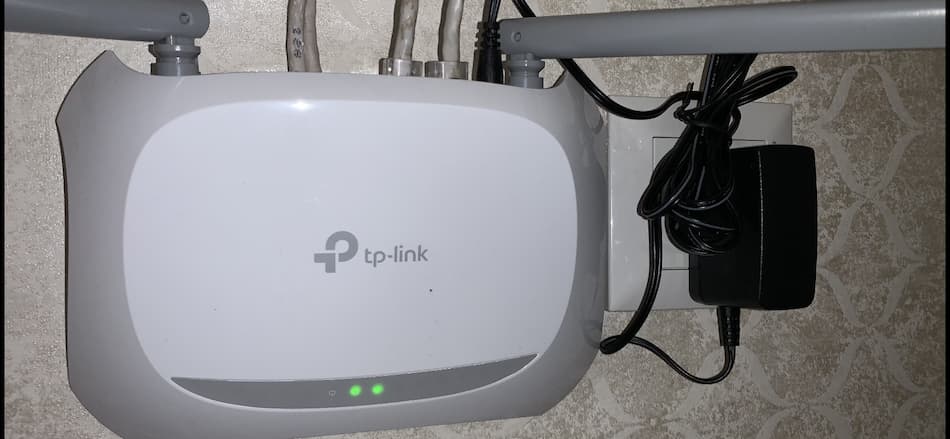 For example.
If you wanna stream workouts from your phone data plan, 15 classes will eat up to 1 GB of data.
If you wanna stream just one 20-minute workout, it will cost you between 70-200 MB.
Pre-loading class in advance saves you a lot of these problems.
If you have not-so-perfect wifi access or you use your mobile phone as a hot spot, it helps to download the most significant chunk of data so you don't have issues with loading or lagging.
Preloading 30-minute peloton workout will set you back to over 800 MB.
That is very handy if you know your internet connection is funky and can lag anytime. So pre-loading the class can save you a lot of stress and ensure you will finish your session.
You cannot start the class without the internet
One thing to keep in mind is that even when you pre-load the class, it won't be able to download the whole data, and you won't be able to start the class offline. So you cannot start the session without the internet.
However, there is a simple way to go around it, as long as you have a decent service on your mobile device.
You can use a personal hotspot
If your mobile phone allows you to be used as a hot spot device, this will work perfectly to temporarily stream a class.
In general, a hotspot or personal hotspot is the feature on the phone that allows using the phone as access to the internet for another mobile device. It allows you to share the cellular data connection of your phone with others.
How do you use peloton without WiFi?
To use peloton without wifi you need to have access to your or someone else hotspot. Any mobile device has a pre-build feature of a personal hotspot that can be shared with others.
Go to your phone and select the setting tab.
In the setting tab, you should find the "personal hotspot" feature. On iPhone, it is usually in the top column.
Once you get there, simply turn it on and set up the password.
For iPhone
See below for step-by-step instructions on how it works.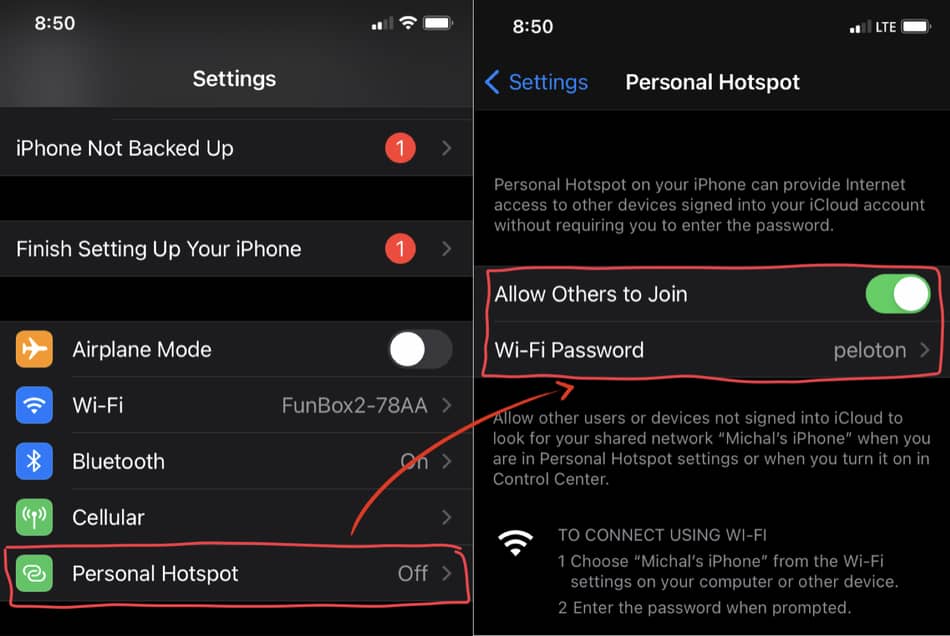 Once you activated the personal hotspot you're almost home.
Now all you need to do is go to your Peloton bike, open the app and choose which internet access you want to connect to.
You should be able to find your phone in the list of available hotspots.
For Android
I don't own an android mobile so please watch the video below where you can see how to activate the hotspot on android devices.
More on using Peloton with a hotspot
The hot spot is only a temporary fix. You need to have enough data on your mobile plan and a full battery to stream the classes.
According to the Peloton website, all of their classes have HD quality (I doubt it) and they take up a lot of MB space.
If you have a mobile service plan with unlimited data, then you can use that for peloton rides.
If you connect your peloton app to the hotspot from your phone it will not only use tons of data but also will drain your battery. Also, you may find that doing live stream classes doesn't go well with low-quality internet.
You can use the Just Ride feature
One thing that I did not expect is that the peloton just ride feature is available, even without the internet. This means you have some internet connection problems, you can use the bike, but obviously not in full capacity.
What I mean is that using the peloton without the internet is not the same experience as being able to log in, see everyone else who is doing the class with you and follow the instructions with good music.
Using a peloton just to ride without the internet is like using your phone without wifi. You can do it because it will work.
However, all the best features and perks work only because of the internet connection.
I wish peloton could do some onboard programs where you can download the entire class and do it while being somewhere outside.
The same feature you can see with Netflix. Netflix enables the feature to download movies so you can stream them without the internet. Some people also use peloton to watch Netflix, but the company does not endorse this activity.
Conclusion
As of right now, peloton doesn't have the option to use the app without an internet connection.
I understand the need for constant internet access as the peloton frequently launches app updates with new features.
However, in the long haul, the company should implement a "download" feature that allows subscribers to access their favorite workouts on the go, without internet access.