Are you ready for a Peloton in-person class? Studio bookings are back. Peloton studios are officially open and offer in-person cycling, running, and walking classes in both London and New York venues.
Today I want to explain everything there is to know about the peloton in-person class and share my experience of visiting the peloton studio three days in a row (it's a good one).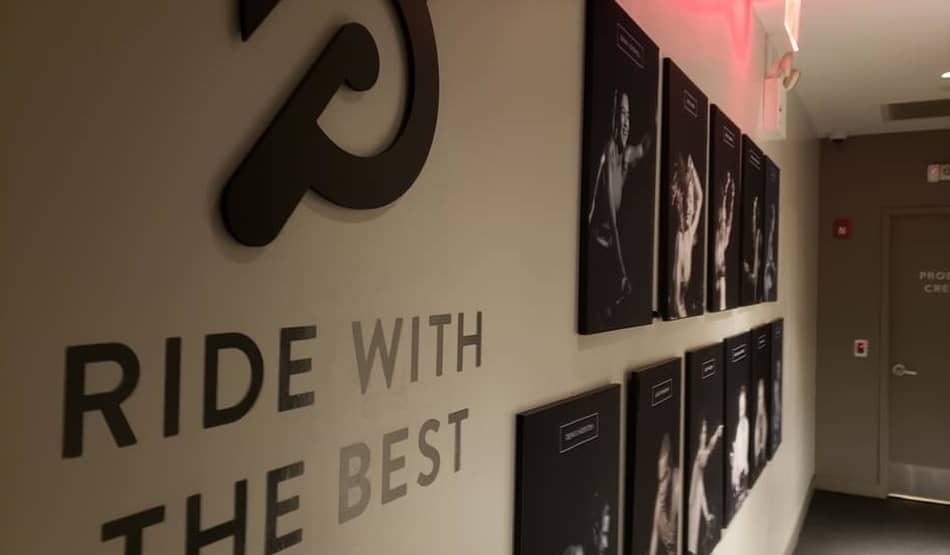 As a whole, the peloton does offer in-person classes in their New York City Studio on 10th Ave, as well as in London on 11 Floral St, Convert Garden, a popular shopping center in the West End. In the peloton studio, you can book an individual ride, as well as group booking or special events.
Here is my overall answer, but if you wanna know more details about how the classes look and when is the best time to book your spot, keep reading.
When are Peloton In-Person classes coming back? (Update)
Peloton in-person classes are back since August 2022. Right now, the only way to join the in-person class is via an online booking.
To book the class, you need to head on to the Peloton Studio website and choose your location (keep in mind that spots are filling up quickly).
For example, most of the in-person peloton classes for New York are fully booked until the end of September.
So classes offer a "waitlist", which means you gonna get your spot only if someone changes their mind and cancels their bookings.
However, if you wanna join the class from London, the schedule is more flexible and there are still many spots available.
New Peloton Studio In Covent Garden
As of now, Peloton moved its studio from its old location at the Oxford Circus into a new state-of-the-art gym, converted from the former Sanctuary Spa in Covent Garden. Covent Garden is a popular dining and shopping destination in West End, London.
The company announced its new multi-million-dollar studio complex will host 10 German instructors and 9 from Britain, starting on Friday, August 19th.
After the Peloton opens the door to their state-of-the-art Studios, you can easily book the session (more on that later).
During Peloton's annual shareholder meeting, CEO Barry McCarthy said he looks forward to reopening Studios, however, the reopening date is still not confirmed.
What is Peloton in Person class?
In general, the peloton in-person class means you can schedule an appointment for a class in one of the peloton studios (NYC or London) and experience the live session with your favorite instructor.
This class will be then broadcasted to all peloton members and available on demand.
What type of classes does peloton offer in person?
Overall, the peloton offers four different types of in-person classes; indoor cycling, tread, bootcamp, and yoga.
Each class has to be either booked in advance directly from the peloton website, or you can walk in and check the studio schedule availability for the day.
I spend three days in NYC and went to peloton studio back to back every day. It was an incredible experience because it provided a completely different level of energy.
How many in-person peloton classes you can do per day?
As a whole, you can do as many peloton in-person classes as you want, as long as you book them in advance.
However, I do not recommend doing more than 2 classes per day because you need to have enough energy to complete the whole class.
Keep in mind that these workouts are all recorded as each session is basically a live production. This means you want to be able to finish the class as there is a great chance you will be on camera.
My Peloton in-person class experience
During my three days in New York City, I did 4 in-person classes:
2 tread classes
1 cycling class
1 yoga class
The studio was full of people and I managed to shake hands with some of the instructors.
On my arrival (which was around 30 minutes before class) I was warmly greeted by the studio staff, signed the waiver, and made myself ready for the workout.
Apart from the people around you, there was a lot of staff and a filming crew.
The peloton studio staff was on point, they helped to choose and set up the bike, as well as an exercise mat.
Do you need cycling shoes for the peloton in-person class?
As a whole, you can bring your own cycling shoes for the peloton in a personal cycling class that are compatible with either SPD or Look Delta cleats.
However, the studio does offer shoes to rent at no additional cost.
You just need to let them know your shoe size.
Keep in mind that peloton shoes are for standard and narrow feet. If you have wide feet and you're used to using your own cycling shoes, it's better you bring them with you.
Can anyone do Peloton in-person classes?
Overall, anyone can do peloton in-person classes but the company does have some rules and guidelines for the studio.
For example, all participants have to be over 14 years old (for yoga and cycling) and over 16 years old for tread classes.
Peloton In-Person Class Rules
Here are the rules and requirements for participating in the peloton in-person class.
In-person class
Requirements
Yoga
No weight or height requirements
14 years old or older
Cycling
Weight under 297 pounds
Heigh between 4' 11″ and 6' 5″
14 years old or older
Tread
Weight under 300 pounds
Heigh between 4' 11″ and 6' 4″
16 years old or older
Peloton in-person class rules
Also, if you're coming to join the class with your underage kids, you have to be present with them in the same class or waiting in the lobby area. You cannot take a different class than your kids.
How to sign up for Peloton In Person class?
Signing up for your first peloton in-person class is relatively easy because to make a reservation all you need is to create an account and confirm your email address.
You can also walk into the studio and make a reservation if there are any spots available. Sign-up starts the hour before the class, which means you have to come in earlier.
Keep in mind that at this moment the peloton does not take online bookings for their studio classes.
This is the official message that peloton displays on their website "in order to protect the health and safety of our community, we are currently not accepting in-person studio reservations. Please check back soon for more information".
Here is the step-by-step process on how to sign up for the peloton in-person class in the studio.
1. Create an account
To sign up for the in-person peloton class you need to first create an online account. Once you created an account, you can make a class reservation by purchasing the studio class credits.
2. Choose the studio
You can make a reservation for either New York City studio or the London studio.
3. Select the date and time
Once you select the location you can now choose the type of class you wish to attend, as well as the time and date.
It normally takes less than 5 minutes where you to receive an email confirmation with the class, time, and date.
How to join Peloton's In-Person class?
Peloton has rules and regulations to join the in-person studio classes because they are running on a strict class schedule as each session is live-streamed to Peloton users worldwide.
This means you have to be on time, check-in, and get to your spot 10 to 5 minutes before the class start. Anyone late will not be allowed to enter inside.
Here's how to take a peloton class in the studio.
1. Check-in
You can arrive at the studio ideally 30 to 20 minutes before the scheduled class start. This will give you enough time to familiarize yourself with the place, change, and get to your spot.
2. Wear athletic attire
You must wear clothes at all times. If you came in without the clothes, make sure to arrive a few minutes before and you can purchase apparel from the studio reception desk.
3. Leave your phone and camera in the locker room
No cell phones or cameras are allowed in the studio. You can leave them safely in the locker room at no extra cost.
4. Find your spot
The studio doors will open 10 minutes before the class and you have 5 minutes to walk in and find your spot.
5. Log in to your peloton profile
When you join the class you can either log in to your peloton membership, or you can just choose the manual ride.
6. Keep the noise down
During the class, you're encouraged to work hard, but at the same time, you must keep the noise down as this can distract live-steaming.
7. Have fun
Don't forget to enjoy the ride and remember that this is a completely different class than any other spin studio workout. I recommend being present in the moment and giving all you got.
You will notice that the bikes in the peloton studio are slightly different from the ones that you have at home. The frame is the same, however, the touchscreen looks like a small tablet where you can see your cadence, resistance, and output.
What can you bring to the peloton in-person class?
Overall, when you come to the peloton in-person class you don't need to bring a water bottle or towel because the studio does provide them for you.
However, you can bring a heart rate monitor and a smartwatch.
Peloton In-Person class Cost
The price for your first visit to the peloton studio cost $20. After that, the price for every in-person class ranges from $25 to $32 per session, depending on the size of the package.
Here is the full breakdown of peloton in-person class packages.
| Peloton in-person class | Cost | Cost per class |
| --- | --- | --- |
| First class | $20 | – |
| Single class | $32 | $32 |
| 5 classes | $150 | $30 |
| 10 classes | $290 | $29 |
| 20 classes | $540 | $27 |
| 30 classes | $750 | $25 |
| Unlimited | $400/month | – |
Peloton in-person class cost
Does peloton have in-person class membership?
As a whole, the peloton does offer studio membership for their in-person classes.
The price is $400/month and it includes access to all studio workouts, as long as you book them in advance.
As you can see, the best price for the in-person workout comes with the 30 classes package, and it's only $25 per class.
On the surface, it may seem excessive, however, if you compare that with other popular cycling studio boutiques in NYC, the peloton in-person goes neck to neck.
Below you can see the comparison of Peloton's in-person class cost with other spin studios available in Manhattan.
| In-person class | First class | Single class |
| --- | --- | --- |
| Peloton | $20 | $32 |
| SoulCycle | $25 | $38 |
| Cyclebar | $20 | $32.25 |
| Harlem Cycle | $12.50 | $19.6 |
| Pedal House | $25 | $38 |
As you can see, the peloton in-person classes are cheaper than almost all of the most popular cycling brands.
SoulCycle is the most popular cycling studio in New York City. They have over a dozen different spin studios, which makes it easier to reserve a spot, compared to peloton studio.
The Harlem Cycle is the most affordable option. They have two studios and they offer some cool deals that start from as low as $95/month for 5 classes, which is around $19.6 per class.
Conclusion
What I really liked about my experience of the peloton in-person class was the combination of workouts together with live production. I also managed to mingle with other members, however, the studio has a fast pace because there is only a 10 to 15-minute break between each class.
Everything was clean and organized from spacious and beautiful locker rooms, all the way to the Peloton studio retail store.