One cool thing about getting a peloton bike is the option to join both live and on-demand classes. However, the variety of classes available will depend on where you live and what day of the week you choose to exercise.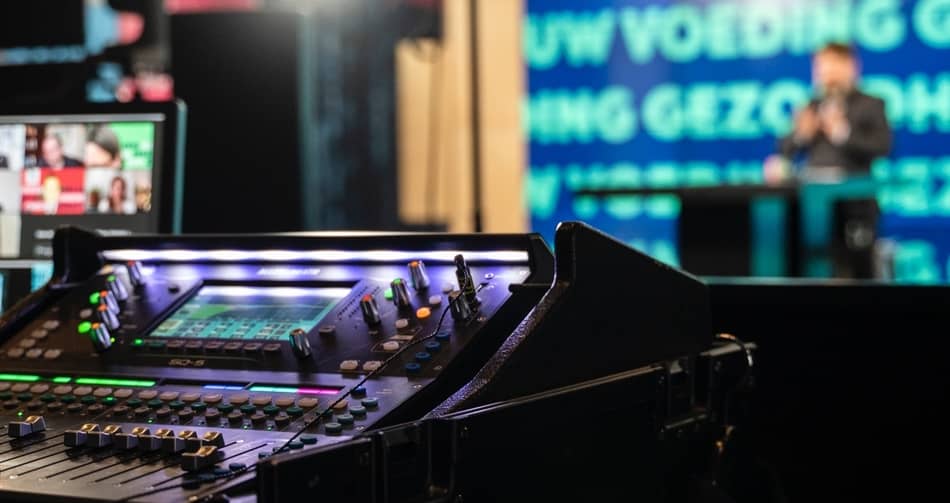 In general, the peloton is doing live classes daily. The most popular peloton live classes are cycling, strength, running, and yoga. Some of the less popular classes like walking or meditation are streamed every other day.
In this article, I will explain everything there is to know about peloton live classes and how to get started.
Does Peloton Have Live Classes?
As a whole, the peloton has over 190 live classes each week that range between cycling, tread, Bootcamp, yoga, cardio, and running. The live classes are live-streamed from the Peloton studio located in New York City and London.
Once the class is finished, it will automatically appear on the peloton library class list with the time and date that was originally streamed.
How do peloton live classes work?
The peloton live classes work in the same way as you would do an on-demand class. The only difference in doing a live class is that you can get a shoutout and high-fives in real time from the peloton instructors.
Shoutouts are typically done for birthdays, century rides, or high scores on the leaderboard.
Are live classes included in Peloton membership? In general, the peloton live classes are included in your monthly membership. Regardless if you have all-access membership for $44/month, or if you have a peloton digital membership of $12.99/month, they both include access to live-stream classes.
However, if you wish to join the live studio class from the New York City location, you need to book in advance and pay a fee of $32 for a single class (more on that later).
Are Peloton Live Classes Worth It?
Overall, the peloton live classes are worth it, especially if you like to be part of the community. During the live class, you will see all the people who are cycling with you. Also, you can engage, connect and inspire each other, just like in the regular group class.
This means if you joined a live class and you previously enjoyed it, or you've been recommended a specific class by your friend, you can search for the class by its date, peloton instructor, and time it was aired.
Every day there are over dozens of live classes that gets converted into on-demand session once the class is done. This means the peloton library has thousands of classes to choose from, even if you miss the live session.
Are peloton live workouts recorded? As a whole, the peloton live workouts are recorded after each live stream. Every class in the peloton library has an embedded time and date sign on the left bottom corner that indicates when was done and who was the instructor.
In fact, all peloton live classes go on-demand after they've been streamed. From there, they will be available in the peloton library for at least a couple of years.
The old classes are routinely deleted from the library in place of the new classes.
Why are some peloton classes not available on demand?
Overall, some of the classes are not available on demand because they are either part of the peloton program, or have been deleted because of a lack of interest from the user side. The more popular is the class, the more likely it will be available for a long.
What is the difference between Encore and live classes on the peloton? The difference between the encore class and the live class is that the encore class is a recorded session (on-demand) that is been re-streamed again in the live schedule. The live class is the actual live session that hasn't been recorded.
How To Find Peloton Live Classes?
Here is the step-by-step instruction on how to find the peloton live classes.
Open your peloton app either on your peloton bike, tread or mobile device.
Select the "schedule tab" on the top of your screen.
If you want to sign up in advance, you can scroll across the next 14 days. If you want to join today, you will see a list of all classes available by their time.
You can further change a class category to see the full list of the live sessions for each separate class.
If you're looking to find the peloton live classes on the app it's exactly the same way.
How do you join a live ride on the peloton?
To join the live ride on the peloton you need to choose the class from the list and click the white "count me in" button on the right side.
Once you press the button, you will get a notification that says "you're in" together with the number of people that also signed up for the class.
If the class is already live, the white count-me-in button will change into the red "join class" button and once you select it, you will be redirected to the live stream.

This means you can join the class after its already started.
Which is a great option because you can participate in the class, even if you're 5 minutes late. However, what I don't like about this option is that people can join the class as late as halfway through the class.
Joining class halfway though means you skip the mandatory warmup. And without the warmup, there is a big chance of injury.
How To See Peloton's Live Schedule?
In general, there are two ways to see the peloton live schedule. One is from the "schedule" tab on your peloton app where you see all of the classes for the next 14 days.
Another option is directly from the "classes" tab that will show you the next 3 live and upcoming classes only.
Peloton instructors cannot see you in live classes
Overall, the peloton instructors can only see your stats and metrics in live classes. They cannot see your face or your anthropometric measurements like height, body weight, body mass index, or any other details that you provide.
This means no one can actually see you. What they can see is your performance score, which is the number on the leaderboard, age range, and where you live.
How early can you join a live Peloton class? Overall, you can join the peloton live class as early as 1:00 AM, depending on where you live. Currently, 8 peloton instructors are leading the classes from the London studio that starts as early as 6:00 AM, which is equivalent to 1:00 AM eastern time.
Location will play a big role in the class schedule because the classes are streamed from set locations.
Are Peloton Live Classes in Real-time?
Overall, the peloton live classes are in real-time but they are depended on your location. The live sessions are streamed from Europe and will correspond to the actual time that you're now in. This means you need to account for the time difference when you join the class.
What time zone are peloton classes In? As a whole, the peloton live classes are broadcasted in two time zones.
The live classes are streamed from peloton studio locations in New York City at Eastern Time Zone (EST), and from the London studio at Coordinated Universal Time (UTC).
What time are peloton live classes?
As a whole, the peloton live classes are streamed anywhere between 1:00 AM to 11:00 PM, depending on your location. The classes are recorded and live-streamed from their locations in London and New York City studios.

I think the time difference is the chief complaint of many peloton members, especially if you're living on the west coast.
People who are located in western time will see the live schedule with weird timing, compared to people who are streaming classes from Europe.
Here is the timeline of the peloton live classes with the most common hours.
| Los Angeles | New York City | London |
| --- | --- | --- |
| 10:00 PM | 1:00 AM | 6:00 AM |
| 11:30 PM | 2:30 AM | 7:30 AM |
| 11:55 PM | 2:55 AM | 7:55 AM |
| 3:00 AM | 6:00 AM | 11:00 AM |
| 4:00 AM | 7:00 AM | 12:00 PM |
| 5:00 AM | 8:00 AM | 1:00 PM |
| 5.45 AM | 8:45 AM | 1:45 PM |
| 6:00 AM | 9:00 AM | 2:00 PM |
| 8:30 AM | 11:30 AM | 4:30 PM |
| 9:00 AM | 12:00 PM | 5:00 PM |
| 10:30 AM | 1:30 PM | 6:30 PM |
| 12:00 PM | 3:00 PM | 8:00 PM |
| 3:00 PM | 6:00 PM | 11:00 PM |
Peloton live classes time difference
As you can see, having the live schedule dependent on the location of the peloton studio leads to broadcasting time conflicts.
People who live in Europe have more live classes available across the whole day between 6:00 AM to 11:00 PM. That kind of reflects the typical fitness schedule that you would see in the cycling studio.
On the other hand, people who live in New York can join the classes as early as 1:00 AM, but there is not much going on after 6:00 PM. So if you want to join the class after hours, you need to use on-demand classes only.
Finally, people who live in LA have several options available in the morning between 3:00 AM to 10:00 AM, but not much until 10:00 PM.
What Can I Expect From a Live Peloton Class?
As a whole, the live classes are much different from the on-demand sessions because you can actually see the instructors in real time.
From the live classes, you can expect to see a lot of shout-outs, high-fives, and positive encouragement from instructors.
What I like about the live classes is they motivate me to work harder, versus doing on-demand.
I'm most likely to give my all in the live session, trying to climb on the leaderboard as high as possible, and if I get a shoutout it feels really inspiring.
Do peloton live classes fill up?
Overall, the peloton live classes do fill up very quickly but there is no limit to how many participants can join the class. The record-breaking number of people who participated in one single live class was 23,000, led by Peloton's vice president Robin Arzón.
How do you know if a peloton class is live? In general, you can find if the class is currently live on your main dashboard on the peloton digital app. In the main tab select the classes on the top right corner. The first list on the top shows you the current class that's taking place, together with you the picture of the instructor.
What Classes Are Live on the Peloton?
In general, all of the classes that are on the peloton are live. However, some classes are more in demand and are much more popular than others, which reflects in their frequency throughout the week. The cycling class has the biggest demand and is streamed 83 times per week.
Does peloton do live strength classes? As a whole, the peloton does between 30 to 40 live strength classes each week. The most popular days for strength classes are Monday (7 live classes) and Wednesday (8 live classes). Sunday and Tuesday are the least busy with only 3 strength classes per day.
Does peloton have live yoga classes? Currently, the peloton is doing around 36 yoga classes per week. The busiest day for yoga is Tuesday (6 classes per day) and Wednesday (7 classes per day). Also, peloton live yoga is popular on weekends, comparing to cycling classes where there are the least rides available.
Below, you can see a peloton live class schedule by week and the number of classes for each category.
| Class type | Live class frequency |
| --- | --- |
| Strength | 35 classes per week |
| Yoga | 36 classes per week |
| Meditation | 5 classes per week |
| Cardio | 3 classes per week |
| Stretching | – |
| Cycling | 83 classes per week |
| Running | 18 classes per week |
| Walking | 8 classes per week |
| Tread Bootcamp | 5 classes per week |
| Bike Bootcamp | 4 classes per week |
Number of live classes on peloton by week
Update: Peloton announced that they cancel all live bike bootcamp classes.
As you can see, some of the classes like stretching don't get live streams at all. Also, classes like bike boot camp or cardio only have 3 to 5 live classes each week.
Can You Do Peloton Live Classes Anytime?
In general, you cannot do peloton live classes anytime because each day has an independent class schedule. Just like in the regular fitness center, you have a set fitness program with already designated time slots for every class.
That being said, the times of the classes do change from day to day, which is good because it makes the peloton experience more interesting. You don't get bored by doing the same class over and over again with the same instructor.
After doing peloton classes for over a year, I can definitively say that the schedule is evolving. The company is adding more and more times, as well as more classes variety.
Is there a way to pause a peloton live class?
You cannot pause the peloton live class. The only classes you can pause, reverse or scroll forward are the on-demand classes. Live class means you actually join the recording class in real-time from the studio.
The live peloton classes are filmed in the Peloton live studio. Currently, there are two locations of the peloton studio in London City located at 11 Floral St, and the New York City studio located on 10th Ave. To get into the live studio class you need to book in advance.
Peloton Live Classes In Studio
If you're lucky to live close to New York City or London you can book yourself in for the live peloton studio class. Being in the live studio not only allows experience a spin class face-to-face with your favorite instructor but also gives you a chance to network, connect or buy some merch.
What is a Peloton studio class? In general, the peloton studio class is a group cycling class that is recorded and later available in the peloton app. Doing a peloton studio class means you will be in person with the instructor and everyone else who is currently taking the class.
How much is a peloton live class in the studio?
On average, the peloton live class in the studio costs 32 dollars for a single ride.
However, you can also buy:
10-pack for a discounted price of $290
20-pack for $540
30-pack for $750
Alternatively, you can also get an unlimited entrance membership for $400 per month.
I personally think that $400 per month is a bit excessive. However, going for a single session can be worth it.
In fact, I know many people who traveled to New York City, especially to ride in the peloton studio for their 100th ride, birthday, or as a part of their itinerary.
You can read here my full review about "peloton in person class" after visiting the studio for three days in a row.
How do you take a live peloton class in New York? As a whole, to take a live peloton class in New York you need to book in advance through the peloton studio website. However, at the moment the studio remains closed and peloton does not accept in-person studio reservations.
Are peloton studio classes worth it? As a whole, the peloton studio live classes are worth it, especially if you've been a peloton member for a while, and you want to engage with some of your best peloton instructors. During the studio class, you will see how the classes are recorded and you have an opportunity to meet up with instructors.
Does Peloton Only Have Live Classes?
In general, the peloton doesn't only have live classes. In fact, every week peloton schedules and releases over 190 live classes. The most popular live sessions are cycling, with an average of 12 classes per day. Other popular classes are yoga and strength.
The peloton also offers over 23,000 on-demand classes. Some sessions like pilates, dance cardio, or barre have been added and are only accessible through the peloton library.
How often are peloton live classes? In general, the peloton live classes are done every day, even every hour at peak times. Some classes like cycling can be streamed as often as 15 times a day on Wednesdays and Thursdays. On the weekends, there are only 8 to 10 cycling classes per day.
How Many Live Peloton Classes a Day?
Overall, the number of peloton live classes depends on the day of the week. The busiest day is Wednesday with over 38 daily live classes. The least busy is Saturday and Sunday with 21 and 21 live classes respectively. The weekly average is 28 classes per day.
Have a look at the table below to see how many live peloton classes are available on each day of the week.
| Day | Number of classes |
| --- | --- |
| Monday | 30 classes |
| Tuesday | 31 classes |
| Wednesday | 38 classes |
| Thursday | 32 classes |
| Friday | 24 classes |
| Saturday | 22 classes |
| Sunday | 21 classes |
Peloton live classes in one week
Peloton Live Classes vs Recorded
The difference between peloton live classes and recorded is that during the live class you get a chance for an instructors shout outs. This is really inspiring, especially for people who are just getting started on their fitness journey and need extra motivation.
Doing cycling classes from home may seem like tedious activity, especially if you're by yourself. However, when you're doing live sessions, you see all the participants and it makes you feel like a part of the group.
On the other hand, doing on-demand classes is good for people who like to pick and choose their favorite class, want to be time-independent, or have a busy schedule that doesn't match with the live stream classes.
Can you do live peloton classes on the app? In general, you can do live peloton classes on the app, even without the bike. The only difference between doing a live session on the digital app is that you don't see the leaderboard, you don't have matrics and you cannot compare yourself with others.
How Do You Ride Live With a Friend on a Peloton?
Another thing that I really like about peloton live classes is that you can join a class with friends. To take a peloton session with your buddies, all you need is to join the same live class and watch each other on the leaderboard.
Conclusion
Doing peloton live classes is like being in the cycling studio. Not only you can see people on the leaderboard, but also you can get picked and mentioned for your performance, strive score, or the milestones that you've earned.