Today I wanna show you how you can dramatically improve your peloton rides and make it sound like you're in a live spin studio (and why you should never use the bike speakers again).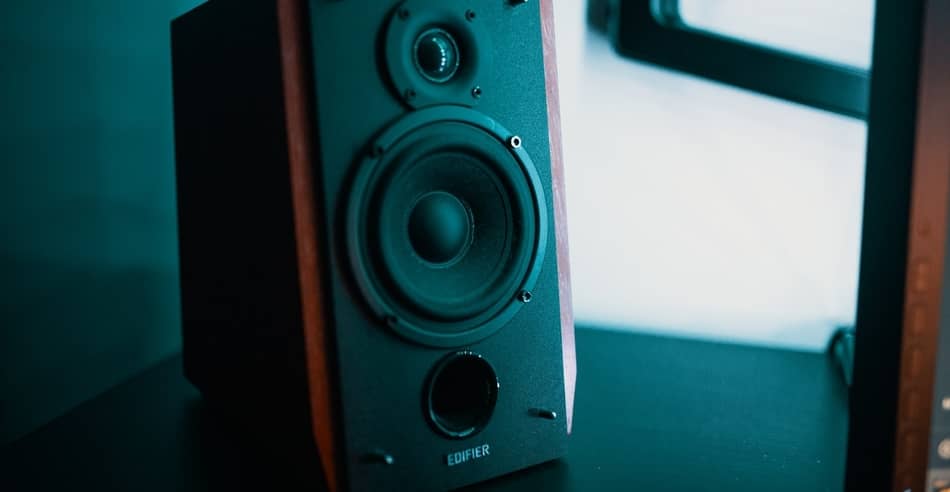 As a whole, both peloton bikes have a built-in stereo speaker system. The peloton original has 2-channel audio with 2×10 watt speakers, and the peloton bike+ has 4-channel audio with 26-watt front-facing stereo speakers, as well as woofers facing out.
However, the sound quality from the original bike is terrible, unless you are willing to upgrade your speakers (more on that soon).
Peloton Bike Speakers
This year I decided to transform my home gym and the number one thing I did was to make my peloton sound better.
The original peloton bike does have a screen with rear-facing speakers, but they leave much to be desired when it comes to sound quality.
Not only the sound quality is awful, but I also miss what the instructors say (which dilutes the vibe around the music).
Are peloton speakers good?
For me, the peloton bike screen speakers aren't good or loud.
It has two basic 10 watts speakers that are aimed in front of the bike, which makes it difficult for me to understand what the instructor is saying with the loud music.
Plus, with the high volume, I can feel the audio vibrations on the bike.
For me, the music is what gets me through my rides and the bikes' speakers just weren't good enough.
Like most people, I like to use wireless headphones almost every day. However, on the days when my headphone battery dies, or I need to hear ambient noise like a phone, doorbell, or kids, I use speakers.
Where are the speakers on the Peloton?
The speakers on both of the Peloton bikes are built into the screen. However, there is a big difference between the bike and bike+ because the bike has only two small tablet speaker units built-in to the screen.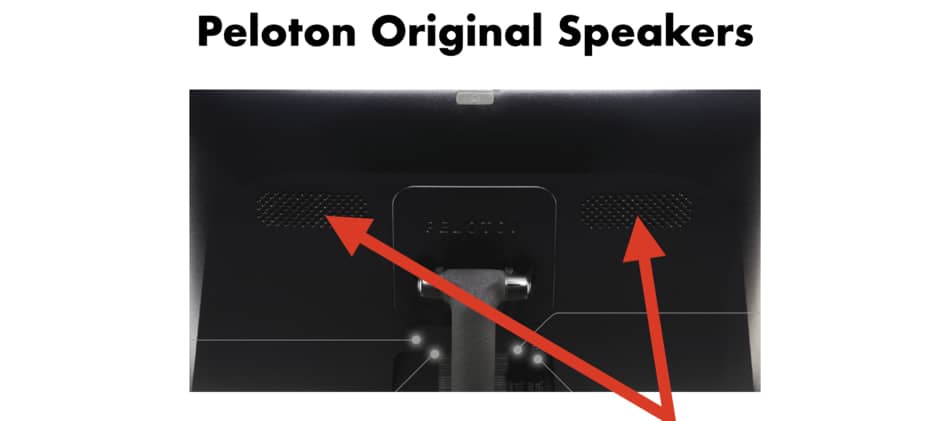 As you can see above, the speakers are placed on the back of the screen, which makes the music sound terrible because the volume projects away from the rider.
Plus, if you want to listen to music and hear the instructor's cues at the same time it can feel frustrating.
Are peloton speakers mono or stereo?
The speakers on the original peloton bike are mono, which means they use only one channel to convert a signal to a sound.
This gives the effect of sound coming from one source and one position.
On the other hand, the new peloton bike+ has a front-facing soundbar on top of the screen (with the camera in the middle) that includes multiple speakers.
Here's a photo of my peloton bike+ soundbar.

Notice how wide and sleek it looks. This soundbar is screen-wide and it provides high-quality sound directed at the rider.
This makes the sound quality dramatically better, particularly in the lower frequencies.
I think that having a speaker bar at the top of the screen is an excellent update because you can make the bike sound louder and clearer.
However, if you're looking for a jaw-dropping sound, I still recommend you get an external speaker or soundbar.
Peloton with external speakers
The peloton allows you to connect two types of external speakers.
1. Wired speakers
The wired speaker is a traditional external stereo sound system that you can connect to the peloton bike via a 3.5mm audio jack.
The audio jack sits on the side of the screen monitor in the original bike, and in the front handlebars in the bike+.
I think that wired speakers are a great choice if you have a larger workout room, and you don't have to save much space.
Plus, you don't have to constantly think about charging them.
2. Wireless speakers
You can connect wireless speakers to your peloton via Bluetooth, without cables lying around.
Bluetooth external speakers have similar sound quality as the wired ones, however, they have limited battery life.
This means you need to keep charging them every 4 to 8 rides.
The wireless Bluetooth speakers are also an excellent choice for people who have small space and are not keen to play with cords and wires.
However, I know that not all of the Bluetooth speakers are compatible with peloton (more on that soon).
Are peloton external speakers worth it?
I think yes.
In general, the peloton external speakers are worth it because they provide significantly better sound quality.
Plus, these speakers are available in a large variety, their durability is getting better, and they're also becoming more affordable than ever before.
How to connect Peloton to the speaker?
You can connect external Bluetooth speakers to the peloton bike. Here is the step-by-step instruction.
Turn the speaker into the pairing mode and toggle the Bluetooth setting ON in your peloton settings. This will enable your bike to search for and add speakers.
1. Turn on the speakers
Take your speakers and turn them on. This will enable pairing mode and make them ready to connect.
2. Log in to the bike
If your bike is switched off, turn it on and log in to the main menu.
3. Select the menu
The menu button is on the bottom right corner of your home screen. It has a "three dots" icon.
4. Select "device settings"
Once you press on the "device settings", it will open a window where you can manage your WiFi and Bluetooth.
5. Select the "Bluetooth" option
Turn on the Bluetooth by tapping the toggle bar in the top right corner. This will display all Bluetooth devices nearby your peloton bike.
6. Pair your speakers
After the Bluetooth is turned on, the peloton should find and pair with the device you wish to connect.
Benefits I've experienced from using peloton with speakers
I love loud music and I cannot stand working out with a lousy stereo. Apart from the studio-quality sound, there are many other benefits of using peloton with your speakers.
If you want a studio-quality sound with your classes you do need external speakers for the peloton bike.
1. Live class experience
Peloton is about delivering a cycling class experience to your room. Well, it can, but you need good sound quality.
Having an external soundbar or speaker system not only can radiate and reflect the music around the room, but also make you feel like you're in the live class.
2. Portable
Bluetooth speakers are not only wireless but also easy to move around, without compromising the quality.
3. Sound quality
Bluetooth speakers are getting better, which means you are able to blast the music at times during peloton classes.
4. Price
You can get good quality speakers with tweeters and full-range drivers for under $250.
What are the best Bluetooth speakers for Peloton?
Some of the best Bluetooth speakers for the peloton that I tried are:
Bose SoundLink Revolve
Sonos Move
JBL Charge 4
These speakers are great and can dramatically improve your overall experience, especially if you want a dance party in your workout room.
From my experience, I think the best option is the Bose SoundLink Revolve II (see photo below).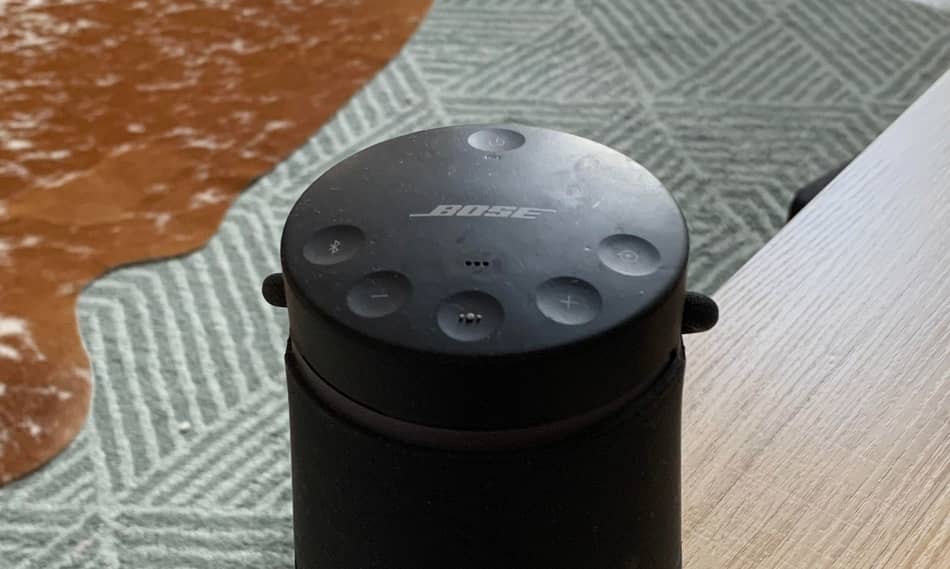 I've used this speaker for the last couple of years. This is a wireless Bluetooth speaker that is compatible with the Peloton bike and tread. It is lightweight, as well as water, and dust-resistant.
It has built-in dual-passive radiators in a round shape, which allows for 360° sound coverage.
Is the Bose revolve worth it?
As a whole, the Bose SoundLink Revolve is worth it because it delivers quality sound at an affordable price.
I think this is the best speaker I've ever used not only because it's light and compact, but it is loud and has deep bass.
However, you can hear sound distortion if you place it too far away from your bike. The sound is much better than the Peloton speakers especially since it's pointed 360° sound coverage.
TIP: You can add a micro USB to a USB adapter and a micro USB cord (with the right length) and charge it directly from your bike.
Of course, there are many different popular Bluetooth speakers for the peloton, however, I haven't personally used all of them.
Best Peloton speakers according to community
I did a small survey on several social media forums where I asked the peloton community about the best speakers they've ever used.
Here are the top picks based on the community experience.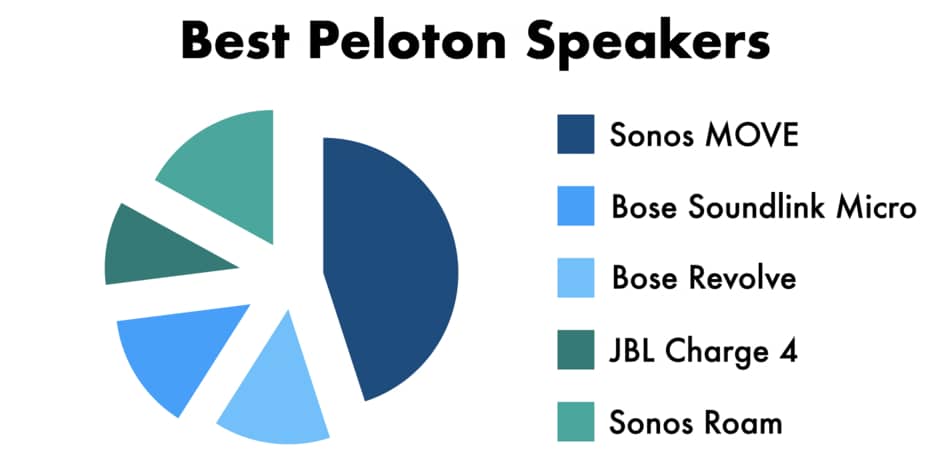 Sonos Move
Bose Soundlink Micro
Bose Revolve
JBL Charge 4
Sonos Roam
As you can see, the overwhelming majority of people use and like Sonos Move.
This speaker has excellent sound quality (and is slightly more expensive).
This is a wireless speaker, but the sound is comparable to a high-tech soundbar. If you're looking for a concert-like experience, almost 50% of people said they use Sonos throughout the house.
Here's how Sonos looks like.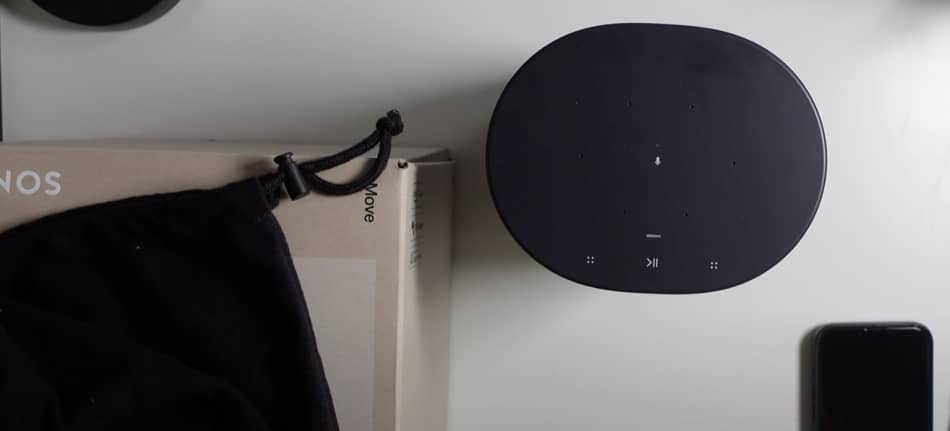 This particular is a Sonos MOVE, which is louder and has better bass than Bose.
A night and day difference, compared to the peloton factory speakers. My favorite thing about this speaker is it has a charging base, which is extremely convenient.
Even when you take it out from the charging dock, it has 11 hours of battery life, which lasts for almost all week of the peloton classes.
One thing that I don't like about this speaker is much heavier and bigger than Bose. This means you will have fun and enjoy quality music, but if you want to take it outside, the Bose is more practical.
Should I buy Bluetooth speakers for Peloton?
As a whole, you should invest and buy a Bluetooth speaker for the peloton to boost your sound quality, enjoy deep bass and listen to the music in a surround sound system.
Plus, a good-quality wireless speaker is also useful for other workouts where you stream your music.
I think that having the right speaker is a game-changer because it makes you feel like you're in the group class in the fitness studio.
Of course, sometimes you cannot listen to loud music, which is why you should also consider getting a pair of earbuds.
These will help you to train in the early morning, or late at night and not wake up others around you.
I've already made an article about "peloton headphones", which I recommend you read.
Using a peloton without external speakers
In short, you can use a peloton without external speakers.
However, the sound from the bike is terrible and once you try to work out with the wireless speakers on you will not want to go back.
As you can see, the peloton has speakers installed on the back, which makes the music quality lousy. If I don't use speakers (or earbuds) I have a difficult time hearing certain instructors.
During my classes, I need my music to blast and after I've tried external Bluetooth speakers, never use the bike's speakers again.