Last year I sold my original peloton bike before I bought my new bike+. In this article, I want to share with you everything that I've learned on how to sell your peloton bike (and tread) and what needs to be done when handling the sale.
As a whole, you can sell peloton bike in multiple ways including listing them on third-party online marketplaces like Facebook, eBay, or Craigslist, as well as selling in-person to your friend or family member. Alternatively, you can use the Peloton trade-in program.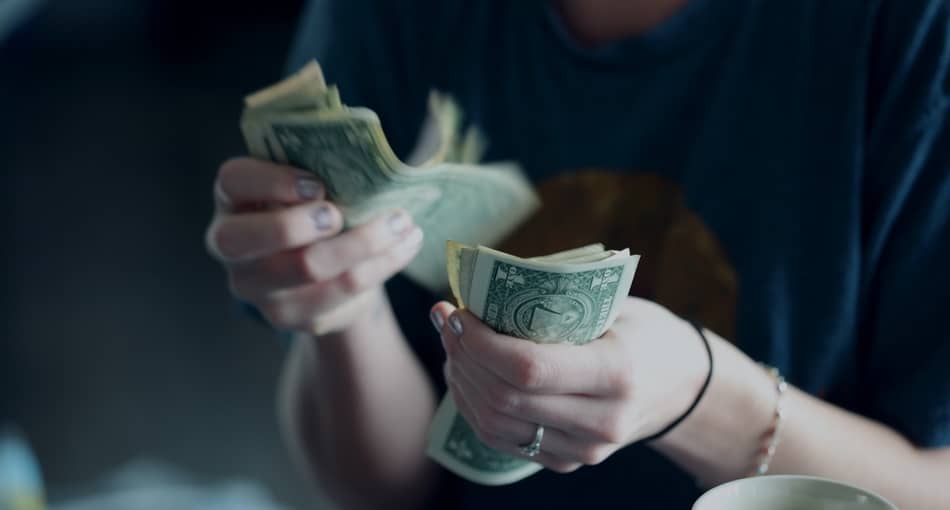 However, keep in mind that selling your used peloton comes with limitations on the buyer's end like no warranty transfer, which will have an impact on your asking price (more on that later).
Why I Sold My Peloton?
In general, I've sold my peloton using the trade-in program because I wanted to upgrade from the old original bike to the sparking new bike+ with new features like auto resistance, built-in soundbar speakers, and a moving screen.
What is the Peloton trade-in program? Overall, the peloton trade-in program is a service that allows you to exchange your original peloton bike for bike+ and receive a $700 discount, as well as workout accessories worth $180 value like exercise mats, resistance bands, yoga straps, and yoga blocks.
Is the Peloton trade-in worth it? As a whole, the peloton trade-in program is worth it because it saves time and takes the pressure off the seller. Plus, you don't have to wait until you find the buyer. You also don't need to worry about the shipping or taxes because the peloton takes care of it.
The only downside about this program is you don't get the best deal because the original bike can be sold on the online secondhand marketplace for up to $1,500, depending on the condition.
Can you trade in the Peloton treadmill? As a whole, the peloton doesn't offer a trade-in program for the treadmills because currently there is only one treadmill for sale. However, feel free to reach out to the support team and find out about the trade-in options if you want to switch your tread for the bike.
Btw, right now, you can get a Peloton Original for a nice discounted price on Amazon. Details here.
(if you buy through links on this page, I may earn a small commission).
Can I Sell My Peloton Bike Back To Peloton?
In short, cannot sell your peloton bike back to the peloton. However, the company offers a return policy that allows refunding the bike with no questions asked within the first 30 days after purchase for free. Any returns after this time will be charged
The difference between the peloton trade-in program and return is that the trade-in program exchanges your bike for the newer model and they offer reimbursement of $700.
On the other hand, the peloton return policy allows you to give the peloton back (in case you changed your mind) that is free of charge, as long as you return the bike within the first 30 days of Home Trail after your purchase. After 30 days you need to pay $250 shipping costs.
Why do people sell peloton bikes? In general, most people sell their bikes because they stopped using them, relocated abroad, or moved into a much smaller apartment. Plus, the financial situation can change and people may not be able to afford to pay for the subscription, so there is no point in keeping the bike.
Who buys used peloton bikes? Overall, people buy used peloton bikes all the time because they can save money. The price for a new Peloton bike starts at $2,495 if you buy it from the website. However, if you buy second-hand, you can find the same bike for half of this price.
Where To Sell A Peloton Bike
Today you have over dozen of online marketplaces that can list your Peloton bike for sale. The place you choose to sell with mainly depends on your location.
Is there a secondary market for peloton bikes? As a whole, there is a secondary marketplace for peloton bikes on eBay, Poshmark, Etsy, Craigslist, Facebook Marketplace, ThreadUp, Mercari, and Tradesy. You can also join private Facebook groups where people buy and sell everything about the peloton.
Most of these places have low commission fees and a large community of people, which increases your odds of finding a buyer for your bike, quickly.
Also, you need to make sure that the platform you're using has transparent information of who is paying the shipping, who is handling the returns, and if they offer a guarantee.
Other great places to sell your peloton bike include:
Friends and family members
Local gyms, fitness clubs, and health clubs
Local hotels and Airbnbs
I think that asking locally around you is the best place to start because it's more convenient and doesn't require shipping.
When is the best time to sell the peloton bike? In general, the best time to sell the Peloton bike is when you notice that you don't use it anymore. Instead of collecting the dust, it is better to sell it and move on.
How To Sell Peloton Bike On eBay
Overall, you can sell your peloton bike on eBay, which is one of the most popular online secondhand marketplaces for buying and selling products, both new and used.
The good thing about eBay is you can sell anything and reach hundreds of people locally. Plus, you can always bargain with others.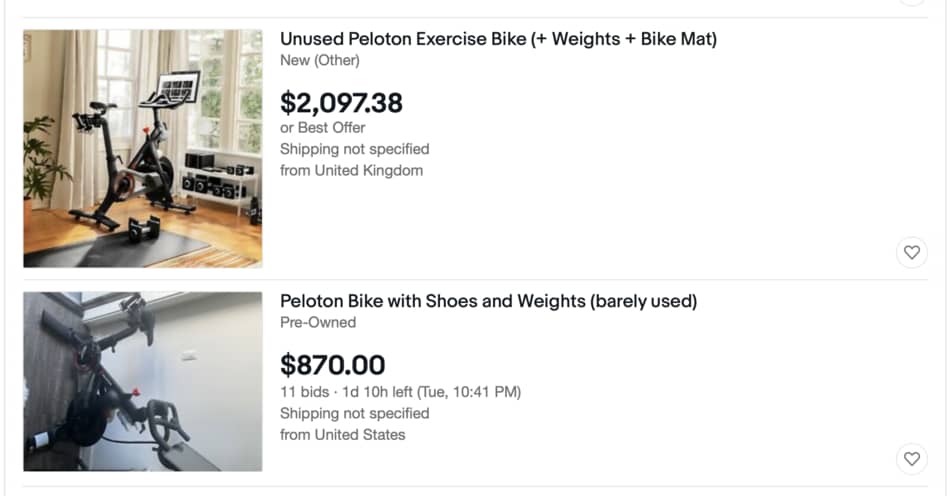 The bad thing is you have a lot of competition, which means you can spend weeks before you get the actual sale.
Here are some tips that can help you sell peloton bikes on eBay.
Sign up and open an eBay account – First thing you need to register your eBay account. I recommend using a personal account because you don't need to pay additional fees.
Create listings – To create listings you will need to choose the category, and write a detailed description where you will include everything there is to know about the condition of the bike.
Make professional photos – When selling peloton bikes on eBay make sure you take high-quality pictures in natural light. This will increase your chances of getting more views and interest. Also, if the bike has any scratches, make sure to take separate pictures that will show them.
Also, if you have more items included in the package like an exercise mat, yoga strap, dumbbells, or resistance bands, you can include all of them in the package, which will drive the price of the sale higher (more on that later).
How To Sell Peloton Bike On Facebook
I think selling the bike on the Facebook groups and marketplace is the most convenient because you don't have to create an additional account, and potential buyers can reach you directly through the Facebook messenger app.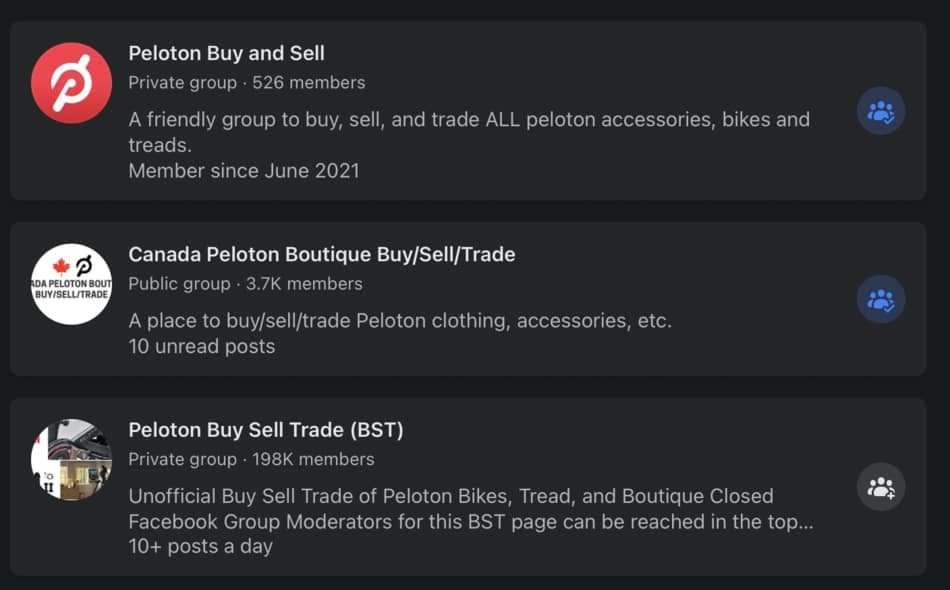 I also think selling on Facebook has its advantages because it's much easier for other people to share your listing among their friends and family members. Plus, the platform has 2.91 billion monthly active users, which increases your odds of selling the bike right away.
Here are some of the most popular peloton buy and sell Facebook groups.
Peloton Buy Sell Trade (BST) – Unofficial buy sell trade of peloton bikes, tread, and boutique private Facebook Group to list new and used Peloton accessories, apparel, and Peloton bikes, tread, and other Peloton-branded workout gear (link).
Peloton Buy And Sale – Another friendly group to buy, sell, and trade everything about peloton accessories, bikes, and treads (link).
Peloton Apparel Marketplace – Buy, Sell, Trade – Another unofficial private buy, sell & trade group for all Peloton. This one is more about the apparel, but you can still list your peloton bike there (link).
Peloton UK buy/sell/trade – This group is strictly created for people living in the UK to buy, sell or swap anything loosely Peloton-related, which includes bikes and accessories, boutique purchases, and anything else related to cycling and fitness (link).
Also, please remember that you can use Facebook Marketplace to list your peloton bike. I like this option because it allows you to narrow your reach to only local people that live close to you. However, if you're living in a small town, this may take significantly more time to sell the bike.
How To Sell Peloton Bike On Craigslist
Another place to sell peloton bikes and treads is on Craigslist. However, I personally stay away from Craigslist because I had some sketchy experience in the past, so I don't recommend using it.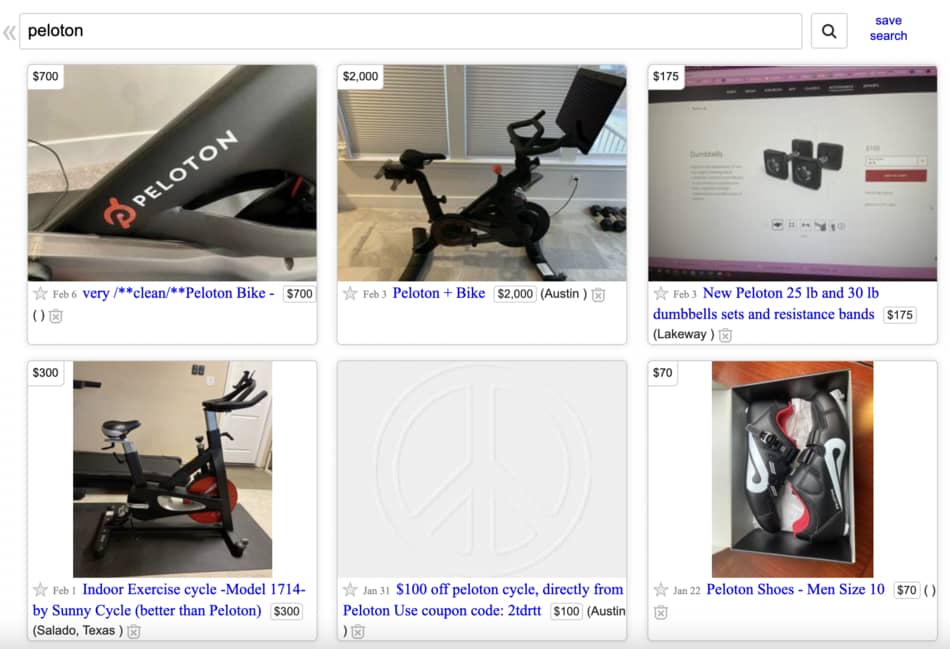 Open Craigslist website – To start you will need to set up your preference and location to ensure your listing is for nearby people.
Set up the account – You need to fill in the information like your address, email, details of listing, as well as choose the professional pictures. It's easier to sell an item if you have good-quality, current photos.
Click publish – Once your ad is ready, click publish and wait for the confirmation email.
How Much Should I Sell My Peloton Bike For
Overall, the selling price for your Peloton bike will depend on the type of bike you have (2nd generation or 3rd generation), as well as the condition of the bike. Plus, adding additional exercise equipment can drive the price for the sale higher.
People who buy peloton bikes also need other items like peloton apparel, cycling shoes, exercise mats, dumbbells, resistance bands, and yoga blocks. Adding these to your offer increases the overall value and can drive the price higher.
How much are used Peloton bikes selling for? On average, the used peloton bikes sell for 50-80% of the original price, depending on the condition and time they were used. Bikes that's been used for more than two years are priced at 50-75% of the original value, whereas bikes that are less than one year old can be sold by up to 80% of the original price.
I think that's a fair price.
I don't recommend selling the bike for the same price that's been bought because the bike may be in perfect condition, however, the peloton doesn't transfer the warranty, which significantly lowers the value.
Can I buy a peloton warranty for a used bike? In short, you cannot buy a warranty if you bought a used peloton bike. Of course, the peloton will still be able to fix and repair any future issues, but at the buyer's cost.
The only thing you can transfer to the buyer is your membership.
What Needs To Be Done When Selling A Peloton Bike?
Here are some more tips on what needs to be done when selling peloton bike and tread on the secondhand marketplace.
Set realistic price – Choosing the right price can significantly speed up the selling process.
Reset the setting for the new owner – This requires resetting the factory setting and possibly calibrating your bike. To learn more about "peloton calibration", check out my article here.
Deep clean – Make sure you get your bike squeaky clean before doing any pictures and listing it for sale. This includes cleaning frames, seats, handlebars, and dusting off any parts that are hard to get.
Schedule repairs if needed – If your bike is broken or requires some fixing, make sure to first fix the problem before selling it. If you have a warranty, the peloton will fix most of the issues for no extra cost, which will drive the price higher.
Can I sell my Peloton treadmill? As a whole, you can sell peloton treadmill on any secondhand marketplace. However, keep in mind that the peloton tread weighs 430 lbs, which can cost around $500-$700 for standard shipping.
Conclusion
As you can see, the easiest way to sell the bike is via friends and family members that live locally. The second best place is to use secondhand marketplaces like Facebook Groups, eBay, or Craigslist.
Before selling your bike make sure the bike is ready to use, you have professional photos taken, and you've included as many accessories as possible to drive the price up.