Have you ever wondered what does peloton does with returned bikes? Then buckle up because in this article I will explain what a certified refurbished peloton bike is, and how to get one.
In general, the best way to buy a refurbished peloton bike is via the peloton wellness program, corporate friends and family program, or reaching out to Peloton directly. Peloton also does special offers throughout the year for the selected number of digital membership customers.
Buying a refurbished peloton bike means you can save $200 to $300 and still receive a full warranty for 12 months.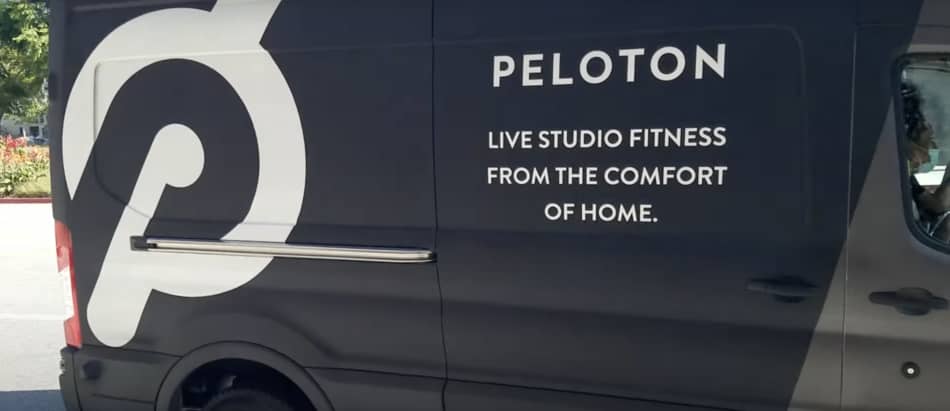 What is Refurbished Peloton Bike?
In short, refurbished peloton bikes are the bikes that have been previously used by the members, renewed and restored from any usual wear and tear, and then listed on the market for a discounted price for a limited number of people.
It's like getting a second-hand peloton bike directly from the peloton, not from the third-party person. D
What's the difference between the used and refurnished peloton? Overall, the difference between used and refurbished peloton is that used pelotons are sold by people who decided to sell their own bikes. Those secondary sales do not include things like extended warranty coverage, return policy, or any money-back guarantee.
On the other hand, the refurbished peloton bikes are the bikes that have been returned from the members directly to the peloton due to faulty moving parts, defects in materials, or general dissatisfaction.
They include 12 months guarantee and a 30-day money-back.
NOTE: Click here to learn more about "how to sell peloton bike" and get the best price.
What Happens to Returned Peloton Bikes?
People return peloton bikes for several reasons. It can be due to not being fully satisfied from the purchase, loose parts, or defects in workmanship and materials like belt or brake resistance.
What does peloton do with returned bikes? Overall, all returned peloton biked undergo a complete renovation, as long as they are in good working condition. Each part is being checked and fixed, and after a bike makeover, they enter the market as "refurbished" bikes. These bikes do have full coverage of warranty and a 30-day money-back guarantee.
Normally, when you purchase things online in the stores like Apple or Amazon, the returns usually end up in the warehouses where products are being refurbished and sold in the secondary market.
For example, Apple launched a while ago Trade-In program, where you can return your old phone, and exchange it for a new phone at a discounted price.
After they receive the old phone, it will be renovated and sold in emerging markets like Africa, India, and Latin America.
Why does peloton sell refurbished bikes? In short, the peloton is selling refurbished bikes because this can increase sales (selling the same bike twice that's been manufactured only once). This also helps to reduce carbon footprint and recycle materials that would otherwise be left in the garbage.
Peloton takes advantage of the return policy and uses returned bikes to fix all necessary defaults and resells them with a discounted price for their corporate program.
How Much Is a Refurbished Peloton?
On average, you can expect to pay $200 to $300 less for the refurbished peloton bike. This means the prices can vary between $1,195 to $1,295 for a bike and between $2,195 to $2,295 for a bike plus. However, some people got their bikes for as low as $500.
This will all depend on where you're getting your bike (more on that later).
What is the difference between refurbished and new peloton? As a whole, the refurbished peloton bike will normally have all of the new moving parts like touchscreen, pedals, and belt. However, the frame can have some cosmetic scratches. The new Peloton bike has everything brand new.
I think this is a great deal because you're literally getting a brand new bike (only a few frame scratches) for a much lower cost.
I know quite a few fellow owners with refurb bikes who actually were part of the corporate program and were offered a peloton bike from their employer via the Peloton Wellness Program.
How To Buy Refurbished Peloton Bike?
You can buy refurbished peloton bikes via the corporate peloton wellness program or friends and family program.
Alternatively, peloton sent out the announcement via email to digital members that live within specific zip code areas. All the refurbished bikes are recalibrated and restored with brand new accessories and moving parts.
Here are the most common ways I've seen people are getting access to buy refurbished peloton bikes.
#1 Peloton corporate wellness program
In short, the peloton wellness program is a partnership with corporate brands (e.g. Samsung) that allows these company's employees to get peloton products and services in a subsidized way, and often discounted price.
The partnership with peloton also includes hotel brands, cruise ships, and other corporate health and wellness companies.
You have to understand that in this day and age, the big brands already spend a lot of resources on corporate health and wellness.
Studies have shown that "employees exposed to a workplace wellness program reported significantly greater rates of some positive health behaviors compared with those who were not exposed" (Song 2019).
Workplace wellness programs cover over 50 million workers in the U.S. alone. Those programs are designed to reduce medical spending, increase productivity, and improve well-being.
In other words, those companies already invest resources into their employee health and wellness programs.
So if you're working for some of the big tech companies that partner with the peloton, you will definitively be notified by your employer and the options they have.
You can learn more about the peloton corporate wellness program from the CNBC interview with Peloton president William Lynch here.
I don't work for a corporate company. However, if I would, and if my employer would ask me if I want a refurbished bike, I wouldn't think twice.
For me, this is no brainer.
#2 Upgrade from peloton digital membership
Another option to get a refurbished peloton is via digital membership. Multiple times in the year peloton sends emails to their active digital app members with offers to upgrade into a full peloton bike and all-access membership.
The last email was sent on the 26th of September to only a few members with an offer that was valid for the weekend only.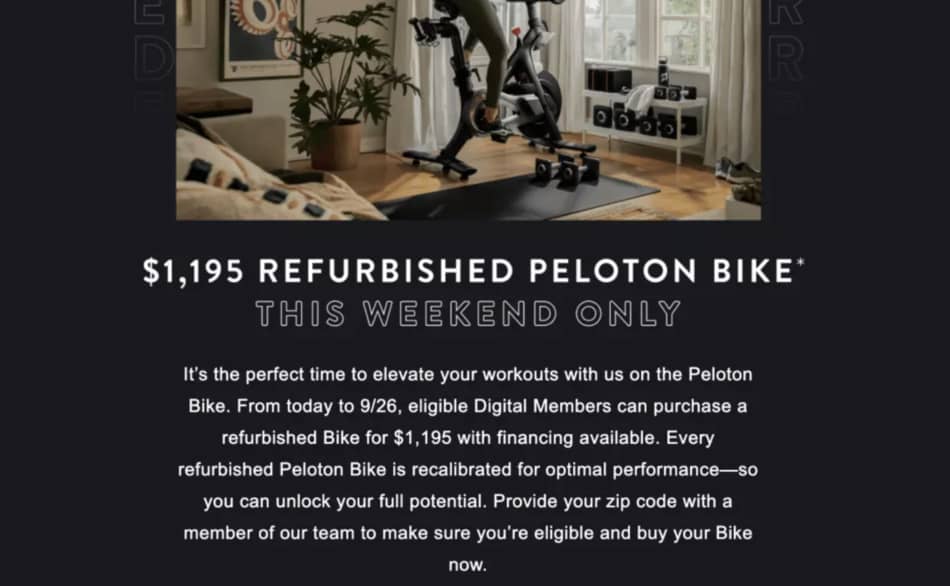 As you can see, this offer only happens on rare occasions and it has 48 hours expiry date. I get regular emails from the peloton and my advice would be to set notifications so you won't miss out on any deals that are coming up.
I know peloton has many discounts throughout the year on their apparel and accessories as well.
#3 Contact peloton sales team
I did hear that some stories from people who contact the peloton sales team and were offered a significant discount.
On the other hand, when I was trying to call the sales rep in peloton they've told me that they don't sell them to the public.
To be frank, I think this is fair that most people are getting peloton for the full price because $1,495 is still a great value for the money.
Alternatively, you can try to buy used peloton bikes from third-party sellers like:
Online Marketplace – Facebook, Instagram, Craigslist. In some of the facebook groups you can see a peloton bike for sale on daily basis. They also sell shoes, apparel and accessories. The only problem is with the transport and delivery.
In person – from friends, coworkers or family members. Those are the best deals because you can get better price. However, keep in mind that the warranty is not trasferable, so you are not gonna be covered is anything happens.
Conclusion
As you can see, people who are employed in large corporate organizations can get a better deal thanks to their employer's partnership with peloton via a wellness program.
However, if you're on your own (like me) you won't get many offers to receive refurbished bikes at a discounted price throughout the year.