Orangetheory Fitness has become one of the most popular boutique gyms that offer high-calorie burn wokrouts in a friendly atmosphere. However, the membership isn't cheap as the price can range from $9.90 to $14.50 per session, depending on your package and contract.
Today I will share with you the list of gyms that offers a similar group fitness experience to the Orangetheory, but for less money.
There are several gyms just like Orangetheory fitness that offer a great workout and a fantastic atmosphere, plus are much cheaper and do not require a long-term commitment. These include 9Round, Eat The Frog Fitness, Fit Body Boot Camp, F45, and Burn Boot Camp.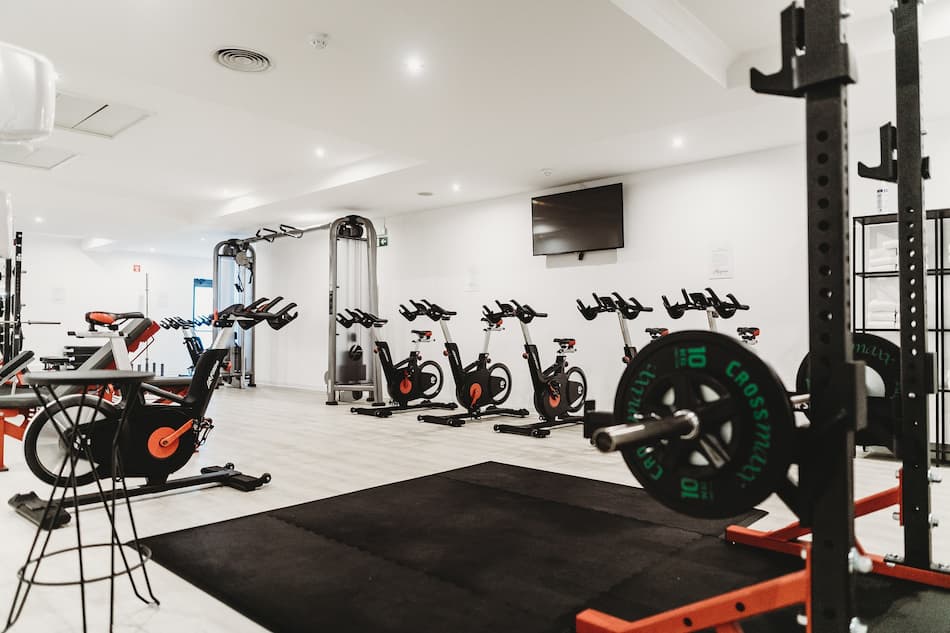 Here is my overall answer but if you wanna know more in detail about each of the gyms, keep reading.
Burn Boot Camp
Burn boot camp is a 45-minute workout where you mix of high-intensity cardio with functional strength training.
This is very similar to OTF because each class is divided into stations where you do exercises for the number of reps or times.
The difference between Burn and OTF is that burn does not have treadmills and rowers. It only uses dumbbells, jumping ropes, battling ropes, Bosu balls, and a combination of bodyweight exercises.
What I like about the Burn boot camp gym is they include many plyometric drills that are often used in sports.
These include squat jumps, tuck jumps, 4-hurdle drills, power skips, and sliders (which makes the workouts less boring).
It's kind of like doing T25 and Insanity at a gym full of people, rather than by yourself at home.
Is Burn boot camp female only? Most of the people you see in the class are females. That's because the burn boot camp gyms were first introduced as "gyms for women", however, as of 2022, everyone can join the class, regardless of gender.
Burn Boot Camp, which charges clients about $150 per month for unlimited group sessions, which is comparable to Orangetheory fitness (the price will vary depending on location).
Fit Body Boot Camp
Fit Body Boot Camp is another great Orangetheory alternative. It offers 30-minute high-intensity workouts in a group class. This is a typical circuit training style workout where you hop from one exercise to another.
When it comes to equipment, you won't see any treadmills, ellipticals, or bikes in their studios. Instead, you have TRX, Bulgarian bags, kettlebells, dumbbells, medicine balls, steps, and battle ropes.
The difference between Fit Body Boot Camp and OTF is that Orangetheory uses heart rate monitors to track your intensity and aims to get at least 12 splat points per class.
The Fit Body Boot Camp is also a HIIT-style workout, but they do not use heart rate monitors.
One thing I like about Fit Body Boot Camp is that exercises are often done in pairs with a partner, instead of going solo. This helps to stay motivated and push yourself even more.
Another thing that separates this gym from others is that apart from the intense training, they also provide body composition analysis (InBody) and nutrition consultations. This way you can measure your progress and stay accountable for the results.
When it comes to price, Fit Body Boot Camp ranges in prices from $127 per month for 12 sessions per month and $157 per month for full memberships. They also offer 6-12 weeks memberships.
F45 Training
In general, F45 training is a group fitness class very similar to Orangetheory fitness. It also incorporates cardio equipment in its training like bikes and rowers.
They also track the intensity using the heart rate monitors that are displayed on the large screen in the middle of the room.
The difference between F45 and Orangetheory is that F45 is focused more on weight training, whereas Orangetheory is more geared towards cardiorespiratory fitness.
F45 workouts last 45 minutes, whereas OTF class duration ranges from 30 to even 90 minutes.
Another thing that makes the F45 worthwhile is that you have 2-3 coaches in each class, which does make you feel like a group personal training session.
When it comes to pricing, each studio is individually owned, and membership can vary depending on the location and the contract duration.
The price for unlimited membership is around $155 per month, as long as you sign up for 12-month contracts.
If you don't wanna be financially strapped for 12 months, you can do month-to-month membership for $199.
Learn more: Click here to learn more about "why I quit F45".
Eat The Frog Fitness
Eat The Frog Fitness is a fitness boutique that uses proprietary training methods developed by Bryan Clay, an American Olympic gold medalist, and decathlon athlete.
The workout is divided into stations where you can do rowing, spinning, and resistance training.
Each studio uses specific fitness equipment like sandbell bags, sandbags, Nubell weights, and the TRX training system.
The difference between Orangetheory and Eat The Frog Fitness is that Eat The Frog is a walk-in studio where you can either join the group fitness workout with the trainer (coach-led) or do the class on your own.
The studio is open 24/7.
One thing that I like about Eat The Frog Fitness is that they provide mandatory fitness assessments where you sit down with a trainer and go thru your goals.
Based on the assessment, you get recommendations on which type of workouts will suit you best.
What I don't like is they also require you to use heart rate monitors and don't allow you to join the class if you don't have one (obviously they sell HRM for around $100).
The price for membership is $99 per month, but it does not include personal training and body composition analysis.
The highest tier membership is $159 where you receive one-on-one personal training, body composition analysis, access to programs, and access to the FrogFit app.
9Round Fitness
9Round Fitness is a boutique gym that offers a combination of boxing and functional strength training. Each studio has dumbbells, kettlebells, and several different punching bags. The goal of the class is to complete 9 rounds in 30 minutes.
For each round, you have 3 minutes where you need to do 2 exercises.
The exercises are mainly a combination of punching bag training, speed bag training, partner boxing (with a trainer), and bodyweight strength training.
For example, you will be a punching bag for 30 seconds, followed by strength and conditioning exercises like burpees or jumping jacks for another 30 seconds.
What I like about 9Round is that the trainer is with you all the time. Even if you don't have previous boxing experience, they offer help and guidance.
What I also like about 9Round fitness is you can walk in without having to book a class. The workout starts every 3 minutes and is supervised by certified trainers.
The price for 9Round membership is $79 per month and you can come in as many times as you want. The downside is that the studio is open mainly in the early morning and late afternoon.
Make no mistake, this is not a boxing gym. It's a circuit training workout with the elements of boxing.
You can read all the differences between OTF and 9Rounds fitness in my article.
Conclusion
As you can see, there are many Orangetheory fitness alternatives that offer high-intensity interval training workouts in the group setting but for less money.
My best candidate is 9Rounds because it has boxing elements (which I like) and does not break the bank.
The second favorite is Eat The Frog Fitness becasue it's open 24/7 and does not require booking a class in advance.