First time I used a peloton I was streaming all the workouts directly from my tablet. However, my laptop has a much bigger screen so I've wondered if can I use the Peloton app on my laptop.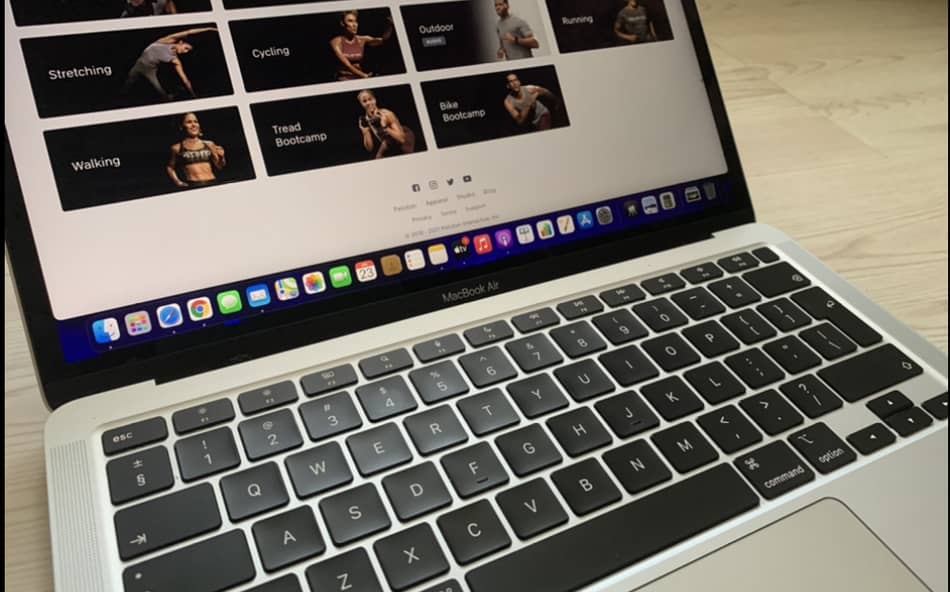 In general, you can use the Peloton App on your laptop. To get access to the peloton app from your computer you need to login directly from the website. Once you logged in, you can now stream and join all the classes. You can also place the laptop on your bike, treadmill, or any cardio equipment.
It also allows you for a quick stretch or meditation session while you're in the office. Keep reading to learn more about using the Peloton digital on the laptop.
Peloton App For Computer
If you're using the peloton on your computer you don't need to download an app to see the classes.
Access is very easy from the web browser after you log in.
However, if you have a PC, streaming the classes is one thing but watching them comfortably is another.
You can watch the peloton on the computer
In general, you can watch peloton on the computer. To run the class all you need is to log in to your peloton digital membership account directly via the web browser.
You can also connect your computer to the TV via HDMI cable and stream the class on your big screen.
Stationary PC offers fantastic views because they usually have a large screen and are positioned high on the desk.
Also, some of the classes like Yoga Anywhere have dozens of chair and desk peloton yoga sessions, which are perfect for people who spend a lot of time behind the desk.
However, if you want to move around, it's better to use a laptop.
Peloton On Laptop
I like to use a peloton on the laptop because not only it has a bigger screen. Unless you're using peloton speakers, the laptop has the sound quality and volume better.
Also, streaming classes directly from the laptop allows for more people to join. Which is more fun because you can do a small group workout.
With a small screen like on the tablet or a phone, you would have to stand closer to see all the moves and transitions. For some classes like yoga, it is difficult, especially if you have a bigger audience.
Currently, I have a Macbook Air with a 13-inch screen and comparing to my 8-inch tablet it's a day and night difference.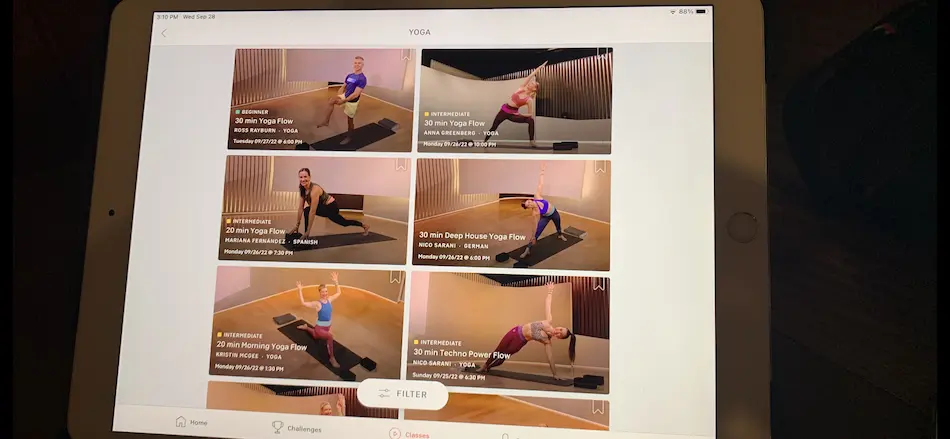 Having a bigger screen allows you to stay far away from the laptop but still clearly see all classes. This means everyone has enough room.
How Do I Put a Peloton On My Laptop?
I think using a laptop instead of a PC is much more convenient. Not only you can place it anywhere you want, but also (using the laptop tray) you can put it on the treadmill or the bike.
Here's how to put a peloton on your laptop.
Turn on the laptop. Make sure the battery is charged efficiently. Streaming the video from the web will consume a lot of energy and can drain your battery.
Go to your web browser and go to the peloton website.
In the right upper corner click the middle icon. Once you've clicked on the icon, there should be a navigation menu slide down with two options.
Select "my membership"
The page should redirect you to the members login where you need to put in your username and password. If you don't have an account, you can create one.
The peloton offers free one month trial for the new users.
Once you logged in, now you can choose and stream any of the peloton classes or programs.
Keep in mind that you need constant access to the internet. The peloton app won't allow you to stream classes without internet access.
I won't be covering here all the nuts and bolts of using the peloton without the internet. I've already covered that in peloton without internet, which I recommend you read.
Peloton Laptop Tray
To make the most of the Peloton app on your laptop I recommend using the tray or a laptop holder.
This simple gadget helps to safely place the laptop whenever you want, even if is the other cardio equipment.
Which is handy if you want to use your stationary bike.
Using a laptop holder on a stationary bike
In general, you can mount and use the laptop holder on a stationary bike.
This allows streaming the peloton classes directly from your laptop.
You can get a ready-made laptop holder or you can try to custom your own tray based on your cardio equipment.
Here is an example of how you can create your own laptop tray for the peloton.
As you can see, Chris has made an effort to make his own DIY laptop tray.
However, if you don't have access to any tools, you can get something similar from any online store.
Best Peloton Laptop Tray
There are several peloton laptop trays available on the web, however, most of them are just laptop holders for work.
This means you can use the laptop for your work while exercising on the bike.
And those desks are specifically designed for peloton bikes.
On the one side, that is a great way to stay active at a low cadence and do the work from your bike. Just head on to Amazon and you will be able to choose from dozens of models.
But if you want to stream the class from the laptop on a different bike, you need a different laptop tray.
Alternatively, you can get a bike desk.
What Is Bike Desk?
In general, a bike desk is a piece of furniture that allows you to place the laptop directly in front of you, above the handlebar, while you're using the bike.
This helps to maintain the optimal position of your spine and doesn't force you to bend forward.
Obviously, you can try to DIY some desk and place it right in front of the bike. However, you can also try to make your own bike desk.
Here is a great tutorial from Cody.
Does the Peloton App Work on Windows 10?
As a whole, the Peloton digital app work on Windows 10. It also works for any iOS, Android, as well as Apple TV, Fire TV, and Roku devices.
You can either download the Peloton digital app, or you can stream from the web browser.
Conclusion
You can stream all the classes directly from your laptop or your PC.
This provides you with a much bigger screen and allows you to have a quick class even when you're stuck at work.
You can so assemble a bike desk or laptop tray.
It not only allows you for more flexibility as you can place it wherever you want but also using a laptop tray you can place the laptop on your bike or treadmill.