I've spent a few hours trying to figure out how I can watch Netflix while riding my Peloton bike. In this article, I will share with you everything that I've learned and give you instructions on how you can install any streaming service on your bike or tread.
As a whole, the peloton app doesn't have Netflix, however, you can watch Netflix via browser window from your peloton screen. Alternatively, you can also download and install Netflix via APKMirror, which is a directory of hundreds of app for Android.
Plus, I will also show you some cool research that I found about how does watch TV helps to enhance one motivation to train.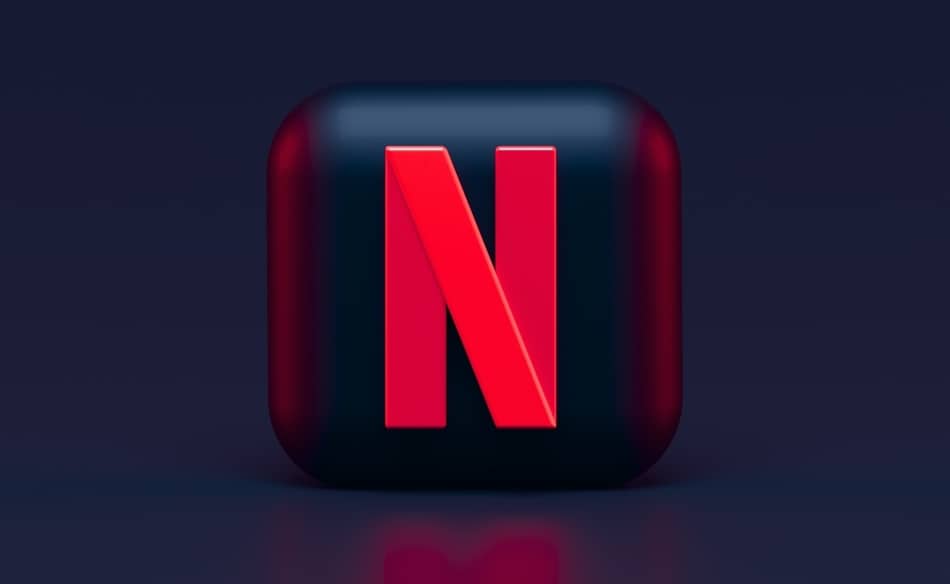 Does Peloton Have Netflix?
As a whole, the peloton bike (or tread) doesn't have Netflix integrated into their software. The only content available on the peloton app is the classes, programs, and challenges.
To be frank, I'm not sure why Peloton doesn't have Netflix on its app.
I can imagine that watching the TV while riding a bike or running on the treadmill could be distracting and lead to accidents or injuries. Instead, the peloton offers workout classes led by its instructors.
They want their users to be fully focused on the workouts.
According to Matty Maggiacomo, the high-energy peloton instructor "after your workout is done and you're back to a little R&R, take the rest of the day to relax and recharge. After you stretch, Netflix and chill, baby–you deserve it!".
As you can see, the peloton clearly votes for being fully engaged in your rides when you're on the bike, instead of being distracted.
Will peloton add Netflix?
I don't think so.
The peloton is a digital media company and in the nearest future, they may consider adding streaming platforms like Netflix and incorporate it into their offer.
Some companies embraced digital distraction while working out (e.g. NordicTrack) a long time ago.
Their treadmills allow you to browse the web, as well as watch Netflix shows while training.
Benefits Of Watching Netflix On Peloton
You may think I'm crazy but there are actually several benefits to watching TV (whether that is Netflix, Hulu, or Amazon Prime) while you ride your bike.
Decreased sensation of fatigue in the working muscles.
More positive exercise experience (improving the enjoyment of exercise). 
Here's how it works.
Sensory stimulation like listening to music or watching Netflix while riding your Peloton bike is an effective way to increase hedonic motivation and enjoy your workouts even more.
Hedonic motivation means that people will participate in activities they find pleasurable and avoid those they find unpleasurable.
For many, enjoyment in exercise is a primary driver that determines whether or not someone will develop a long-term workout habit.
In other words, people watch TV and distract themselves while doing exercise to lower their perception of exertion.
Riding the Peloton bike at low intensity is relatively easy for the brain, which means people can focus their attention on "external" auditory and visual cues.
This reallocation of the focus works as a distraction and helps to elicit positive effects on motivation.
Dr. Marcelo Bigliassi from the Florida International University in Miami documented a group of participants and measured how audiovisual stimuli influence their motivation and power output (Bigliassi et al. 2016).
Twenty-two participants were divided into two groups:
audiovisual condition
control group
All participants were analyzed with the use of EMG (electromyography) to measure muscular electrical activity and with the EEG (electroencephalography) to measure brain electrical activity.
Take a look at the graph below.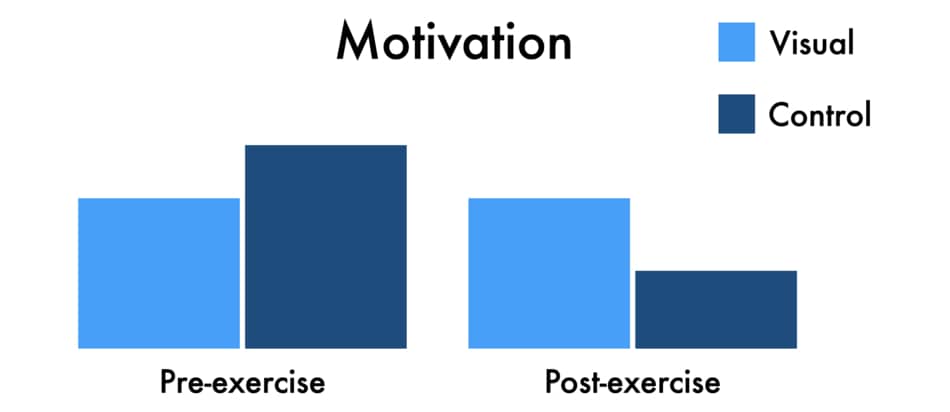 As you can see, the motivation before the tasks was equal for both groups. However, after the task, the audiovisual group increased their motivation, whereas the motivation in the control group decreased.
Dr. Bigliassi pointed out that "audiovisual stimuli elicited higher motivation scores following the execution of an exhaustive exercise, and no audiovisual stimuli decreased situational motivation scores".
Bottom line: Watching something engaging or inspiring (e.g. sports scene from a movie) can elicit motivation and even suppress the sensation of fatigue.
Peloton Output and Netflix
Watching TV while training on the peloton bike can improve power output and force production.
This happens because the audiovisual stimuli help to lower fatigue-related signals in the brain and increase the recruitment of motor units in the muscles.
Not only that.
Studies have shown that "sensory stimuli can make exercise more pleasurable even at high intensities, meaning that audiovisual stimuli may partially overcome the negative sensations elicited by increasing exercise intensity" (Jones et al. 2013).
This means that watching Netflix shows and documentaries while doing HIIT, Interval or other difficult rides can help to lower the feeling of exhaustion.
Bottom line: If you're the type of person who is getting started in your fitness journey, and you need something to keep you motivated, watching TV or Netflix on your peloton screen can do the job.
How To Watch Netflix On Peloton Bike From The Browser?
To watch Netflix on your peloton screen from the browser first you need to make sure your bike is plugged in and connected to the internet.
Here is the step-by-step guide.
Log in to your peloton screen using your peloton user profile.
Select the icon of three dots on the bottom right corner of the screen. This will open a side menu from your right.
Choose the "About" tab from the menu at the bottom. This will open a browser window with information about your bike software.
Take your finger and gently tap seven times on the right bottom corner of the screen. Keep in mind there is no icon on the screen so you may need to try a couple of times.
Once you tap the screen seven times, the new browser window should open with one icon (which looks like an android icon) on the top left corner called "WebView Browser Tester".
Click the "WebView Browser Tester" icon. This will open an internet browser where you can type in the Netflix website and log in using your Netflix login and password.
If you prefer the visual instruction, here you can see the video on how to connect Peloton and Netflix from Phil.
How To Download Netflix On Peloton
In general, you can download Netflix on the peloton screen using third-party websites like APKMirror, APKPure, or APK Downloader. These are all directories that allow downloading free Android apps without the Google Play Store.
Peloton bike software runs on a standard Android system that you can find on any Android mobile device. This means you can use any APK website to upload any app.
What is APK? In short, the APK stands for Android application package, and it's a compressed file that can be downloaded and then installed on Android users' smartphones and tablets.
Is APK safe? All the APK websites are safe and uploads are verified before publishing. If the website is unable to verify the legitimacy of an APK application, it's not gonna publish it.
To download and install Netflix on your peloton first you need to unlock developer access and allow unknown sources to be installed on your bike software. Otherwise, you won't be able to download the app.
Log in to your peloton screen using your peloton user profile.
Tap on the "three dots" icon in the bottom right corner.
Select the "Settings" tab and then "about". Once the new window will pop, tap multiple times on the screen when it says "build number" to unlock developer access.
Once you unlock the developer access, head on to "security" and open the "Settings" tab. From there you must enable "unknown sources – allow installation of apps from unknown sources".
Now once you are allowed to download any app to the peloton software, go ahead and open the browser window.
Tap the "About" tab from the sidebar menu. After the new window pops, tap seven times in the bottom right corner.
Once you tab the screen seven times, click on the "WebView Browser" icon.
Type in the APK website of your choice.
I recommend using APKMirror.com. You can search for Netlfix on their website.
Here is how the search list should look.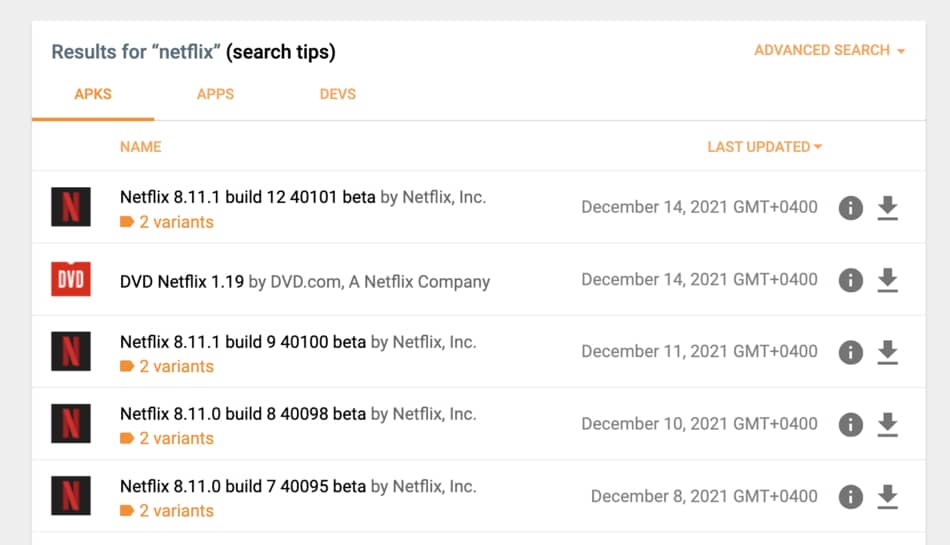 As you can see, there are several versions, but you should choose one that is the most recent.
Tap "download app" on the right side. The download will take between 5 to 10 minutes. After you've done this, press the peloton icon on the bottom.
How To Install Netflix On Peloton Bike and Tread
The next step after downloading the Netflix app on the peloton is installation.
Tap the "About" tab from the sidebar menu. After the new window pops, again, tap seven times in the bottom right corner.
Once you tab the screen seven times, you will see the "downloads" icon. Tap on "downloads" and choose the Netflix APK app to install.
Now you can open the Netflix app directly from your peloton app. To do this you need to repeat the process of seven taps from the "about" menu.
This time you will see the Netflix app available together with the browser icon.
Please remember that Peloton has a list of terms and conditions and it prohibits installing third-party apps, which they say can result in the termination of the service.
What Else I Can Watch On Peloton?
Apart from Netflix, you can download and watch hundreds of other streaming apps including HBO, BBC, Cinemark, Cooking Channel, Discovery+, Disney+, and more.
Here is the list of other entertainment apps available to download on the peloton.
A&E
ABC
AMC Theatres
Comedy Central
Dailymotion
FOX Sports
HBO GO
Hulu
IGTV
YouTube
List of apps to watch on the peloton
You can see the full list of APK apps available here.
Conclusion
I think having an access to watch your favorite shows on Netflix while riding the bike is an excellent way to keep people engaged, especially for beginners.
I personally love to watch something to distract myself when I have longer rides. On the other hand, for the short 20 minutes HIIT or Tabata classes, I don't stream anything.