Peloton has over 9,000 rides that vary in intensity, duration, and music style. So there is something for every level of fitness. However, from all those classes, which peloton rides burn the most calories?
In general, peloton rides that burn the most calories are the 90-minute Power Zone Endurance Ride. Each session burns 800 – 1200 kcal. Other similar high-calorie burn classes include Pro Cyclist Ride and HIIT and Hills Ride which last 45 to 60 minutes.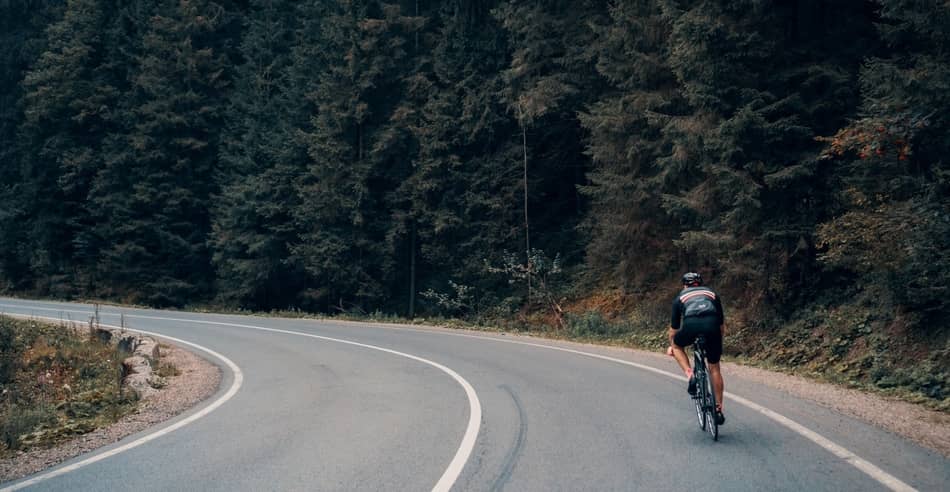 In this article, I will show you the 4 best peloton rides that I took and show you how many calories I've burned on each ride (it's a lot).
Peloton rides that burn the most calories
In short, the peloton rides that burn the most calories include Power Zone Endurance Ride, Pro Cyclist Ride, HIIT and Hills Ride, and Tabata Ride.
Each of these classes are completely different from the other, but they share one thing in common; they all kick ass and make you sweat like no tomorrow.
I always come back to these classes whenever I feel like I have more energy and can push myself.
You will burn a lot of calories and sweat
As a whole, the peloton classes do burn a lot of calories, especially if you spend 60 to 90 minutes on the bike. These types of classes tend to target muscle endurance and aerobic capacity. However, the peloton also has shorter but equally intense interval workouts.
I like to choose shorter rides in the morning before my work. Yes, they're shorter but much more strenuous.
That's what I love about the peloton class selection. You can still burn plenty of calories, even if you have only 20 minutes.
Please remember that you also burn plenty of calories when you combine strength and cardio in one full-body workout. To learn more have a look at my article "peloton full-body workouts".
Below you can see the list of the top 4 peloton classes that will burn most of the calories.
1. Power Zone Endurance Ride
My all-time favorite workout on the peloton that burns the most calories is the power zone endurance ride. As I'm updating this article, I've already completed this workout at least 6 times.
In this class, I usually burn over 1,000 kcal, depending on my mood.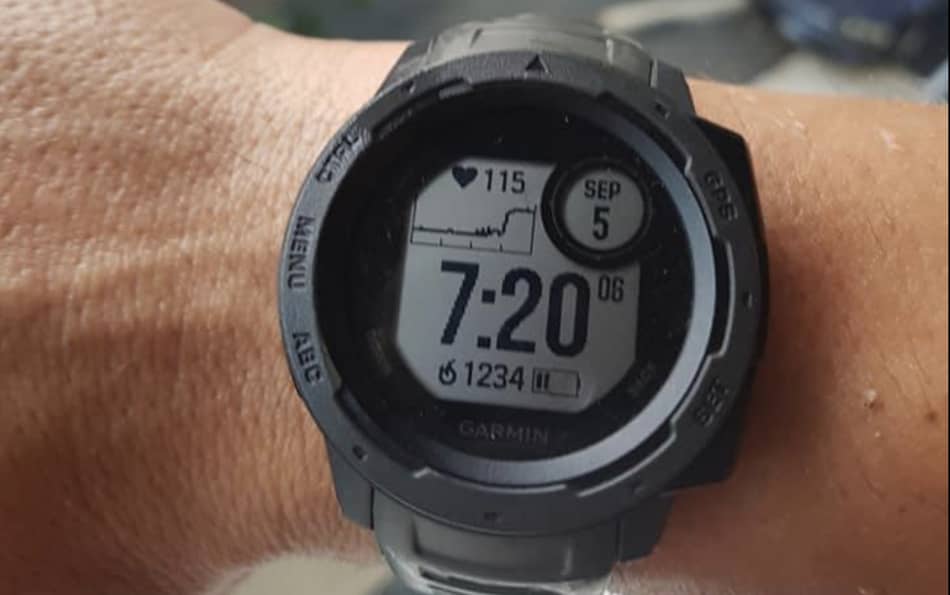 In the picture above you can see my Garmin watch showing I burned 1234 kcal after the Peloton Power Zone Endurance Ride, which is the most amount of calories ever.
Plus, I had the highest total output. The class is run by one of my favorite Peloton instructors, Matt Wilpers.
What I like about Power Zone Endurance Ride is you stay in the saddle for the entire duration of the class. The resistance is gradually built up, so the further you go, the more calories you burn.
If you're more advanced, try to switch it OFF, and ramp up the knob as much as you feel comfortable.
I also like how Matt structured the class.
Normally, with short 20-30 minute rides, the instructors implement a bunch of intervals, climbs, and power drills where you need to move up and down from your seat.
That is great stuff, but it can smoke you out very quickly.
In a 90-minute session, Matt keeps the intensity stable, so you can continue with the effort. The intensity stays within the aerobic threshold so you maximize fat burning.
If the intensity goes beyond the lactate threshold, your body switches to burning more glucose and you start to feel muscle fatigue more quickly.
What is the aerobic threshold?
In general, the aerobic threshold is the level of intensity where your body eliminates lactate from the blood at a higher rate than it produces it. This is also called the steady-state effort level that you can maintain for hours while breathing normally.
If you wanna burn more calories, getting yourself to this threshold will elevate your heart rate, but not to the point where your muscles start to burn and you need to stop.
2. Power Pro Cyclist Ride
This is my second-best cycling class on the bike. It's a shame that Christian is no longer with the peloton because I really enjoyed the energy and knowledge that this guy delivered.
Below you can see my results from doing his 45-minute ride.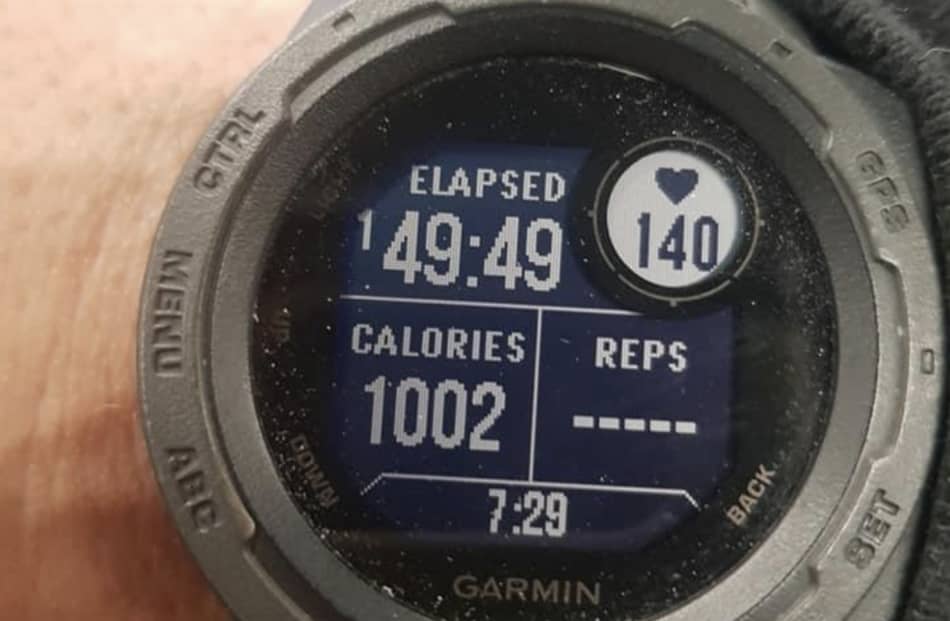 As you can see, in the Pro Cyclist Ride I managed to burn whopping 1002 calories.
Obviously, I didn't burn as many calories as in the aforementioned 90-minute endurance ride. But keep in mind that this class lasts for 45-minutes.
So if I would do it twice, I would end up burning over 2,000 calories.
Update
I did this class twice!
In the picture below you can see my results after doing TWO Peloton pro cyclist rides, back to back. The total amount of calories I got this time was 2542!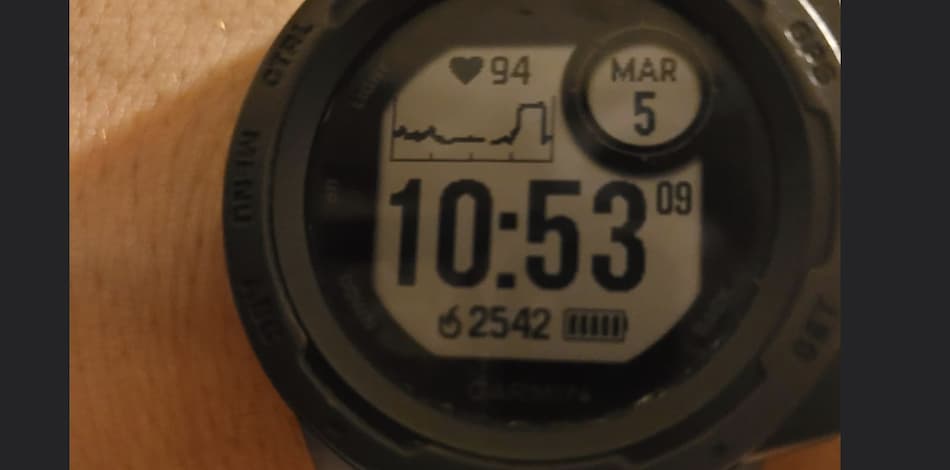 This is my favorite class because is led by Christian Vande Velde, an 11-time Tour de France participant and former American professional cyclist. He used to ride head to head with people like Lance Armstrong.
This class is only 45-minutes long, but he challenges you to push yourself by gradually building up the resistance and doing some intervals with faster cadence along the way. So it's a combination of endurance and hill-climbing.
The number of calories you will burn is totally depended on you and how much effort you put into it.
I like his class because it's like being on the bike neck and neck with a pro coach and being able to get several tips, guides, and motivational stories that he delivers.
You see, I used to spend a crazy amount of time on the bike so training with a Tour de France pro is like a dream come true (at least for me).
3. HIIT and Hills Ride
These classes are much shorter than endurance, but they are equally effective.
I think that HIIT and Hills are one of the best peloton out of saddle classes because it's all about adding more resistance, reducing cadence, and getting your ass off the bike.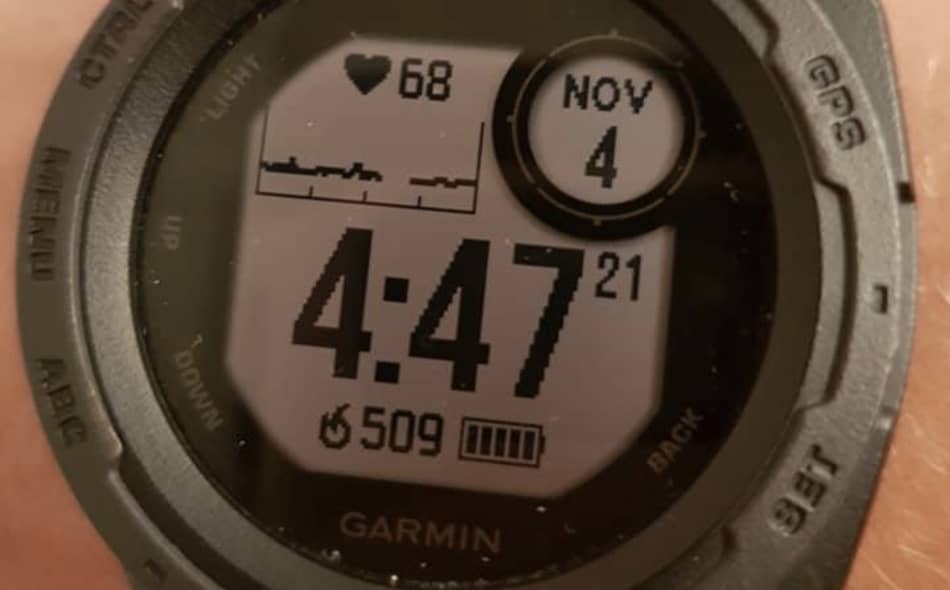 As you can see in the picture above, my personal best for this class was 509 calories (with an average output of 287) in 30 minutes.
HIIT and Hills ride is a class that combines saddle and standing work. It has multiple intervals where you climb, sprint, and everything in between.
I like to do this class on the days when I'm up early and I don't have the luxury of going for a 90-minute session.
During the week, I don't have much time so the only way I can squeeze my workout is early in the morning.
(You can see from my watch that I'm up at 4:00 am.)
The peloton HIIT and Hills Ride allow me to go hard for a short amount of time. That's exactly what I need when I'm up.
The classes last for 30 to 45 minutes. But if you don't feel like going strong first thing in the morning, then reduce the duration. Peloton Interval Rides also has 15-20 minute Tabata rides where you still can burn tons of calories.
Another thing that I feel like I need when I do morning sessions is variety. Especially when I'm half sleeping.
Changing and moving up and down from the saddle allows me to get my hips moving and warm them up. This way it doesn't feel so stiff when I spend most of my day behind my laptop.
#4: Tabata Ride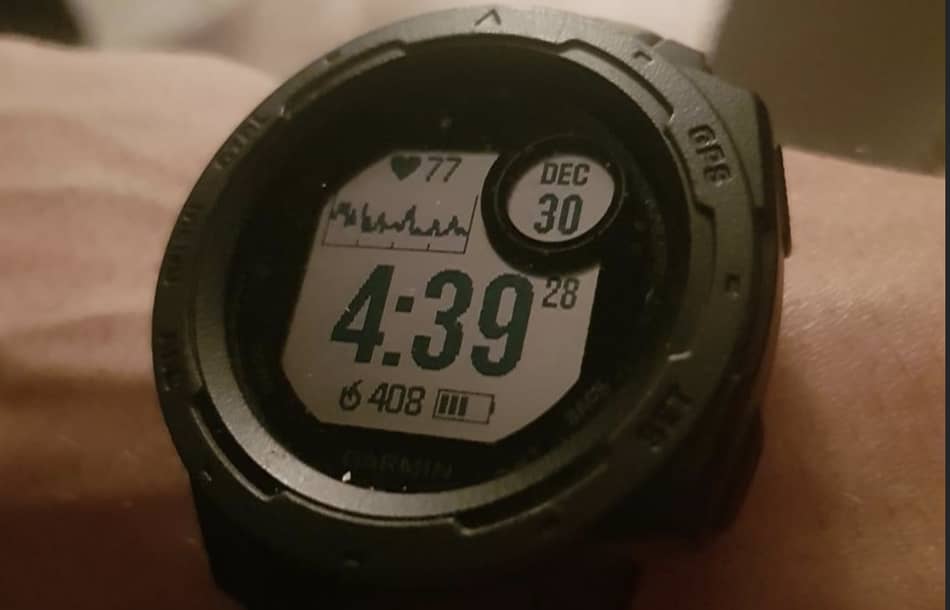 Another class I like, especially when short on time is peloton Tabata. To be honest, I don't pick this class based on the calories. I choose this class based on the intensity.
This means if I need to be up early in the morning, I will go for something that will guarantee that I'll break the sweat. The calories burned are the byproduct.
Tabata Ride is a 10 to 20-minute ride that consists of a 2:1 ratio. You go hard (as hard as you can) for 20 seconds and you recover for 10 seconds for several rounds. How many rounds you do will depend on the time you have on your hands.
You probably notice that I like to use peloton and Garmin regularly. According to my watch, the 30-minute class burned 408 calories.
I would definitely recommend doing this class if your goal is to burn the most calories in under 30 minutes.
This class is straightforward.
There are not a lot of changes between the bike positions.
You just go crazy with the speed.
What I love about this ride is not only the calories you burn but also that doing speed intervals helps to pass the time.
This means if you focus on going all out, the class will finish before you even know it.
How many calories do you burn on a 30-minute Peloton ride?
In general, you can burn from 400 to 800 calories on a 30-minute peloton ride. The number of calories burned will depend on the type of class you choose, the resistance you ride with, the cadence you have, and your overall fitness level.
If you've spent some time on the bike, you know that two people can do the same class and have vastly different results.
One can be comfortable and occasionally get out of breath. Others can push themselves from the beginning to the end.
So the class is not the best predictor for calories burned.
It's how you push yourself. My best choice for motivation is the Pro Cyclist Ride with Christian.
I literally get chills when he starts giving tips, talking about his work, and giving advice on technique and training routines.
Classes that require the most energy typically are longer (between 60 to 90 minutes) or have some type of interval training where you alternate with your intensity.
If you wanna burn as many calories as possible, think of every class you do as you would complete the peloton FTP test, and watch what happens.
How many calories does a 20-minute peloton ride burn?
In general, the 20-minute peloton ride can burn from 250 to 500 calories, depending on the intensity, output, and speed.
People who add more resistance and stay with the fast cadence will burn more calories than people who ride with lower resistance.
What is the hardest peloton ride?
In general, the hardest peloton ride is the 45-minute Pro Cyclist Ride taught by former Tour de France Champion Christian Vande Velde.
The class isn't the longest, but it progressively adds more resistance and adding speed while staying in the saddle.
Adding more resistance while staying in the saddle is much harder, compared to the standing position. You can read the full list of the hardest peloton classes you need to try.
It's a good one.
What is the longest peloton ride?
The longest peloton ride is a 90-minute power zone endurance ride with Matt Wilpers where you stay in the saddle for the entire time.
The class is designed to work on maximizing muscle endurance and fat burn while staying in the aerobic zone.
Which peloton workout burns the most calories?
This is a tough one.
Generally, the Peloton workouts that burn the most calories are the cycling endurance classes called Power Zone Endurance Ride.
These are my favorite peloton classes for weight loss becasue a 75-90 minute workout can burn between 800 – 1200 kcal, depending on your resistance and cadence.
Here it's just a numbers game. The more time you can endure in the saddle, you will be burning tons of calories and help with weight loss.
Peloton app calories burned accuracy
Peloton App does show you calories burned but the accuracy can be off by 10-30%. There are several factors that account for the calories burned discrepancy.
The peloton app calories aren't accurate because they depend on the data from other wearable devices. Those devices have high accuracy for heart rate, the number of steps, or distance.
For example, the peloton calorie accuracy depends on other factors like lean body mass, which you don't input into the app.
So there is a big discrepancy between the actual calories burned and what the peloton shows you burn because the number of calories will depend mainly on your body composition.
This means you can have two guys with the same bodyweight doing the same peloton class. If the amount of muscle mass is different, the number of calories burned will be different, too.
That being said, peloton rides do burn a lot of calories because they challenge all muscle groups.
Plus, please also remember that your consistency with the workouts is superior to the results, rather than a small calorie discrepancy.
Why are my calories so low on Peloton?
In general, your calories are low on the peloton because the peloton app doesn't show accurate results.
Peloton app estimate calorie burned based on calculations from your heart rate and it doesn't take into consideration things like your muscle mass, fat mass, and fitness level.
So if you are comparing Peloton calories burned vs Apple watch or Garmin watch you will get different readings.
I don't think my Garmin watch is accurate either. But that is irrelevant. The most important fact is to show up for a workout.
Conclusion
If your goal is to burn the most calories, then a 90-minute Power Zone and a 45-minute Pro Cyclist ride are your best picks.
Bear in mind that calories burned will depend on the intensity and the resistance you put yourself on.
However, even if you be generous with your output, a single 90-minute class is enough for the day.