Last year I decided to change my peloton clipless pedals for toe cages. The idea was to improve my comfort by using sneakers on my bike.
Peloton toe cages (also called toe clips) are small frames that sit on the bike pedals and allow them to cycle using any footwear that doesn't have cycling cleats.
They have a strap with a buckle that helps to fit into the pedals and secure the foot.
Today I will share with you my thoughts after 1 year of using peloton toe cages, and most importantly, who should consider getting them.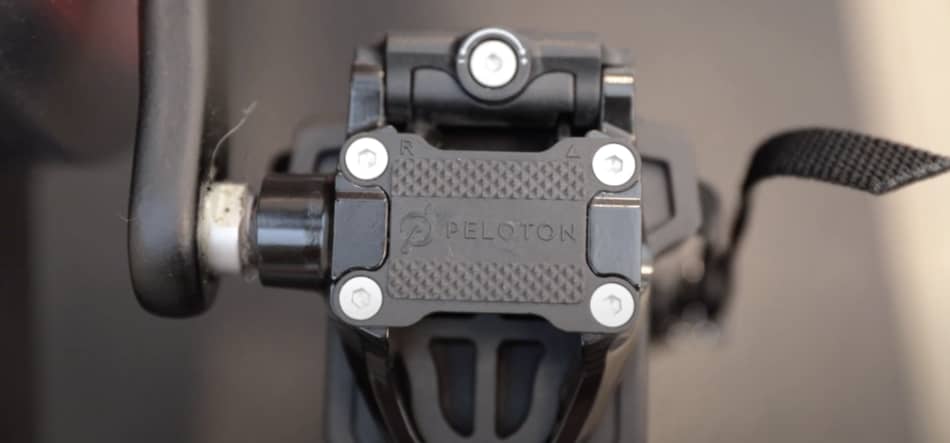 How Do Peloton Toe Cages Work?
You can think of peloton toe cages as a safety enhancement. They work by allowing you to slide your foot into the plastic frame attachment on the front of the pedal.
This prevents the shoe from slipping off the pedal during the rides, as well as allows for riding with sneakers.
The peloton toe cages are made of three components:
Metal pedal – A metal pedal is a large flat platform where you place your foot during the rides.
The frame – The frame (also called a cage) is mounted on top of the metal pedal. It's shaped like the toe of a shoe and stops the foot from moving forward, especially when standing on the bike. The frame is more "elastic" in the closest proximity to the ankle, which allows adjusting the quill using a strap.
Strap and buckle – Strap goes around the foot and helps to stabilize it in the cage. The strap slides through the buckle, which stabilizes the foot in one fixed position.
What Are Peloton Toe Cages Used For?
In general, the peloton toe cages are used as an alternative to using cycling shoes with delta clip-in pedals. They are great for people who don't feel comfortable clipping in and out of the pedals, as well as for people who need to exercise with specific footwear.
Here are 5 reasons why you should consider changing your peloton pedals for toe cages.
1. Foot problems
Most off-the-shelf cycling shoes come with reduced toe box volume, rigid soles, and tight upper (which can result in forefoot pressure). This can be problematic for people who do have foot-related problems.
In general, the peloton toe cages are good for people with foot problems because they allow using any type of footwear.
People who struggle with bunions, corns, calluses, or plantar fasciitis need to use specific shoes to feel comfortable when exercising.
This was the number one reason why I got my toe cages. Over the last couple of years, I've developed a corn on my right foot. Since then I become more diligent in choosing the right footwear for my workouts.
Studies have shown that "calluses and corns are extremely common and, to some degree, are almost universal. Most of these problems can be prevented and can be solved by the use of proper footwear" (Richards 1991).
Also, some people may experience that their feet go numb from cycling shoes and they feel more cozy wearing tennis shoes in the toe cages.
NOTE: You can use high-end cycling shoes that are suitable for people with foot problems. You can learn more about "best peloton compatible shoes" in my article here.
2. Convenience
I find that people who value convenience over performance will likely choose peloton toe cages.
Please remember that toe cages have been around for a few decades in the world of indoor cycling. In fact, the first franchise called "Spinning" started to use them on their bike in 1995.
They are also widely used in places where the bike is available for commercial use like cruise ships or hotels.
This means that those who use peloton at home are already familiar with toe cages. They've used the spin bikes at their local gyms.
I generally like the idea of using road bike shoes on the indoor cycling bike because it can optimize performance.
However, most of my clients shrug off when they hear the word performance. They just want to be able to train from home on their terms.
With toe cages, you don't have to constantly change the shoes for every workout. This is a great option for people who use the bike and don't care about their FTP score, power output, or leaderboard position.
Convenience doesn't mean you have to compromise with performance.
Dr. Caio Ferraz Cruz from the University of São Paulo in Brazil asked 37 triathletes about their pedal preferences.
See the graph below.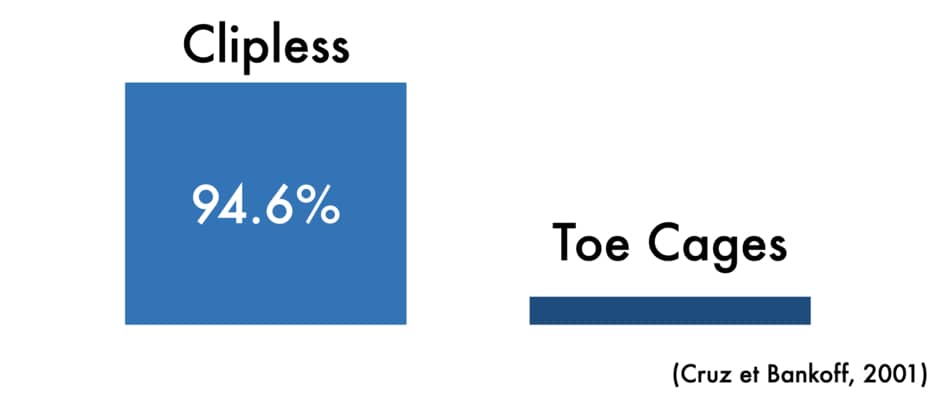 The questionnaire showed that only 5.4% of the people preferred to use toe cages, while 94.6% used clipless pedals.
HOWEVER.
After the questionnaire, the researchers compared all athletes and measured the difference between muscle activation in toe cages vs clipless pedals.
The EMG results have shown that "in most cases, it was obtained smaller myoelectric activity with use of clipless pedal than with the use of toe clip pedal. For semitendinous and semimembranous, the activity with the clipless pedal was smaller for all subjects" (Cruz et Bankoff, 2001).

This shows that using the standard peloton pedals doesn't always mean you will have better power output. It also means that people use clipless pedals mainly because of their personal preferences.
3. Sharing your bike
In general, the peloton toe cages are good for sharing your bike with your visitors, friends, and family members.
Also, kids and adolescents can use the bike, without the need of buying new pair of cycling shoes every year.
Spouse – I share my peloton bike with my spouse and she doesn't feel confident using the clip-in shoes. A good alternative is to have pedals with delta cleats on one side, and cages on another side.
Friends – A lot of friends visit my apartment and stay over for the weekend. We like to train together and party together. Having a peloton toe cage allows me to share the ride.
Parents – Most of the seniors have a difficult time hopping on the bike with clip-in pedals (more on that later).
Kids and adolescents – I have a number of friends coming over with their kids (who seem to be loving my bike). Having toe cages allows them to ride and have fun, without the need of buying cycling shoes that they will grow out.
Besides that, I know a bunch of trainers who use peloton with their clients. Having clip-in shoes would make it impossible to use the bike.
4. Lack of mobility
In general, peloton toe cages are good for seniors with limited mobility (e.g. seniors) because they don't require being clipped in the pedal.
They come with a strap and buckle, which allows you to tighten the shoe in the frame and stabilize the foot.
I worked with a number of people who have a difficult time even getting on the bike (not to mention using cycling shoes). Peloton toe cages make it more accessible for people of all ages, and mobility levels.
5. Bootcamp classes
Peloton toe cages are good for doing classes that combine bike and strength training like bootcamp.
Bootcamp class is when you have to alternate between the bike and the floor strength training. using toe cages means you don't have to spend time changing your shoes.
I love bootcamp workouts because they're challenging and time-efficient. However, the worst part is changing the shoes between the rounds because that's when I always drop my heart rate.
Using the toe cages not only helps with easier transitions but also keeps the rest shorter and allows to maintain a higher heart rate.
That's why I prefer doing tread bootcamps (even on my bike). They don't have these annoying 1-minute transition periods, which means I can go straight into the next exercise.
Does Peloton Come With Toe Cages?
The peloton bike doesn't come with toe cages. Whenever you buy a bike or bike+, they both come with standard Delta-compatible clip-in pedals.
However, peloton does sell toe cages via phone. Alternatively, you can get a pair from other online stores.
Here's the thing.
Peloton sells toe cages that can be mounted into the standard pedals. So they basically sell is attachments, which is easy to assemble because you don't have to change the whole pedals.
I think this is the best peloton toe cages option because this way you can keep your clipless pedals on and you can attach your toe cages whenever you need them.
How To Use Peloton Toe Cages
Here you can see Dima's video on how to lace, install and use peloton toe cages.
Peloton Toe Cages vs Flat Pedals
The difference between peloton toe cages and flat pedals is that flats allow pushing the pedal down directly onto the pedal platform.
The peloton toe cages, thanks to the attached strap, also allow for pull-up of the foot on the pedal stroke, which can generate up to 30% more output, compared to flat pedals.
In other words, the toe cages provide essential foot stability that enables to transfer of more power from the leg to the pedal during both pull-up and push-down strokes.
Of course, if your goal is to get the most power output, you have to use cycling shoes compatible with delta clip-in pedals.
Conclusion
As you can see, there are many reasons why you should consider getting peloton toe cages (even if it's just the attachment on the pedals).
I find that cycling with sneakers on doesn't make me train less intensely or less often. In return, I don't have any foot problems from my corn, I can share my bike with friends and family, and I can push harder on the bootcamp classes.
Plus, I'm already familiar with toe cages because today you can find them in all spin bikes in almost every fitness center.