The Cyclebar started in 2014 and it's a part of the Xponential Fitness family that includes several franchisees across the world. This is a premium indoor cycling boutique gym that is held in person in the studio that is called CycleTheatre.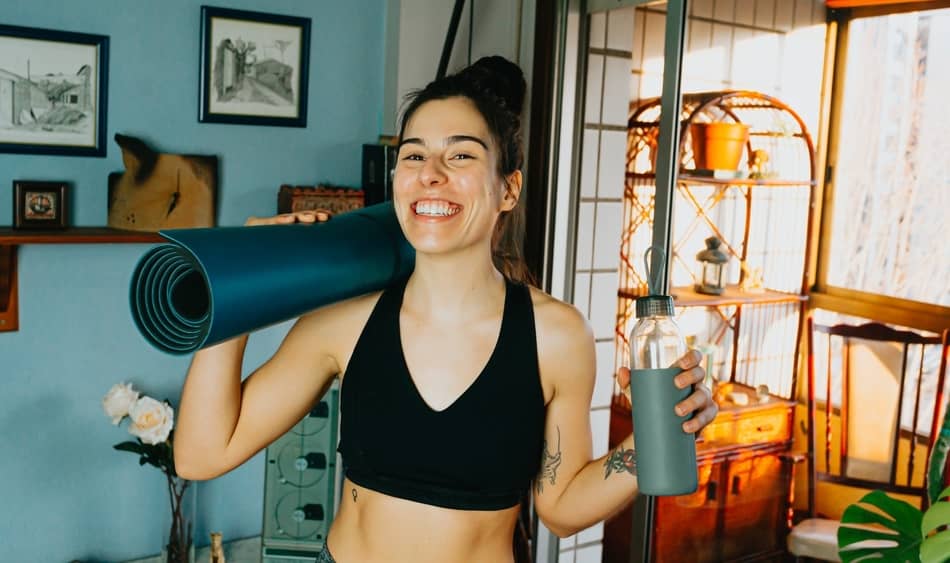 The Peloton and Cyclebar are completely different fitness companies but are working on a similar idea; delivering group fitness indoor cycling classes. They both have a strong community, as well as a wide range of online content.
I will briefly cover the pros and cons of the Cyclebar class, but the goal of this article is to compare Cyclebar with a Peloton and help you decide which one is better.
What Is Cyclebar?
Overall, Cyclebar is a premium indoor cycling studio franchise with over 500 locations spread across the US, Canada, Asia, Mexico, Europe, the Middle East, Australia, Central, and South America. Cyclebar has become popular thanks to its concierge-level service and invigorating experience.
How does Cyclebar work? In general, the Cyclebar works like a live group spinning class where you need to register your bike in advance. For each class, you will need a water bottle and cycle shoes, which are both provided by the company on your arrival.
What does Cyclebar do for you? As a whole, the Cyclebar workouts are a mix of high-intensity interval training together with resistance training using the weighted bar. The combination of cycling with strength training helps to do a full-body workout, as well as burn more calories.
What Is Peloton?
Peloton is a rapidly growing company that specializes in home-fitness workouts using its bikes and treadmills. They have over 24,000 on-demand classes and almost 200 new sessions each week in a variety of fitness genres.
How does the peloton work? As a whole, the peloton works by providing access to thousands of workouts for their subscription members. You can use the Peloton app either from the mobile device, laptop browser or directly from the bike or treadmill. Apart from cycling it also has strength, yoga, running, and Bootcamp sessions.
What does a peloton do for you? In general, the peloton can be used in a variety of ways based on your fitness goals from building muscle, losing weight, or even improving your performance. All classes can be filtered by their difficulty level, duration, and even the type of music.
Peloton On-Demand vs Cyclebar GO
There are several differences between Peloton and Cyclebar classes including the number of workouts, class variety, and class duration.
Does Cyclebar have online classes? Overall, the Cyclebar does have online classes on their fitness app, as well as on their youtube channel. There are mainly cycling classes that differ in intensity and duration. The main difference is that peloton has over 80 new on-demand cycling classes per week, whereas the cyclebar has only 2 to 3.
Below you can see how many cycling classes are available in the peloton and cyclebar online library.
Peloton Rides
Cyclebar Rides
Beginner (300+ rides)
Low Impact (700+ rides)
Power Zone (400+ rides)
Climb (350+ rides)
Intervals (2,300+ rides)
Music (4,700+ rides)
Classic Rides (50+ rides)
Xpress Rides (70+ rides)
Empower (5 rides)
Peloton rides vs cyclebar
As you can see, the peloton is crushing the cyclebar when it comes to indoor cycling on-demand class selection.
However, Cyclebar is more about the in-person experience, rather than on-demand. They have hundreds of studios across the world. In each studio, you can have three to six classes per day, depending on the location.
The cyclebar class duration ranges between 30 to 45 minutes. What I like about their workouts is they also use the weighted bars for a variety of exercises that train shoulders and arms. This makes the workout more challenging and fun.
Also, don't forget that Cyclebar is a part of a large company called Xponential Fitness, which owns a number of franchises like Club Pilates, StretchLab, Yoga Six, AKT, Row House, and Body Fit Training.
Cyclebar GO gives you access not only to the cycling classes but also to the whole online workout library of those brands.
This means that by signing up with Cyclebar GO you will also be able to stream classes and programs from:
Pure Barre GO
Club Pilates GO
Yoga SIX GO
Row House GO
AKT GO
StretchLab GO
Stride GO
I think that's cool because not only do you only need one membership to cover all the classes, but also you can choose from thousands of other fitness genres.
They also have "xpass", which is a membership plan that gives you access to all Xponential Fitness studios.

However, the Cyclebar Studio membership and Cyclebar GO are charged separately. This means you cannot use the online classes if you just want to ride at your local cyclebar studio, and vice versa.
Are peloton classes harder than cyclebar? As a whole, the peloton classes are harder than cyclebar because the peloton has a number of workouts that last 60, 70, and even 90 minutes. They also have Bootcamp workouts that are a combination of interval training on the bike with strength training off the bike using heavyweights.
Peloton Live vs Cyclebar Studio
The difference between peloton live and cyclebar is that peloton only delivers classes via the app. The Cyclebar has classes on-demand, as well as in-person live workouts in the CycleTheatre.
What I like about the cyclebar studio is they offer you white glove customer service. The location I went to (Hoboken in New Jersey) was maintained with a high level of cleanliness and all staff seems to be genuinely interested and helpful.
Highly recommend.
Here are some things that you can expect when coming to cyclebar studio:
For every class, you need to make a booking in advance to secure your space and choose your bike. This will allows you to choose the bike location and be side-by-side with your friends.
On the arrival, you will be greeted by friendly staff and assisted with check-in. This is quick and all you need is to choose your name from the list.
After you check-in, you will receive cycling shoes and locker numbers based on the bike you've chosen.
In the locker room, there was my name written on the wall. I find that extremely welcoming because it helped to dissolve some of the intimidation.
In the locker rooms, you have showers, restrooms, and free water.
Before the class, you will be assisted by the staff on how to set up your bike and how to clip in the shoes into the cleats on the bike pedals.
Do peloton shoes work at cyclebar? As a whole, the peloton shoes do not work at Cyclebar bikes because the peloton uses Delta cleats (also known as SDP SL). The Cyclebar bikes have pedals with SPD cleats, which are smaller and usually used for mountain bikes.
On the other hand, the peloton is a giant in live-stream fitness. They've been consistently delivering around 200 live classes each week.
The most popular class on the peloton is cycling, strength, and yoga.
Does cyclebar have live classes? Overall, the cyclebar just launched its live class schedule in the Cyclebar GO. As of now, they offer only a couple of classes per day. However, a subscription to Cyclebar GO gives you access to all Xponential Fitness live classes.
One thing that I need to point out is that peloton streams anything from 21 to 30 live classes every day. The Cyclebar seems to be way behind.
Learn more: Click here to learn tips and hacks for "showering at the gym"
Peloton Programs vs Cyclebar
The peloton and cyclebar have completely different programs. Peloton programs are all unique and designed to either improve your strength, help you start running, or teach basic yoga moves. The cyclebar has one 8 week immunity conditioning program called Emerge.
What is cyclebar Emerge? Overall, the cyclebar emerge program is a series of classes that last for 2 months, and it's a combination of stretching, foam rolling, strength, and meditation. It also has a nutrition section where they teach you about proteins, cooking, and even eating out.
What I like about the cyclebar program is its holistic and includes many aspects of a healthy lifestyle like sleep, recovery, food, and mindfulness.
On the other hand, the peloton also has many programs, but they're not combined together. This means you have one program for meditation, one for running, and the other for sleep.
Peloton Leaderboard vs Cyclebar
The peloton and cyclebar have vastly different leaderboard approach. The cyclebar sends you an email with all your statistics from your last class in the studio. The peloton has a leaderboard and in-depth analysis built in their bike and tread software.
One thing I love about the cyclebar is they give you all the data about your very recent class. They call it CycleStats. In the email you will be able to see:
Class rank – Which place you made out of all people in the class.
Average RPM – What was your average speed. RPM stands for revolutions per minute.
Max RPM – What was you fastest RPM.
Calories Burned – How many calories you've burned in that class.
Are cyclebar calories accurate? As a whole, the cyclebar calories are not accurate. Cyclebar doesn't use heart rate monitors so they cannot estimate accurate calorie expenditure. The bikes use a power meter but because you don't enter any metrics like weight, age, and gender, the results will be inaccurate.
On the other hand, a peloton does use both a power meter and a heart rate monitor to estimate how many calories you've burned. It is more accurate, however, it is still difficult to know for sure.
To learn more about "peloton calories accuracy", check out my article here.
On the other hand, the peloton leaderboard is more detailed and it saves results for every single ride that was on the app. This means you can do the same class from last year and compare your power output and calories burned and see how much progress you've made.
Here are the things you can see in the peloton leaderboard:
Overall rank – Which position you have from all people who did this class.
Total output – How hard did you work and how much energy did you used.
Average output – How hard did you worked (in watts).
Average cadence – How fast did you pedal in RPMs.
Average resistance – How much resistance did you train at.
Calories burned – How many calories you've burned.
Another thing you need to remember is that peloton shows you leaderboard metrics in real-time.
This means you can see what position you held at the moment, how much power output others have, and who historically was the best on that specific ride. With Cyclebar you can only see the stats after class was done.
Peloton vs Cyclebar For Beginners
As a whole, the difference between peloton and cyclebar is that peloton has several beginner-friendly classes and tutorials. Those classes have a low pace and often focus on building the foundation of good form and technique before adding more intensity.
On the other hand, the Cyclebar studio doesn't seem to do beginner classes. All their in-person rides are one-size-fits-all.
This class is great for people who are already motivated and trained, but I wouldn't recommend this class for absolute beginners.
Does Cyclebar have beginner classes? As a whole, the Cyclebar doesn't have beginner indoor cycling classes. The workouts are all 30 to 45 minutes long and one class is the same for all levels of fitness.
Of course, every Cyclebar instructor will advise you to adjust your resistance and pace yourself. However, realistically, is impossible to keep an eye on everyone in a dark room with loud music and over 40 people riding.
Plus, it can feel really intimidating if you're the only one in the class who seems to be struggling.
On the other hand, the peloton has hundreds of beginner-friendly rides, as well as ready-made programs.
It also has complete guides on how to do the exercises in the correct way, which is perfect for people who are new and don't feel confident. I think that the peloton is more realistic when it comes to beginners.
Peloton vs Cyclebar For Weight Loss
There is not much difference between the peloton and cyclebar when it comes to weight loss. Both cardio programs use high-intensity interval training to stimulate training adaptations and increase the lactate threshold, which translates into a higher calorie burn.
Is cyclebar good for weight loss? As a whole, the cyclebar is good for weight loss because each class can burn between 300 to 600 calories, depending on the intensity. The cyclebar GO subscription also offers access to other classes like rowing, dance, and running.
I also like that Cyclebar GO offers additional lifestyle content that helps you with other areas like diet and motivation.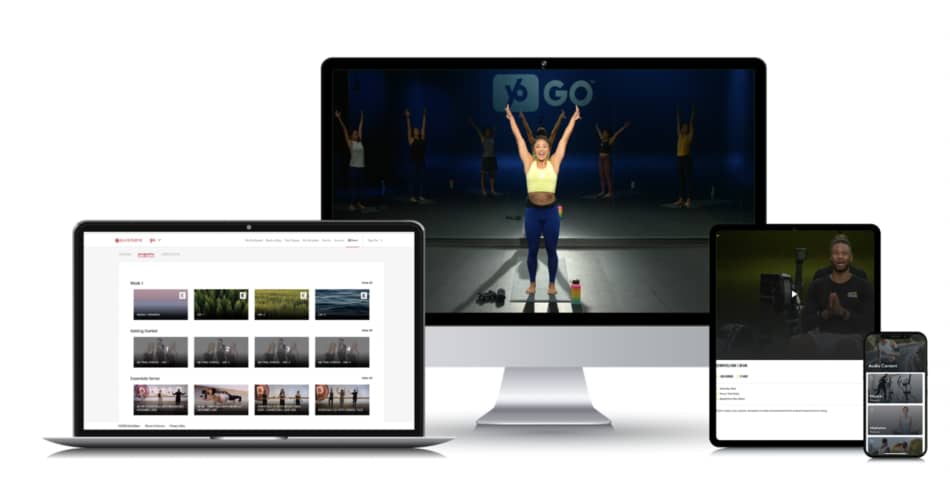 My favorite weight loss class from the Cyclebar GO app is from the brand called Row House. Those classes are all about group indoor rowing. Rowing is generally a full-body workout that helps not only burns calories but also improves your posture and engages muscles that cycling won't.
Another great weight loss class in the Xponential Fitness library is AKT. AKT is dance-based cardio fitness. It's like a fusion of high-impact aerobic workouts with dancing to the beat.
A lot of fun and sweat so you train hard but you don't feel like working out. So if you're bored of bikes or treadmills, this class is perfect.
On the other hand, the peloton did a great job in developing workouts that use both cardio and resistance training (e.g. Bootcamp).
Also, they have a number of long-distance endurance rides that are perfect for high-calorie burn because they keep you at a low to medium heart rate for as long as 90 minutes.
You can learn more about "peloton rides that burn the most calories" here in my article.
Is a peloton better than a cyclebar for weight loss? As a whole, the peloton is better than a cyclebar for weight loss because they offer more variety of workouts, as well as give access to thousands of strength training classes. The cyclebar GO has a lot of variety, but they don't offer a lot of resistance training with heavyweights.
Please remember that a key component to improved body composition is calorie deficit. Resistance training helps to maintain muscle mass and increase basal metabolic rate, even during the low-calorie intake.
On the other hand, indoor cycling burns more calories, but it is less effective in stimulating hypertrophy (Willis et al. 2012).
Peloton Price vs Cyclebar
Overall, the peloton is initially more expensive than Cyclebar because Peloton requires an upfront cost of $1495 for the bike and $2,495 for the bike plus. On top of that, you also need to pay a monthly subscription fee of $44 for access to classes, leaderboard, and metrics.
However, in the long run, it may seem like peloton is actually cheaper than Cyclebar.
Have a look at the table below where I compare Cyclebar unlimited membership with Peloton bike plus and membership over the 24, 48, and 36 months.
| | Cyclebar | Peloton |
| --- | --- | --- |
| Initial | – | $2,495 |
| Monthly | $169 | $44 |
| 12 months total | $2,028 | $3,023 |
| 24 months total | $4,056 | $3,551 |
| 36 months total | $6,084 | $4,079 |
| 48 months total | $8,112 | $4,607 |
Peloton price vs cyclebar
As you can see, the price quickly adds up. And if you plan to train with Cyclebar for 4 years, it will set you back $8,112.
That's almost a $4,000 difference.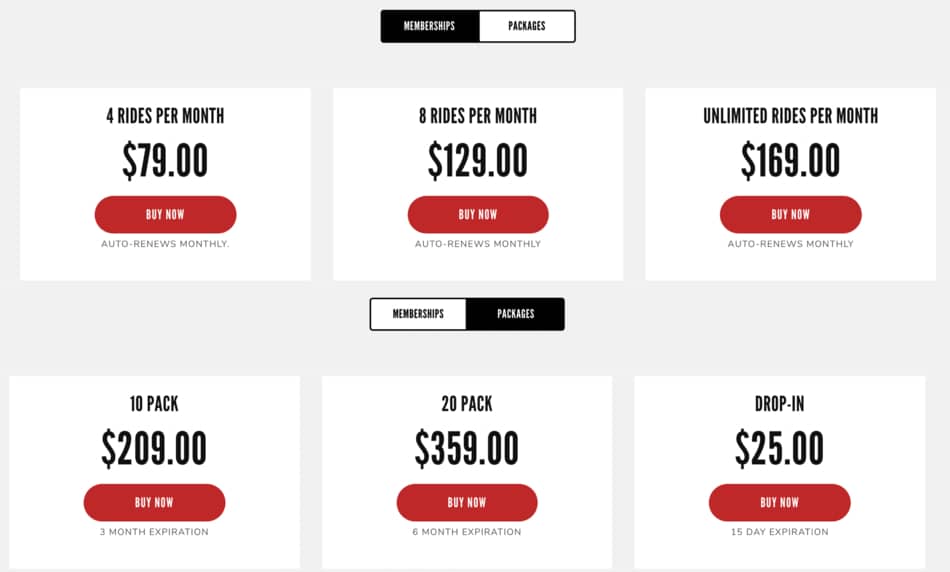 Please keep in mind that this price does not include Cyclebar GO.
Cyclebar GO costs $29.99/month and covers all other Xponential Fitness online classes.
Also, remember that the schedule will vary from location to location. Plus, weekends usually have fewer classes on the timetable.
Why is cyclebar so expensive? As a whole, the cyclebar is so expensive because the cyclebar is branded premium indoor cycling class that delivers high customer service. Their sound system is great, studios look like cinema theatre, and instructors are all highly trained.
However, if you look at the price from the perspective of 12 or 24 months, it is still more expensive than the peloton bike plus.
Is cyclebar worth it? Overall, cyclebar offers great service and a fantastic experience but it's not worth the cost. If you want to have a full package that includes online classes and in-person studio rides it will cost you $200/month, which is equivalent to hiring a personal trainer.
Peloton Community vs Cyclebar
Overall, both brands have their raving fans but I think Cyclebar has more to offer. I believe there is greater value in social connection that happens in person. Meeting people in real life has more value and can blossom into actual relationships.
Peloton has its strong supporters and huge online presence, but they lack an in-person community and interactions.
Conclusion
The peloton and cyclebar have both advantages and disadvantages; however, they both provide an excellent group indoor cycling experience.
In short, the Peloton is better than the Cyclebar because of the price, class variety, and the fact that you get to own the exercise equipment at home.