One of the best things you can do before buying a peloton bike is to test drive the app (at home or at your local gym) using an elliptical.
As much as it sounds weird, you can do almost all bike and bootcamp classes from the peloton app using an elliptical machine (that's exactly what I did before I got my bike+).
It's time to roll up my sleeves and share with you some of the best ways you can do peloton elliptical workouts, as well as explain the pros and cons of doing so.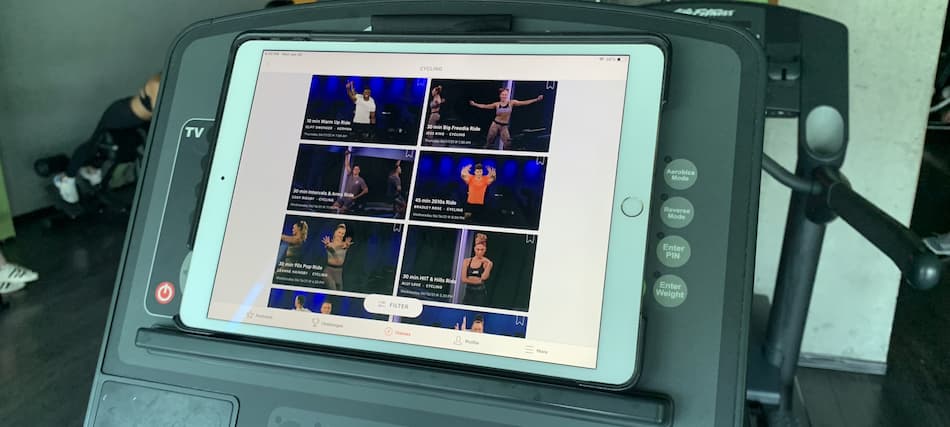 You can do peloton workouts on an elliptical machine by placing the phone or tablet on the media tray right in front of you and streaming the content from the peloton app. Some of the most challenging peloton elliptical workouts are HIIT, Climb Rides and EDM Rides where you can do revolutions to the beat of the music.
Here you have my general answer, but if you wanna know more details on if peloton sell ellipticals, how to use peloton on elliptical safely, and what are the best classes to choose, keep reading.
NOTE: This article is not a comparison between the peloton and elliptical. I've already compared them in "peloton vs elliptical", which I recommend you read.
Using peloton workouts on elliptical
One of my friends suggested that I should try to get a peloton app before buying the bike. She said I can get on any indoor cycling bike and test drive the app before I decide to go ahead with a big order.
Unfortunately, the gym that I went to didn't allow me to use indoor cycling bikes if there was no class going on. The only equipment that was kind of similar to the bike was the elliptical.
As a whole, peloton doesn't offer elliptical workouts because most of the classes they offer are for peloton bikes, peloton treadmill, or mat.
However, a lot of rides and tread workout goes well on elliptical (e.g. peloton bootcamp).
Is Peloton working on an elliptical?
Ellipticals are very similar to peloton bike. They require shuffling the feet back and forth within elliptically-shaped paths, which is a similar motion to the pedal stroke on the bike. doing pedal strokes in a stable position.
This means you can do peloton rides on an elliptical machine, as long as you use your mobile device that is connected with the wifi.
Ellipticals can go hand in hand with peloton rides because they share some of the same features:
Driven by the pedal motions – Both peloton and ellipticals are "dependant" on your leg power. They both require you to pedal in an oscillating way.
You can control resistance – Another thing in common between peloton and elliptical is you can adjust your resistance from the navigation menu at the top.
This way you can follow the instructions from the peloton coaches whenever they ask to add or reduce the resistance.
You can control cadence – Both peloton and ellipticals use pedal strokes and revolutions, as well as display your speed in RPM (revolutions per minute).
This means you can easily increase the speed on your elliptical while doing peloton classes.
Plus, if you enjoy doing peloton cycling classes with good music, the elliptical machine will work like a charm.
Going to the beat and adjusting your resistance depending on the music tempo is fun and motivating. It also helps you forget about the workout and let your imagination flows (more on that later).
Can I use the peloton app with an elliptical?
In general, you can use the Peloton app with an elliptical, as long as you choose the bike, tread, or bootcamp classes. Several HIIT and Climb classes fit perfectly with the elliptical.
You can synchronize elliptical speed and resistance to fit into any of the music tracts.
If you've been reading some of my blog posts, you probably know that I'm a huge fan of listening to music during peloton elliptical workouts.
Peter C Terry, Ph.D., a researcher from Queensland in Australia says "Music listening across a range of physical activities promotes more positive affective valence and enhances physical performance (i.e., ergogenic effect)."
In his study, Dr. Terry pointed out that "Listening to the music not only improves your performance but also makes you feel more positive and less tired by reducing perceived exertion."
(that's one of the reasons why I enjoy doing peloton elliptical workouts with the music).
I like peloton music selection
I can hardly remember when the last time I used the elliptical was without listening to the rock tunes and going to the beat. Even before the peloton was big, I used elliptically just like I would use a bike in the spin class.
PRO TIP: When choosing the classes, pay attention to the tracklist and make sure the songs vary and have different beats per minute. For the best results, you want to alternate a slow song (hard resistance) with a faster song (low resistance).
How to use peloton app on elliptical
As much as Peloton doesn't offer ellipticals, you can still use the app to have an amazing workout experience on your elliptical (plus, you don't need cycling shoes.)
To use a peloton app on the elliptical you need to place the mobile divide on the media tray and ensure you have access to wifi (the Peloton app does not without internet).
Depending on the class, you can either hold the handle-levers attached to the pedal link or handles that are static.
Here are the steps on how to do peloton elliptical workouts at home, or in the gym.
Bring the right type of mobile device
First things first you need to start with the right mobile device. I know this may sound weird, but there are some pros and cons of using either a phone or a tablet (I don't recommend streaming peloton classes on the elliptical from your laptop).
For example.
A mobile phone is much easier to move around, which is great if you do classes that constantly require change resistance.
Plus, it always has wifi, so you won't have any problems with the internet connection.
Finally, the biggest advantage of bringing a mobile phone is it doesn't take up too much space and it always fits the media tray on the ellipticals.
In the picture below, you see the standard TechnoGym elliptical with a silver media tray that is half an inch wide.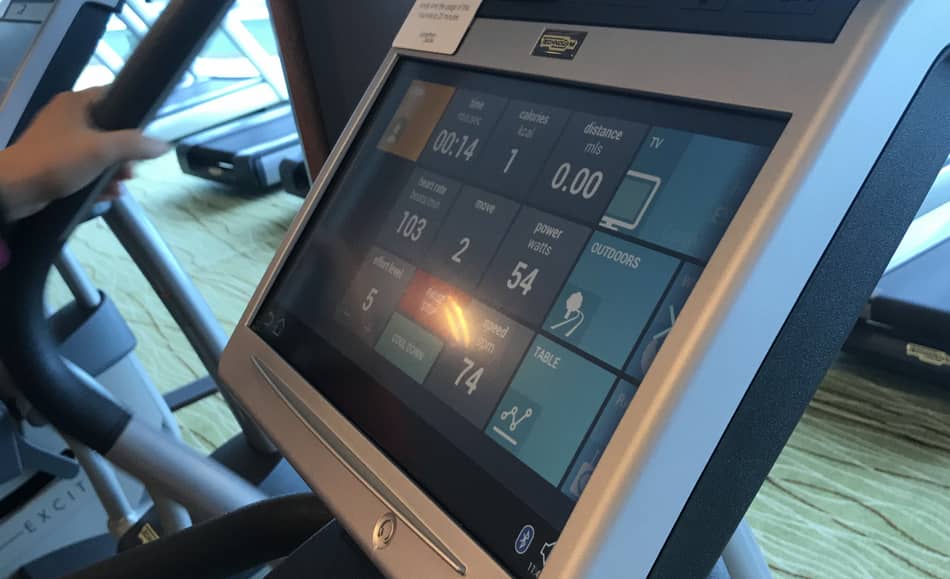 Needless to say, it would not be safe to place your tablet on a such small support, especially when the elliptical can wiggle from time to time.
The downside of using a mobile phone is it has a ridiculously small screen that you can barely see anything. It also has poor-quality speakers (unless you're using Bluetooth headphones).
On the other hand, the tablet is great becasue it does have a large screen where you can see everything in detail. It also has a better build in speakers to hear the music.
However, because it's extra large, it will stay on your way every time when you will want to change the resistance.
Plus, keep in mind that you need to have access to wifi. And unless you have a tablet with a Simcard or you're using the personal hotspot from your phone, you will end up with "so signal" (just like me).
Unfortunately, you cannot use peloton without internet, so ensure your mobile device have wifi.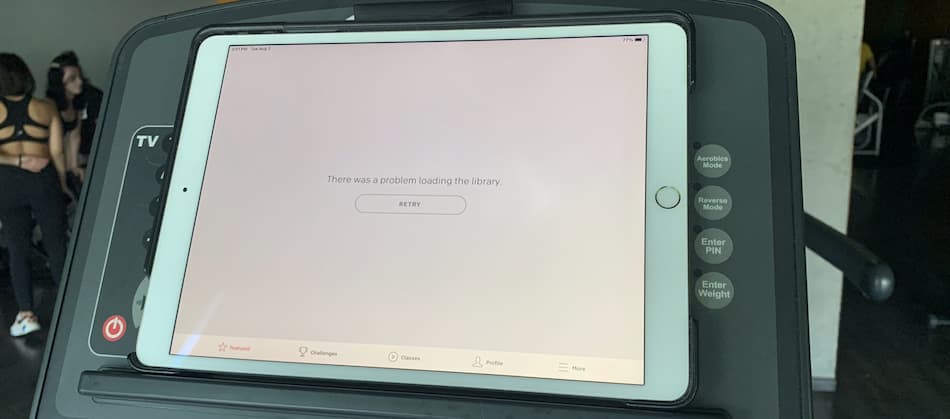 Place your phone or tablet on the screen
Most of the ellipticals come with a media tray or a shelf. Normally, I would see people using this space for reading a book, reading a kindle, watching Netflix, or doing something else to distract themselves from the workout.
Depending on the brand of the elliptical, the screen's little "shelf" should be slightly tilted to the front, which will ensure that the device you're using won't fall down. That's where you place your mobile device.
Choose the workout
Select the workout based on the intensity and the music. One of the best workouts for elliptical I like to do is peloton HIIT and Tabata classes because of the combination of a fast cadence with a slow pace at higher resistance.
It's like climbing up the hill, but on the elliptical, and not on the bike. On elliptical, you actually stand, which helps you to push harder.
There is an option to use handle-levers, but I recommend you just hold the ones that are static, and not moving.
Holding the static handles helps to maintain stability in your shoulders and core, which will help to generate higher power output and makes you sweat more.
Use headphones
Another thing I recommend to try during your peloton elliptical workouts is to use headphones or earphones. You can use branded peloton headphones or any other wireless earbuds that support Bluetooth or ANT+ technology.
I connect the app to my wireless bose SoundSport headphones and start the workout.
As I've mentioned earlier, I love to work out with music because listening to the good beat almost makes me forget about the workout.
In fact, some of the peloton classes for an elliptical that I've chosen below are based purely on good music.
(I used to teach exercise to music classes so when I hear a good tune on the bike or the elliptical I always like to go to the beat).
Another thing that earphones help with is noise. You don't want to make everyone else around you listen to the workouts or comments from the peloton instructors.
Best peloton rides for elliptical
In general, you can use most of the peloton rides on the ellipticals, but some are better than others. For example, I would not do power zone max or power zone endurance rides. I would also stay away from recovery rides, warmups, and cooldowns.
Peloton power zone classes are most effective when you do the peloton FTP test, which unlocks the "power bar". Unfortunately, this feature is not available on elliptical, so I would just skip this class.
Recovery rides are okay on the days when you want something easy but don't expect to get sweaty from them.
Here are some of the best peloton elliptical workout classes you can try.
Climb rides
I think that peloton climb rides are one of the best options for elliptical workouts becasue they use extra resistance, which leads to greater motor unit recruitment in the muscle.
On the bike, you do them mainly out of the saddle, so it makes sense to do this workout on the elliptical, too.
Plus, it can get brutally hard and sweaty if you add more resistance as they challenge both cardiovascular fitness, as well as muscular endurance.
Intervals
I'm confident that if you like doing peloton HIIT and Tabata on the bike, then this will likely be your favorite workout on the elliptical.
Intervals involve climbing, sprinting, or doing fartlek-style training with minimal resting time. These are all good for ellipticals because they alternate between high and low intensity where you go as fast as possible, followed by a recovery break.
If you wanna challenge yourself, I recommend picking up Olivia's or Robin's classes.
Heart rate zone
This is another favorite workout, but I only use it while wearing a heart rate monitor.
One of the reasons why I like to do peloton heart rate zone classes is becasue they're designed to keep you in specific intensity, based on your fitness goals.
For example, if you wanna burn more fat, choose heart rate zone endurance classes. If you feel like something harder, go with 75-minute HRZ Threshold workouts.
EDM rides
EDM stands for electronic dance music. Unless you're from the generation of Baby Boomers or Generation X, electronic dance music encompasses styles ranging from house music, techno, drum and bass, dubstep, and trance.
Some of the best peloton EDM classes have a steady beat at around 120-135 beats per minute, which goes perfectly well on the elliptical.
Beats per minute give you the tempo of how fast/slow you should press your pedal down. I find that 130 BPM is a sweet spot for more becasue it's fun and challenging at the same time.
Bike bootcamp
This is completely different from the previous workouts. This is one of my favorite classes that you can do on the elliptical becasue you combine weights and cardio.
In fact, I think it's much easier to do peloton bike bootcamp on the elliptical because you don't have to change your tennis shoes into cycling shoes every time you make a transition.
You can literally transform your regular elliptical workouts into bootcamp workouts.
Things to remember when doing bike bootcamp on the elliptical is that you have to take your phone with you (so you can see the exercises) and keep the pair of dumbbells close by.
Can you do peloton tread workouts on the elliptical?
In general, you can do peloton tread workouts on the elliptical, as well as tread Bootcamp classes.
In most of the peloton tread classes, they use nice music. So instead of running, you simply follow along on the elliptical.
You can use regular tread classes, or tread bootcamp classes. A typical tread boot camp class is divided into 3 segments.
The first segment is when you do your regular warm-up plus cooldown.
The second section is running.
The third section is resistance training using weights or bodyweight exercises.
All you need to do is change running for elliptical and you have an energy-pumping and high-calorie burn workout. You can adjust the resistance based on your fitness level.
TIP: When you do tread Bootcamp on the elliptical take your phone with you when you get off the treadmill.
Best peloton tread workouts for elliptical
Here I wanna show you my 5 best peloton tread workouts that you can do on the elliptical.
60 Min Bootcamp Full Body (Jess Sims)
45 min 90s Bootcamp (Jess Sims)
20 min HIIT run (Rebecca Kennedy)
45 min Full Body Bootcamp (Andy Speer)
45 min Hip Hop Bootcamp (Adrian Williams)
Most of those sessions are long but there are plenty to choose from that range from 15-30 minutes. I would recommend finding the ones that you like based on the music because the truth is if you like the beat, you don't feel like working out.
Does peloton have an elliptical?
The peloton and Precor offer commercial fitness equipment that includes treadmills, ellipticals, bikes, stairclimbers, and cross trainer machines. These machines are only for corporate clients like hotels, cruise ships, and multi-family residences, and are not available for the general consumer.
In other words, for people like you and me, there is no option to buy a peloton elliptical for home use. Currently, there is little information about the peloton's future plans.
You can find out more information on their commercial website. Details here.
Will peloton make an elliptical?
I doubt it.
As of now, there is no clear information if peloton will be launching an elliptical machine into its inventory. Today, you can only get a Peloton bike, peloton bike+, peloton tread, peloton tread+, peloton guide, and soon peloton rower. Plus, you have a full range of accessories and apparel.
The company has already expanded with thousands of on-demand classes that range from yoga, meditation, tread, and strength.
Since 2020, the number of classes has skyrocketed, and from what I can see, new classes are coming into the peloton library daily.
Conclusion
Peloton is a US-based company that offers classes on-demand, state-of-the-art stationary bikes, and treadmills.
As of now, Peloton doesn't sell ellipticals to the general public, but only for corporate clients.
However, there are hundreds of classes you can do on the elliptical and have the same experience as on the bike.