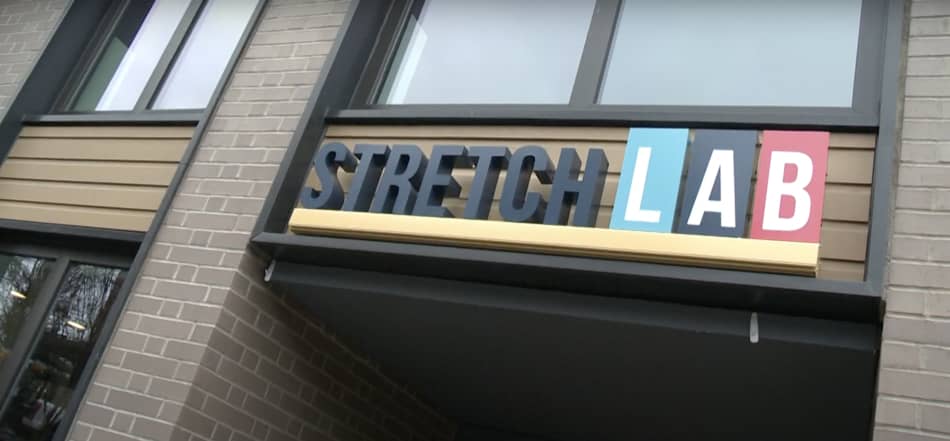 StretchLab refers to an up-and-coming assisted stretching and flexibility-training franchise with about 300 studios across the country, including Grand Rapids, Sioux Falls, and NYC. It specializes in active-assisted stretching, promising reduced muscle pain and improved range of motion. Using techniques like proprioceptive neuromuscular facilitation (PNF), StretchLab aims to increase the range of motion and targets athletes, older adults, rehabilitation patients, and general fitness enthusiasts.
While Stretch Lab holds a 4 out of 5 rating based on the reviews of 103 people on its Facebook page, reviews are mixed regarding their services and employment practices. Some users praise the franchise for its "fast, convenient, affordable service" and knowledgeable staff, but others raise concerns about unethical billing practices, claiming the company "steals credits" and imposes a $1,000 training reimbursement fee for employees who quit within 180 days.
When asking whether StretchLab is worth it, one could argue that it is indeed worth every penny, particularly for those who need frequent stretching but lack the skills to do it themselves. StretchLab Flexologists use MAPS scans to assess mobility and posture, and based on these results, they design full-body stretches and percussive therapy treatments using the Hypervolt massage gun.
As a result, questions arise about what a StretchLab is, how effective StretchLab is, how much StretchLab costs, and what the alternatives to StretchLab are.
What Is StretchLab?
StretchLab is an assisted-stretching franchise studio that provides one-on-one, customized assisted stretching sessions, as well as group stretches. The StretchLab company is owned by Xponential Fitness, the largest fitness franchisor of boutique fitness brands like Cyclebar, RowHouse, Stride, and PureBarre.
I tried StretchLab for the first time over 4 weeks ago and decided to get a membership almost immediately. As of today, the StretchLab franchise has over 300 locations in the U.S. and over 20 locations that are coming soon.
Recently, Xponential Fitness announced an exclusive five-year licensing agreement that involves StretchLab, OneSpaWorld, and Princess Cruises. This means you will be able to enjoy StretchLab services on board one of the 15 Princess cruise ships.
What Is The Purpose Of The StretchLab?
The primary purpose of StretchLab is to offer active-assisted stretching sessions that aim to improve both active and passive range of motion for individuals. Utilizing techniques like proprioceptive neuromuscular facilitation (PNF), StretchLab targets a diverse clientele that includes athletes, older adults, rehabilitation patients, and general fitness enthusiasts.
The environment is designed to be relaxed and friendly, akin to a massage studio, making it an inviting space for clients. Assisted stretching at StretchLab is considered effective as it allows for deeper stretches compared to self-administered stretching.
It almost makes me feel like in a massage studio in Bangkok where you can see all the benches and happy people lying down and being stretched.
How Does StretchLab Work?
StretchLab works by providing one-on-one stretch and mobility sessions. They offer Physmodo MPAS scanning assessments to identify your weak points and limitations in the range of motion.
Based on the test results, certified flexologists can customize the stretching sessions.
This photo an example of the Physmodo MPAS scan assessment (you have the same technology in the TRX MAPS scan).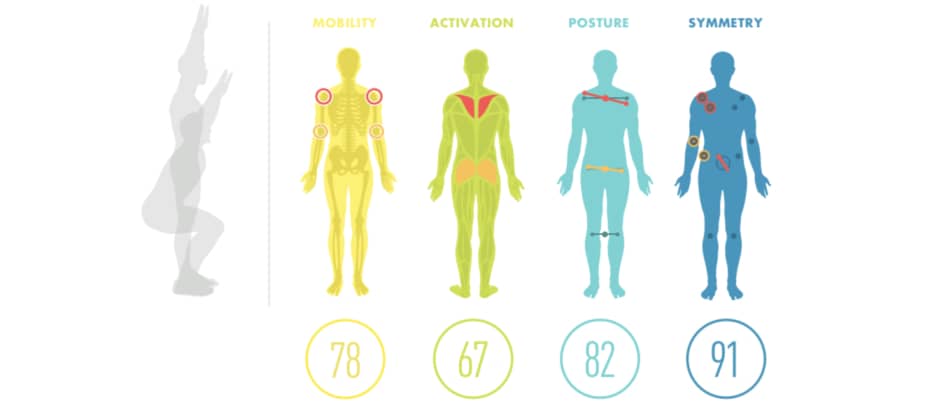 When asking about what a Physmodo MAPS scan is, it's important to note that the scan uses state-of-the-art motion capture technology to perform a full-scale body movement scan in under 30 seconds. It delivers an overall score in four categories: mobility, muscle activation, posture, and symmetry.
How Does StretchLab MAPS Score Work?
StretchLab MAPS score is based on an overhead squat assessment, a method shown to have substantial reliability in identifying high-risk movement profiles like medial knee displacement (MKD), according to a 2017 study by Eric G. Post from the University of Wisconsin. The StretchLab MAPS score leverages this overhead squat methodology to provide a reliable measure of an individual's movement profiles and range of motion levels.
Is StretchLab MAPS Score Effective?
Yes, the StretchLab MAPS score is effective in identifying muscle inefficiencies and tension, as it visually displays these areas on a large screen. The approach allows for targeted stretching guided by a StretchLab trainer, and the use of the Physmodo MPAS scan at both the beginning and end of each session enables you to track improvements and see how your body has responded to the stretching.
Is StretchLab MAPS Score Accurate?
The accuracy of the StretchLab MAPS score can be influenced by several factors, such as whether the individual has warmed up prior to the assessment. Performing overhead squats without warm-up or mobility drills can limit the range of motion, potentially affecting the score's reliability. Therefore, while the MAPS score aims to be a reliable measure, its accuracy may vary and could be optimized by conditions like a warm-up, making it a point of consideration for those evaluating its efficacy.
For example, try doing 5 sets of 10 bodyweight squats and you will notice that each consecutive set is becoming easier to do. You can not only go deeper but also faster.
So if you're coming to the StretchLab "cold", it doesn't take a magician to understand that 50 minutes of stretch session almost guarantees a better score (a good tactic for selling more sessions and memberships).
What Does a StretchLab Session Look Like?
A StretchLab offers two types of sessions: one-on-one and group. Each session takes either 25 or 50 minutes. The difference between 25 and 50-minute StretchLab sessions is the longer class offers extensive full-body stretch that focuses on all major muscle groups. It also includes Hypervolt percussion therapy to further accelerate results.
On the other hand, a 25-minute session works mainly on the largest muscle groups or focuses on your specific area of concern (e.g. alleviates muscle tightness from the lower back). The first time I tried StretchLab, I took the longer, 50-minute class because I was curious about how would 50-minute assisted stretch make me feel. After my first visit, I changed my membership for 25 minutes. This video explains what to expect from the first StretchLab visit.
What Did My StretchLab Session Look Like?
The following list shows what my StretchLab session looked like.
Immediately after I came to the StretchLab studio, I was recognized by one of the staff to confirm my appointment. One of the staff members discussed my current flexibility status and asked about any injuries.
The session starts right on time and I don't have to change my clothes (ensure you come with comfy gym clothes).
First, we start with the MAPS full-body scanning, which is the machine that has a built-in 3D camera and captures thousands of data points from my posture.
The assessment takes less than 60 seconds. It involves doing three reps of bodyweight squats with hands over my head.
Once the MAPS scan is done, I get to see the score from my mobility, muscle activation, posture, and symmetry. A total score is derived from these four categories and indicates overall biomechanical health and readiness.
The StretchLab Flexologist discussed the results with me and designed the assisted stretch program.
Simply put, the goal of each StretchLab session is to improve your overall mobility score (this is the purpose of doing a re-test after the session).
What Do You Do During the StretchLab Sessions?
During StretchLab sessions, the focus is on active-assisted stretching, which employs a form of proprioceptive neuromuscular facilitation (PNF) technique. PNF is proven to be highly effective in increasing the range of motion, according to a 2018 study by Landon Lempke.
The StretchLab session generally involves two popular PNF techniques: the contract-relax method (CR) and the contract-relax-antagonist-contract method (CRAC).
Contract-relax method: The CR method works by lengthening and holding the muscle in one position while the person who lays down contracts the same muscle to its peak tension.
Contract-relax-antagonist-contract method: The CRAC method works similarly to the contract-relax method, however, the person who lays down contracts the opposite muscle to the muscle that's being stretched.
These techniques are administered by a trained StretchLab Flexologist and tailored to your specific needs, making the StretchLab experience unique and beneficial for improving flexibility and range of motion.
In the StretchLab session, you will likely receive at least one of these two methods, as well as static stretch (depending on the location and skills of your Flexologist).
How Often Should You Do StretchLab Sessions?
For optimal results in terms of flexibility and muscle tightness, it is recommended to attend StretchLab sessions three times per week. This recommendation is based on a 2009 study by Dr. Amélia Pasqual Marques from the Universidade de São Paulo, which found that stretching three times a week yielded similar improvements to stretching five times a week, but with less commitment. The study evaluated three groups with different stretching frequencies: once a week (Group A), three times a week (Group B), and five times a week (Group C), as shown in this diagram.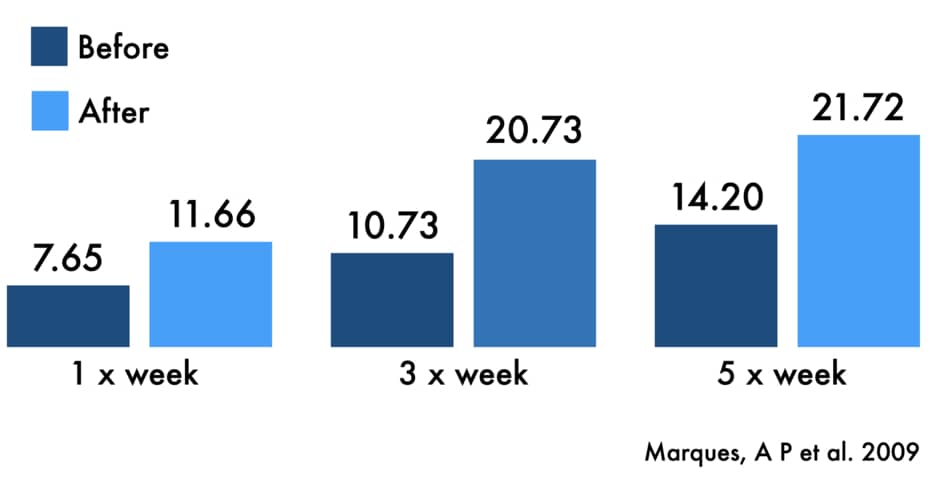 The study noted a flexibility increase of 10 cm and a hamstring tightness improvement from 39.82 degrees to 21.91 degrees in the group stretching three times a week. Therefore, there is no need to attend StretchLab sessions more than three times a week unless advised by a healthcare provider for specific conditions.
How many StretchLab sessions are needed for noticeable flexibility improvement?
To see noticeable improvements in flexibility, it generally takes about 4 to 6 weeks of consistent StretchLab sessions. The rate of improvement can vary based on your starting level of flexibility and muscle tension. For those who are already highly flexible, the gains may be marginal, and incorporating other techniques like yoga could be more beneficial. On the other hand, if you rarely stretch, you're likely to see significant improvements within this timeframe.
What should I wear to the StretchLab session?
When attending a StretchLab session, it's recommended to wear comfortable workout attire such as yoga pants, gym shorts, and T-shirts. Avoid wearing skirts, especially for women, to ensure comfort during the stretching session.
How Much Does StretchLab Session Cost?
The cost of a StretchLab session varies depending on the membership type and session length. Their 25-minute memberships start at $89 per month for two sessions, while their 50-minute memberships start at $329 per month for four sessions. However, when asked how much a StretchLab costs for the first session, a single 50-minute introductory session costs $49.
How Much Does StretchLab Membership Cost?
The cost of a StretchLab membership is determined by the type and frequency of the sessions you choose. For 25-minute sessions, memberships start at $89 per month for 2 credits, and for more frequent visits, the price is $189 per month for 4 credits. If you opt for 50-minute sessions, the membership starts at $329 per month for four credits, making these your primary options for how much a StretchLab membership costs.
Is Stretch Labs Worth The Cost?
Yes, StretchLab is worth the cost for many individuals. It provides effective muscle and joint pain reduction, improved range of motion, and enhanced performance. Regular sessions can also alleviate stress, enhance posture, and cater to various groups such as athletes, office workers, and those seeking an alternative to massages. However, be aware that there have been mixed reviews, with some people experiencing billing issues and negative encounters with customer service.
Should I tip at StretchLab?
Yes, it's recommended to tip at StretchLab, particularly if you were satisfied with the service and experienced improved muscle tension and flexibility as a result. On the other hand, if your session didn't meet your expectations and your concerns were not addressed, tipping is not obligatory.
What are the cheaper alternatives to StretchLab?
The following are 5 alternatives to StretchLab that offer personalized stretching sessions and benefits.
LYMBR: It offers personalized stretching sessions in 30 or 60-minute durations, focusing on enhancing relaxation, performance, and recovery through one-on-one sessions with trained Stretch Therapists.
Stretchmed: Stretchmed provides 1-on-1 assisted stretching appointments aimed at increasing mobility, eliminating chronic pain, and improving overall well-being. Sessions start at an affordable price of $59, and there are flexible membership options available.
Stretch*d: Stretch*d is a New York-based studio that offers personalized stretch sessions focusing on relieving upper body and face tightness, providing a luxurious and fusion massage experience.
Stretch Zone: The Stretch Zone utilizes a practitioner-assisted stretching method to enhance the range of motion and physical performance in just 30 minutes.
StretchU: StretchU offers full-body assisted stretching sessions targeting major muscle groups in durations of 20, 40, and 60 minutes, promoting proactive health and wellness practices.
When it comes to choosing between StretchLab and static stretching, StretchLab offers more effective results due to the use of PNF techniques and percussion therapy, as supported by a 2016 study by Landon Lempke and Rebecca Wilkinson published in the Journal of Sport Rehabilitation.