Even though I actively stretch after every workout, I still decided to sign up for the Stretch Zone (and I didn't have to think twice about it). Today I will explain what is Stretch Zone, how it works and why should you pay someone to help you stretch?
As a whole, Stretch Zone is worth every penny for people who need to reduce their muscle tension and increase their range of motion, but don't have the skills to do it on their own. Stretch Zone uses a proprietary strap system that helps to stabilize the pelvis and isolate the specific muscle that you're trying to stretch.
What Is Stretch Zone?
In case you've been living off-grid for the last couple of years, stretching franchises are the fastest-growing fitness trend. Two of the most popular studios include StretchLab and Stretch Zone.
NOTE: I won't cover here the details about the StretchLab studio. I've already covered that in my stretchlab review, which I recommend you read.
As a whole, the stretch zone is a fitness franchise that specializes in practitioner-assisted stretching.
The goal of the Stretch Zone is to improve your flexibility, restore range of motion, and reduce chronic joint and muscle pain.
Who founded Stretch Zone?
The company was founded in 2004 by Jorden Gold who help his grandfather have a better quality of life by stretching.
Today (according to the internet) the Stretch Zone is the fastest-growing fitness franchise, with over 200 locations across the U.S.
First time I tried Stretch Zone I was hooked (and it's not because of their customer service or free session).
It was hooked because the company uses a patented strapping system that helps to achieve a greater range of motion, while keeping the client comfortable (more on that later).
How Does Stretch Zone Work?
Overall, the Stretch Zone works by providing one-on-one assisted stretch and mobility tests.
Each session the certified assisted-stretching practitioners perform a quick assessment where they can evaluate your range of motion and personalize your stretching therapy.
Here's how it works:
You can book your stretching session at Stretch Zone either via phone, app, or walk-in to your nearest studio (the price for the 30-minute session is $55, and $100 for a 60-minute treatment).
It is recommended to arrive at least 15-20 minutes earlier before the class, ideally after a short warm-up (the studios have a couple of ellipticals in case you're not warmed up).
Should you warm up before coming to Stretch Zone?
Warm-up increases your blood flow and core body temperature, which makes the muscles more elastic and flexible.
On the other hand, stretching without a warm-up can lead to strain, pulling, or tearing of a muscle.
Each session starts with a quick verbal and physical assessment where the practitioner can learn more about your fitness goals, lifestyle, and current mobility and flexibility status.
During the session, the stretching practitioners use PNF, static, and dynamic stretching techniques, as well as manipulations and joint distractions.
What should I wear to the stretch zone?
Overall, you should come to the stretch zone wearing comfortable sports clothing like shorts, leggings, and t-shirts.
You can also wear casual clothes, trackies, yoga pants, and more. You should not wear jeans because these can reduce your range of motion.
What Does The Stretch Zone Do?
As a whole, Stretch Zone provides several stretching techniques while using proprietary tables to position, stabilize and isolate muscles, as well as provides proper ergonomics for the stretch therapists by using the stabilization straps.
For example, Stretch Zone stabilization straps help to maintain the pelvis in one position while performing hamstring stretching or manipulation.
This way you get a greater range of motion, without getting any lumbar flexion from the client.
I like this system because you can provide better stretch therapy with minimal strain on the therapist.
Of course, using stabilization straps or massage bed straps is nothing new.
Many physiotherapists, massage therapists, and chiropractors use straps to isolate the hips, pelvic region, and back in their treatment room.
Is Stretch Zone Worth The Money?
Overall, Stretch Zone is worth every penny, especially for people who are busy or unable to stretch themselves.
The company uses multiple advanced stretching and mobilization techniques, as well as PNF (proprioceptive neuromuscular facilitation) techniques.
What can I expect from a stretch zone?
As a whole, in the Stretch Zone, you can expect to get personalized assisted stretching, which is much more effective than traditional static stretching.
Some data suggest that an eight-week assisted stretching program effectively reduces age-related losses in ROM and improves functional performance.
Who Is Stretch Zone Good For?
In general, Stretch Zone is good for people who want to improve their mobility and restore their range of motion. This is also good for anyone with the UCS (upper cross syndrome), lower back pain, and neck pain caused by inactivity or prolonged sitting position.
It's not a secret that sitting at a desk for eight hours a day can lead to stiffness and tension (which is why I've signed up for the membership).
I also highly recommend this place for everyone who wants to reduce muscle aches and pains after a workout, improve flexibility, as well as reduce stress and anxiety.
Here is the list of people who would benefit from doing Stretch Zone:
Management positions

Lawyers
Accountants
Financial and insurance workers
Consultants
Computer programmers.
Receptionists and clerks.
Drivers (bus, truck, taxi, Uber)
In short, Stretch Zone is good for people who spend most of their day behind the desk and don't have time or the skills to perform daily stretching.
What about tips?
Overall, you should feel free to tip around 10-20% at the Stretch Zone if you received excellent service.
If you received poor service, it is better to talk to the general manager of the studio.
What I don't like about Stretch Zone
One thing that I don't like about the Stretch Zone is their recruitment and in-house training. In a nutshell, people who work in Stretch Zone are not physiotherapists or physical trainers.
These are fitness enthusiasts who finished an in-house certification course.
Sure, you can stretch someone's hamstrings or lower back without formal education in anatomy and physiology.
However, the Stretch Zone practitioners are not qualified to recognize and treat any health-related causes of pain or stiffness.
Most of the members I've seen coming to the Stretch Zone are untrained, overweight, or elderly, which means they have many mobility problems.
Is Stretch Zone safe?
As a whole, the Stretch Zone is safe for people who are physically active and want to improve their range of motion.
It is also safe for people who spend most of their time behind the desk and don't have enough time to stretch themselves. However, this place is not recommended for people who have a musculoskeletal injury.
I did a small survey on social media forums and groups asking people just one question about how important is the practitioner's qualifications.
The question of the survey was "If you were having a previous or current musculoskeletal injury, would you go to the Stretch Gym that employs fitness enthusiasts without a diploma in physiotherapy?".
Here are the results.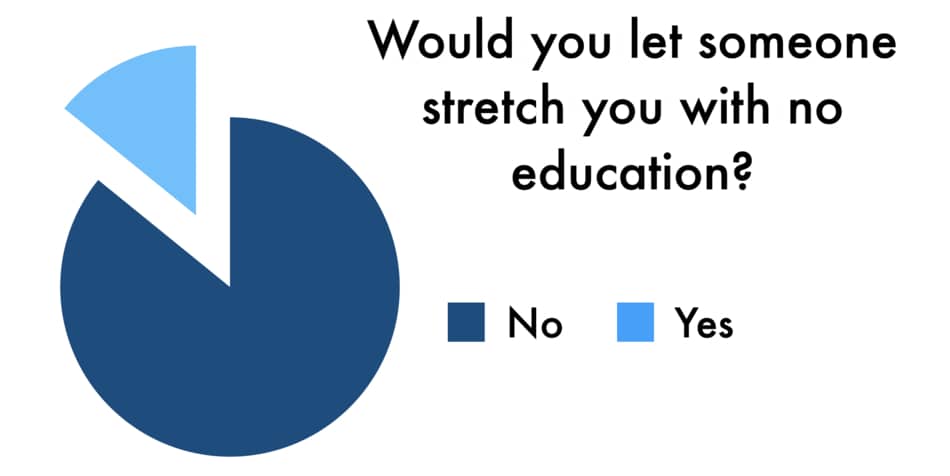 Over 83% of people said that they would not want someone without format education to stretch them if they had a previous or current musculoskeletal injury.
Only 16% of people responded they would go, depending on the price, type of injury, and experience of the therapist.
Of course, I'm not picking up on the Stretch Zone (please remember that I've signed up for their membership).
I only say that people who present with more serious problems should visit their PT, not the Stretch Zone.
How often should I go to Stretch Zone?
As a whole, you should go to Stretch Zone at least three times per week, depending on the duration of the session, your budget, and your main concern.
People who choose a 60-minute session should visit the studio twice per week, whereas people who stretch for 30 minutes should come in three times.
This recommendation is based on the recent study done by Dr. Amélia Pasqual Marques from the Universidade de São Paulo in Brazil.
She documented the difference between stretching once a week, three times a week, and five times a week (Marques, A P et al. 2009).
The results have shown that:
There was no significant difference between stretching five times a week and three times a week (meaning they were equally effective).
Stretching once a week provides some, but not significant results.
Stretching three times a week is sufficient to improve flexibility compared to stretching at a higher frequency.
See the graph below.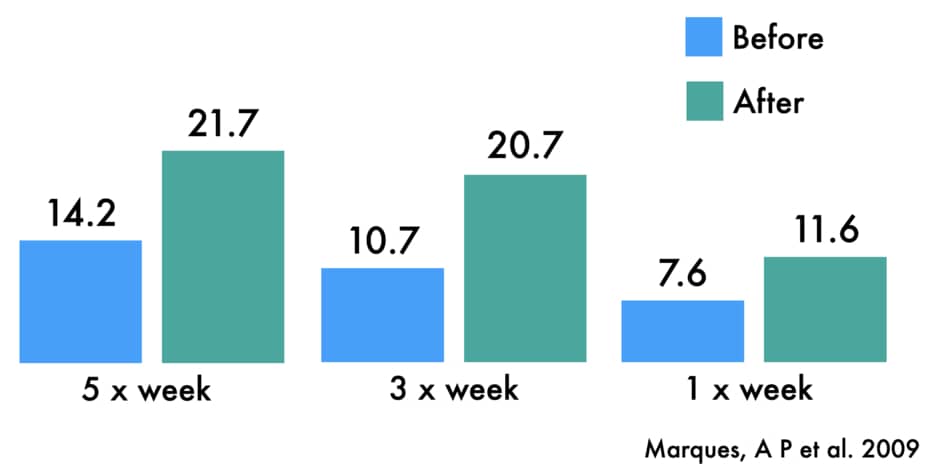 Is it OK to do Stretch Zone every day? As a whole, you can stretch every day at the Stretch Zone, as long as you're not overdoing it. However, doing Stretch Zone every day can set you back $250 to $500 per week. The most cost-effective way is to learn how to stretch at home or join a yoga class.
Conclusion
Stretch Zone studios provide assisted stretching sessions and promise benefits that range from increasing flexibility (which is a reasonable goal) to more questionable claims like injury prevention or fixing chronic pain.
One thing you should keep in mind is that people who work at the Stretch Zone are not physiotherapists or chiropractors.
However, I believe this place is still worth your time and money because it provides a safe and friendly environment where you can relax after a long day at work.