A stretch studio is a specialized fitness center that provides assisted stretching services to help clients improve flexibility, reduce muscle tension, and enhance overall mobility. Assisted stretching is booming, with the wellness industry, including stretch services, valued at $4.5 trillion in 2018 and growing annually by over 20%.
This surge is driven by a greater understanding of flexibility's health benefits, an aging population seeking pain relief and mobility, and the stress of modern lifestyles leading to a need for professional stretching assistance. With franchises popping up globally, it's crucial to recognize their differences in services. In this article, we've identified the top 9 assisted stretching studios in America.
Stretch Zone
StretchLAB
StretchU
StretchMED
Kika Stretch
Stretchd
iFlex Stretch
Reach Stretch Studio
Gymguyz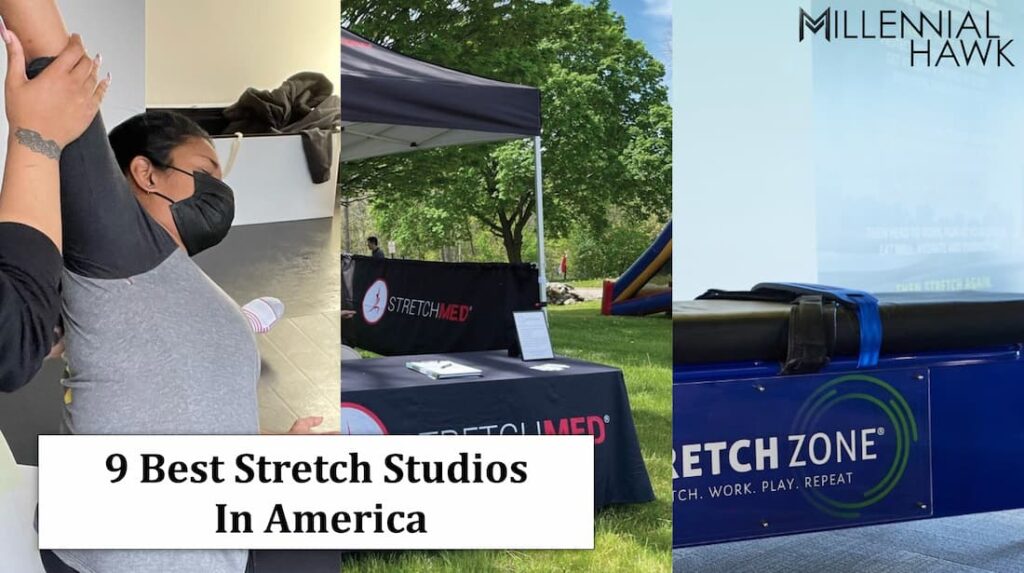 1. Stretch Zone
Stretch Zone is a wellness chain that specializes in practitioner-assisted stretching to improve flexibility and movement, aiming to reduce chronic joint and muscle pain. The staff are not physiotherapists but fitness enthusiasts with in-house certification, potentially lacking formal education in health-related pain or stiffness.
Membership fees vary, but on average, a 30-minute session is about $35, and there are package deals available. Stretch Zone is situated in over 200 locations across 22 states. They offer introductory sessions, often with discounts like 3 sessions for $99. Safety protocols are in place, but it's not suitable for individuals with complex mobility issues or musculoskeletal injuries.
2. StretchLAB
StretchLAB is an assisted-stretching franchise offering one-on-one and group stretching sessions, using techniques like proprioceptive neuromuscular facilitation (PNF) to improve flexibility and mobility. The staff, known as Flexologists, are trained to customize stretches based on individual assessments using MAPS scans.
Membership fees start at $89 per month for two 25-minute sessions, with a single 50-minute introductory session priced at $49. StretchLAB studios are located across the U.S., including cities like Grand Rapids, Sioux Falls, and NYC, and they offer introductory classes to new clients.
3. StretchU
StretchU is an assisted stretching company that provides one-on-one sessions designed to target every major muscle group, to enhance health and prevent injuries. Similar to StretchLAB, their staff qualifications include in-house training, but they do not have expertise in physiotherapy.
StretchU membership prices start with a first stretch at $40 and 4 intro sessions for $99, with auto-pay memberships available for ongoing services. StretchU offers a variety of assisted stretching services including full-body one-on-one assisted stretching in 20, 40, and 60-minute sessions, the Lock & Stretch technique, which is based on myofascial release principles, and mobile assisted stretching.
4. StretchMED
StretchMED is an assisted stretching studio aiming to alleviate pain and improve mobility through 25 or 50-minute sessions, employing techniques like PNF and static stretching, conducted by certified therapists with a 100-hour training program.
StretchMED membership fees vary by location, but a single 50-minute session typically costs $105, and an introductory session is offered at $59. StretchMED studios are located in various places, including Wellesley, Lexington, and Tucson, and while they don't have massage elements in sessions, they prioritize safety with stretch modifications and alternatives for clients with limitations.
5. Kika Stretch
Kika Stretch Studios offers personal assisted stretching sessions that use a gentle process to relieve tight muscles and free your body. Kika Wise, a former professional dancer turned entrepreneur, franchisor, and wellness educator, serves as the forward-thinking Founder and CEO of Kika Stretch Studios.
The Kika method is based on a dancer's approach to assisted stretching. Following your session, you can anticipate feeling relaxed, calm, and stress-free. After each Kika Stretch session, you will receive a review of your results and a recommendation for the most suitable Kika Stretch session for you. While many clients experience positive results after just one session, for optimal outcomes, we recommend a weekly Kika stretch session. Unlike other stretch studios, Kika offers 60-minute one-on-one gentle assisted stretching sessions that cost over $100.
6. Stretchd
Stretchd is an assisted stretching studio located in NYC, offering one-on-one dynamic assisted stretch sessions. Expert 'Stretchrs' guide you through a personalized stretching experience using dynamic stretch techniques to enhance your flexibility and range of motion while promoting relaxation.
Stretchd has two physical locations where you can book services: Flatiron and the Upper East Side. Additionally, they provide virtual sessions and at-home appointments. Stretchd offers a tiered membership with monthly rates starting at $70 for a 25-minute Quicke session, $135 for a 55-minute Flexd session, and $160 for a 70-minute Elongated session.
Each membership includes one stretch or Face*ssage session per month, along with extra wellness services such as Normatec boot sessions. Members also enjoy a 20% discount on all additional services and retail items. Furthermore, after maintaining a continuous membership for six months, members are rewarded with a gift card.
7. iFlex Stretch Studio
iFlex Stretch Studios is a franchise founded by the creators of The Joint Chiropractic. Located in Arizona, iFlex Stretch Studios offers Assisted Stretch Therapies with two main options:
The 25-minute single stretch session costs $59 and includes an 8-point evaluation. Skilled therapists concentrate on the areas needing the most attention, delivering maximum benefits in a shorter timeframe. The longer 50-minute session is priced at $109 and offers a comprehensive full-body stretch, targeting specific areas requiring loosening.
If ongoing flexibility and savings pique your interest, iFlex Stretch offers membership options. You can get two 25-minute stretches per month for $79 or opt for two 50-minute stretches per month for $158.
8. Reach Stretch Studio
Reach Stretch Studio is a wellness center dedicated to enhancing flexibility, and performance, and relieving stress and the effects of aging through personalized restorative therapies. They offer a Mobility Risk Factor Assessment and 5 therapies in a single session, including corrective stretch therapy and percussion therapy. Percussive therapy effectively breaks down thickened connective tissue, releasing tight areas in your body.
Additionally, they provide compression therapy recovery, a trusted medical treatment for decades, with NormaTec being a leading name in the market. Their heat and vibration therapy targets key areas, relieving tension, breaking down inactive tissues, and improving blood flow. Reach Stretch Studio is conveniently located in seven locations in the Houston area, and they offer an introductory session for just $29.
9. Gymguyz
GYMGUYZ, the world's largest in-home and on-site personal training franchise, has expanded its fitness services to include Assisted Stretch Services. This addition complements their existing personalized training programs, which are delivered by certified personal trainers equipped with state-of-the-art fitness gear.
With a focus on convenience and customization, GYMGUYZ operates without contracts, offers a free first session, and serves over 1,000 cities globally, continuing to grow with plans to open 75 more territories by the end of 2024.
What is Stretch Studio?
A stretch studio is a specialized fitness center where trained professionals assist clients in stretching exercises to improve flexibility, mobility, and overall muscle function. The main benefits of visiting stretch studios include enhanced flexibility, reduced muscle tension, and improved range of motion, which can lead to decreased pain and better physical performance.
How do stretch studios differ from traditional gyms?
Stretch studios set themselves apart from traditional gyms by concentrating exclusively on stretching routines, foregoing the array of workout equipment and self-guided exercise programs. You won't find weights, machines, changing rooms, or showers in these studios; instead, they typically consist of one open area with several stretch beds, somewhat reminiscent of massage parlors in Asia. Additionally, the staff at these studios are not personal trainers; they are trained fitness practitioners.
What kind of certifications do trainers at stretch studios have?
Trainers at stretch studios typically have certifications that include 60-100+ hours of theory and hands-on training, focusing on anatomy and physiology, without the need for advanced qualifications like Exercise Physiologist, Kinesiologist, or Rehabilitation Specialist.
What types of stretching techniques are offered at stretch studios?
Stretch studios offer a variety of techniques such as Static Stretching where stretches are held for a period, Proprioceptive Neuromuscular Facilitation (PNF) which involves contracting and relaxing the targeted muscle group, Dynamic Stretching which includes active movements, and Active Isolated Stretching where stretches are held briefly, often integrating physical postures with controlled breathing.
What's the average duration of a session at stretch studios?
The average duration of a session at stretch studios typically ranges from 20 to 60 minutes, depending on the service and client needs. For optimal results, it's recommended to visit stretch studios 2 to 3 times per week to maintain flexibility and mobility, and potentially more frequently if addressing specific issues or goals. Regular sessions can help with muscle tension relief, improved range of motion, and overall physical function.