StretchMED is a franchise of 1-on-1 assisted stretching studios that aims to eliminate chronic pain, increase mobility, rejuvenate the body, and help clients move well. They provide appointments lasting either 25 minutes or 50 minutes, which include 36 distinct stretches along with various stretching techniques, including Proprioceptive Neuromuscular Facilitation (PNF) and static stretching. These stretches are administered by certified stretch therapists who have completed an intensive 100-hour training program.
StretchMED studios can be found in 50 locations, including Wellesley, Lexington, and Tucson. While memberships with Stretch Zone require only a 30-day commitment and can be canceled monthly, it's worth noting that the membership cost rate is $105 per session. This raises the question of more budget-friendly alternatives like StretchLab, LYMBYR, KIKA, or Stretch U.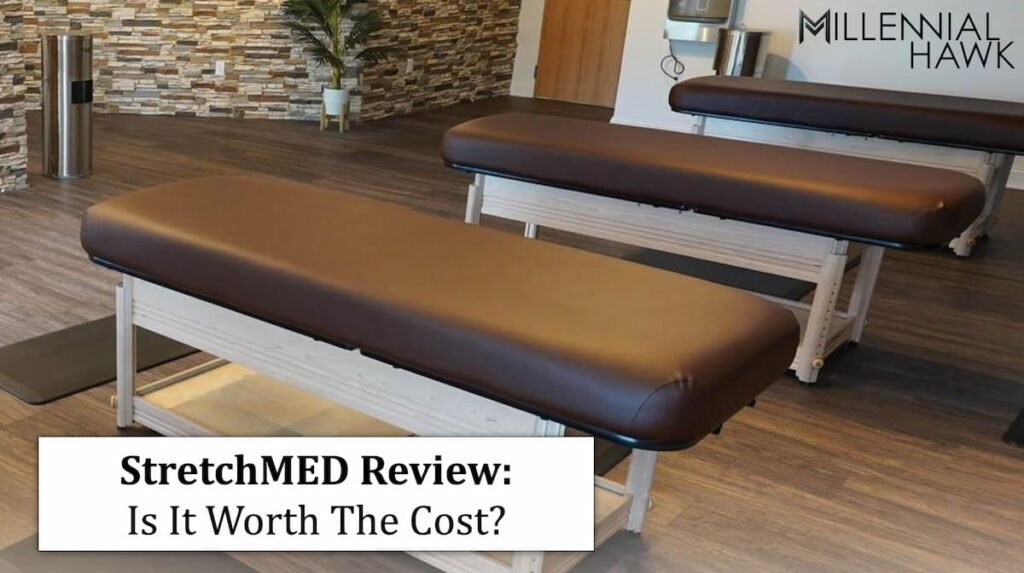 What is StretchMED?
StretchMed is a stretch studio that offers assisted stretching sessions to help improve posture, alleviate muscle and joint pain, and prevent injuries. Founded in 2019 and headquartered in San Juan, MA, StretchMed has grown to 25 franchised locations. They specialize in proprioceptive neuromuscular facilitation combined with static stretching techniques in sessions lasting 25 or 50 minutes. Unlike other stretch studios, such as StretchLAB, StretchMED doesn't incorporate additional accessories like elastic bands or massage guns.
From the client's perspective, StretchMed offers a viable way to enhance your range of motion, especially if you've been busy and haven't stretched much on your own. They provide introductory sessions at $59, allowing you to experience it and see if it's something worth pursuing. Additionally, they offer monthly memberships. While they may not be as widely known as some other stretch studios, they have strategically placed studios in convenient locations such as Weston, Kennesaw, and Andover.
From the franchisee's perspective, StretchMed presents an attractive investment opportunity with a low-cost entry point and comprehensive support, including third-party financing, exclusive territory protection, real estate and development guidance, training, and marketing support.
How does the StretchMED work?
StretchMED works by offering one-on-one assisted stretching sessions. It's recommended to attend once or twice a week. The sessions begin with an introduction, during which the stretch therapist assesses your range of motion. Afterward, you'll fill out a questionnaire regarding your physical activity, fitness level, injuries, and any pain you may be experiencing.
Following this, you'll receive either a 25-minute or 50-minute stretch using a combination of PNF stretching and static stretching techniques. If you're curious about what to expect during the actual session, StretchMED is all hands-on, without the use of straps, massage guns, or any massage elements in their sessions.
How does the StretchMED work for clients with chronic pain?
For clients dealing with chronic pain, StretchMED can have mixed results. On the one hand, it offers stretch modifications for individuals who may have limited flexibility or encounter difficulties with certain positions during their sessions. They also provide alternatives if lying down on the massage bed is a challenge.
On the other hand, for clients with acute injuries not cleared by a physician, recent surgery, or conditions like herniated discs or spinal instability, it's advisable to consider specialized treatments from physiotherapists or chiropractors.
What are the benefits of going to StretchMED?
Assisted stretching at StretchMED significantly improves flexibility and functional performance, especially in the elderly or those unable to perform high-intensity exercise.
Increased Range of Motion (ROM): A 2009 study by Damian C Stanziano from the University of Miami found that an eight-week active-assisted stretching program significantly increased ROM in most joints for elderly participants, enhancing their functional abilities.
Enhanced Functional Performance: The same study observed notable improvements in performance measures like mobility and power, suggesting that regular assisted stretching can help maintain independence in later life.
Pain Management: Dr. Pornpimol Muanjai from the Lithuanian Sports University reported that stretching to the point of discomfort, rather than pain, provides the same benefits in ROM without the risks of muscle damage, indicating a safer approach to improving flexibility.
Muscle Strength and Power: A 2023 study by Fabian Arntz from the University of Potsdam shows that chronic static stretching exercises can have a small positive effect on muscle strength and power, with greater benefits for sedentary individuals.
Flexibility Across Lifespan: The same meta-analysis highlighted that static stretching exercises result in moderate-to-large increases in flexibility for individuals across various age groups, with passive stretching showing larger effects than active stretching.
Gender and Age-Specific Benefits: The study also found that the proportion of female participants and the mean age moderated the effects of stretching, with older and female individuals experiencing larger gains in muscle strength from chronic stretching exercises.
What are the drawbacks of going to StretchMED?
The drawbacks of choosing StretchMED include the cost, which can become expensive when aiming for optimal results, as it often requires attending three sessions per week. Additionally, it's important to consider the qualifications of the stretch therapists, who have completed an in-house 100-hour training program but are not licensed physiotherapists or chiropractors.
What is the price of a StretchMED session?
The price for StretchMED services varies based on session duration. A 50-minute session costs $105, while a 25-minute session is priced at $55. Membership rates for StretchMED differ by location, so it's best to inquire about the specific prices at your preferred location.
Who is StretchMED good for?
StretchMED is beneficial for a wide range of individuals, including:
Office workers with sedentary jobs.
Seniors seeking to maintain their mobility.
People recovering from sports injuries.
Those dealing with chronic back pain.
Pregnant women in need of gentle stretching.
Individuals with posture-related issues.
Weightlifters seeking enhanced recovery.
Desk-bound students in need of movement.
Busy professionals with limited exercise time.
Who is StretchMED not good for?
StretchMED is not recommended for individuals with recent injuries, surgery, or severe conditions like advanced osteoporosis, uncontrolled cardiovascular issues, or those at high risk of fractures. It's also unsuitable for pregnant women in their late stages without medical approval, people with herniated discs or spinal problems, those with blood clotting disorders, or anyone experiencing exacerbations of chronic conditions like rheumatoid arthritis or severe neurological disorders.
What do online reviews say about StretchMED?
Online reviews for StretchMED are overwhelmingly positive, with a perfect 5.0 rating from two reviews on Yelp. Clients praise the knowledgeable and professional staff, specifically mentioning Josh and Darschelle for their exceptional service. One client reported significant improvement in a condition similar to a frozen shoulder after attending sessions, highlighting the effectiveness of the stretches for parts of the body that are typically neglected.
What do employee reviews say about working at StretchMED?
Employee reviews for StretchMED are mixed, with an average rating of 3.4 out of 5 stars. Pros often include a positive work environment, rewarding client interactions, and a strong culture with sales-based bonuses. However, cons frequently mention a lack of benefits, underpayment, long hours, and management issues. Some employees feel overworked, especially in managerial roles, and express concerns about job stability and work-life balance.
Which stretch studios are similar to StretchMED?
Similar stretch studios to StretchMED include StretchLab, LYMBR, and Stretch Zone, which also offer assisted stretching services. These studios typically provide one-on-one or group sessions aimed at improving flexibility and range of motion, often employing trained staff referred to as "stretch therapists" or "flexologists."
What are the differences between StretchMED and Stretch Zone?
StretchMED and Stretch Zone both offer assisted stretching services, but they may differ in their methodologies, session structures, and membership offers. StretchMED often uses a combination of PNF and static stretching techniques, while Stretch Zone utilizes a proprietary strapping system to stabilize parts of the body, ensuring targeted muscle groups are isolated and stretched effectively.