I've been wearing Good Feet arch support for almost a decade. As much as I love their orthotics, I'm tired of changing my shoe inserts from shoe to shoe. Last week I went to the Good Feet store to see if they sell shoes.
In the Good Feet store, you can buy over 300 styles of arch supports that help to maintain the correct position of the foot. The store also sells casual and athletic shoes, sandals, and sneakers, as well as shoe accessories. However, the shoes at the Good Feet store do not have built-in inserts and some of them cannot be fitted with the inserts.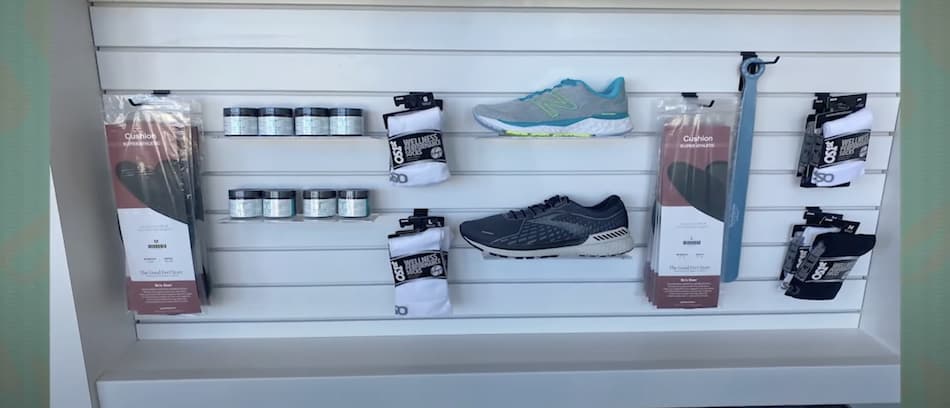 This is my overall answer, but if you wanna know more details about what kind of shoes does good feet store sell, without having to go there in person, keep reading.
Buying shoes at the good feet store
I went to the good feet store becasue I was sick and tired of having to change my arch support every day. Yes, I'm a creature of habit, but I also tend to forget to swap my inserts, especially if I frequently change shoes.
I use gym shoes for workouts, spin shoes for the peloton, dress shoes for work, and sneakers for everything else. Basically, I'm constantly on my feet. I also have mild back problems and plantar fasciitis, so when I don't put on my Good Feet inserts, I feel pain almost immediately.
I was hoping I can get a pair of Good Feet shoes that have arch support already built-in, which would save me a lot of time (I only use one out of three arch supports). I also love to wear flip-flops so I wanted to check if they sell Good Feet sandals or flip-flops that have arch support.
I won't cover here details on what to expect from the Good Feet Store. I've already written a detailed Good Feet Store review, which I recommend you read.
Does the good feet store have shoes?
I've called the Good Feet customer service department to find out if I can buy shoes at their store and what good feet shoes look like. Their website does not have any information about the products they sell, apart from the shoe inserts.
One of the Good Feet staff members told me that, yes, they do sell shoes and flip-flips for plantar fasciitis but they're only available at the store and I cannot order them online.
After I arrived at the Good Feet store, the store manager told me that I can buy shoes, but these shoes does not have support. He told me that the Good Feet store is not a shoe store.
I was gutted.
Why good feet store doesn't have shoes with arch support?
According to the store manager, there are a couple of reasons why the Good Feet store does not have shoes with built-in orthotics.
Firstly, the Good Feet arch support requires a break in time. On the first day, you should only wear a pair of inserts for 30 minutes, and then take them out.
Each day you slowly add 30 minutes more until your foot is fully accustomed to wearing it all day (it took me 2-3 weeks to adjust).
As you can imagine, this can be done with inserts, but not with the shoes. With shoe inserts, you just need to flip it out and it's done.
On the other hand, if you buy shoes that have built-in support, you would have to change your shoes every 30 minutes (which would be a pain in the ass).
You would have to wear Good Feet shoes everywhere
Buying Good Feet shoes with built-in support means you cannot wear anything else.
It means you would need to wear only those shoes (regardless of how they look).
Forget about your favorite white leather sneakers, heels, or Chelsea boots.
Wearing only inserts instead of shoes with inserts is much more convenient. You can use velcro stickers and place the inserts in all of your shoes.
Good Feet arch support is a 3-step system that includes wearing three pairs of inserts in a specific order.
Step one is the strengthener and is designed to slowly reposition the foot. This arch support requires two to four weeks to get used to.
Step two is the maintainer and is designed to maintain foot position and should be worn after step 1 (this one is more flexible and can also be worn during the day. They sell these separately on some of the cruise ships).
Step three is the relaxer and is designed to give your feet a break (should be worn on occasion).
As you can see, this system works well with inserts, but imagine if you would have to use 3 different pairs of shoes. That would not work.
According to the store manager, it is much easier to change orthotics between the shoes that you already have rather than buying three new pairs of shoes. Plus, you can wear the Good Feet with all types of shoes like casual, dress, tennis, etc.
Learn more: Click here to learn more about buying good feet on the cruise ship.
Good Feet shoes do not have a lifetime warranty
Another reason why Good Feet does not sell branded footwear is becasue the company gives an unconditional lifetime guarantee for their orthotics, which means you can wear them all the time and they won't break. Making shoes with a lifetime warranty could be more expensive.
I've had my Good Feet arch supports for almost a decade and they look brand new. I did change velcro many times, but the actual plastic insert works perfectly well, even many years later.
I cannot imagine shoes with a lifetime warranty because of the wear and tear. Shoes are subject to different weather and terrain conditions, which makes them prone to damage (unless you like to wear Dr. Martens shoes).
What kind of shoes does the good feet store sell?
Good feet stores have been around for over a decade. Back in the day, you could only buy their fitted arch support (which is their main product). Before, they didn't sell any shoes or shoe accessories.
Now is different.
Today, you can buy many different types of footwear like athletic shoes, casual shoes, work shoes, and even house shoes. However, the Good Feet store does not sell branded Good Feet shoes. They only sell shoes from other brands.
Good Feet store shoe brands
Good Feet store has a partnership with an American shoe manufacturer from Newton, Rockport. The Rockport Group is a well-known shoe company that owns several brands like Aravon and Dunham (which are both available at the store).
They also sell shoes from a company that I've never heard of before, Neil M. These are your typical dress shoes like Loafers and Oxford.
Apart from casual shoes, the Good Feet store sells also boots from the brands like Red Wing which specializes in producing steel-toe work boots.
Does the good feet store sell running shoes? Overall, the good feet store does sell running shoes from the brands like New Balance and Brooks. The same goes for socks and shoe accessories.
However, If you're into running, I would not recommend buying your running shoes at their store. The price is high and there is not much variety. I recommend getting a pair from online stores that specialize in running shoes.
Should you buy shoes at the Good Feet Store?
One brand that I really like (and I definitively recommend you should try) is Giesswein, a company that specializes in shoes made from merino wool. Good Feet store sells only house shoes from their brand. These are more expensive but they feel extremely comfy.
How much are good feet shoes? The price of the shoes at the Good Feet store range from 50-200 dollars, depending on the type of shoes. Branded shoes from Brooks or New Balance can cost between $110 – $200, whereas flip-flops are less than $80 per pair.
What else can you buy at the Good Feet Store?
The most obvious thing you can buy at the good feet store is their arch support. They have different styles and types of inserts, depending on your lifestyle and activity level.
I like to wear the maintainer becasue it's less aggressive on my feet and fits most of my shoes. However, everyone is different and people may need to use completely different support.
They also sell socks, shoe laces, foot creams, foot sprays, shoe accessories, and sponge rubber cushions that enhance the work of orthotics.
Check out my article where I list the pros and cons of the Good Feet Store" here.
Conclusion
Good Feet store does have running shoes, tennis shoes, sandals, casual shoes, work shoes, house shoes, and even high heels. However, the Good Feet store does not manufacture or sell shoes that have arch support inside.
One of the reasons why Good Feet store does not sell shoes with built-in orthotics is becasue it is much easier for people to move around arch support from shoe to shoe, rather than buying new pairs of shoes. Good Feet arch support can be worn with multiple pairs of shoes, without having to spend extra money.
Each of the inserts has a specific function like strengthening the foot, relaxing the arches, or maintaining the correct position.