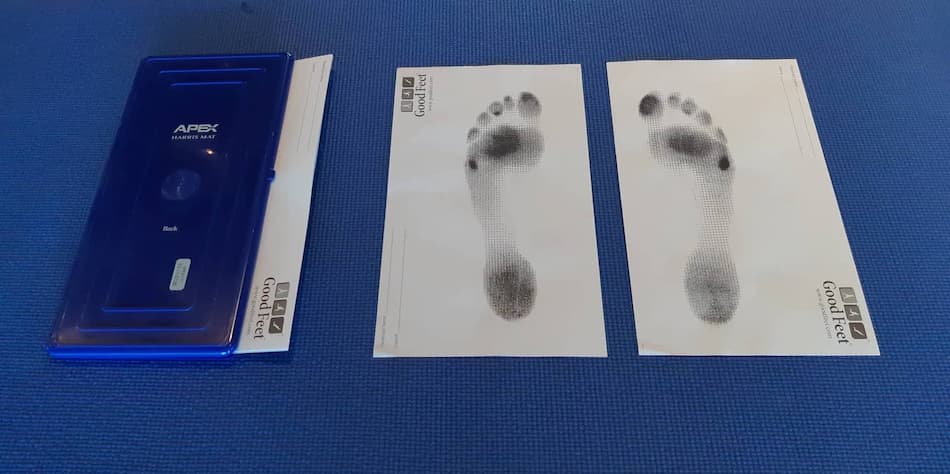 Decorated with ideal foot scans and anatomy posters, Good Feet Store is a franchise that specializes in arch supports that are designed to alleviate foot, knee, hip, and back pain, as well as help with balance and coordination.
The arch supports are made from high-quality sponge rubber that engages 4 arches of the foot to increase postural alignment and evenly distribute body weight.
In addition to a variety of insoles, Good Feet Store offers complimentary consultations, dynamic footprint analysis, and balancing assessments, without having to make an appointment.
However, as it isn't cheap, you may be wondering whether Good Feet Store is worth the cost.
This article provides a comprehensive, hands-on review of the Good Feet Store to help you decide whether their arch supports are the right fit for you.
What Is a Good Feet Store?
Good Feet Store is a US-based franchise that specializes in providing high-quality off-the-shelf insoles and foot care products for anyone who is active on their feet.
I use Good Feet for a number of years and I've never had any problems. In fact, my plantar fasciitis and lower back pain was gone ever since I wear them.
However, they have some disadvantages (you can learn more about the detailed pros and cons of the Good Feet Store in my article here).
According to its website, the company was founded in 1995, and since then it has grown to be one of the leading providers of shoe inserts.
On the one hand, Good Feet Store seems to be a legitimate business.
You can see them featured in commercials, popping up left and right on the news outlets like WTVR-TV, WCNC, FOX NEWS, CBS, and ABC.
You can see them at the American Academy of Orthopaedic Surgeons Annual Meeting.
You can see them on almost all cruise lines like Carnival, Princess, Royal Caribbean, NCL, and Disney.
You can also read how Michael Robinson, the former pro football player, is endorsing The Good Feet Store for helping his plantar fasciitis.
On the other hand, most of the reviews available online on Trustpilot, Yelp, or BBB show people complaining about being deceived, scammed, ripped off, and flat-out lied about this product.
How Does The Good Feet Store Work?
In general, the Good Feet Store works like a regular shoe store, but instead of choosing the footwear, you're getting fitted into the arch supports. Inserts are being selected based on your lifestyle and activities.
You can find Good Feet Stores in all states. Currently, there are around 175 Good Feet Store locations worldwide.
Each store has trained staff that are called "Arch Support Specialists", which offer consultations and assessments to measure your foot and find the right support.
NOTE: One of the most common complaints about The Good Feet Store is their staff incompetency. People who work there completed 16 hours of "On-The-Job training" and 40 hours of "classroom training", according to Entrepreneur.com.
Many angry customers complain that people who work in the Good Feet Store have no medical, podiatry or anatomy background, and should not recommend orthotics to customers as a way to reduce pain or inflammation.
What To Expect At The Good Feet Store
At the Good Feet Store, you can expect a clean, welcoming, and friendly environment. You get professional help and customer service. The franchisee, apart from running a business, they're usually private individuals who are dedicated to improving people's lives.
I went to the Good Feet Store many times and the procedure is always the same. Good Feet Store is a chain so all the locations sell the same merchandise and provide the same service.
Once you arrive at the store you gonna be greeted by either the store manager or one of the arch support specialists.
After a brief introduction, the staff member will ask you about your main concern.
They will ask questions like what type of problem you have, what is your reason to get arch support, and what type of solutions have you tried in the past.
Next, the arch support specialist will make a dynamic footprint, which is a scan of your foot to see how and where you redistribute pressure when you walk.
See the picture below.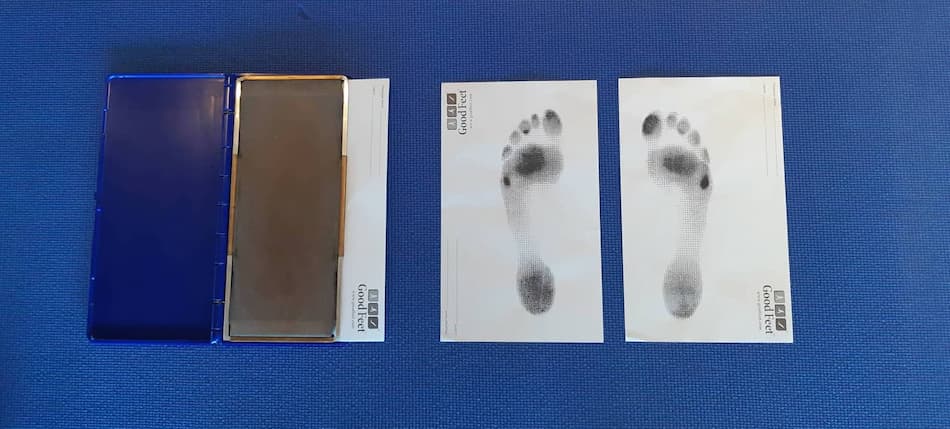 On the left side of the picture, you can see the foldable mat. One of the staff members puts a piece of paper under a blue ink pad, covers it, and asks you to walk on it.
On the right side of the picture, you have two footprints (notice how the pressure differs between one foot and another).
Next, the Good Feet Store specialists will bring a number of different arch supports and measure for size, based on this footprint.
See below.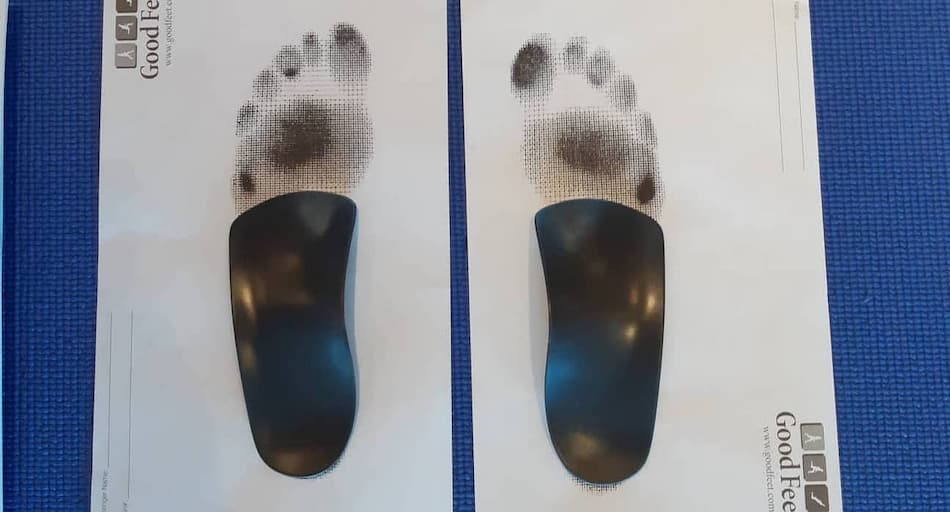 Once the staff member knows your size, they will do a balance test. This is a simple assessment where the staff member asks you to hold your hands together and resist the pressure.
Then, you will repeat the test, this time with having the arch support under your feet. The test is done twice, once from the front, and once from the back.
The goal of the balance test is to see how much difference you see with vs without the support (aka sell your product).
Finally, once the test is done, the arch support expert will put the inserts into your shoes and ask you to walk around and see how it feels.
NOTE: The customer reviews with low scores from Trustpilot and BBB tend to focus on issues where people complain about being misled that Good Feet Store is advertising "custom-fit" orthotics, where in reality they have regular "off-the-shelf" insoles.
According to the Good Feet Store, every store offers a free, no-obligation, personalized fitting for their arch supports. A lot of people confuse "personally-fitted" with "custom-made".
Personally fitted means someone will personally measure your foot and choose the right size of arch support for you.
Custom-made means the orthotics have been molded based on the precise physical examination done by the podiatrist.
Big difference.
Good Feet Stores did not state they have custom-made orthotics, however, many people complain that their advertising is misleading.
What Does The Good Feet Store Offer?
Good Feet Store offers a wide range of products, including shoes, sandals, socks, and other accessories. The company also offers a wide range of services, including computerized footprint and gait analysis.
The difference between Good Feet inserts and other popular brands is that arch supports are extremely durable, yet flexible enough to adjust to the shape of your foot to evenly redistribute body weight, therefore, releasing pressure from the ankles and knees.
On the other hand, most of the off-the-shelf inserts that you can get from the drugstore (e.g. Dr. Scholl's) are made of foam materials, wear out quicker, and cannot be used with most types of footwear.
Arch supports
The arch support is made of flexible plastic material, which makes it durable and comfortable to wear (see the picture below).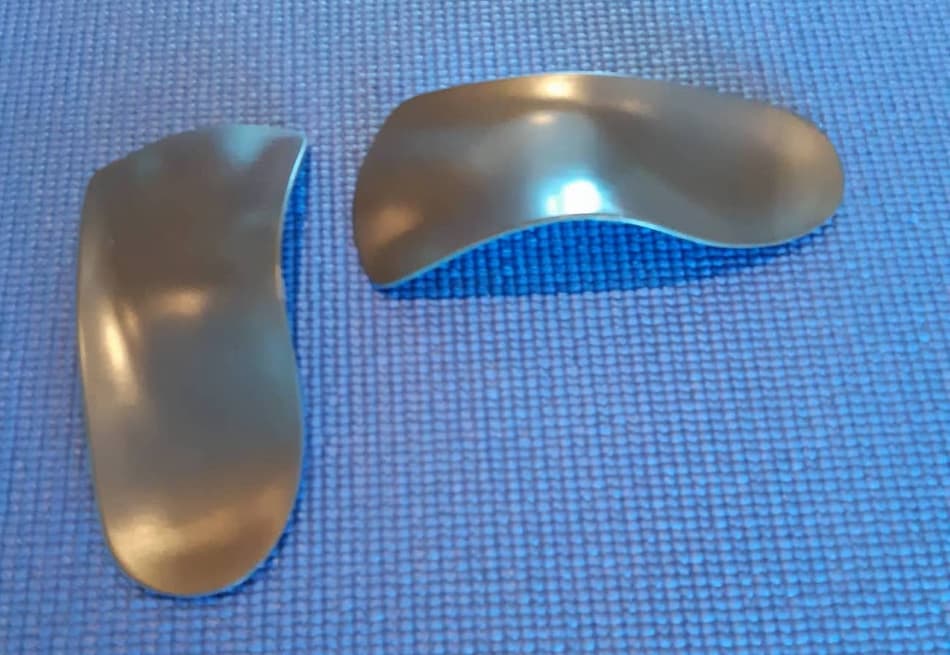 As you can see in the picture above, the Good Feet arch support has a slim, sleek design that can be worn with any type of shoe.
I mainly use them in my loafers, sneakers, and running shoes, but I know heaps of people who wear them in their Havaianas flip-flops, slides, and even high heels.
3-Step System
Good Feet Store 3-step system is their signature product. It includes three sets of arch supports that have different functions and different levels of support.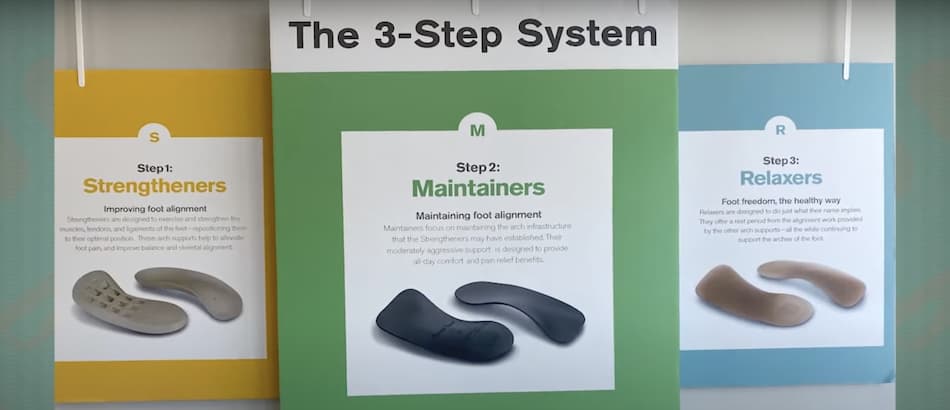 Level 1 – The first step is called "Strengthener", which is designed to improve your foot and ankle alignment.
Level 2 – The second step is called "Maintainers", which is designed to maintain foot alignment.
Level 3 – Third step is called "Relaxers" and its purpose is to reduce the adjustment period.
Each of these insoles has a different function and requires a different duration of wearing. For example, before you start using step 2, you should spend at least 2-3 weeks gradually wearing level 1.
Does The Good Feet System Work?
Personally, I haven't used the Good Feet 3-Step System, so I cannot tell you if it's working or not. I've used Good Feet since 2014, but it was only one set of orthotics, which I believe are the "maintainers".
Nevertheless, I know a bunch of people who did use the 3-step system and vouch for the reliability of this product.
However, I also read bad reviews about the Good Feet Store and high-pressure sales tactics to make people purchase the product.
Does the good feet system work? In general, the Good Feet arch support system does work becasue it influences the biomechanics of the foot, but it's not for everyone. Good Feet Store got bad reputation becasue of the misleading advertising where people promise too much.
NOTE: One of the reasons why Good Feet Store had a lawsuit was becasue many of these customers were misled into believing that orthotics have qualities that do not exist. For example, the Good Feet Store said that "arch support is designed to offer pain relief" but fails to inform customers that results may vary.
How Much Do Good Feet Store Supports Cost?
The Good Feet Store arch support costs between $200-$500 per pair and includes fitting, consultation, and multiple sets of velcro stickers.
The store offers over 300 types, styles, models, and sizes of arch supports, so the price is dependent on the particular product.
To make the arch support more affordable, Good Feet Store offers a payment plan called CareCredit, which allows you to pay off your purchase in monthly installments.
You can only purchase arch supports in-store in one of the locations and there is no option to buy or order inserts online.
Keep in mind that the Good Feet 3-Step System bundle is sold together at a higher price (it can cost above $1,000).
NOTE: The customer reviews with low scores on online forums and social media mentioned the price is too high, especially when you can buy non-customized arch supports for less than $100.
On the surface, you can definitively see that Good Feet insoles are more expensive than other "off-the-shelf" products. However, this arch support is EXTREMELY durable and can last for a number of years.
Let me explain.
I got my pair of Good Feet inserts for $200 over 8 years ago and I still use them. I believe I will also be using them in the next 8 years.
On the other hand, if I would choose to buy regular foam shoe inserts that cost $20-$30 (which wear out every 6-12 months), not only I would have to spend $160-$240 up to now, but I could not use them in all types of shoes.
In a nutshell, I think the price for Good Feet is fair, especially if you look at it from the perspective.
Good Feet Store Warranty and Return Policy
In general, Good Feet Store does have a return policy, but it does not give money back if you decide to return the product. Instead, the company gives in-store credit which can be used for other insoles or products.
The company provides a limited warranty on some of the products, however, to know more details, I recommend talking directly to the store manager before you decide to purchase the product.
How To Use Good Feet Arch Support
Good Feet can be worn either with open-toe shoes like sandals or flip-flops, as well as with closed-toe footwear.
For tennis shoes and sneakers:
Take out the insole that is originally in your shoes. Insoles in sport's shoes like Nike or Adidas are easy to take off, whereas shoes like Skechers have insoles glued to the sole.
To use Good Feet arch support you have to slide them into your shoes and position the insole at the very back of the shoe.
You velcro stripes to ensure the arch support does not move around or slide forward. Each pair of Good Feet comes with several velcro attachments.
Once you position the arch support on the back and stick the velcro sticker, cover it up by placing the original insole on top of the Good Feet.
For sandals and flip-flops:
Take the velcro tape and separate it into two parts. The rough part that has many tiny hooks goes on the bottom of the insert. The softer side that has loops goes on the bottom of the shoe.
Place a velcro sticker on the back and front of the arch support to ensure it does not slide out of the footwear.
Conclusion
If you're looking for a reliable shoe insert that can be worn with all types of shoes and will last for years, the Good Feet arch support is worth considering.
In addition to being sleek and slim, the device does not require much maintenance or washing, but it does require changing the velcro stickers once they wear out.
However, the arch support is not cheap, especially once you factor in the costs of the 3-Step System.
Despite its high price tag, I've found Good Feet to be a game-changer for me as far as my plantar fasciitis is concerned.
If you have the budget for it, I highly recommend the Good Feet, as it may just be the help you need to reduce some of the foot problems.