You just got on board the cruise ship and one of the personal trainers wants to sell you a Good Feet arch support. You may be asking yourself should you buy inserts while being on board or maybe there are better deals directly from the Good Feet Store?
In general, you should buy Good Feet arch support while being on the cruise ships, as long as you feel the difference wearing them. The arch supports on board are slightly cheaper compared to the one from the store, but it's exactly the same product. However, buying on the ship means you won't get a lifetime warranty and you cannot get a 60 days refund.
This is my brief answer, but if you wanna know all the pros and cons of getting Good Feet arch support on a cruise ship, keep reading.
Buying Good Feet arch support on the cruise
When you're on the cruise it's not hard to see the people offering free postural analysis or footprint analysis (the same procedure is when you visit the Good Feet Store). A personal trainer usually puts a piece of paper on a blue ink pad, covers it, and asks you to walk on it.
The next step is to check how your feet redistribute the pressure, followed by a quick balance demonstration with and without the orthotics. The idea of footprint analysis is to analyze your pressure points and fit you into one of the Good Feet arch support orthotics.
Good Feet arch support on cruise ships is exactly the same product that you get in the Good Feet store, however, there are some differences (which I will explain).
Learn more: Click here to find out of the Good Feet Store sells shoes, flip flops or other accessories.
Should you buy good feet on a cruise ship?
You can buy good feet from the personal trainer on board a cruise ship, as long as you feel it makes a noticeable difference (e.g. less pain when walking). The arch support that you will find on the cruise is the GoodFeet SL4000 EnduraStep.
The difference between EnduraStep and Good Feet from the store is that the store offers a larger variety of inserts, as well as a 3-step program that is designed to reposition your foot, maintain the correct alignment, and helps to relax the arches, tendons, and ligaments.
The EnduraStep is one type of arch support "the maintainer" (step two) that focuses on maintaining the arch infrastructure, without correcting the foot position.
See the picture below.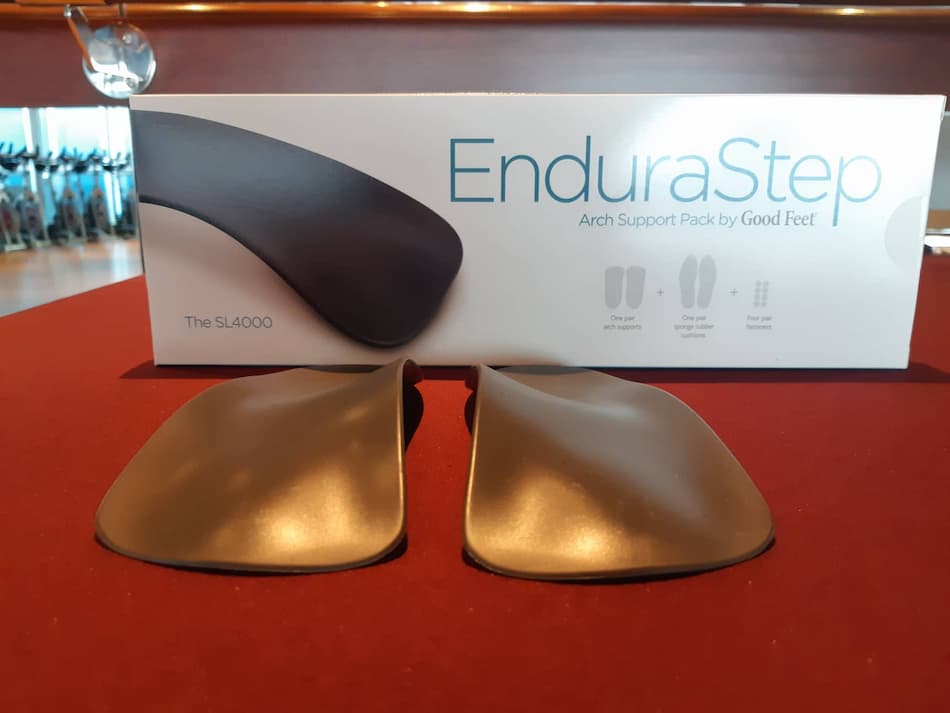 Yes, this arch support is legit and it works.
In other words, this arch supports works very well, as long as you use it and keep it in your shoes. It's not gonna make permanent changes in your gait, so the moment you stop using it, it will default to your normal foot position.
Good Feet on cruise ships are cheaper than in the store
One of the advantages of buying the Good Feet EnduraStep while being on the cruise ship is you will pay less money and you won't need to pay any taxes.
Good Feet store sells arch supports as an individual product, as well as part of their signature 3-Step System at a higher price.
The price for Good Feet EnduraStep on board a cruise ship is $199 per pair without having to pay an additional tax (cruise lines, like other shipping companies, can evade taxes, legally).
The price for the Good Feets at the store ranges between $200-$500 per pair, plus you need to pay taxes, which will vary, depending on your state.
If you want to save money without compromising on the value, I would definitely consider getting a pair from the ship.
You can check out my full review on the Good Feet Store I published recently.
Good Feet on cruise ships have no warranty
Buying Good Feet in the store offers a little extra peace of mind becasue the company gives an unconditional lifetime guarantee for some of their orthotics (of course, these inserts are more expensive).
To learn more about what is an unconditional lifetime warranty, I visited the Good Feet store and the store manager. She explained to me that if for any reason something happens with the product (defect or damage), the store will happily replace the pair for me.
(No hidden fees or some tricky terms and conditions).
On the other hand, buying good feet on the ship gives you no warranty. This means once you buy the product and you get off the ship, you won't be able to get a new pair or money back in case something happens.
Good Feet store requires booking an appointment
To buy inserts from the Good feet store, you need to book an appointment in advance and spend 30-60 minutes for the whole process. In general, that's not a big deal if you have a store somewhere close by.
Good feet stores also do walk-in consultations as long as they have an empty spot.
However, if the nearest store is miles away, then you may need to add all the extra time for commuting.
From this perspective, getting Good Feet from the ship is much easier because the guys do complimentary foot scan every day, without the need to book an appointment. They also offer free educational seminars and answer all the questions that people may have.
Good Feet EnduraStep has fewer velcros
All of the arch supports comes with a bunch of velcro stickers. The idea of velcro attachment is to keep them stable in your shoes and prevent them from moving around. This also allows you to wear them with open toes footwear like sandals.
You need two pieces of velcro for each pair of shoes. The more shoes you have, the more velcro stickers you need.
The good thing about the Good Feet store is they have a lot of velcro patches (enough for 4 pairs of shoes) and if you ask, they are always happy to give you more.
On the other hand, Good Feet EnduraStep SL4000 comes with 2 pairs of velcro (enough for 2 pairs of shoes).
You won't get any discounts from the cruise ship
Good Feet from the cruise line have a set price for retail products so don't expect to get a discount. Good Feet store does not have a lot of deals either (as far as I know, I haven't studied this a ton).
However.
One of the things you can do when buying arch support on board is to ask the trainers for some perks. These guys cannot reduce the retail price, but they can offer you a complimentary consultation, body fat analysis, or give a spa discount for some treatments.
These guys get a commission from the sale of Good Feet. If you're into fitness, you can also ask them to give you a discount for pilates, yoga, or spin class.
Check out my article where I list the pros and cons of the Good Feet Store here.
Conclusion
I've been using Good Feet arch support since 2014 and it's been a game changer for me. It helped me not only reduce my lower back pain but also get rid of plantar fasciitis that bothered me for years.
These are the same quality products but have some differences when it comes to variety, warranty, and price. If you're on the fence, I recommend you get a pair while on board becasue it will save you money, and time and you can get a discount on other spa or fitness perks.