I'm in the mood to share with you everything there is to know about the Peloton Just Ride feature, what is it and how you can intergrade it into your weekly workout plan.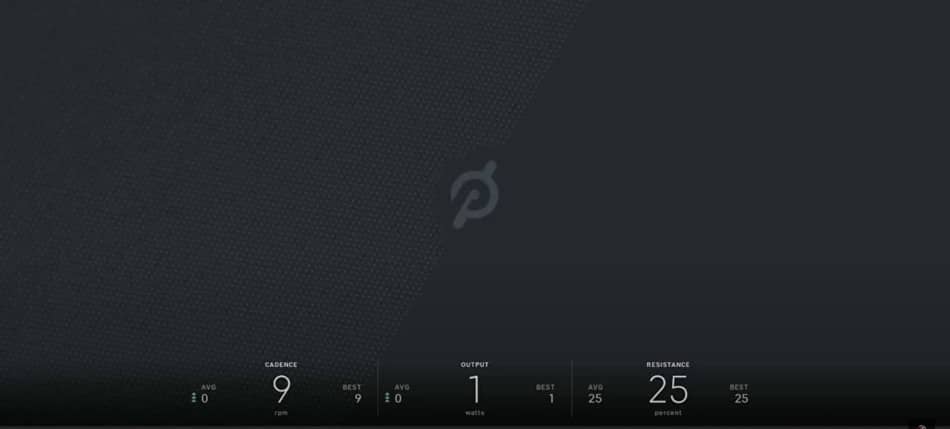 The peloton just ride is the feature available on the bike and bike+, which allows you to use the bikes without a subscription and without joining the classes. The interface displays your power zones, power output, cadence, distance, and speed.
I will also explain the key differences when you're using the Just Ride feature with and without a subscription.
Let's dig in…
Peloton Just Ride
In the beginning, the peloton Just Ride was a standard feature that showed you all the basic metrics like cadence, resistance, and time, which is what you see in all gym stationary bikes.
That was also the only feature that you could use if you got the peloton bike and didn't sign up for the monthly membership.
Not only that.
The just ride feature was only available when you cancel a subscription, and once you activate your membership, you had no more access.
However, since the homecoming event in 2021, the peloton Just Ride mode not only got available for all members but also got a facelift and now is more useful than ever before.
What to expect
The peloton just ride is good because it allows you to plan and modify all your rides, without joining the pre-programmed class.
This is useful if you're following a personalized workout program based on your fitness goals.
What I love about this feature is it allows me to spend even up to 2 or 3 hours on the bike if I want to because there is no time restriction.
My longest ride ever was 87.2 miles, which I did in just under 5 hours.
I also do these when I want to watch something on TV, a documentary on Netflix, or listen to my own music.
Keep in mind that the Just Ride option automatically ends after 6 hours, so you cannot do ultra-long rides.
How does it work?
The peloton just ride is not a regular class.
It has a blank screen and it does not display any of the content or the instructors.
This feature allows you to use your bike without any distractions and time limits.
The interface shows all of the metrics that are available in the regular peloton class, apart from the leaderboard.
Here are all the metrics that you can see on the peloton just ride screen.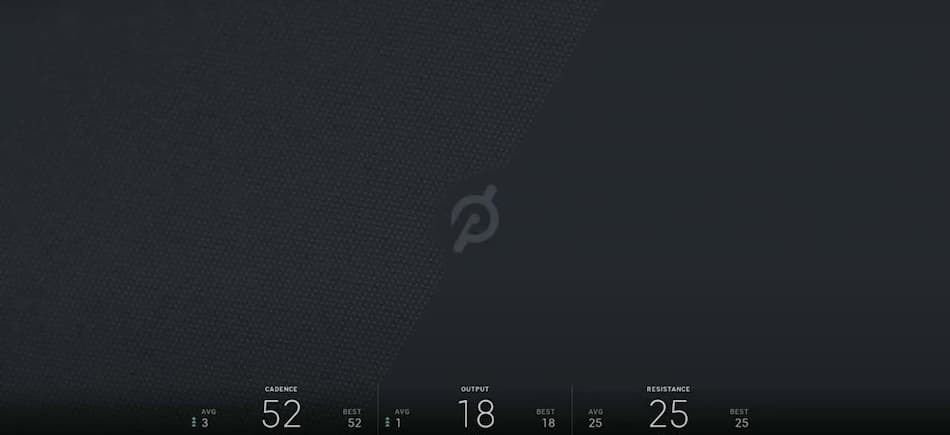 Resistance
Cadence
Average output
Total output
Power zone bar
Speed
Distance

Calories burned

Time
Heart Rate
However, there is a big difference between the metrics that you see with the just ride mode when you sign up for all-access membership, and when not (more on that later).
Just Ride does not count as a class
Overall, the peloton just ride does count as a regular workout. Unlike the rest of your workouts, it's not saved into the workout history.
However, the miles you do on a peloton just ride count towards your monthly activity challenge and annual challenge. This option is only available for members with active subscriptions.
How to use peloton Just Ride mode
Now let's talk about how you can use the peloton just ride option to create your own workout plan. There are several benefits like no distractions and the freedom to do any workout routine that you like.
For example, you can use it for longer recovery rides, marathon training, or strength and conditioning workouts. Plus, you can also listen to your own music, audiobooks, or podcasts.
1. Recovery rides
You can use a peloton just ride as an alternative for your recovery rides, as well as for outdoor long-distance low-impact rides, without any restriction on your time or distance.
Most of the peloton recovery rides are 20 minutes long.
This is great for an early morning workout, however, if you have more time on the weekend that you want to spend on the bike, a peloton just ride is a great choice.
2. Alternative to road bike
Of course, riding the bike outdoors is more exciting because you have more variety than just a blank screen.
However, when you use a just-ride mode, you can still get the mileage in, without the risk of traffic accidents or air pollution.
According to WHO
"Road traffic injuries accounted for approximately 2% of all global deaths, making them the 11th leading cause of global deaths. The rates of road traffic death vary considerably among countries, transport mode, type of area (urban or rural), and person"

World report on road traffic injury prevention
In other words, this is a great alternative if you like to use your road bike outside.
Also, people who train for marathons or triathlons may find this feature extremely valuable.
3. Marathon training
One study published in The American Journal of Sports Medicine has shown that "mean weekly training distance and mean training pace was key predictor variables for both marathon and 100 km ultramarathon race performance".
This means that if you train for a long-distance endurance event, the most important factor that will improve your performance is the total mileage you do every week.
You can read more about my experience with the peloton marathon training in this article.
4. Strength and conditioning
Another way to use a peloton just ride feature is with a combination of your strength and conditioning program.
This is great for people who love variety and challenges.
You can easily implement a peloton Just Ride with your TRX, bodyweight exercises, or even a CrossFit routine.
I think this is the biggest benefit because you can stay flexible with your workouts. The only downside is that you have to keep on getting on and off the bike, which can be difficult with wearing cycling shoes.
5. Listening to music
One cool thing that I like about this feature is you can create and listen to any playlist that you like, for as long as you like.
To be frank, I have nothing against the peloton songs, however, on some days I like to put on my favorite power tunes.
Plus, I'm subscribed to several long-form podcasts on Spotify, and doing peloton just ride mode is the perfect opportunity to catch up with some of them.
You cannot play music from Peloton
To be clear, you cannot play your own music on the peloton just ride directly from the bike. The only way to listen to your own playlist is either from your phone or tablet (using speakers or headphones) or from a web browser.
Also, if you really love peloton music, you can use a track love feature to save the songs from your favorite class.
The peloton track love allows you to bookmark songs from your classes by tapping the little heart icon next to the track name. This will automatically sync with your Apple Music and Spotify Playlist, which you can get access to anytime.
Alternatively, you can head on to Spotify and choose some of the public playlists that were created by the peloton instructors.
Peloton just ride workout plan
Here are some examples of the peloton just ride workout plan you can add to your weekly training schedule.
1. Peloton just ride and kettlebell swings
Combining peloton just ride with kettlebell swings is a great workout if you're looking for something simply because it includes only 2 exercises.
2-minute on the bike
20 reps of kettlebell swings
5 rounds
Start your workout by doing 2 minutes on the peloton bike with medium intensity (power zone 2 or 3). Once you finish, get off the bike and grab your kettlebell. Keeping your core tight and chest up, perform 15 to 20 kettlebell swings.
The total workout will add up to over 100 swings and over 20 minutes on the bike. Not bad.
2. Peloton just ride and TRX
You can combine TRX together with the peloton, something similar to peloton bootcamp, but instead of doing dumbbells, you use TRX suspension.
5-minute on the bike
10 reps of TRX squats
10 reps of TRX chest press
10 reps of TRX lunges
10 reps of TRX rowing
5 rounds
Start your workout by doing 2-5 minutes on the bike. You can maintain low to moderate intensity. After you finish, get off the bike and perform 4 TRX compound exercises (squats, lunges, chest press, rowing), back to back.
Disadvantages
Using the peloton just ride on a daily basis also has some downsides because most people prefer to follow the ready-to-go workout structure.
Gets boring
Staring at the blank screen for hours every day can get tedious very quickly. People who like the interaction and energy from the peloton instructors can find this feature boring.
Not good for beginners
Peloton just ride is great to do on your own, however, you need to have basic knowledge on how to create your own workout programs.
This means that beginners can feel left behind because they may not have enough experience on what to do without any coaching from the instructors.
How to just ride on the peloton?
1. Log in to the bike
Start by login into your Peloton bike where you can see the main menu.
2. Choose "More"
Select the "more" icon from the navigation bar that you can find on the right bottom corner of your screen.
3. Choose "Just ride"
After you press "more", you will have two options to choose from. One is Just Ride, and the second one is Scenic Rides.
4. Start workout
You are ready to start your workout.
You can use Just Ride without a subscription
As a whole, you can use the peloton just ride feature without a subscription, but the interface is limited.
This means you don't have access to the power bar, you cannot save your workouts and you cannot share your results on social media.
You still can monitor your speed and distance, as well as adjust the resistance, but all the other bells and whistles come with a monthly membership.
Here are the metrics that you get on the peloton just ride feature without a subscription.
Peloton Just Ride with a subscription
Cadence
Resistance
Average power output
Total output
Power zone bar
FTP
Speed
Distance
Calories burned
Time
Heart Rate Zone
Workout history
Data Analytics
Strava integration
Fitbit integration
Peloton Just Ride without a subscription
Cadence
Resistance
Speed
Calories burned
Total output
Distance
Time
My thoughts
The main difference between peloton Just Ride with and without a subscription is that without membership you don't get access to measure your FTP.
This means you cannot unlock the power bar to calculate your power zones.
Another difference is that with a subscription, you can input your current age and maximum heart rate, which is used further to calculate your calories burned, heart rate zone, and strive score.
On the other hand, if you don't get a subscription, you cannot adjust your data, which means the peloton bike will give you the wrong estimation.
Lastly, without membership, you cannot pair your heart rate monitor, you don't see the after-ride statistics and you cannot integrate your bike with other Bluetooth devices.
Peloton Just Ride is not available on the app
Understandably, the peloton app is limited to only a handful of features and does not include some of the options that are available on the bike.
The peloton just ride feature is only available on the peloton bike (with or without a subscription) and is not available on the peloton digital app.
Here you can read my review of peloton digital membership and all the features it has available
Conclusion
You can ride a peloton without classes by selecting just ride function, which is a freestyle mode where you ride solo and you can spend as much time on the bike as you want while doing other things.
The screen does not show any content or the trainers so you can easily listen to your own music.
You can also use that to work on your endurance goals, as well as combine it with other strength exercises.