I've been using peloton's new scenic rides for a while, which are even more scenic and more engaging than before. In this article, I will share my experience and provide some of the answers to the most common questions.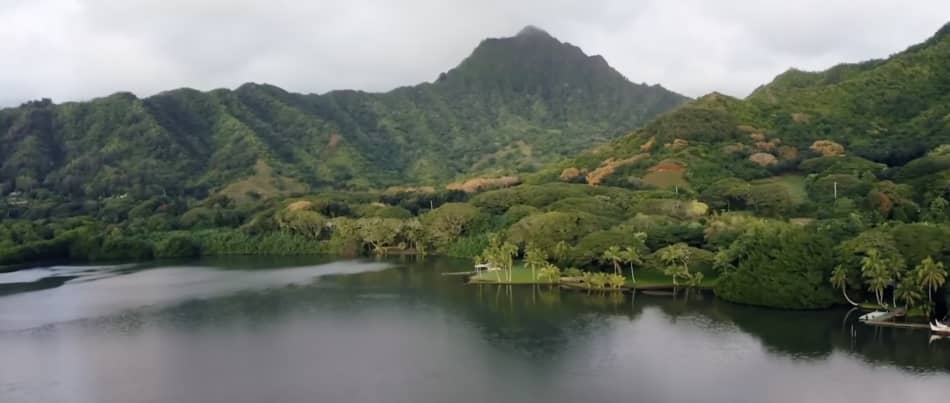 Overview
They allow you to ride your bike for 10 to 60 minutes while watching different sceneries from places around the globe.
Peloton scenic rides aren't available for peloton digital users and are only available for all-access peloton members.
My experience from using the Peloton Scenic Rides
When I joined peloton scenic rides, it make me feel like I was riding outdoors in some of the most beautiful natural and urban landscapes.
For me, watching the scenery was not only captivating my attention on the views but also kept me distracted from the exercise (more on that later).
How many peloton scenic rides are there?
There are over 90 different scenic rides available on the peloton, which are then further divided into three categories:
Guided
Time-based
Distance-based
The most popular scenic rides are time-based, with over 78 classes.
Peloton scenic rides description
Below you can see the main differences between all three types of scenic rides.
Peloton scenic ride
Description
Guided
Set time for each class (20 to 30 minutes)
Features peloton instructors and they commentary in each ride
Includes leaderboard and all performance metrics
Time-based
No instructors in the ride
Time to choose between 10 to 60 minutes
Includes leaderboard and all performance metrics
Distance-based
No instructors in the ride
Distance to choose 5K and 10K
Includes leaderboard and all performance metrics
Includes progress bar that displays distance you have left
Content speed depends on your cadence (the faster you cycle, the faster the content moves along).
New Peloton scenic rides

Peloton scenic rides instructors
In total, 6 peloton instructors participate in guided scenic rides:
Emma Lovewell
Becs Gentry
Adrian Williams
Ben Alldis
Denis Morton
Matt Wiplers
However, guided rides are my least favorite.
My favorite is the time-based scenic ride because I like the variety of places, as well as possible to choose different durations.
How long are Peloton Scenic Rides?
Guided scenic rides are 20 to 30 minutes long
Time-based rides range from 10 to 60 minutes
Distance-based scenic rides do not have a time frame, however, they are divided into 5 and 10 kilometers duration.
See below.
Peloton scenic ride
Duration
Guided
20 min (2 classes)
30 min (5 classes)
Time-based
10 min (21 classes)
15 min (17 classes)
20 min (14 classes)
30 min (12 classes)
45 min (7 classes)
60 min (7 classes)
Peloton scenic rides duration
As you can notice, 10-minute scenic rides are the most popular, while the longest rides (45 to 60 minutes) only have 7 classes each.
When it comes to difficulty level, the scenic rides aren't hard because there is no guidance or recommendations about the intensity, cadence, or resistance. This means you can select your workout intensity as you please, depending on your energy.
NOTE: In the guided scenic rides Matt, Ben, and Morton do mention the resistance, but it's not consistent throughout the whole class.
Peloton Scenic Rides vs On-Demand Rides
The peloton scenic rides and on-demand rides are completely different workouts but they both have access to some key features.
Performance metrics
When you are doing a scenic ride, all your metrics like cadence, resistance, and power output will be displayed. It will also display your power zones and heart rate zones.
Leaderboard
Overall, the peloton scenic rides do have a leaderboard where you can compare your metrics with others. However, people who prefer to take it easy on scenic rides can turn off the leaderboard option.
I don't think I love the leaderboard feature on the scenic rides because I never use this class to compete with others.
Instead, I prefer to use it as a nice and easy steady-state workout, while listening to audiobooks or music.
Auto resistance
One thing that is missing in Peloton's scenic rides is the auto-resistance. This option is only available for on-demand classes on the Peloton bike plus and allows you to put your bike on autopilot.
On the other hand, the peloton on-demand rides are all led by instructors filmed in the studio in the long shot, which means you can see the entire person in the front.
These are the main peloton workouts, which are great for your regular workouts. However, on the days when I want to unwind and relax I prefer not to listen to instructors and do scenic rides instead.
Milestones
In general, the peloton scenic rides do count as a regular class on the peloton.
However, you do not get a badge or milestone for this class category, as well as you cannot get a peloton century t-shirt if you complete over 100 scenic rides.
How to use Peloton scenic rides?
Overall, you can use peloton scenic rides while you're working from your bike, as a virtual and mental escape, or simply to have fun. You can also use them as an alternative to your low-impact and recovery rides for the days when you take it easy.
1. Working from the bike
Peloton scenic rides have low difficulty levels, which means you can multitask directly from your bike. To work from the bike you need to attach the peloton bike desk, which is basically a portable laptop holder on the bike.
These desks can hold a laptop, book, pen, notepads, and more. This means you can hop on the bike and use peloton scenic rides while reading books, learning online, or making zoom calls.
Of course, I would not recommend riding the bike and doing some cognitively demanding work like creative writing, data analysis, or presentations.
Desk bikes have become popular since 2020, and I believe they are here to stay. I know many people who said it's been a game-changer and they love to combine bike workouts with work.
2. Have fun
The peloton scenic rides are fun because they provide enjoyable attentional distraction during exercise, which can enhance mood and reduce barriers towards physical activity, similar to watching Netflix or listening to music.
For me, peloton scenic rides provide enough positive distraction that helps me to increase adherence to the exercise.
One study has shown that "attentional distraction has a positive effect on running distance on a field endurance test and on activity intensity during an exercise session through different mechanisms in both overweight and normal-weight".
Dr. Benedicte Deforche from Ghent University in Belgium documented a group of participants performing field running tests and divided them into two sub-groups – the distraction group and the no-distraction group.
See below.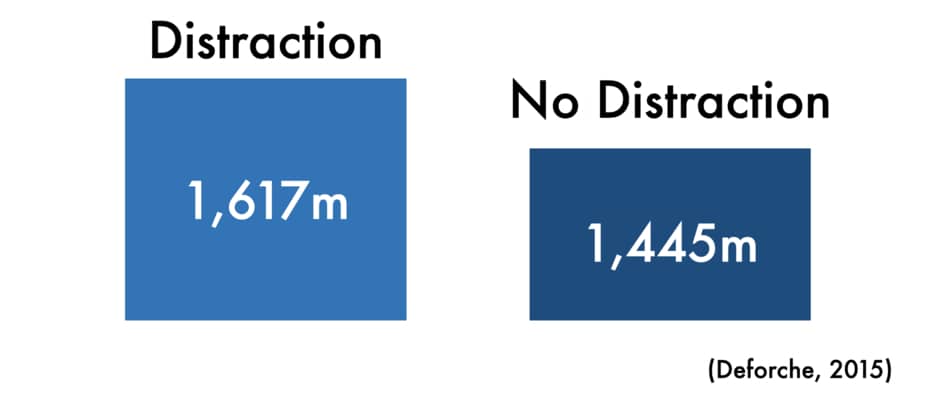 As you can see, the results have shown that the distraction group runs 172 meters further, compared to the no-distraction group.
3. Alternative to recovery classes
You can use peloton scenic rides as a substitute for recovery rides. This last one is my favorite because during my recovery rides I prefer to listen to podcasts, watch YouTube or just watch the scenery, instead of listening to instructors.
I like to disconnect and unwind when during my low-impact workouts. The scenic rides are perfect because I can focus on doing other stuff while I'm on the bike.
I recommend doing anywhere between 2 to 3 scenic rides per week, depending on your fitness goal, work schedule, and personal preferences.
Peloton Scenic Rides Locations
I think locations are what separates peloton scenic rides from other classes out there because they include epic views like Italian Alps or Iceland Peninsula.
Plus, they also feature some of the most incredible places like national parks, bridges, canyons, islands, and peninsulas.
Below you can see some of the most popular locations where the peloton scenic rides are filmed.
Country
Peloton scenic ride locations
Portugal
Algarve (Serra De Monchique, Vicentine Coast)
Thailand
Bangkok (Night Ride)
Khiri Khan
Chiang Mai
Australia
Sydney
Melbourne (Night Ride)
Perth
Adelaide
Brisbane
Wyndham
France
Corsica
Avignon
Medoc
Provence
The French Pyrenees
Normandy
Bourgogne-Franche-Comté
Iceland
Reykjavik
Iceland Peninsula
Spain
Andalusia
Seville
Murcia
Valencia
Castile-La Mancha
Italy
Tuscany
Dolomites (Pale Mountains)
Italian Alps
Lake Garda
California
Newport Beach
Redwoods
San Diego
Santa Monica Beach
San Francisco
Utah
Snow Canyon
Antelope Island State Park
Red Canyon
Zion National Park
Escalante
Antelope Park
Argentina
Patagonia
Peloton scenic rides location list
As you can see, the most common locations are found in Italy, France, Spain, California, and Australia.
I think the best peloton scenic rides are the night rides in Bangkok and Melbourne not only because they are filmed with high-quality 4K cameras, but also because you can see the busy streets, which makes you feel like you're there.
Apart from the list above, the peloton scenic rides also include places like Wyoming, Panama, Costa Rica, Taiwan, New Zealand, and even Abu Dhabi.
Will peloton be adding more scenic rides?
As a whole, the peloton is adding more scenic rides on regular basis. Since the 2021 homecoming event, there being only a dozen of classes and now you have almost 100 new videos from several different locations.
How to find Peloton Scenic Rides
Here you can see the video from Steve on how to find peloton scenic rides.
1. Go to the menu
In the main menu scroll down and select the option "more" in the bottom right corner.
2. Select "view routes"
After you click the more icon, the screen will display two options. Choose the icon on the right with the mountains picture and the "view routes" option.
3. Choose the scenic ride
Once you click on the view routes, the screen will show you all scenic rides in alphabetical order. You can scroll down, or choose the red tabs on the top and choose the category.
Keep in mind that you can access peloton scenic rides only from your bike or tread.
How to find peloton scenic rides on the app?
As a whole, you cannot find the peloton scenic rides on the app because access to this feature is only available for all-access members, and is not available with a peloton digital membership.
You may also notice that since the 2021 homecoming event, the Peloton get rid of scenic rides for app users.
The reason why scenic rides are not available on the app anymore is that the peloton changed the interface of the rides, and included a leaderboard, and metrics with a power bar (which are only available for the all-access members).
Can you do peloton scenic rides without a subscription?
In short, you cannot do peloton scenic rides without a subscription.
The only classes you have access to without a peloton membership are the "just ride" option and 3 pre-selected classes.
Peloton Scenic Rides With Own Music
Overall, the peloton scenic rides do have music, which is completely different from the regular class.
It features more chilled and relaxed tunes, whereas the normal instructor-led classes have a huge variety of popular mainstream songs.
Can you change the music on peloton scenic rides?
In short, you cannot change the music on scenic rides. The music is set, however, you can always mute the bike and play your own Spotify, Soundcloud, or Apple Music.
Conclusion
As you can see, the peloton scenic rides work by watching the pre-record outdoor trials on the peloton screen, instead of listening to instructors' guidance.
The locations are epic and I love to do these rides when I recover from my main workouts. During the ride, you can adjust the resistance, use a heart rate monitor, display power output, as well as monitor the power zone you're at.