There are over 2,000 peloton tread classes that range from beginner to advance level. The classes vary in length, class type, and difficulty level.
However, if you're a runner or you simply want to make sure that you get the most benefits from the time you have available here I have the 5 best peloton tread classes from 2021 so far.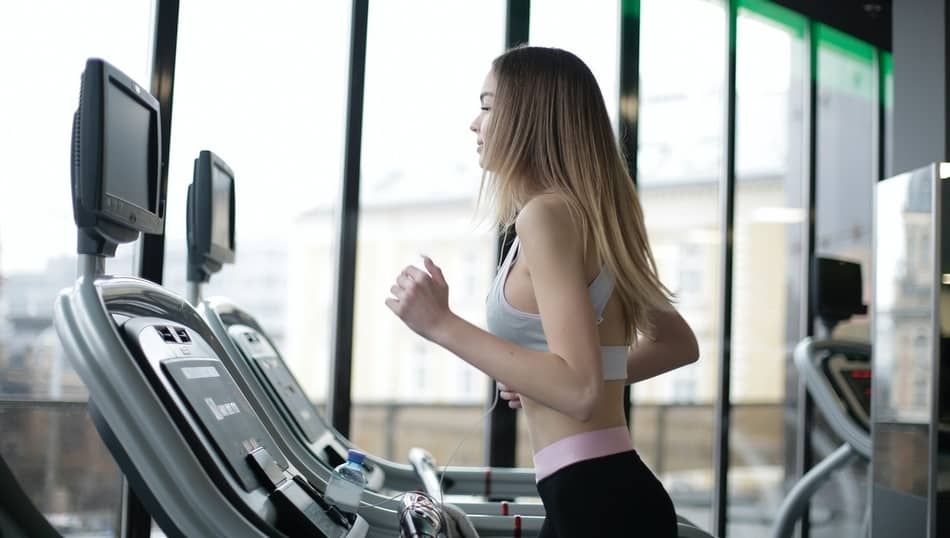 In this article, I will go through each class and explain why exactly I recommend you to try it. All classes are different and are designed with distinct goals in mind. Whenever your goal is to compete in a marathon or you want to start running again.
5 Best Peloton Tread Classes 2021
The best peloton tread classes include speed and tempo runs, intervals, and long-distance running. Before each class, it is recommended to spend 5-10 minutes on the separate warm-up workouts.
This helps to ensure your muscles are supple, have a better range of motion and you're less likely to get injured. In the list below I will show you my top picks.
#1: Advanced HIIT Run with Becs Gentry (20 minutes)
HIIT Run with Becs is for everyone who is already comfortable with interval running on the treadmill and wants to get to the next level. Becs keeps insanely short recovery, but long enough to make sure you catch your breath.
Running part takes anywhere from 30 to 60 seconds where you go fast, followed by the same recovery time (walk or slow jogging). The number and type of interval will depend on the class you choose. I recommend trying a few because she does have many options.
For example, the class can start at 60/60 (60 seconds ON and 60 seconds OFF), and with each interval, both the running time and recovery time go down by 10 seconds. This is by far the best peloton tread class for weight loss.
From what I've noticed, Becs uses a lot of this 1:1 ratio in her running classes. I like this concept because it helps you to stay focused, you come in with a clear objective. And once you are done, that's it.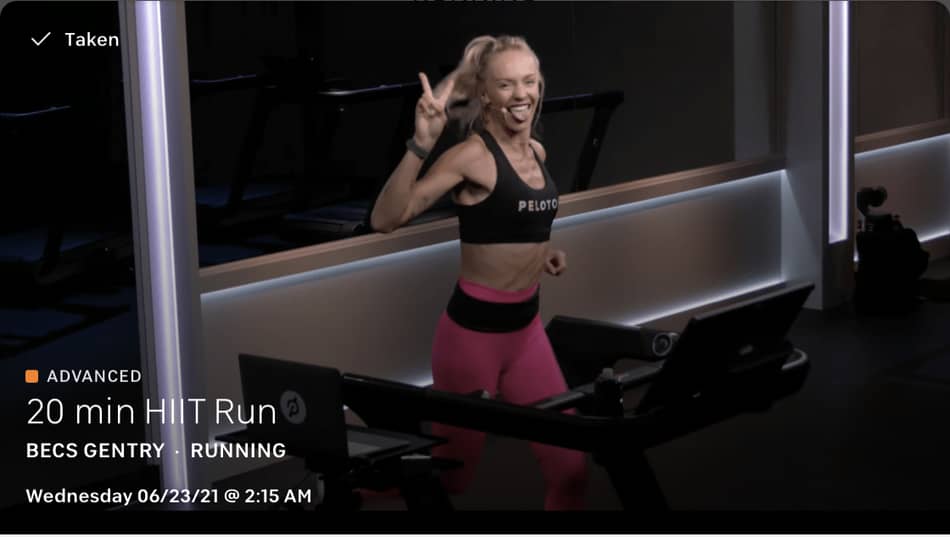 This class is perfect for people who:
Don't have much time on their hands
Want to get better at running
Want to finish off their strength class with a 20-minute interval running session
#2: Tempo Run with Becs Gentry (45 minutes)
A tempo run is all about running as fast as possible and be able to maintain that speed for 45 minutes. This is a pure assessment of your stamina and endurance. Becs starts slowly from a 9-minute warm-up and then she jumps straight into the 35-minute run.
No hills and no speed intervals. This class helps you to see how good have you become in running and how effective was your training prior to that run. What I like about this class is there are no set rules. You just need to show up.
I would definitively recommend using that class on the day when you're rested and recovered. Treat it like an assessment and come back to it once every 2-3 weeks to see how is your progress going. If, for example, you managed to continue running with an average of 7mph for the whole class, come back next time to beat that time.
This class is perfect for people who:
Want to run faster
Prepare for 5k or 10k
Click here to learn more about using "peloton classes for family" check out my article.
#3: Advanced Interval Run with Selena Samuela (45-minutes)
Advanced run with Selena is one of my best peloton tread classes, especially if you looking to train for a marathon or half-marathon. Her class is all about endurance and stamina. Her intervals go are much longer than Becs, and her rest isn't in a 1:1 ratio.
She starts off the class by adding a 1% incline on the tread and asks for 13 minutes warm-up. After the warm-up, she kicks start with 6 minutes of fast running, followed by a 2-minute recovery (walking or jogging). This type of training is brutally hard, but it can elevate your running game to the next level.
If that's not enough, she also asks you to increase the incline level as you run. To be honest, this is the hardest part because when you're running fast, even 1-2% higher elevation makes a huge difference. The good news is that if you run with her for 2-4 weeks, running on the flat surface will feel like walking.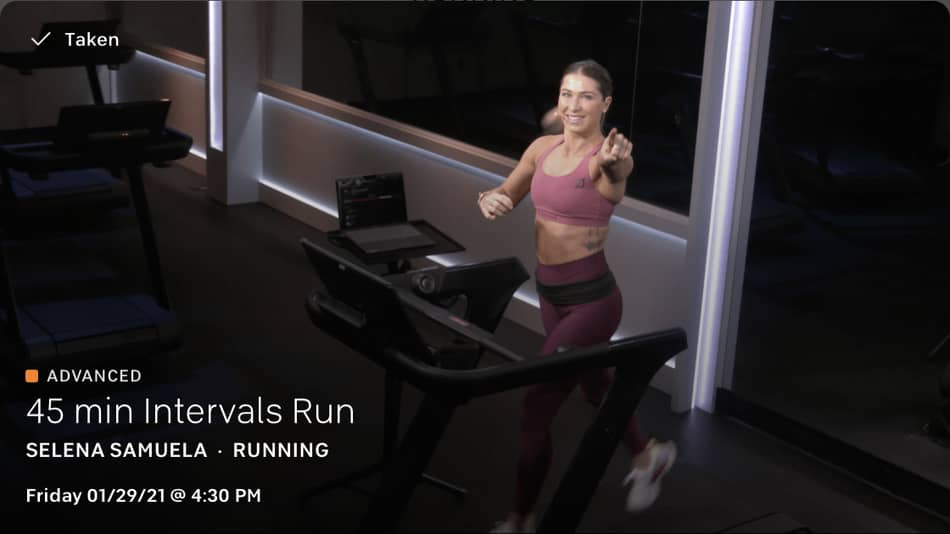 This class is perfect for people who:
Wants to run longer distances
Train for better time on marathon or half-marathon
#4: Advanced Hills Run with Selena Samuela (20 minutes)
If you've been running with Selena you know she kicks the butt. In her advanced 20-minute hills run she takes you up the hill for a solid 3-minute run, followed by a 1-minute recovery.
Selena starts her class from a 4% incline and every minute she adds 1% more. After 3 minutes, you reduce both speed and elevation back down for your 1-minute recovery. In this workout, you won't be sprinting too much.
And to be honest you don't need to because even regular pace running at 4-6% incline is hard enough by itself. Running uphill changes your biomechanics and engages different muscles, comparing to a flat race. You're using more of your gluteal muscle and gastrocnemius-soleus complex (calves).
This workout is a great option for people who:
Train for trekking or hiking event
Want to work more on their calves and glutes
#5: Endurance Run with Matt Wilpers (45 minutes)
In endurance run, Matt spends all class running at the same pace. However, he gradually builds up the incline. The class is divided into 4 parts. For each part, you add more incline, followed by base level. So it gets really challenging, especially in the second half as you start to go over 3% elevation.
There are no speed intervals, which is great if your goal is to be able to maintain a long-distance run. I like to do this class, especially on the days when I don't do any other workouts. If you like to combine running with other strength or stretching sessions, I would choose something shorter than that.
I can recommend this tread class for all levels of fitness because Matt doesn't give you a set speed. This means you can stay at your own pace. You can really push the envelope to see if you can maintain the same tempo for 45 minutes or just keep it as a more recovery jog.
This class is perfect for people who:
Work on their muscle endurance and stamina
Wants to stay in fat burning zone and maintain their heart rate
Frequently Asked Questions
What are peloton tread classes like? As a whole, peloton tread classes aren't just like a regular running class. You can choose the class based on your fitness level and your desired goal. Each session is different, and together with access to the leaderboard, you can track your progress.
Can you use the peloton tread without taking a class? In general, you can use the peloton tread without taking the class in the "just run" mode. This allows you to track your speed and elevation, just like with the regular treadmill. Classes are on-demand or live from the studio, but there is no must in participating.
Will peloton still have tread classes? In general, the peloton will still have peloton tread classes after its safety issue. The company started to implement a safety lock that will be available for all the treads. This means you cannot use the tread without a subscription.
To learn more about using a "peloton without subscription" check out my article.
Conclusion
Peloton adds multiple classes every day to its workout library, which makes it an ultra-valuable resource for anyone who loves to run. The list above is my personal suggestion based on my own experience. This means I will come back to this post in the nearest future with an update to keep you guys informed.