Boxing and cycling are two of my favorite ways to stay fit. In this article, I will explain the difference between peloton bike and FightCamp, and help you decide which one should you get.
Peloton and FightCamp are two completely different workouts but they share one thing in common; they both deliver high-intensity home-based training. The FightCamp is an interactive boxing and kickboxing workout, whereas the Peloton is an indoor cycling group class.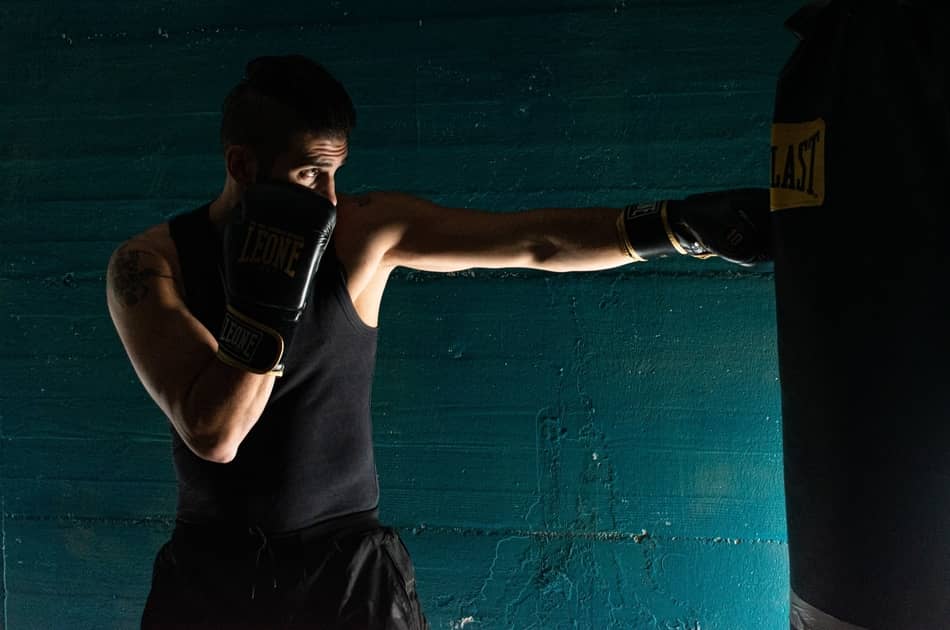 What Is Fightcamp?
In general, the FightCamp is an on-demand boxing workout that comes with over 1,000 classes. Apart from their fitness content, the company also provides boxing equipment in the form of a punching bag, floor mat, and boxing gloves with motion sensors.
How do FightCamp works? As a whole, the Figthcamp workouts range from 15 to 45 minutes and are based on elements of boxing and kickboxing. Each class comes with the Total Punch Goal, which is the number of punches you need to reach to complete the workout.
What I like about the Fightcamp app is its synced with the motion sensors in your wrists straps and displays the total number on the screen.
I think seeing how many punches you do per class is highly motivating and fun, which helps to "forget" that you are working out.
However, what I don't like is that the number of strikes is the only metric that you get. No power output. No heart rate.
Peloton vs Fightcamp For Weight Loss
Peloton and FightCamp are both effective when it comes to weight loss because they offer high-intensity workouts that burn a lot of calories. However, the peloton has much more variety of classes that covers strength, flexibility, and cardiovascular fitness.
Studies have shown that "increasing the variety of exercise equipment available to children, young and older adults increased their exercise participation and enjoyment of that exercise without altering their perceived exertion" (Juvancic et al. 2013).
This means that increasing the variety of exercise available helps to may increase their exercise adherence. Peloton offers over 24,000 on-demand classes available in 13 different categories.
On the other hand, FightCamp is all about boxing and kickboxing, with only a few elements of HIIT cardio in between the rounds.
Which one is better? As a whole, the peloton is better than FightCamp for weight loss because it not only covers all aspects of fitness like strength, cardio, and flexibility but also offers significantly more on-demand content.
The only downside is that peloton doesn't have specific boxing classes.
Peloton Boxing vs Fightcamp
The difference between peloton and FightCamp is that peloton doesn't offer any boxing or martial arts classes. It does however have HIIT cardio workouts with basic boxing exercises like kicks, jabs, and high knees.
If you're curious to learn which peloton classes have some elements of kickboxing, you can learn more about "peloton boxing" in my article here.
On the other hand, the FightCamp class is mainly focused on martial arts. Each class includes hundreds of hooks, jabs crosses, kicks roundhouse kicks, and uppercuts, all done on the punching bag.
Is punching bag effective? As a whole, punching bag exercise is an effective way to get fit. It not only engages multiple muscle groups it also burns between 100 to 200 calories every 20 minutes. It also utilizes both aerobic and anaerobic fitness, depending on the intensity.
I love punching bags because it not only gets me out of breath but also helps to relieve stress. I always find myself more calm and relaxed after doing punching bag, compared to cycling or running.
Peloton Classes vs Fightcamp
The difference between the peloton and FightCamp classes is that the peloton offers a huge selection of both live and on-demand content.
They also have world-famous instructors that manage to create a raving fan community thanks to their charisma and personality.
On the other hand, FightCamp doesn't have live classes. However, they do have a number of workouts that specialize in building boxing skills like switch stance workout or striking workout.
Here is the comparison between peloton classes and FightCamp classes.
Peloton classes
FightCamp classes
Meditation
Yoga
Strength
Cardio
Walking
Stretching
Cycling
Running
Outdoor
Bootcamp
Pure punching
Full body
Switch stance
Pure striking
Upper body
Knockout power
Combo buildup
Burnout
Peloton vs FighCamp classes
As you can see, the peloton offers traditional and proven fitness genres. On the other hand, I have a feeling like FightCamp is using fancy names around very similar classes.
HOWEVER.
I know many people who don't have a specific fitness goal (e.g. weight loss) and they simply love to train because exercise makes them feel good. They like fun and challenge.
If that's the case, I can highly recommend boxing because it is the perfect way to unplug and even train together with your family and friends.
Peloton Programs vs Fightcamp
As a whole, the peloton does offer 17 programs that range between 1 to 18 weeks. These programs are ready-made clusters of classes that are designed to get you started with the bike, introduce you to yoga or develop a stronger core.
All these programs implement progressive overload where you slowly increase the training volume and class difficulty.
Does FightCamp have programs? In short, the FighCamp doesn't offer multiple-week programs or boxing tutorials. It only offers single workouts that are divided into rounds. Each class has between 2 to 10 rounds. The rounds differ in the number and type of exercises you do.
I think that FighCamp should implement some type of program tutorials because boxing is a very technical sport and without correct supervision, it can end up with an injury.
Peloton vs Fightcamp For Beginners
The peloton and FighCamp have advantages and disadvantages compared to other on-demand fitness content but they have one thing in common; they're both beginner-friendly.
Peloton has thousands of classes and programs that are specifically geared towards beginners. It also has useful metrics and analytics that display things like power zone, heart rate zone, and strive score to help people get motivated.
You can learn more about the "peloton strive score" and how to use it in my article here.
Is FightCamp good for beginners? As a whole, the Fightcamp is good for beginners because a punching bag is therapeutic. It also increases the production of endorphins, the neurotransmitters that create feel-good thoughts which can lead to the formation of positive habits.
In other words, boxing not only makes you feel good but also helps to form an exercise habit, faster.
Another thing peloton and Fighcamp share in common is the leaderboard and the ability to track your performance.
Peloton Leaderbaord vs Fightcamp
The difference between peloton leaderboard and FightCamp is that peloton uses several metrics and gives you detailed analytics of your current and historical performance.
Not only that.
In the picture below you can see my stats like total output, calories burned, avg speed, and avg resistance after the class.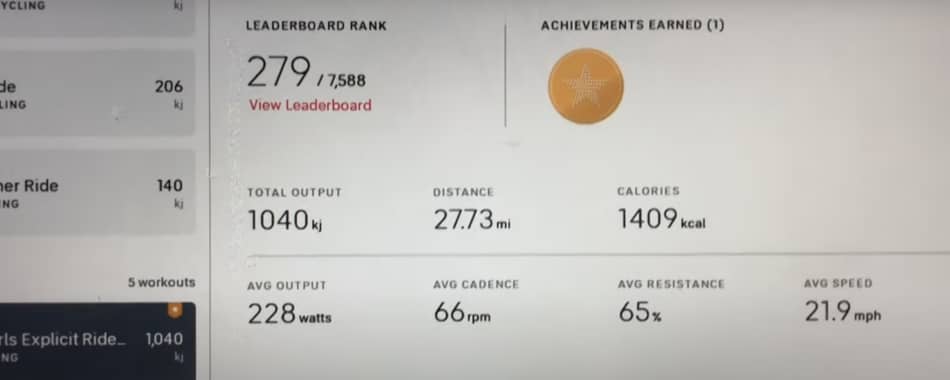 After each class, the peloton app saves the data and compares that with your previous achievements.
On the other hand, the FighCamp counts how many punches you do per workout thanks to the motion sensors in its gloves.
Does Fighcamp have leaderboard? As a whole, FightCamp does have a leaderboard where you compete against other members in the number of punches per class. However, apart from punches, it doesn't measure anything else like heart rate or power output.
Here is the comparison between peloton metrics and FighCamp.
Peloton metrics
FightCamp metrics
Average output
Total output
Average resistance
Average cadence
Distance
Duration
Speed
Calories
Badges
Heart rate zone
Power zone
Number of punches
Leaderboard position
Peloton vs FightCamp leaderbaord
As you can see, the peloton bike is head and shoulder above the FighCamp when it comes to analytics and metrics. The FightCamp does have a leaderboard, but it only uses a number of strikes as their performance score.
Peloton Membership vs Fightcamp
Peloton and FightCamp have a similar approach when it comes to their membership plans. They both offer two options for the digital apps only and for hardware + digital app.
With peloton, you can either choose to buy a bike an all-access membership, or just the Peloton digital app with the video content.
With FighCamp whenever you buy their standing bag or not, you still have to pay their same $39/month subscription.
Here is the membership table for different Peloton bike options.
| Peloton membership | Price |
| --- | --- |
| Bike Basic | $1,495 |
| Bike Essential | $1,645 |
| Bike Works | $1,745 |
| Bike Family | $1,945 |
| Peloton All-access | $39/month |
| Peloton Digital | $12.99/month |
peloton membership
As you can see, the peloton does come with four packages and the difference between them is in additional equipment like dumbbells, a reverse exercise mat, and a water bottle.
They also have a second membership option for $12.99/month if you only want to use their content from the app.
Here is the comparison of the FighCamp subscription offer.
| FightCamp membership | Price |
| --- | --- |
| FightCamp Personal | $999 |
| FightCamp Tribe | $1,299 |
| FighCamp Connect | $399 |
| Monthly membership | $39/month |
fightcamp membership
As you can see, the FighCamp gives you 3 different ways to get started, with or without their main standing punching bag.
I think this offer is less favorable to peloton because the price for a monthly subscription is the same, but peloton offers significantly more value.
Conclusion
I believe that peloton is a much better option compared to FighCamp because not only do they have more variety of classes, but also have better software with more metrics and analytics.
Having access to things like power output, calorie expenditure, resistance, and more allows you not only to compete against yourself but also to track and design a smart workout plan.
You can learn more about how to create a "peloton workout plan" here in my article.