Peloton programs are structured, multi-class series designed for specific fitness goals, offering a more cohesive training experience than standalone classes. Unlike individual classes, these programs, like the Peloton 6-week beginner program or the Peloton weight loss program, provide a sequenced progression, guiding users through a targeted journey to achieve objectives such as weight loss, strength building, or improving running skills.
The best Peloton programs, such as the Peloton Strength program, peloton Beginner's Yoga, or the Peloton Power Zone program, combine various components of fitness, including strength training, flexibility, cardiovascular endurance, and targeted skill development, providing a well-rounded approach to overall health and fitness.
We believe that the biggest benefit of Peloton programs includes structured guidance and gradual progression, which helps users systematically work towards their fitness goals with a well-defined path. However, a potential downside might be their less flexible nature compared to picking individual classes, which allows for more spontaneous and varied workout choices. This article covers the best Peloton programs, which are listed below.
Beginner Yoga Program
Mastering The Basics Program
Marathon Program
Split Training
Total Strength With Andy 2 Program
Boxing Program
Strong Core Strong Body Program
The Power Of Sleep Program
Train Like Usain Bolt Program
Crush Your Core Program
1. Beginner Yoga – Best Peloton Yoga Program
Peloton Beginner Yoga is a meticulously designed program consisting of 22 classes over three weeks, tailored specifically for yoga newbies. It's perfect for anyone who's new to yoga, offering detailed tutorials on basic poses, making it an ideal starting point for those hesitant to join more advanced local classes.
To get started, simply sign up for a Peloton membership, access the program through the Peloton app or bike, and you can begin at your own pace, focusing on individual poses in each class. The beauty of this program lies in its ability to cater to beginners, allowing ample time to master each pose without the pressure of keeping up with experienced practitioners, making it a comfortable and personalized yoga journey.
2. Mastering The Basics – Best Peloton Beginner Program
The Peloton "Master the Basics" cycling program is a structured 6-week journey with 28 classes, introducing over 21 instructors. It's ideal for beginners, including those hesitant about exercise or new to it, and even those recovering from injuries.
To begin, access the program in the Peloton app under "Programs," select "Mastering the Basics," and immerse yourself in a varied curriculum. This program, with its 6-week duration and 28-class schedule, gradually increases in intensity, offering a comprehensive introduction to indoor cycling that covers everything from basic bike setup to advanced cycling techniques and workout integration.
3. Marathon Program – Best peloton 10k training program
The Peloton marathon training, named "Road To Your 26.2," is an 18-week program that expertly blends running, strength training, and cardio workouts. It's designed to build strength, endurance, and aerobic fitness essential for long-distance running, incorporating the 10 percent rule for progressive overload.
This rule suggests increasing your weekly running mileage by 10% from the previous week, a method proven to enhance training adaptations while minimizing injury risk. For effective marathon preparation, Peloton recommends a weekly training volume of around 40 miles, in line with studies showing this reduces injury risk. The Peloton 26.2 program's unique structure, with a gradual increase in class duration every 5-6 weeks, makes it an ideal choice for aspiring marathoners.
4. Split Training – best peloton strength training program
The Peloton split training, as explained by instructor Adrian Williams, is a method of dividing workout routines to focus on different muscle groups on different days, offering a more effective and efficient approach to strength training.
This program, popular for its recovery and growth benefits, allows you to target specific muscles, like legs on one day and back and biceps on another, working each group to fatigue. There are various types of workout splits available, such as the Body Part Workout Split, Upper-Lower Split, Push-Pull-Legs Split, Classic Bodybuilding Split, and Five-Day Split, each catering to different training goals and levels of expertise.
5. Total Strength With Andy 2 – best peloton program for weight loss
The Peloton Total Strength With Andy 2 program is a comprehensive 6-week resistance training schedule featuring 68 classes, designed for those new to strength training. This program, emphasizing the progressive overload principle, gradually increases intensity and duration, making it ideal for beginners. Instructor Andy Speer focuses on teaching foundational resistance training techniques, starting with basic workouts to ensure correct exercise form before progressing to more challenging routines.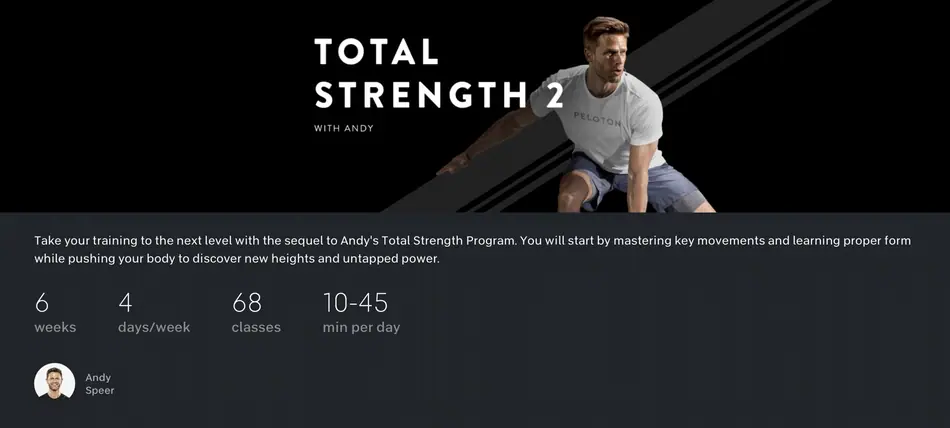 This program is a great alternative to gym workouts and personal trainers, offering personalized guidance suitable for varying levels of fitness and mobility. It's especially recommended for those new to strength training, providing all the necessary basics before advancing to more intensive workouts.
Update: The peloton has launched the third edition of the popular Total Strength Program – Total Strength With Erik, which is featured in the German language.
6. Boxing Program – Best peloton app program
The Peloton Boxing, also known as the Get Hooked program is a 14-day course available on the Peloton app, featuring a mix of 14 classes ranging from 5 to 30 minutes, suitable for all fitness levels. It's a high-calorie burn bodyweight program led by instructors Kendall Toole, Selena Samuela, and Rad Lopez. The program emphasizes high-intensity cardio combined with boxing techniques like jabs, hooks, and kicks, and also includes stretching and core training.
The first week focuses on boxing basics, teaching proper technique, footwork, and breathing, while the second week intensifies on shadow boxing. Peloton boxing is an effective cardio workout, engaging the whole body and maintaining a high heart rate. The program, however, has limitations in class levels, offering mostly beginner to intermediate sessions.
7. Strong Core Strong Body program – Best peloton fat loss program
The Strong Core Strong Body is a 4-week Peloton program focused on strengthening the midsection, aiming for more than just a flat belly by also targeting the glutes and lower back. This program is particularly beneficial for those looking to enhance core strength, improve posture, and alleviate lower back pain or sciatica, issues often faced by cyclists due to weak abdominal muscles.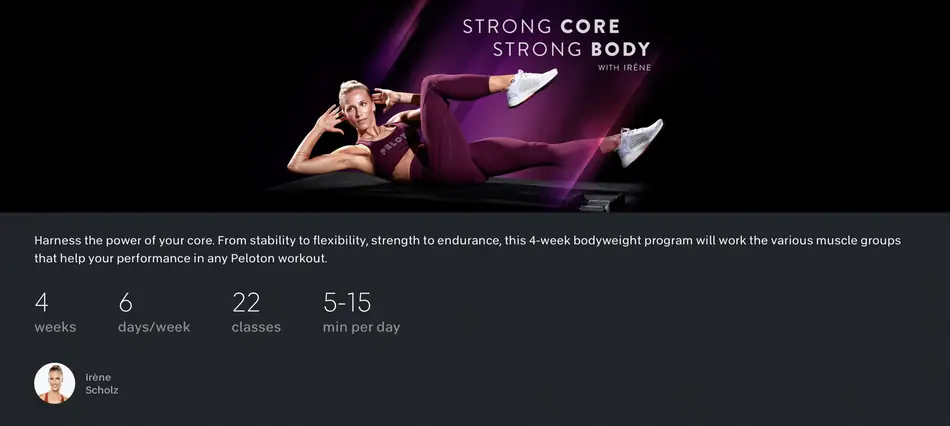 The classes are realistically timed, focusing solely on abdominal exercises, making them convenient to incorporate after main workouts, before runs, or as a standalone daily challenge. However, a notable downside is that the program is in German, which might be a barrier for non-German speakers, limiting the ability to fully understand the instructor's tips and form guidance.
8. The Power Of Sleep Program – best peloton 2-week beginner program
The Peloton Power of Sleep program is a unique 2-week meditation series designed to be done comfortably in pajamas or shorts, requiring only an exercise mat and some blankets. It includes 15 classes, each ranging from 5 to 10 minutes, making it ideal for those struggling with sleep issues or looking to start meditation.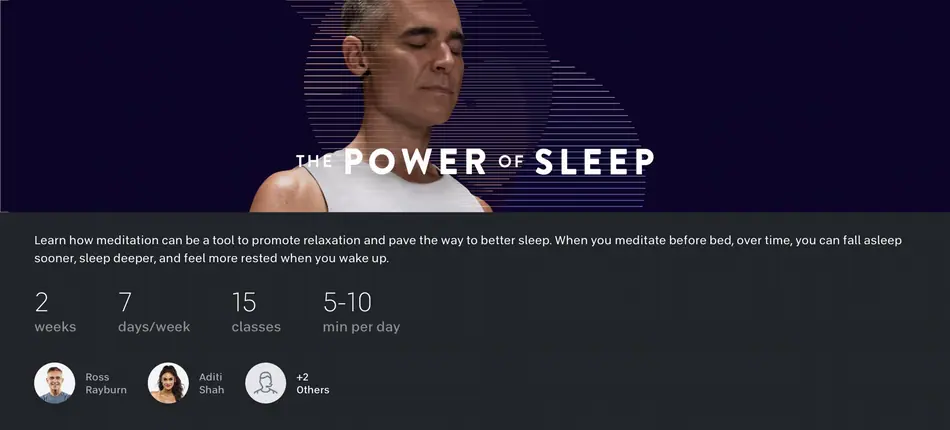 The program covers various meditation techniques like visualization, breathing, chanting mantras, body scan, and muscle contraction, allowing participants to explore and find the method that suits them best. Led by popular instructor Ross Rayburn, the program is accessible to beginners, with classes starting at just 5 minutes. Rayburn's approach not only involves teaching meditation techniques but also delves into the physiology and philosophy behind them, offering a comprehensive meditation experience.
9. Train Like Usain Bolt Program – best peloton running program
The "Train Like Usain Bolt" Peloton program is an intensive one-week course consisting of 13 classes, each lasting between 5 to 20 minutes. This program emulates the training routine of world-class sprinter Usain Bolt, incorporating running sessions, stretches, and core workouts. It's particularly suitable for skilled runners looking to enhance their running technique and understand high-performance training.
The program is challenging, requiring participants to complete over two sessions per day across five days. While it won't make you run as fast as Bolt in just a week, it provides insight into training for improved speed and endurance. However, a notable drawback is the absence of Usain Bolt himself in the classes.
10. Crush Your Core Program – best peloton 4-week beginner program
The Peloton Crush Your Core program, led by Emma Lovewell, is a 4-week abs-focused challenge consisting of 22 classes and is one of Peloton's most popular programs with over 1 million views. It's ideal for those aiming to strengthen their abdominal muscles, enhance balance, and alleviate muscle pain in the back, neck, and shoulders.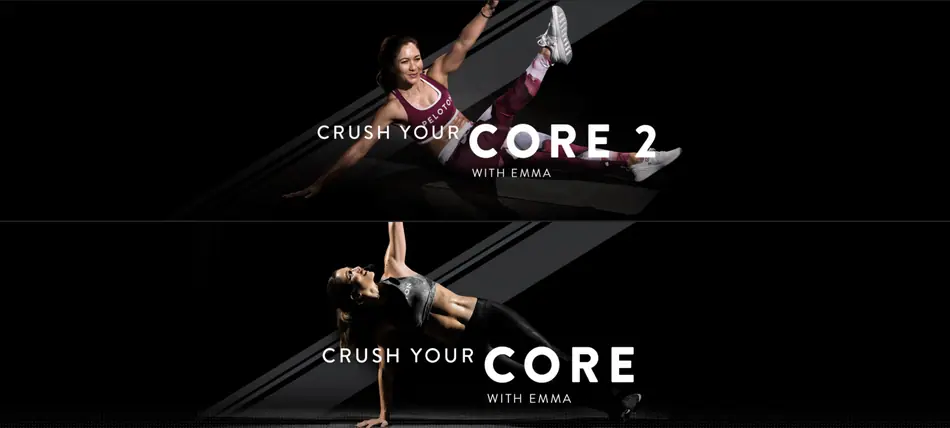 The program incorporates exercises from various fitness disciplines like Pilates and barre, focusing on achieving flat abs and a strong core. It also helps build strength, flexibility, and endurance. A key feature of Emma's approach is the emphasis on time under tension, with exercises performed in a circuit training style to intensify muscle engagement and maximize benefits. Emma Lovewell has also released Crush Your Core 2, adding an additional 4-week challenge to the series.
Update: Emma Lovewell has released the Crush Your Core 2, which includes an additional 4-week abs challenge.
What are The peloton programs?
Peloton programs refer to a series of structured, exclusive classes ranging from 1 to 18 weeks in length, available through the Peloton bike or app. These programs, totaling 36 different types, cover a wide range of fitness and wellness categories, including strength, endurance training, and meditation. Unlike the over 22,000 on-demand classes Peloton offers, these programs provide a more cohesive and guided experience, with classes accessible only when enrolled in a specific program.
Peloton currently offers diverse programs covering strength, cycling, running, split training, yoga, boxing, and more. These programs vary in duration, with beginner options lasting as little as 7 days featuring 10-20 minute daily sessions, and more advanced, longer programs available as well. Below, you can find a list of all updated Peloton training programs categorized by their duration.
Peloton 1 Week Programs
Peloton 2-Week Programs
Peloton 3-Week Programs
Peloton 4-Week Programs
Peloton 5-Week Programs
Peloton 6-Week Programs
Peloton 8-Week Programs
1. Peloton 1 Week Programs
Peloton 1-week programs are programs that last only 7 days, primarily consisting of the Peloton Split Programs, Peloton Running, and Strength Programs. These programs offer a week-long fitness regimen to target various aspects of your workout routine. The following
| Peloton 1-Week Programs | Number of classes |
| --- | --- |
| Callie's Intermediate 3-Day Split | 3 |
| Robin's Advanced 3-Day Split | 3 |
| Adrian's Advanced 5-Day Split | 5 |
| Matty's Intermediate 5-Day Split | 5 |
| Power Restorative Yoga | 7 |
| Train Like Allyson Felix | 10 |
| Train Like Usain Bolt | 13 |
| The Snatch | 6 |
| The Clean and Jerk | 6 |
| The Overhead Squat | 6 |
| Flow to the Finish with Mariana | 8 |
Peloton 7 days programs
2. Peloton 2-Week Programs
There are only three different types of Peloton 2-week programs: "Path To Inversion" – a yoga and stretching program, "Get Hooked: Peloton Boxing" – a cardio and boxing program, and "The Power Of Sleep" – a meditation program.
| Peloton 2-Week Programs | Number of classes |
| --- | --- |
| Path To Inversion | 12 |
| Get Hooked: Peloton Boxing | 14 |
| The Power Of Sleep | 15 |
Peloton 2-week program
3. Peloton 3-Week Programs
Peloton 3-week programs consist of only two options, each lasting 21 days: the Peloton running program for those interested in running, and a beginner yoga program designed to introduce newcomers to yoga practice. These programs offer a structured approach to fitness and mindfulness over a three-week period.
| Peloton 3-Week Programs | Number of classes |
| --- | --- |
| You Can Ride | 9 |
| Beginner Yoga | 22 |
Peloton 3-week program
4. Peloton 4-Week Programs
Peloton's 4-week programs consist of 28-day training plans designed to cater to various fitness levels and objectives. These programs encompass Peloton core strength programs, Peloton weightlifting programs, and Peloton bodyweight programs, offering a comprehensive range of options for achieving your fitness goals.
| Peloton 4-Week Programs | Number of classes |
| --- | --- |
| Strong Core Strong Body | 22 |
| Arms With Tunde (only for peloton guide) | 19 |
| Crush Your Core | 22 |
| Crush Your Core 2 | 18 |
| Total Strength With Andy | 15 |
| Total Strength With Erik (German language) | 48 |
| Floor Bootcamp | 24 |
Peloton 4-week program
5. Peloton 5-Week Programs
Peloton's 5-week programs comprise just two options, both of which are Peloton Power Zone programs.
| Peloton 4-Week Programs | Number of classes |
| --- | --- |
| Discover Your Power Zones | 25 |
| Build Your Power Zones | 16 |
Peloton 5-week program
6. Peloton 6-Week Programs
| Peloton 4-Week Programs | Number of classes |
| --- | --- |
| Go The Distance: 5K | 24 |
| Total Strength With Andy 2 | 68 |
| Beginner Strength | 42 |
| Road To Your 26.2 (parts 1, 2, and 3) | 142 |
| Road To Your 5K | 28 |
| Mastering The Basics Cycling | 28 |
Peloton 6-week program
7. Peloton 8-Week Programs
Peloton 8-week programs encompass a variety of options, such as Peloton running programs and power zone programs, designed to help users achieve their fitness goals over an extended 8-week duration.
| Peloton 4-Week Programs | Number of classes |
| --- | --- |
| Peak Your Power Zones | 25 |
| You Can Run Outdoors | 16 |
| You Can Run Outdoors (German language) | 16 |
| You Can Run | 16 |
Peloton 8-week program
What are the benefits of following a Peloton training program?
Peloton training programs offer structured, goal-oriented fitness regimens that provide numerous benefits, including:
Habit Formation: They encourage consistent exercise routines, aiding in the development of regular fitness habits.
Skill Development: These programs are designed to help build specific skills, such as yoga techniques or running strategies for a 5K race.
Progressive Overload: They incorporate the principle of progressive overload, gradually increasing intensity and complexity over time for better fitness adaptations.
Focused Training: Peloton programs target specific fitness goals, making them more effective for tailored objectives like muscle building or endurance improvement.
Guidance and Motivation: Delivered often by the same instructor, these programs provide continuity, expert guidance, and motivational support throughout the fitness journey.
What are the best peloton programs for beginners?
The best Peloton programs for beginners depend on your individual goals. If you're looking to start running, the Peloton 6-week beginner program is a great choice. For those aiming for weight loss, the Peloton bike programs are effective.
Each program is designed with a specific goal in mind, and they are structured to help you achieve that goal within the designated time frame. For instance, the Peloton Split Training program emphasizes maximizing training adaptations using dumbbells at home.
Research by Dr. Brad Schoenfeld indicates that increasing training volume with heavier weights or extended time under tension is essential for achieving maximum strength and hypertrophy. Peloton Split Training focuses on increasing time under tension, which contributes to muscle growth and development.
What is the best peloton program for weight loss?
The best Peloton program for weight loss is "Total Strength With Andy 2" because it's designed to help you build muscle and burn fat over a 6-week period. This Peloton weight loss program provides a structured approach to weight loss, making it an ideal choice for those aiming to shed excess pounds.
How To Find Peloton Programs?
The following list shows you how to find Peloton programs.
Turn on the Peloton bike, tread, or app.
Find the "programs" tab in the upper middle part of the dashboard.
Select the "programs" tab.
Choose the program you want to join.
Follow the instructions provided to start the selected program.
Enjoy your Peloton program and achieve your fitness goals!
How to unlock Peloton programs?
The following list shows how to unlock Peloton programs.
Start by opening the Peloton app or accessing it through the bike or tread.
Navigate to the "programs" section within the app or dashboard.
Choose the specific program you want to unlock.
Begin the program by selecting the first session.
Complete the first class in the program to unlock the next one.
Continue to follow the program in sequential order, as you can't skip ahead.
Enjoy the structured journey toward your fitness goals with Peloton programs!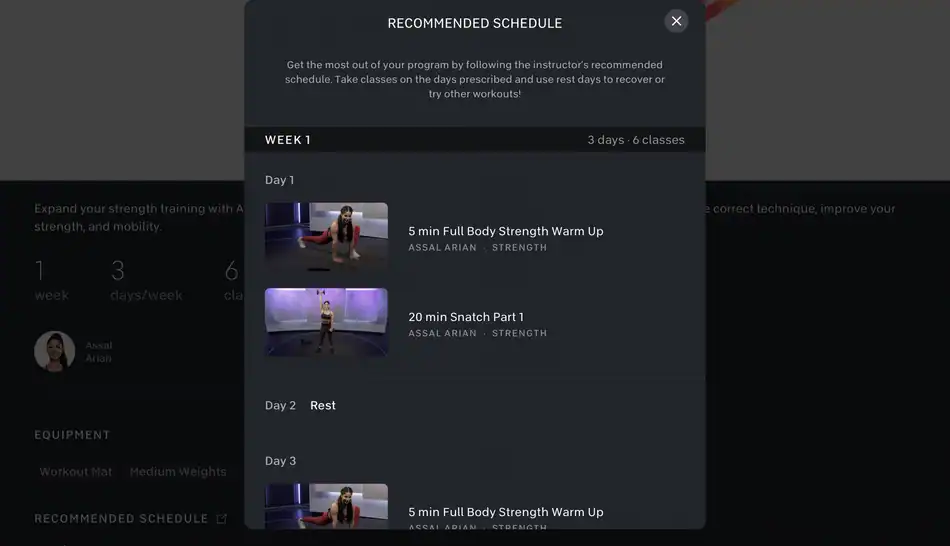 Can I restart a Peloton program?
Yes, you can restart a Peloton program at any time, whether you've completed all the classes or want to revisit specific sessions for technique improvement. The classes you've taken are saved in the program library, allowing you to repeat them as needed to work on form and technique.
What happens if you miss a class in a Peloton program?
Missing a class in a Peloton program won't result in any consequences, as you can easily skip a session. Nevertheless, it's advisable to follow the program schedule, as classes often build on each other for a more comprehensive fitness experience.
Does Peloton have programs for seniors?
No, Peloton does not offer specific programs designed exclusively for seniors; instead, programs are categorized based on difficulty and skill level, making beginner-level programs well-suited for seniors as instructors emphasize proper technique and form to promote good exercise habits.
Can you do Peloton Programs on the app?
Yes, you can access and participate in Peloton Programs through the Peloton One App and App+ with a Peloton Digital membership, which provides access to all content, including classes, programs, and challenges.
How to access Peloton programs on a laptop?
To access Peloton programs on a laptop, simply visit the Peloton website and log in. Once logged in, go to the "programs" tab in the main menu at the top of the screen, where you can select from the list of 36 available programs to get started.